How to make a vacation bucket list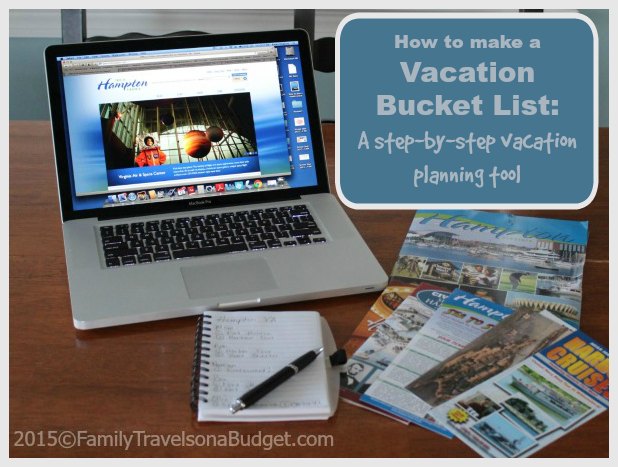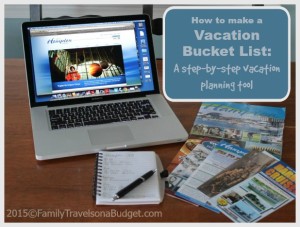 Overwhelmed by vacation planning? Know where you're going but not sure how to fit it all in?
We've got the answer: a vacation bucket list! An alternative to a planned itinerary, the vacation bucket list is a list of all the activities you'd like to do on vacation — and ranks them so you know what's most important and what's least important.
Let's say you're going to Walt Disney World. The Magic Kingdom currently offers 46 attractions plus parades, shows in front of Cinderella's Castle and dining experiences.
No one —- not even the most seasoned veteran can do it all in one day.
If everyone makes a list of their favorites (for theme parks make a top ten list rather than 2-3), you can better determine how to spend the day. Narrowing down the options makes trip planning much easier. It works for any destination!
Here's another example.
How to make a vacation bucket list:
1. Choose destinations wisely (if you already know where you're going, you can skip ahead

…

Only 3 steps on your list!)
Don't like the sun, sand and sea, then don't go to the beach! (I truly cannot imagine such a scenario, but I know there are some anti-beach readers out there somewhere)
Like the city, but not the country, then choose a destination with lots of "citified" activities. (Lucky me. I like both.)
Love the roller coasters but the kids are tiny, then wait a few years. (Or leave the kids with grandma!)
2. Create a list of possible activities at your destination.
Visit the hotel website to understand the amenities offered, especially resort hotels, and start a tentative to do list for the resort.
Search travel information sites like TripAdvisor and Frommer's to explore the areas you will visit. Simply enter the location or attraction name in the search box at most sites to learn about the area you plan to visit. (Be sure you check out the destinations we feature here at Family Travels on a Budget as well!)
Request brochures from the area's convention and visitors' bureau. They often include discount coupons for greater vacation savings!
Create a list of potential activities based on initial reactions. You don't need to know everything yet.
Need inspiration? Here's a great list of family bucket list ideas to inspire you!
3. Discuss options with family (all traveling adults and kids old enough to offer opinions).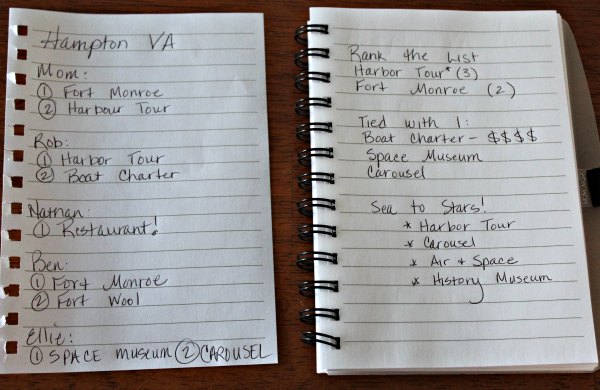 Ask family members to pick two or three "must do" activities from your tentative list of activities. It's okay if more than one person selects the same activity, since the goal is to make sure everyone gets to do something they really want to do. This becomes the family "bucket list."
If you have lots of options, ask the family to select their next two or three favorites from the remaining activities to create a "would like to do" list. (I don't do this very often — but for family reunions, this is handy)
Consider a rainy day list and ask everyone to pick one activity for a rainy day (shopping, nice restaurant, bowling, museums, movies, etc.)
Once you have feedback from everyone, rank activities in order from most votes to least votes. This is your vacation bucket list!
4. Add important information to your

Vacation Bucket List.
Include address, ticket prices, operating hours, phone and/or website info so you don't have to look it up again on vacation.
For the "MUST DO" attractions, consider making reservations ahead of time. Many activities and attractions offer discounts for pre-purchased tickets. Read the fine print about weather and cancellations if that's of any concern.
Now you know how to make a vacation bucket list! Wasn't that easy?
Have you used a vacation bucket list (even if you gave it a different name)? How did it work?
Do you have suggestions to improve our bucket list process? Please share!
Of course, if you have any questions, ask!