Relaxed elegance at The Rosemont Inn B&B
I love to stay at bed and breakfasts. Though, I have to admit, a bed and breakfast stay can be like Forrest Gump's box of chocolates. They all look good on the outside, but you don't always know what you're going to get. At The Rosemont Inn Bed & Breakfast, I got everything I hoped for, and more!
Relaxed elegance at The Rosemont Inn Bed & Breakfast
I was invited as a guest, but the opinions here are 100% mine.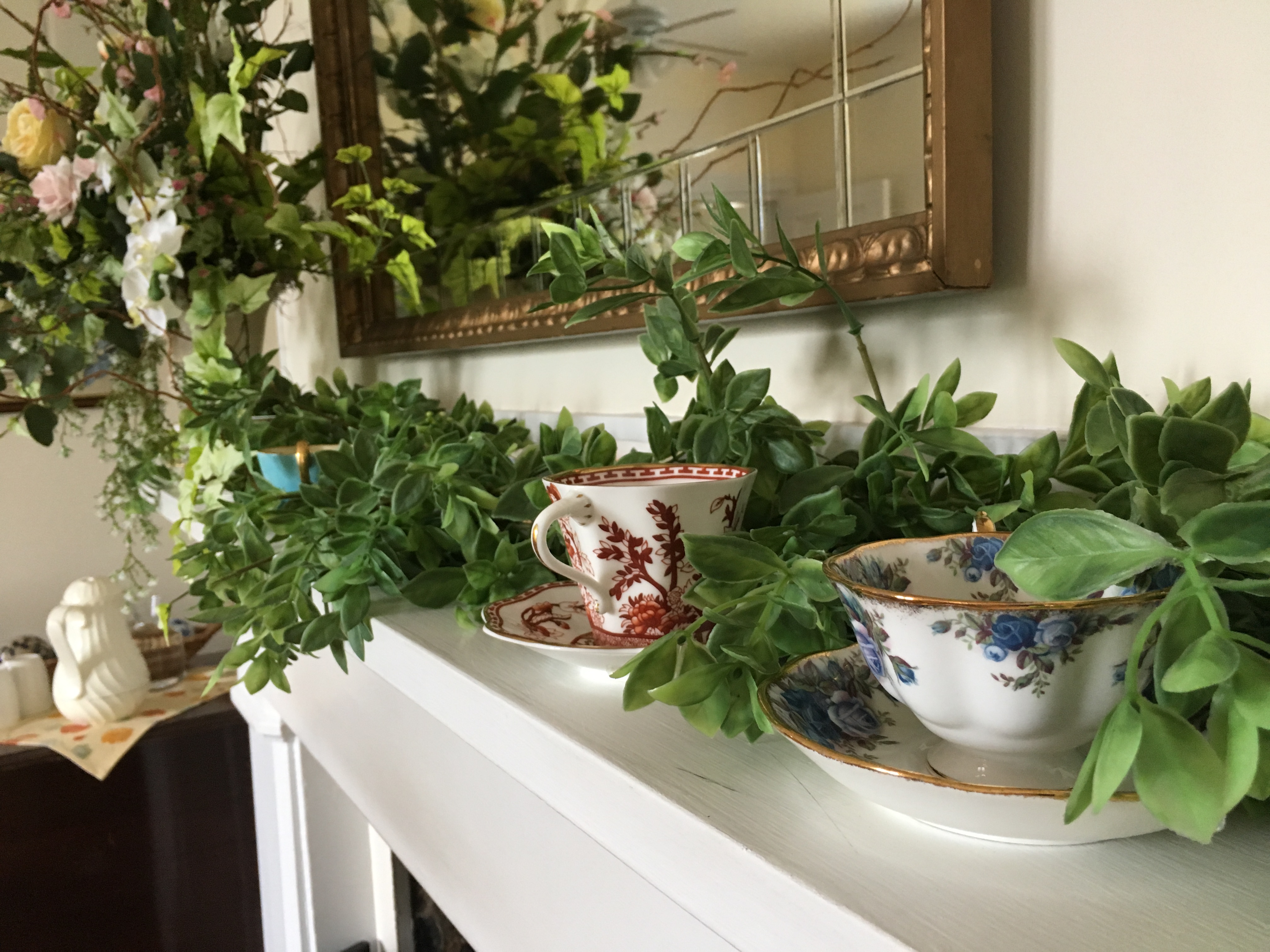 Built in 1859, the Rosemont Inn B&B has been welcoming guests to the quaint town of Montrose, Pennsylvania for more than 160 years. Originally a main house with a detached carriage house, the current owners chose to connect the two, adding a library to join them. This space has large windows and, of course, hundreds of books for guests to enjoy. There are several sitting areas throughout the public spaces, including the wide front porch, a swing on the back patio, and the grand living room.
The Rooms at Rosemont Inn B and B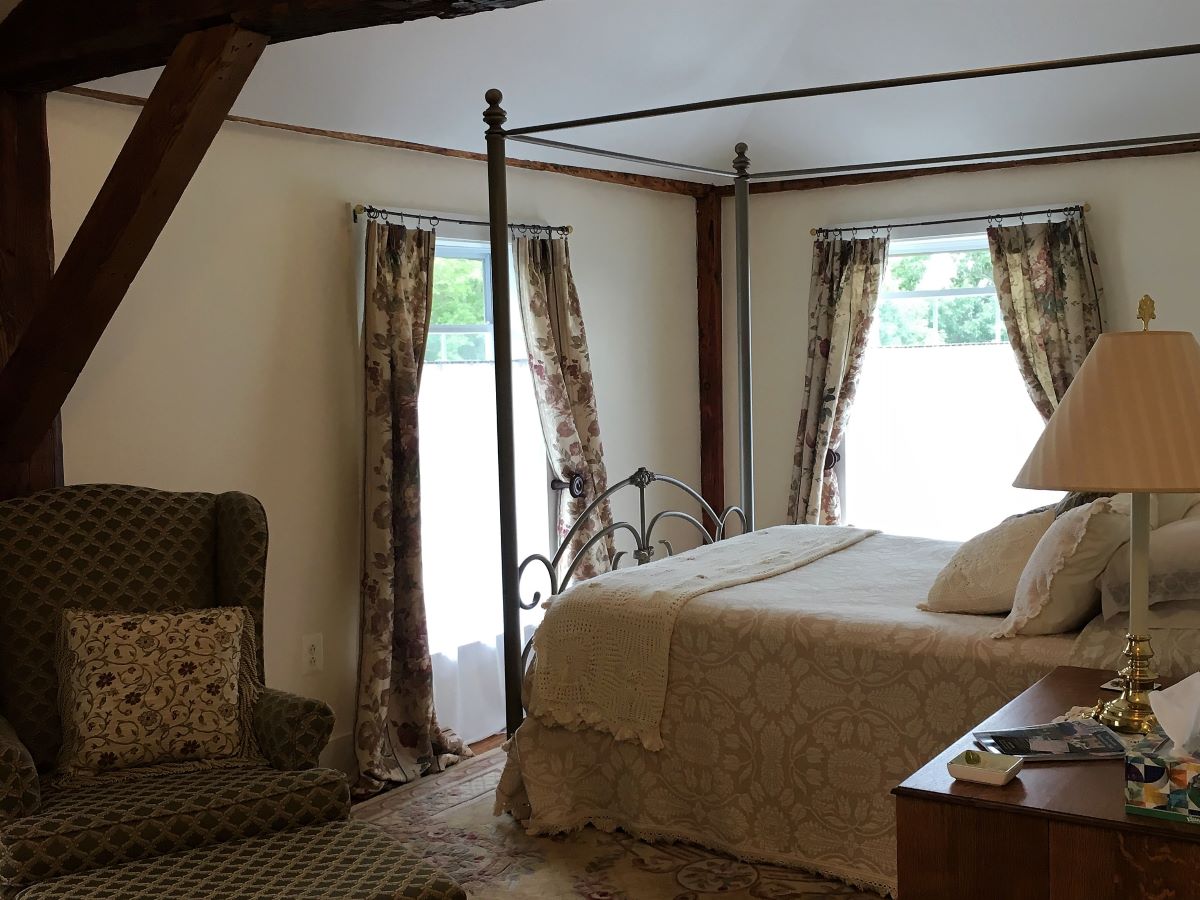 The Rosemont Inn B&B has eleven suites. Each one is unique, with its own inspired decor and a private bathroom. The newest, which opened in 2019, is the Charles and Mary Antoinette Suite, an ADA compliant suite located just across the entry hall from the dining room. This room has elegant finishes, plenty of space to maneuver. The room has a sitting area that looks out over the Village Green just across the street.
My room, The Clock Tower, is considered "one of the most beautiful rooms at the inn." In my opinion, it's the perfect room! The soothing color palette invites relaxation. The hand-hewed wooden beams, time-worn hardwood floors, and clawfoot tub bring historic charm to the space. Windows on two sides add a light, airiness. The sitting room, just outside the room, offers more space (not that I needed it) and walls of books to curl up late at night (I did do that!).
The moment Penny, the innkeeper, opened the door to my suite, I felt the tension of travel melt away. I only stayed one night. I could easily have stayed a week!
The Innkeepers
There is no doubt in my mind that the innkeepers, Peter and Penny Eldred, are part of what makes this place so special. They live onsite and care for the inn — and its guests — as if welcoming family. Their attention to detail is remarkable. The Rosemont Inn B&B is meticulously maintained — but not stuffy. Peter and Penny know the secrets to creating an atmosphere of relaxed elegance, and it shows in every detail — from the clean, comfortable rooms to the thoughtful touches throughout the property and the delicious breakfast, served with endless coffee! (Though, I've heard of Penny's legendary homemade doughnuts, I did not get to try them… perhaps, another visit is required!)
Penny shared that she and her husband became the innkeepers just over a year ago. Immediately, they put their stamp on the home, changing out the curtains in the living room — going from heavy velvet to light and airy. In the suites, they updated bedding, sheets, towels and decor for a lighter, comfier feel. They transformed nooks and crannies into usable space, whether a cozy reading nook or a hospitality station with fridge, coffee, snacks and water for guests. And they're still at it, with lots more improvements in the works!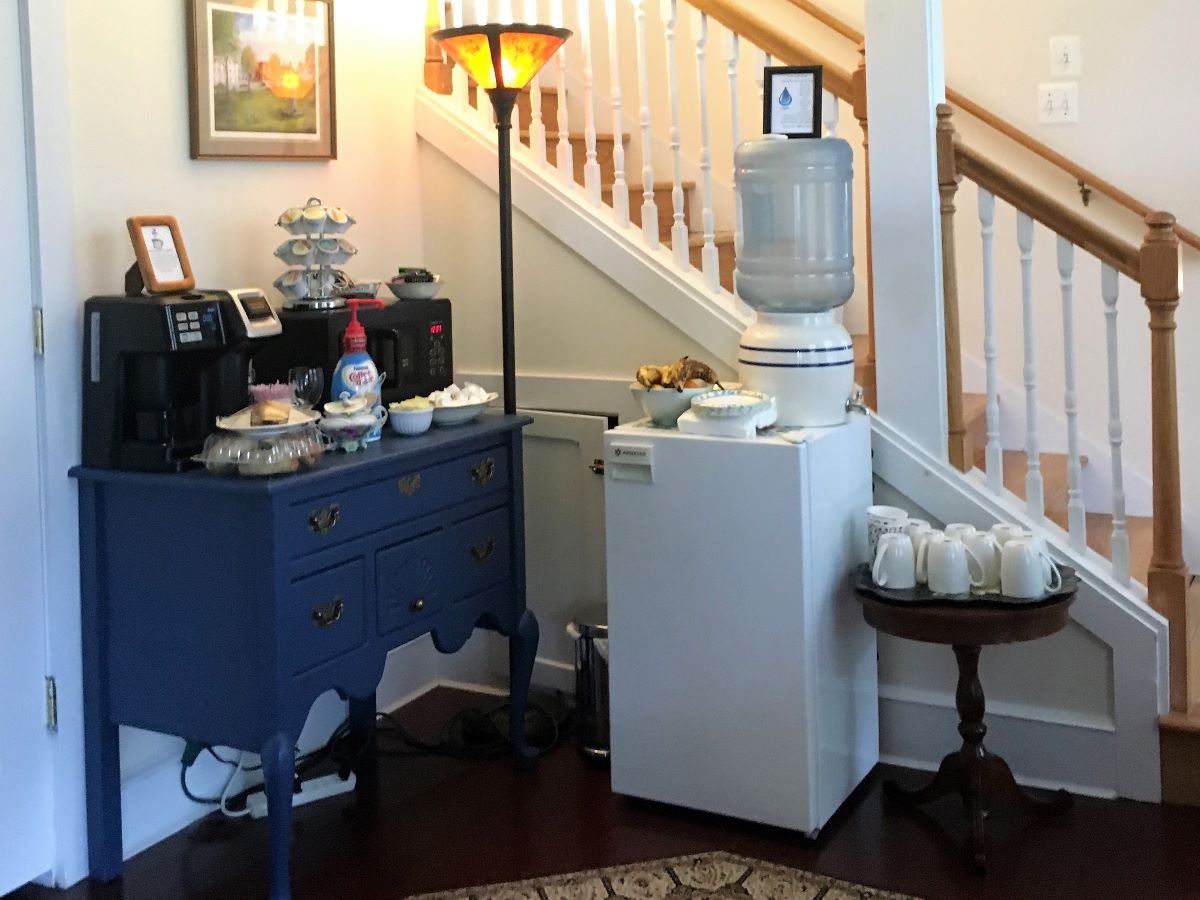 And, while decor upgrades are nice, Penny and Peter are what make this place special. From the great communication before check-in, the warm greeting at check-in, meeting needs and a fabulous breakfast served with hospitality, they are awesome. Meeting Penny, I felt like I'd made a friend — not just met my host.
The Food
Of course, a great bed and breakfast stay should include a fabulous breakfast! While Penny didn't serve her famous doughnuts or my beloved Belgian waffles, our morning meal was scrumptious! We had fresh fruit, her specialty eggs, waffles, bacon and endless coffee. The meal was served family style at 8:00 a.m., though each guest had the opportunity to schedule their preferred breakfast time.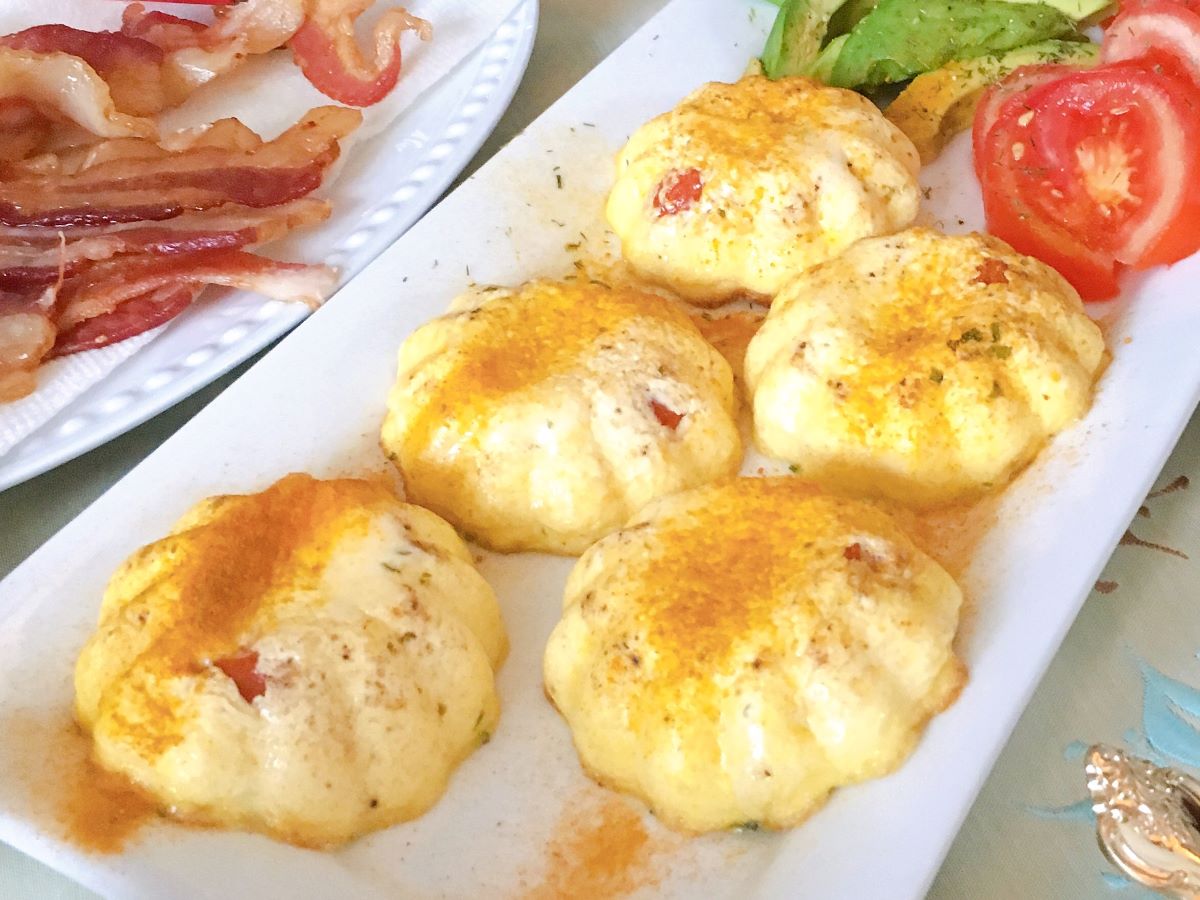 And, for guests who leave early, Penny stocks the hospitality area with fruit, breakfast bars, yogurt and coffee!
Beyond breakfast, guests can also order a picnic dinner for arrival night — or any evening of their stay. A local caterer works with the Inn to provide this meal — complete with picnic basket and bottled wine — to enjoy in their room, in the dining room, or on the front porch. My stay included dinner, which far exceeded my expectations! I loved the setting, on the front porch watching the summer rain come down. I devoured my dinner, though I couldn't finish it all. Buttermilk fried chicken, rosemary roasted potatoes, carrot medallions and a dessert parfait with lemon and fresh raspberries — sooooooo good.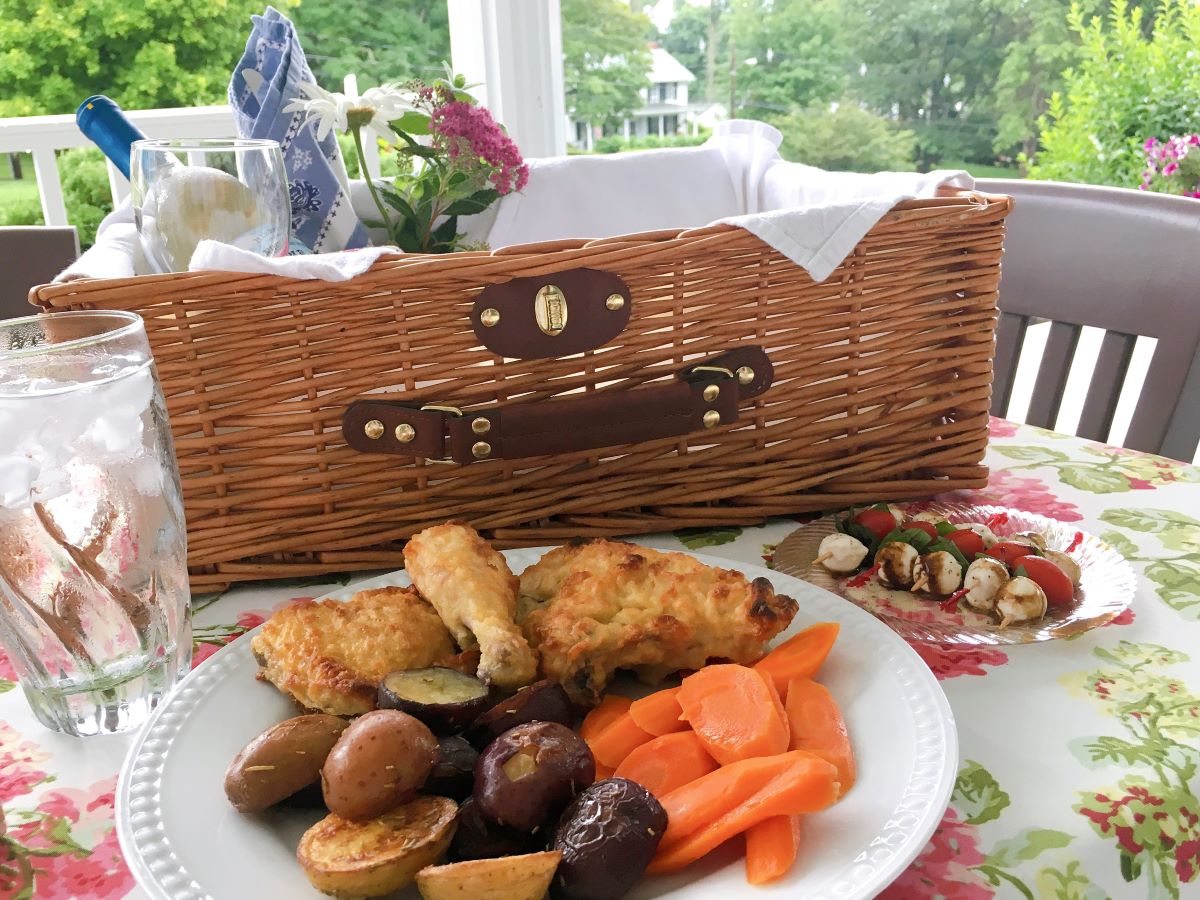 I don't know about you, but after a day of travel, checking into the hotel and running out to a restaurant for dinner is hardly relaxing. I loved being able to check in and settle in to enjoy the inn's comfortable surroundings.
The amenities at the Rosemont Inn
Like most bed and breakfast properties, The Rosemont Inn has its own unique vibe. If I had to describe it in one word, I'd say welcoming. I really felt like I was being welcomed home, not like a guest at a property. With so many places to relax, I found quiet spaces for me and also places to mingle with other guests. Penny and Peter are available — and enjoy — to visit with guests. But, they don't intrude. It's up to the guest.
The library makes up a large part of the public space, and everyone is sure to find a book to enjoy. There are two places to watch TV, though I found myself wanting to unplug! The living room has several cozy conversation areas and is often used for special events. There's a piano for guest use, as well as a large fireplace to warm the space in winter. There are a few different dining areas for breakfast, so even if all eleven rooms are full, breakfast still feels intimate, not like a cafeteria.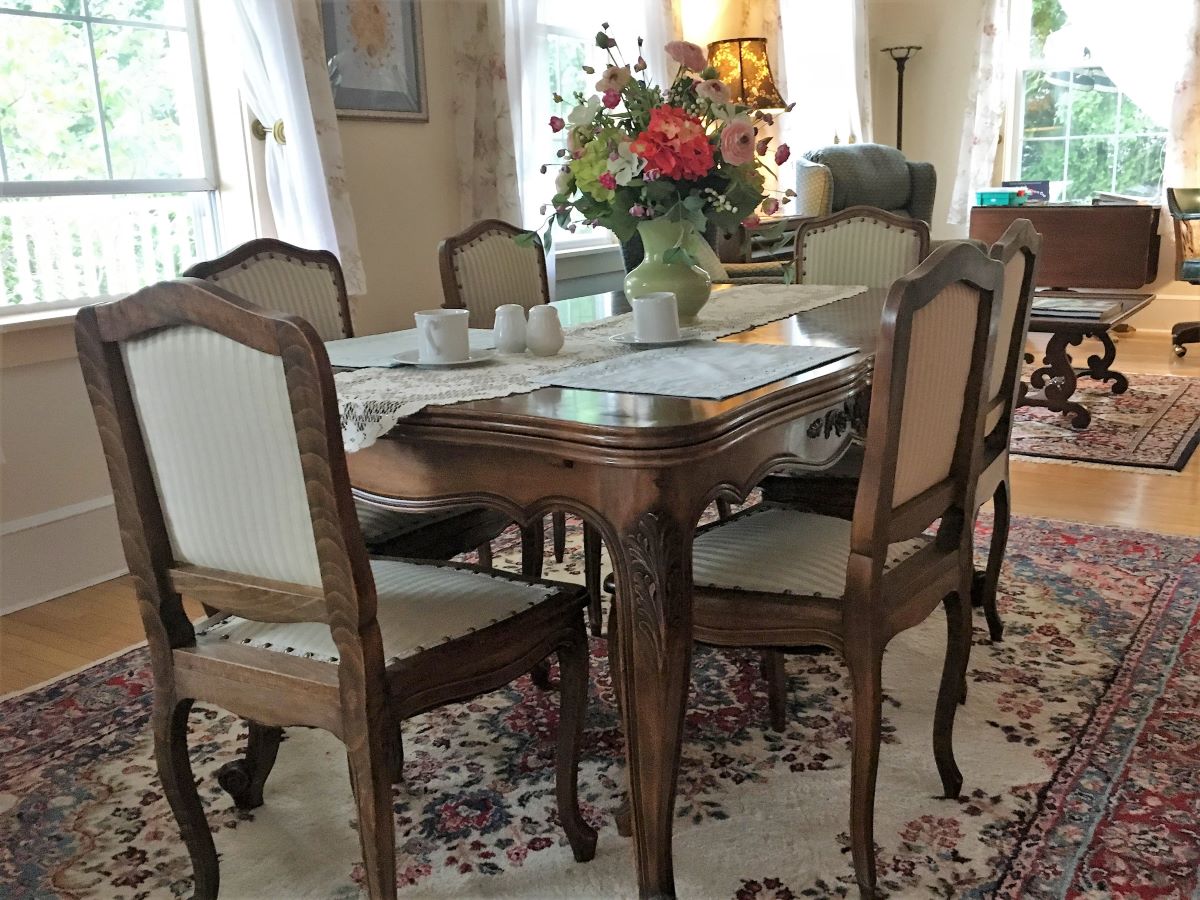 The property offers free WiFi, though I couldn't log on during my stay. I didn't ask for help with it, so I'm not sure if I was trying to connect improperly. There are also snacks available, locally made soaps to use in the bathroom and local art (some of it for sale) on display throughout the inn. The grounds are beautiful with patio spaces, grills, porch swings and seating areas to unwind at the end of the day.
Of course, the location is another great amenity. As they say "location, location, location" is everything. The Rosemont Inn is just across the street from Montrose's village green, and just two blocks from the adorable downtown area. Walk to dinner, the movies or to the shops in town and enjoy small town life.
Book your stay at the Rosemont Inn B&B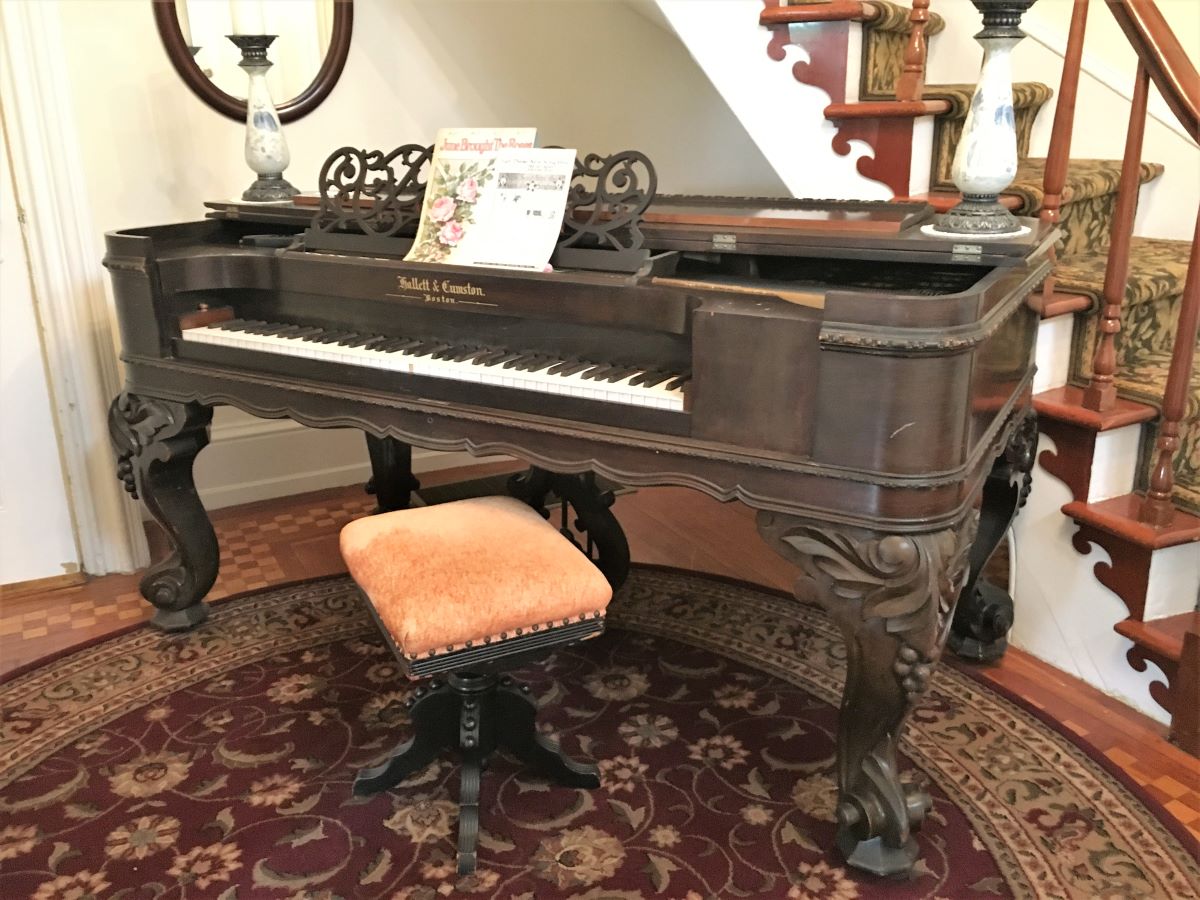 An easy drive from the big city (New York, Philadelphia, Rochester or Harrisburg), the Rosemont Inn Bed & Breakfast would make a great weekend getaway. If you're traveling through the area, it's a worthwhile detour from the highway and nice break from chain hotels to break up the drive!
In fact, a couple from Manhattan stayed there the same night I did, headed to Michigan for a family wedding. They had planned to hit the road early and skip breakfast, but changed their minds. They both said they were glad they did, even it meant getting to Michigan a little later in the day.
Address: 165 Lake Ave, Montrose, PA 18801
Phone: (570) 278-7600
Website: therosemontinnbb.com
Rates (2019): Rates vary by room size and location — generally from $135-$200 per night. Check the website for rates.
Pin it for later
If you can't visit now, then save this to your travel boards and hotel reviews! It's one place you don't want to miss!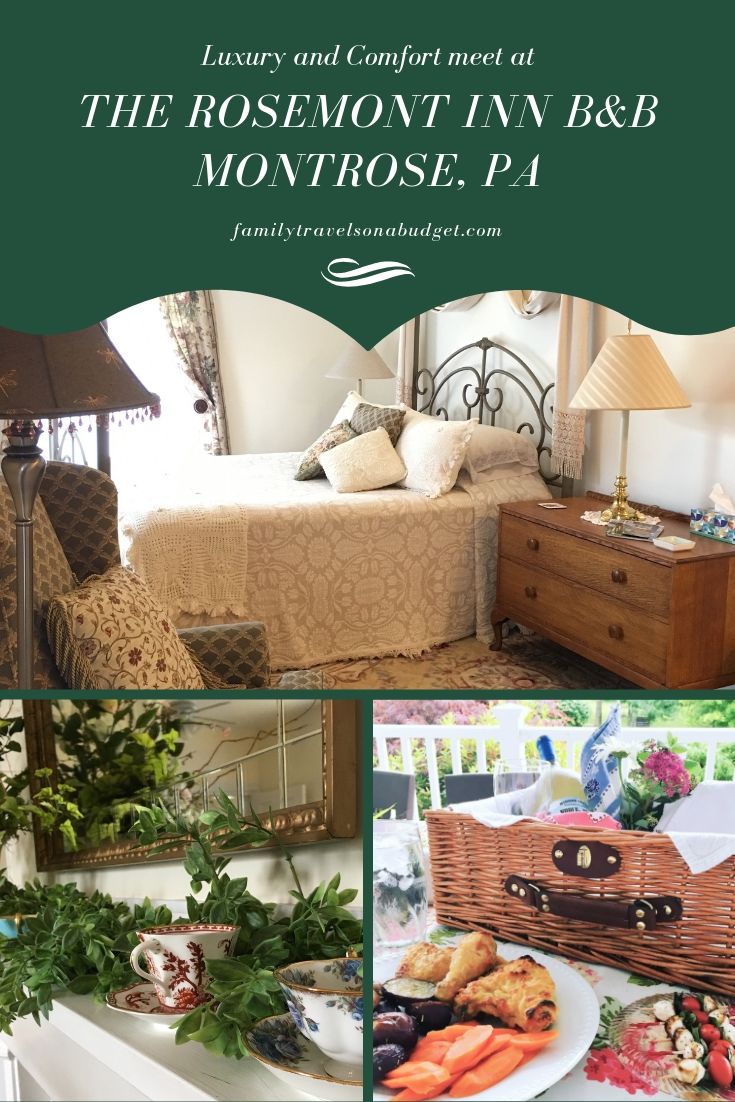 When planning your stay, if you aren't sure which room is best for you, call Penny! She'll help you pick the perfect room at the Rosemont Inn B&B — whether at the back of the house, near the parking lot or overlooking the abandoned jail next door. Yep! Really cool, actually! Trust her recommendations for things to do in Montrose or add ons to make your stay even more special.