Road Trip Scavenger Hunt: Car games for kids and families!
We spend a lot of time on the road with the kids. To pass the time, we play car games, and one of our favorites is the Road Trip Scavenger Hunt!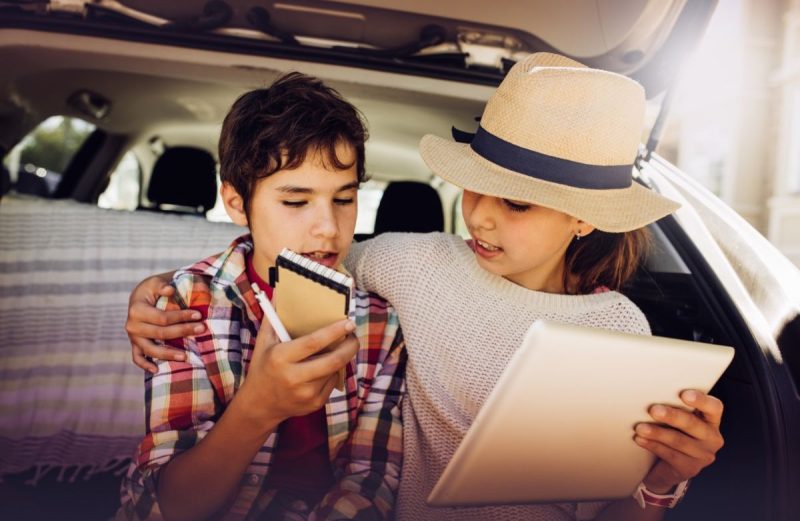 Make your own car scavenger hunt
To play a scavenger hunt for the car, all you need is a few pieces of paper and pencils.
Or, if everyone has a smart phone or tablet, make a list and share it! That's Road Trip Scavenger Hunt — high tech for modern families.
When we play this scavenger hunt for the car, we usually include 12 items people are likely to see on the trip.
That way, we can personalize our car scavenger hunt to include items we might see in the region. The wide open spaces of the southwest are quite different from the tight cities of the northeast, so think of things you're likely to see as you.
Here's an example of the car scavenger hunt items we used on a trip from Atlanta to Birmingham:
construction sign
American flag
McDonald's golden arches
water tower
Alabama state flag
Pepsi sign
helicopter
Blue "H" hospital sign
miles to Birmingham sign
church steeple
water tower
motorcycle
One great thing about a road trip scavenger hunt is you can make it easier or harder, depending on how competitive (or how old) the people playing happen to be!
Variations of the scavenger hunt for the car game
Here's how we played our scavenger hunt for the car.
We made a list together, with each member of the family suggesting something to look for on the car scavenger hunt. WHY? Because it used time and kept the kids thinking. Making the list took about 15 minutes! Win for parents.
Then, we played cooperatively — the whole family working together to see HOW MANY TIMES we could find each item on our road trip scavenger hunt. That saved us from having to think of a second game AND kept the kids engaged longer than just trying to find each item once! Miles to …. signs are a great thing to include if you'll be playing this way!
And that's it! Our kids kept looking for car scavenger hunt items almost an hour, leaving just over 30 minutes of the drive until we reached our destination.
There are lots of ways to modify the road trip scavenger hunt! Here are just a few!
Take turns finding items on the list. In this version of the scavenger hunt for the car, each person takes a turn looking for things. If you anticipate the kids will scream over each other, this is a good way to make sure everyone gets a turn! And, with younger kids, you can "assign" which of the road trip scavenger hunt items they have to find, giving younger kids an easier item to hunt for than older kids.
Team road trip scavenger hunt. In this alternative to the scavenger hunt for the car, assign teams — one person on each side of the car (probably not the driver) to search for items and race to see which team completes the car scavenger hunt first!
Photo car scavenger hunt! In this version, have kids use their phones to hunt for items and snap a photo of the items on the road trip scavenger hunt. This one's sneaky because they have their phones, which makes them happy. BUT, they have to use the phone to take photos of the car scavenger hunt items, so they can't watch movies or scroll through instagram and tiktok the whole time. If you don't tell them, I won't!
We have been playing road trip scavenger hunt in one way or another for years. At this point, my college age kids even start it. We enjoy how a car scavenger hunt helps us pass the time as we actually notice some of the things around us!
Even easier! Purchase a road trip scavenger hunt!
If you don't want to think up a car scavenger hunt every road trip, then consider buying one you can keep in the glove box and use again and again.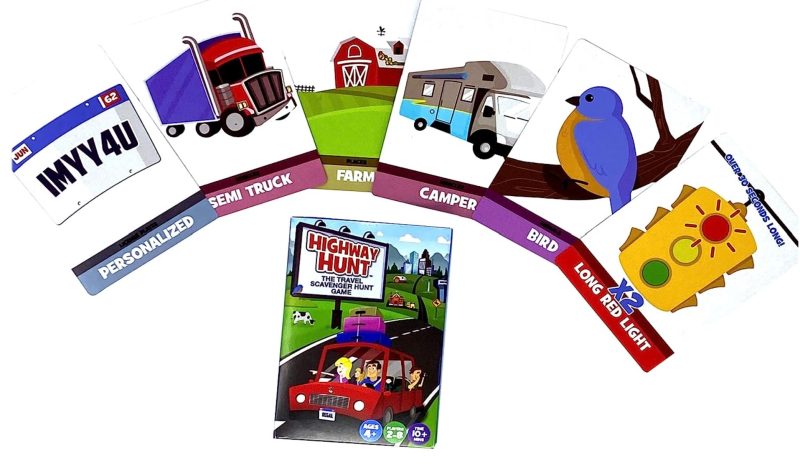 Here are a few highly rated road trip scavenger hunts, all priced under $10, so great for budget family travel!!!
Road Rally Travel Game for ages 5+. Rated #1 new release in travel games, this easy to learn/easy to play car scavenger hunt game is great for kids ages 5-12 (and their parents)!
Scavenger Hunt for Kids. With thousands of purchases, this highly rated game is fun for kids ages 7+. With see it cards, smell it cards, hear it cards and feel it cards, there's more to this game than just a visual scavenger hunt for the car. Engaging all the senses, it holds kids' attention!
Highway Hunt Car Game. This game uses bright illustrations making it easy for kids as young as 4 to play. It includes "options" for individual play, group play or with the parents. Adjust the rules for young kids and assign a different number of items to find based on age!
Make your own road trip scavenger hunt or purchase one of these inexpensive car scavenger hunts to use on road trips. Either way, the kids will have lots of fun playing a scavenger hunt for the car, and you'll hear a lot less "are we there yet!" Everyone wins.