4 easy tips to save for vacation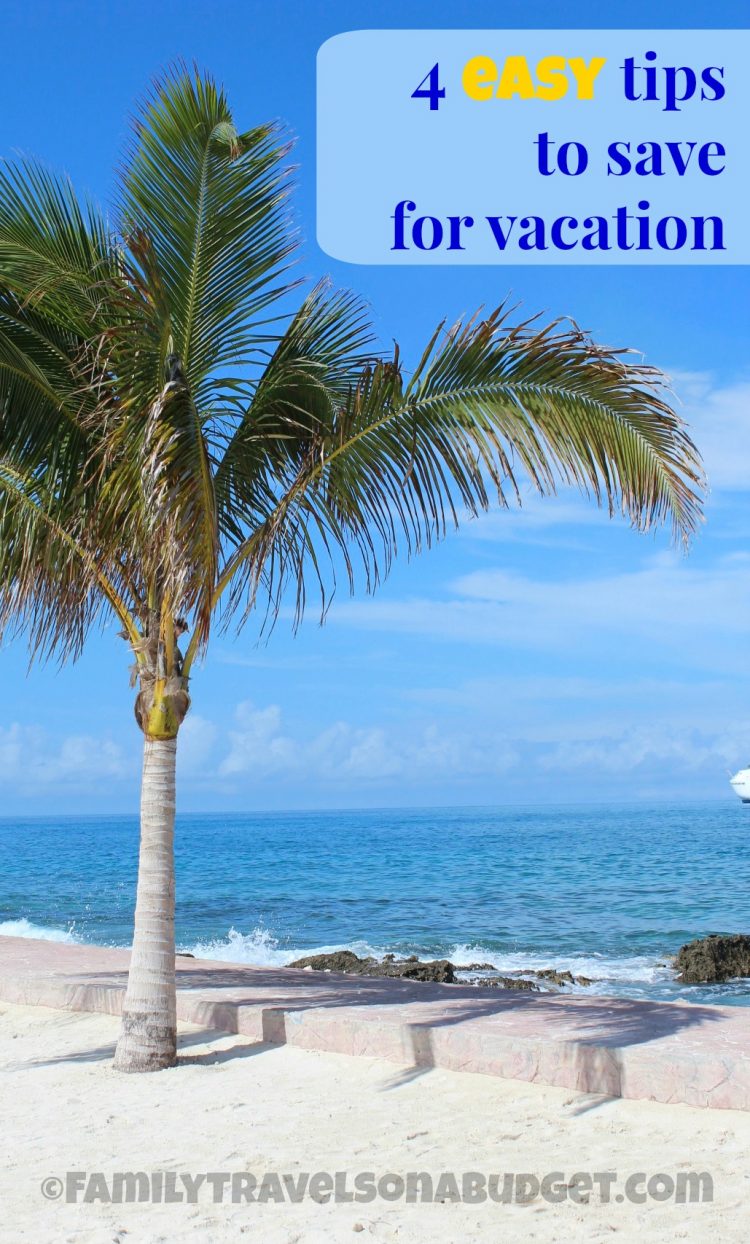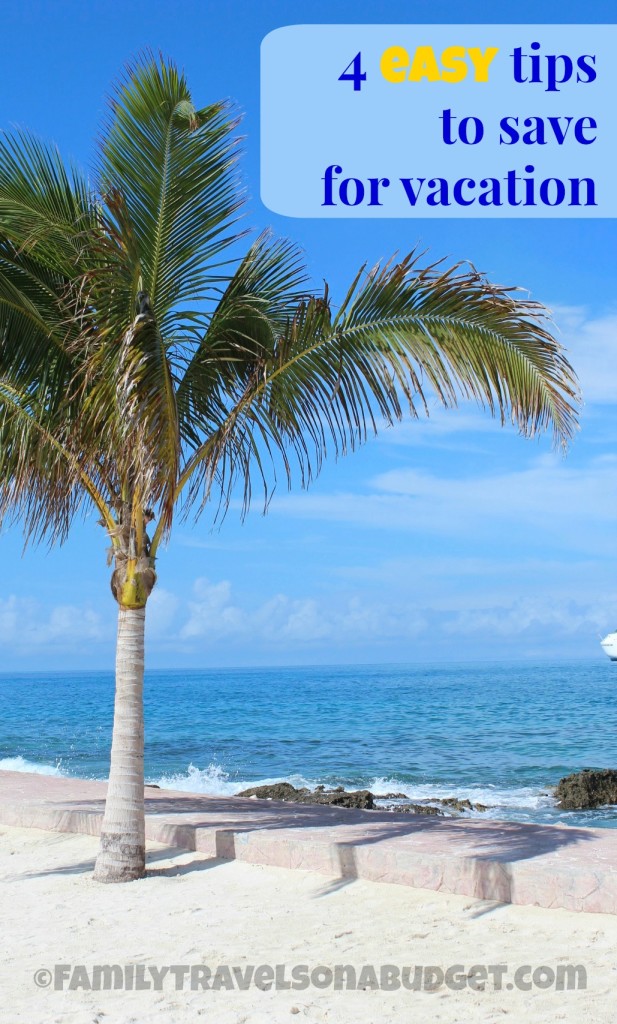 This post contains affiliate links and links to outside businesses.     
Traveling to and from Louisiana last week, I met lots of neat people. When they learned I write about families who travel on a budget, many shared that they wished they could travel, but had no money for it. With these 4 easy tips to save for vacation, your travel dreams can come true!
I've written about budget travel before, but I'm always learning new things, so it's good to write an updated post now and then. Bookmark this post or email it to yourself or share it to Facebook — save it somehow — and then pack your bags!
First, set a goal!
Motivation starts when you set a goal to work toward. In my job, I set a goal for a certain number of posts per month. At home, I set housecleaning goals. Usually, I get there (the blog). Sometimes, I don't (the house). But at least I'm moving! So, the first tip to save for vacation is: Decide where you want to go?
Some pointers:
If you're not a big traveler, think of a nearby destination you hear about but have never visited…  Go ahead…. Dream! Pick a place.
If you're traveling with kids or a big crew, road trips within 6 hours of home are cheaper. Airline tickets stack up!
Set a target travel date. It's hard to save for "someday," but it's a whole lot easier to commit to an exciting trip within _____ time! (I plan major trips up to two years ahead!)
Second, engage the family!
I'm sure you've heard the "experts" say that new year's resolutions shared are more successful than those people commit to alone. That's true for travel too! When you get the family involved, they'll be more willing to save with you! Make a slogan or a trip name (We used Operation Bring Baby Home when saving for our daughter's adoption 10 years ago! It helped us all stay focused!). Beach or Bust works too! Have fun with it and use it. Often!
Third, save!
Yeah… I know… this is the hard part! But, there are lots of resources out there to help you save. These tips to save for vacation will get you started.
Online Budget Stretchers
• BeFrugal.  BeFrugal.com offers online coupons, promo codes, printable coupons and more to help you save on things you buy anyway! Some of the restaurants include McDonald's, Quiznos, Olive Garden, KFC and Outback, and more. Shopping for back to school is less expensive with coupons from Old Navy, Kohl's, Target, Macy's, Vera Bradley (YES, Vera Bradley!) and more. They also offer coupons for home improvement, travel, sports equipment and more. Using BeFrugal.com, you can save on purchases you'll make anyway. BeFrugal also offers a great trip planning feature, called the Fly or Drive Calculator, which I have provided for you in the left sidebar (<—- over there, look up)! Seriously, cool tool!
• Ebates. Ebates does not offer restaurant or printable coupons, but focuses on online sales. I use Ebates more when shopping online, especially when businesses offer special savings (double or triple cash back!). Just last week, I got an Ebates "Big Fat Check" for $10.80 on a purchase I was making with or without the discount. Nice, right? As an added bonus, many Ebates retailers offer free shipping so I save even more! If you haven't tried Ebates yet, check it out HERE. 
Other Cool Savings Ideas
• OpenTable.com. I make dining reservations using OpenTable.com to earn points toward FREE dining down the road. Beyond the savings, I also like the OpenTable reviews — which come from real diners, not padded by friends of the owner!
• Restaurant.com. Purchase dining certificates through Restaurant.com before going out to eat and save on dining at restaurants across the country. Savings can be as high as 50%!
• LivingSocial and Groupon. Whenever we plan family activities, girls' night out or even an activity based date night, I check Living Social and Groupon for savings certificates. A couple weeks ago, we had a girls' night out to a "Wine and Design" painting class, normally $25. I purchased a certificate online for $12 and took it to the class. EASY!
• Plan dinners around foods on sale. We stock up on meat when it's on sale, buying one or two packs for now and another two to freeze. We also focus on seasonal fruits and vegetables rather than sticking to the same thing every week. Out of season, avocados can run as high as $4/each! In season, we can get 4 for $5! So, we enjoy guacamole in season. Besides, in season veggies taste better… but that's a post for a food blogger. 🙂
Fourth, Apply the 30 day rule!
The 30 Day Rule is my favorite tip of all! If you want it now, wait 30 days before buying. If you still want it, buy it. If not, don't. We've been using it for years, protecting ourselves from impulse purchases we'd later regret. On big ticket items, like a new television, the concept is clear…. resist that impulse purchase and save hundreds.
I think the bigger drain on most peoples' budgets is the smaller items.
When shopping, do you find it easy to slip a cute little hair bow in the basket for your daughter? Or a fun notebook? Or maybe a new pair of shoes? Do you find it hard to resist your child's request for a toy, rationalizing that it's only a few dollars?
Look at it this way: Hair bow $5, Notebook $2.50, Shoes $30 (yep — bargains), and Toy $5. Even if these are the only impulse purchases you make in a month, they equal $42.50! Add that up over the course of a year, and the total is staggering: $510. My family can vacation for 4 days on that!
Use the 30 day rule to save. If your daughter really needs the hair bow, buy it the next month. If you really need the shoes, buy them the next month. You get the idea! Odds are, you'll completely forget about them within the day.
When we adopted the 30 day rule, our budget improved dramatically and quickly. Our monthly credit card bills dropped and we found we had money "left over" at the end of the month. Voila! Vacation savings!
What are your favorite tips to save for vacation? Do share! We love hearing your ideas.