Family vacation planning as easy as ABC!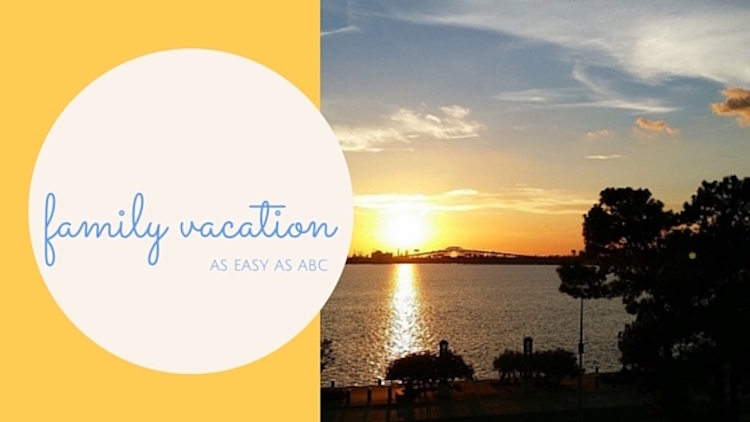 Does taking a road trip with your kids sound more painful than a root canal at the dentist? This article is for you! Even if you enjoy road trips with the family, I think these ABCs of family vacation planning will make your trips even more fabulous! It took me 20 years of traveling with kids to perfect this formula, and it works!
Ready for the family vacation planning ABCs?
A = Appreciate their temperament. Every kid has a different temperament, right? Imagine a go-go-go family vacation with no unstructured downtime for an introvert. Oh my goodness — that's a nightmare trip for them. (And I think it's a major reason kids have meltdowns midday.)
Save up to $88 on SeaWorld Orlando Resort Tickets!
Ben is my introvert and I'm an extrovert, so 16 solid days of togetherness this summer could have been a disaster. I reminded myself throughout the trip to allow quiet time. When we had breaks in the schedule, I'd leave him to watch ESPN, check Ohio State Football videos on his phone or read a book. I'd busy myself reorganizing the luggage, checking work emails, and other not so exciting things to keep myself from intruding on his downtime.
In 16 days, we had one ultra-mini-five-minute spat. I quickly realized that we hadn't eaten lunch and he was running on fumes. We stopped for lunch — selecting a quiet booth in the corner — and ate. Quietly. Slowly. He needed food and a break to recharge his batteries. It worked!
B = Be flexible. Unexpected moments in travel might just lead to the greatest memories. On a "detour" to Casey to see the world's largest wind chime, we met the friendliest townspeople. Ben and I still smile as we remember the friendly people we met there.
In Rockford, Illinois, we met Frank during breakfast where he shared some of his amazing life story. A "living history book," Ben wanted to hear the rest of this Sicilian immigrant's life story. We met him (invited) at his family's restaurant, where he gave us a behind the scenes tour as he shared the rest of his family's restaurant legacy — and a wisdom that comes only with age.
If you stick to the schedule despite surprises that pop up along the way, you might miss the best memories you could ever have. Also, being over-scheduled or too attached to the schedule means you might put it ahead of your family's enjoyment. Who cares if you planned on dinner at a fancy restaurant (assuming reservations can be canceled) if you're having so much fun at the museum that you don't want to leave? It happens! When it does, go with it, because surprises only happen if you're willing to let them!
C = Consider your kids' interests. For example, when planning the Great Illinois Road trip, I selected attractions and activities based on my son's and my shared interests. Ben loves history, art and adventure, so we planned our itinerary around those.
To do this with multiple kids, include each one's interests along the way. Plan fairly — considering each of their interests as you make choices. Balance the selections, including a few choices for you, to make sure it really is a family vacation!
When you focus on the things they like, you get a glimpse of their heart and encourage their dreams.
What's your best vacation planning tip?
I'd love to hear from you today! What's your best travel planning tip for great family vacations? How did you discover it? I love a good story — so please, share!