Annapolis: A walking tour
Before I get into the awesomeness of Annapolis, I have to confess something. I judge cities! I do. It affects my decision whether to visit or not. You'd think after more than four years of travel writing, I'd realize that every place is unique and has something wonderful to offer. But no… I judge cities.
Maybe, just maybe, the Annapolis visit will cure me of my judgmental ways! I hope so.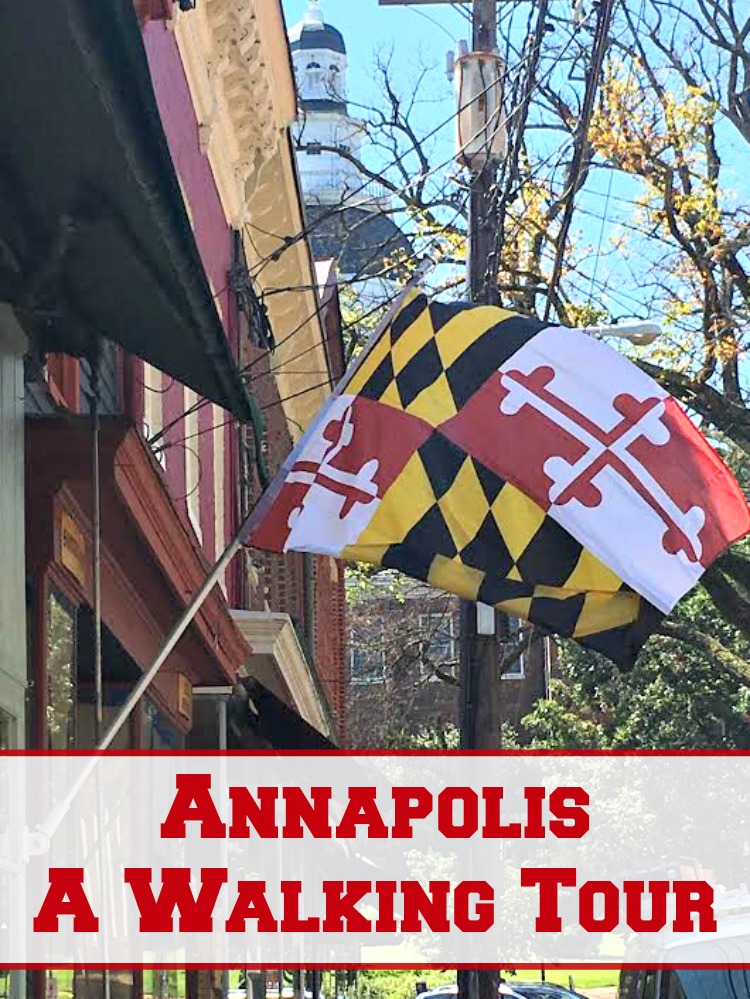 This post contains affiliate links. Your purchase helps keep this site running. Thanks.
Annapolis, my imagination
Before my visit (and I apologize profusely to all who live there), I thought of Annapolis as a small, squat town with nondescript government box buildings. Gray. Drab. Uninspired.
Okay. Okay. I apologize! Please read on.
Walkable Annapolis, the reality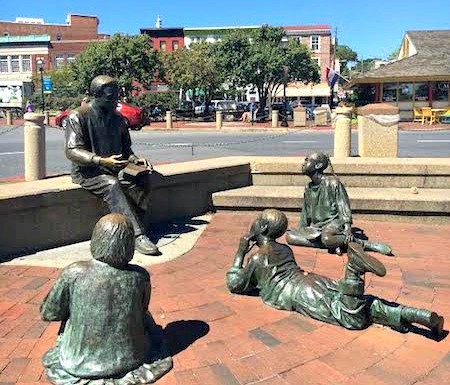 Oh my goodness, friends, Annapolis is stunning! It's one of the most beautiful cities I've ever visited. It's totally [amazon_textlink asin='B01H7T1D2K' text='walkable' template='ProductLink' store='ftoab-20′ marketplace='US' link_id='78c2f0bc-93d5-4cf6-990c-1055dbe20edb'] — in fact, I highly recommend you park the car and explore this gorgeous city on foot to really appreciate it!
Fleet Street, just 400 years old or soFleet Street — it's a real thing.
Wooden row houses that pre-date the [amazon_textlink asin='B00VHZFNK4′ text='Revolutionary War' template='ProductLink' store='ftoab-20′ marketplace='US' link_id='07d974f1-2d3b-45e6-b91e-0635c910a6c9′]. They're a real thing.
Colonial colors — you know the rich blues and reds of early America. They're a real thing, too.
In fact, most of the buildings in Annapolis (population 40,000) are more than 100 years old. Some are pushing the 400 year mark! WHOA!
Oh, there's also the [amazon_textlink asin='0071429565′ text='US Naval Academy' template='ProductLink' store='ftoab-20′ marketplace='US' link_id='95782450-d37c-46d3-8084-8a7c89382b2c'] and the [amazon_textlink asin='B00XEDF68G' text='Chesapeake Bay' template='ProductLink' store='ftoab-20′ marketplace='US' link_id='c1071f9c-58e4-4447-95c3-2a6ccdb0a394′]… as if you need more reasons to visit.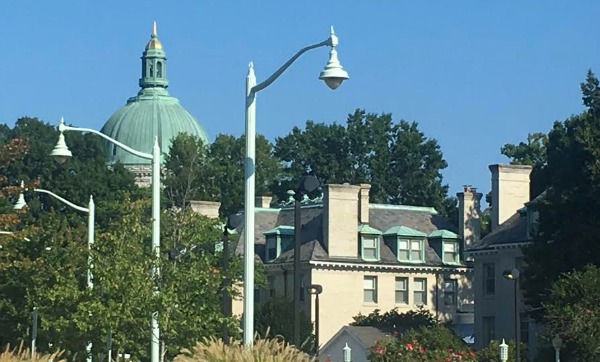 Plan your visit to Annapolis
Since Annapolis is such a walkable city, you can plan your visit just about any way you want. I recommend a 3-day weekend to see all the highlights without being too rushed. Here are my favorites, to get you started.
1. Stop in at the Visitor's Center, 26 West Street.
The Visitor's Center is open 9-5 seven days a week. You'll find maps, restaurant menus, tour information and public restrooms. Also, the friendly staff can assist with recommendations to help plan your day. If you prefer, plan your trip and request information at their website before traveling.
2. Tour the Naval Academy, 52 King George Street.
Hours vary by day and season, so check the website to plan your visit. I've toured many college campuses, but none compares to the US Naval Academy. There's so much history — military, collegiate sports, political. Also, the Naval Academy is an architectural gem in a stunning setting. I couldn't believe how much I learned on the tour! NOTE: Adults must have photo ID to visit, and some are required to provide a second form of ID (passport).
3. Sail the Chesapeake Bay. 
Okay, folks, I hang my head in shame. Again, I knew that Annapolis sits on the Chesapeake Bay. Why did I picture it as an industrial waterfront, not the sailing mecca that it is? Yeah… I don't know either. Anyway, I highly recommend you spend an afternoon sailing the bay, learning more naval history and soaking in the natural beauty. I sailed on the Woodwind, sister ship to the Woodwind II of Wedding Crashers fame. Great tour!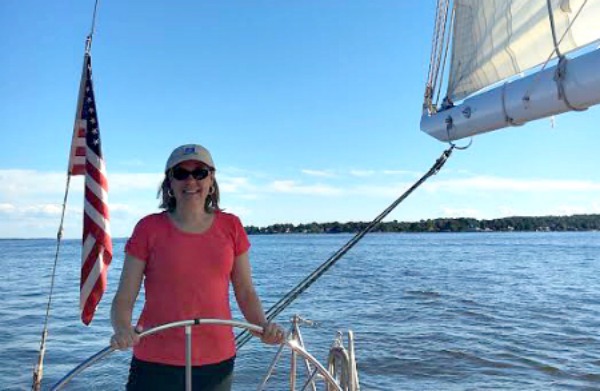 4. Walk the city. 
It really is walkable Annapolis! Take a stroll through downtown enjoying the architecture (historical plaques abound) and discovering places you knew but never really knew… like Fleet Street. Explore Main Street, recognized as one the the 10 Great Streets in America in 2008. Proud residents of Annapolis actively preserved Main Street's colonial flair long before there was a federal historic preservation program. It survived the "modernization" that many other towns experienced in the 1960s and 1970s, staying true to its roots. Beyond the architectural character, most storefronts are filled with independent shops and restaurants that enhance the overall feel of the city. In the evening, head to the waterfront to watch the sun set over the marina.
Prefer not to walk? Take a guided tour of Annapolis by electric vehicle to learn the history from a local guide!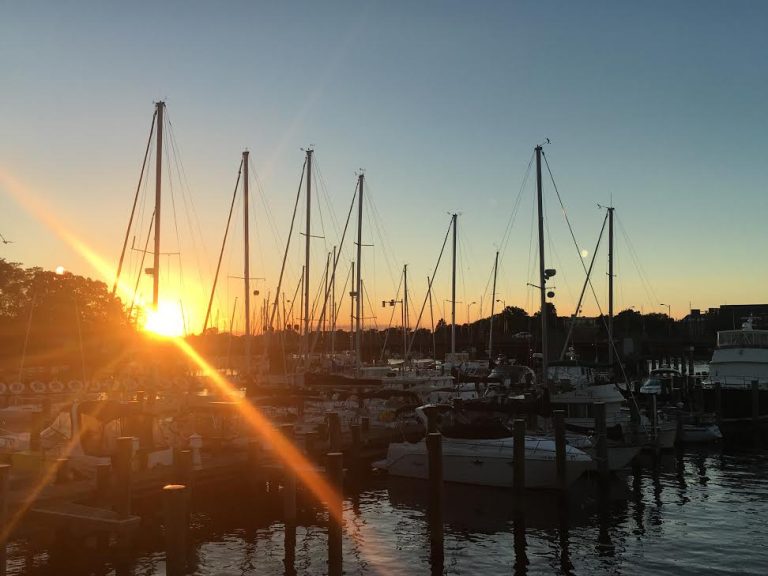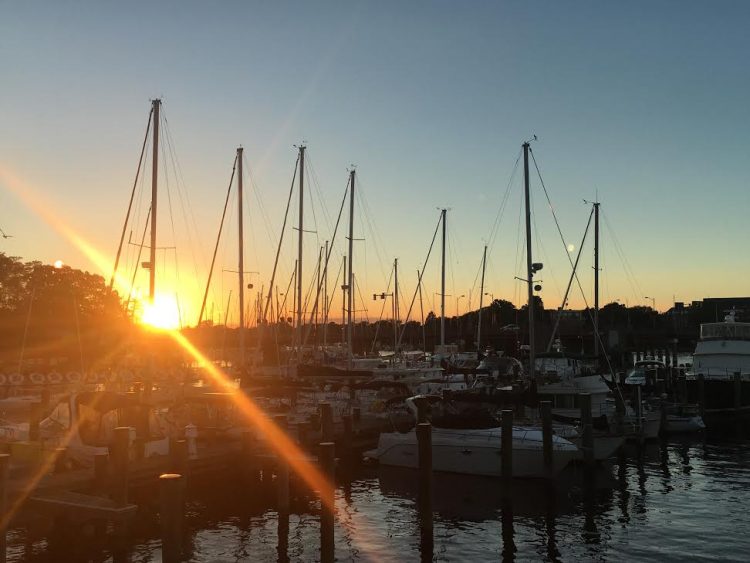 5. Tour the State House. 
Head up the hill to see the State House, only the oldest state capitol in continuous legislative use. It just happened to serve as the nation's first capitol building. Really, it's no big deal that [amazon_textlink asin='1250130336′ text='George Washington' template='ProductLink' store='ftoab-20′ marketplace='US' link_id='d22bddc8-7eed-4008-b390-4d247848765a'] resigned his commission here before becoming our first president or that the Treaty of Paris was ratified here signaling victory in the Revolutionary War. I'm kidding! It's a really huge deal in our nation's history. Visit — It's free!
NOTE: This is a government facility, so photo ID is required.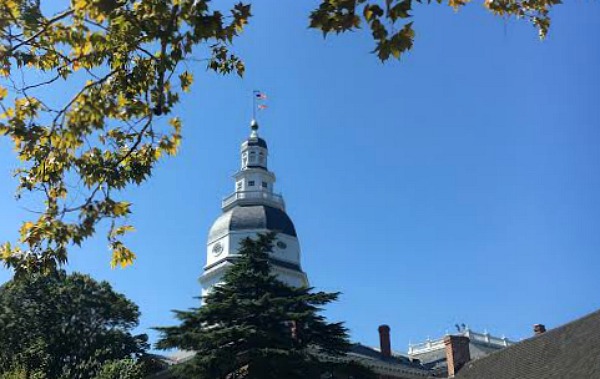 6. Eat. Eat a lot! 
Oh my goodness. There are so many incredible restaurants in Annapolis. I ate way too much on my visit (good thing I walked a lot). Some famous restaurants that live up to their reputation are:
Iron Rooster, 12 Market Space. Opens daily at 7 a.m. and serves breakfast all day (lunch and dinner menus also available). This casual restaurant, with cozy dining areas on the first and second floor, creates homey dining spaces that complement the home-cooked menu specialties perfectly. I don't think you can go wrong here — it's all delicious. BUT, I do recommend you save room for a homemade pop tart for dessert (enough for 4 to share).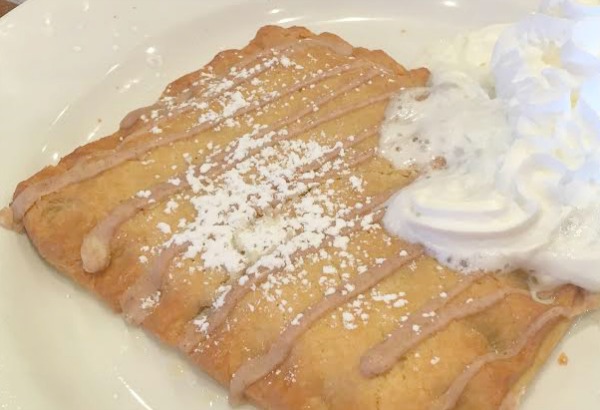 Chick and Ruth's Delly, 165 Main Street. Opens daily at 6:30 a.m. If you want to eat where the locals eat, then Chick and Ruth's is the place to go. I visited on a weekday morning, arriving in time to recite the Pledge of Allegiance with all the other patrons at 8:30 a.m. (Saturday and Sunday at 9:30). This family owned business, founded in 1965, is popular for so many reasons: its patriotism, the crabcakes (huge) and the infectious personality of owner, Ted C. Levitt. Like many of the best local restaurants, decor here has evolved organically — no prepackaged look. Grab a table and make yourself at home. And please, tell Ted that Karen says Hi!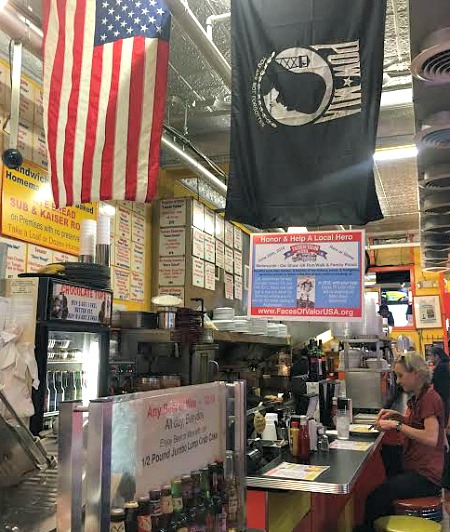 Carrol's Creek Cafe, 410 Severn Avenue. You simply cannot visit Annapolis without eating at a waterfront restaurant! Carrol's Creek Cafe is more of a fine dining experience with a casual atmosphere. Ask for a table outdoors if at all possible and watch the sun set behind the marina as you savor each bite. Even though it's across the bridge from Downtown Annapolis, it's only a 5 minute walk. If you prefer, take the water taxi!
Annapolis Seafood Crawl, Annapolis Visitor's Bureau, 26 West Street. Take a guided city tour by eCruiser and sample amazing seafood along the way. You can pre-book this tour online to guarantee a spot as spaces each day are limited.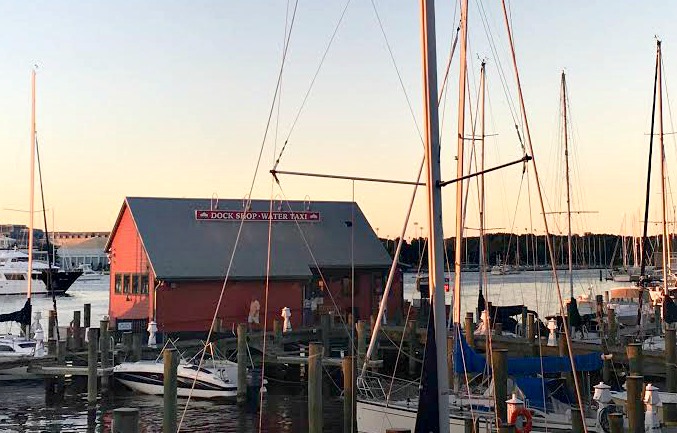 Friends, I snubbed my nose at Annapolis — somehow associating it with boxy, federal buildings and not with its historical charm. This gem on the Chesapeake Bay's Western Shore should be on your vacation bucket list!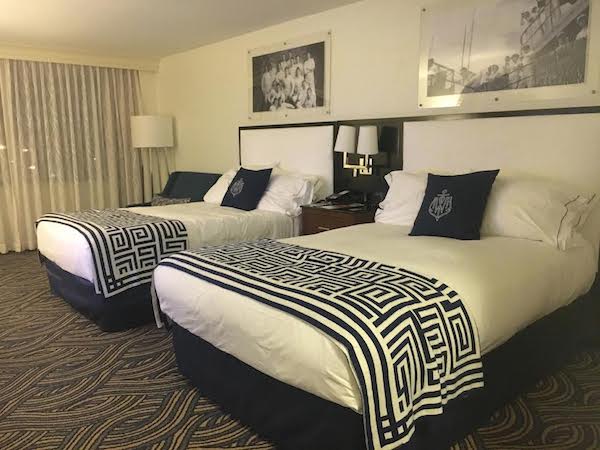 My visit was hosted by the Visit Annapolis & Anne Arundel County and the Annapolis Waterfront Hotel, located on the waterfront and close to everything in the city. The hotel offers PURE Rooms, taking extra steps to ensure a hypoallergenic stay. For this allergy sufferer, it was awesome! Thanks to both for hosting me. All opinions in this post are mine.