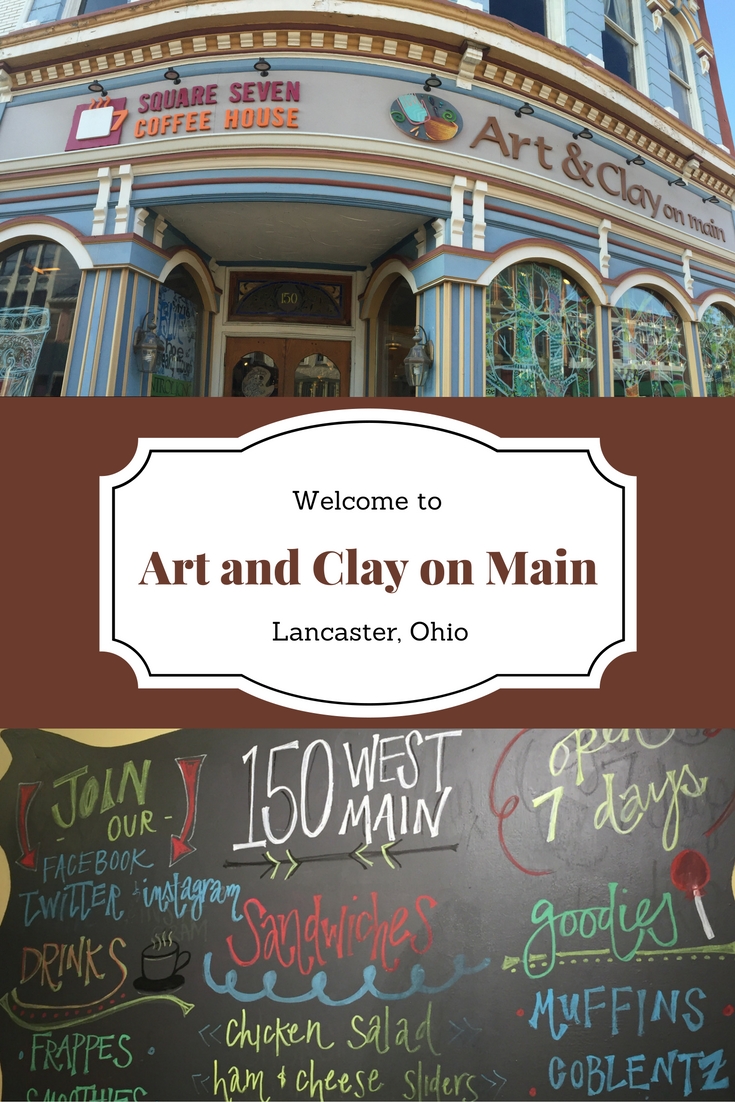 In Downtown Lancaster, Ohio, historic buildings line Main Street, a true historical gem of architectural style long abandoned by modern developers who prefer ease over form. Lancaster could have succumbed to modern improvements, but the residents of this city chose the harder route, refurbishing these gems and preserving them for future generations. Within one of these buildings, you'll find Art and Clay on Main and Square Seven Coffee House. The real story here isn't the preservation and restoration of a historic building. The real excitement here is what happens within these walls.
About Art and Clay on Main

The Fairfield County Board of Developmental Disabilities purchased the building about six years ago to house a non-profit organization providing employment opportunities for the developmentally disabled while also benefitting the community. Named Job Fusion, the program provides internships to individuals with developmental disabilities to gain real world work experience. Once accepted, participants are given tasks that best meet their potential with a goal of developing their skills further. Job examples include cleaning the coffee bar, the art shop, restocking shelves, and assisting with inventory management. The goal is to help improve their work skills as they work alongside traditionally employed staff so they can join the general workforce in the community. The foundation of Job Fusion is a belief that "Success is what happens when talent meets ability."
Things to do at Art and Clay on Main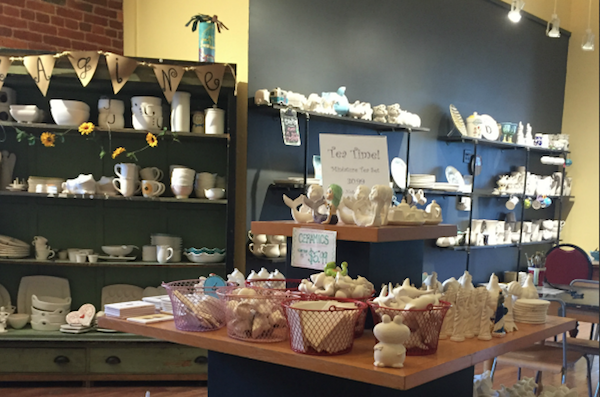 Art and Clay on Main is far more than a project to help those with developmental disabilities gain valuable job training. It's a vibrant part of Downtown Lancaster, one of those places the whole community can enjoy. Art and Clay on Main is a hot spot for ceramic painting (walk-ins welcome). In addition, they offer pottery classes, glass fusion art classes, canvas painting classes, and a room for private art-themed parties. Kids are not forgotten. The facility provides both after school programs and summer art camps — again, enriching the community through skill building. In the after school program, kids explore different artists, art history, and do pieces that correlate with that they learn each week. The summer camp is similar, immersing kids in the world of art — including a study of artists and art history that correlate to the pieces the create at camp. Art and Clay on Main also has a small retail area near the coffee bar that sells consignment and retail items made by local artists and other company made goods such as Natural Life accessories. Shop for custom jewelry, handbags, t-shirts, professionally made glass pieces, sweatshirts, and other items to find that perfect gift.
About Square Seven Coffee House
Speaking of the coffee bar, Square Seven Coffee House is located within the art space. This European-style coffee house is not quite like Starbucks. Rather, Square Seven makes its drinks in traditional European style using Stauf's coffee beans. Enjoy a truly perfect cup of coffee made to your specifications. With 20 syrups and a variety of milks (regular, skim, coconut and more), you'll find your perfect coffee at Square Seven. Square Seven also has a tasty menu of hand-crafted sandwiches made with fresh meats from a local food market. They also serve locally baked muffins and doughnuts. For those with a sweet tooth, enjoy Amish-made candies as a special treat. Beyond coffee, enjoy entertainment at Square Seven as well. The coffee house hosts talented musicians who perform live most Friday evenings. These performances are quite popular with the local community.
Artist in Residency Program
When Art and Clay on Main was first managed by the FCBDD, they created a program called the Blue Shoe Arts. The program provided an accessible art studio to those with disabilities to create their own artistic masterpieces. Recently updated, the Blue Shoe Arts Program has evolved into an Artist in Residency program. This new program allows all who apply to be given a chance to become an Artist in Residence. So far, those with and those without disabilities are working side by side in this program — and it looks like the program will be an even greater success than the Blue Shoe Arts program.
Know before you go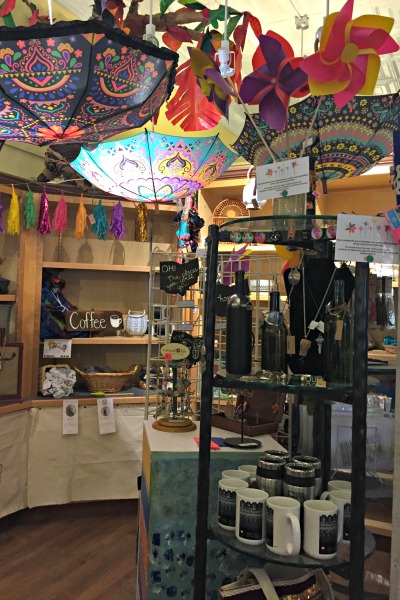 Best time to visit
Art and Clay on Main and the Seven Square Coffee House are open year-round. Out of town visitors might want to visit during Lancaster's Art Walk (which is in July) or during the Christmas and Easter holidays.
Business Hours and Contact Information
They are located at 150 W. Main St. Lancaster, OH 43130. Phone number is 740-653-1755. Art and Clay on Main is open daily, except for traditional holidays:
Monday thru Thursday they are open 7am-6pm,
Friday 7am-10pm,
Saturday 9am-8pm,
Sunday 12pm-4pm.
Promotions
When visiting Lancaster or Southeastern Ohio, make a stop at Art and Clay on Main. Shop, enjoy a cup of coffee and be part of something special.
Special thanks to Emily Carlo who works at Square Seven Coffee House and provided the interview for this article and several of the photos as well! Follow her on Facebook at EMC Photography.