Celebrating Culture: NC's Chinese Lantern Festival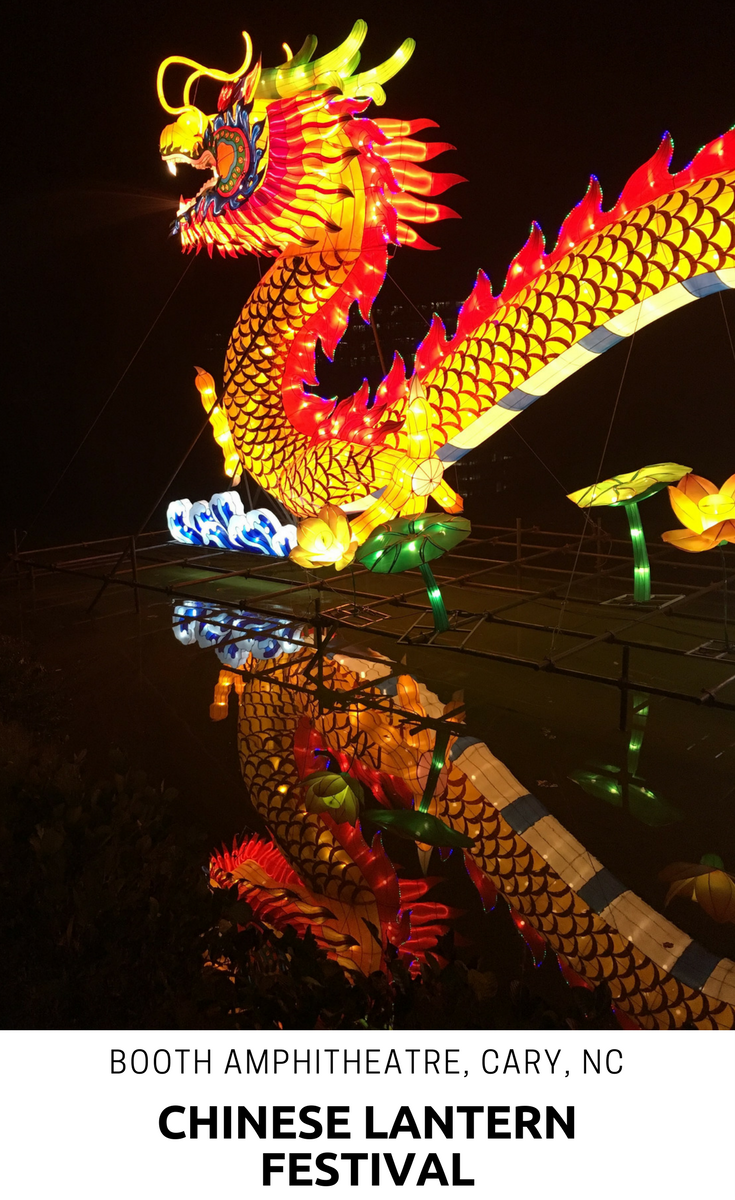 Our daughter is Chinese by birth. Until recently she has not wanted to explore the heritage of her homeland. While we incorporate some Chinese culture into our lives, we never pushed her to go further than she wants. This year, she has been asking more about China and Chinese culture. When I was provided the opportunity to attend the Chinese Lantern Festival at Cary's Koka Booth Amphitheatre, I knew we'd be creating memories with her. I didn't know quite how spectacular the display would be!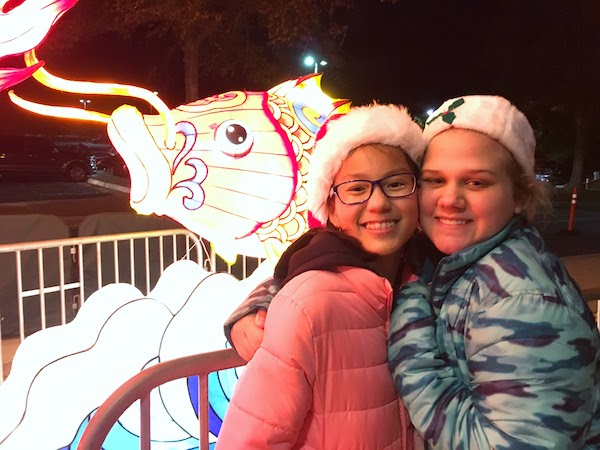 History of Chinese Lantern Festivals
China has celebrated a lantern festival for close to 2000 years. The festivals start on the 15th day of the first month in the lunar calendar. And, they coincide with the Chinese New Year as well.
Essentially, the story goes that a crane flew down to earth from heaven and was killed by the people of a village. The Jade Emperor became angry because the crane had been his favorite. So, he decided to kill all the people of the village. To protect the villagers, his daughter warned them of her father's anger. A wise elder ordered everyone to hang red lanterns and set off firecrackers to fool the emperor into thinking the village was already ablaze. It worked. Today, the Chinese lantern festival continues with celebrations across China and the world.
Cary's Chinese Lantern Festival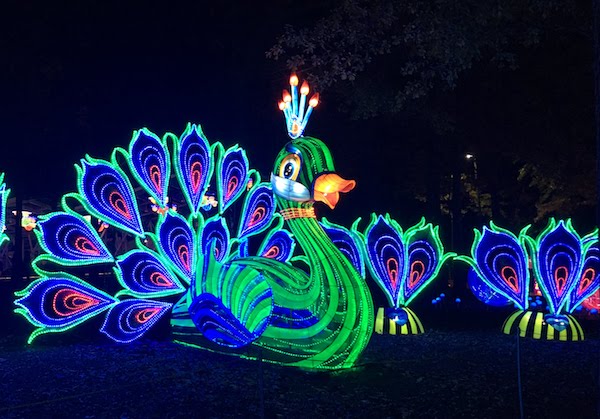 Cary hosted its first Chinese lantern festival in 2014. This year's festival, the fourth, marks the start of a four year contract for the event at the Koka Booth Amphitheatre. That's great news for the people of central North Carolina and for visitors from around the world.
The festival brings Chinese culture and tradition to the Cary area, allowing people to appreciate not just the craftsmanship, but also artistic performances throughout the festival season. The displays are created specifically for the grounds of Koka Booth Amphitheatre, so if you have been to a Chinese lantern festival before, this won't be the same!
This year's festival includes 25 displays, all made of hand painted silk stretched over steel frames. The displays are lit by LED lights — providing an intense glow that brings oohs and ahhhhhs from all ages! A total of 25 displays fill the grounds at Koka Booth Amphitheatre. It took 25 artisans from Zigong, Sichuan (the capitol of Chinese lantern-making) more than three weeks to put this display together.
Chinese acrobats and musicians perform each evening. Guests can also purchase souvenirs and snacks, including hot cocoa!
Please remember that all displays are hands-off! For the most part, that rule is fairly easy to follow, but the Chinese Lantern Gallery is quite tempting to all.
Tips for visiting the Chinese Lantern Festival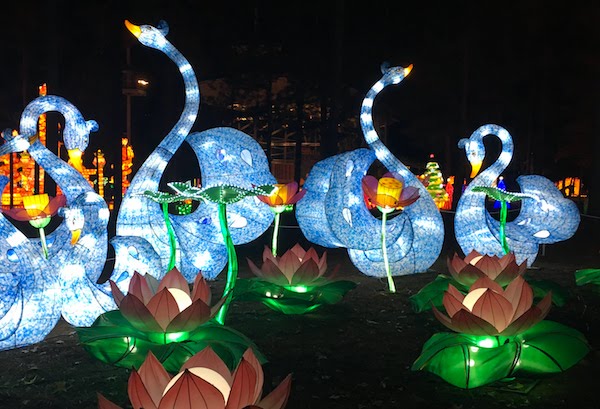 Since this was our first festival, I wasn't sure what to expect. These tips come from my personal experience — and from friendly staff at Koka Booth Amphitheatre.
Visit on weeknights if possible. Crowds are much smaller, allowing ample opportunities to view each display and take unobstructed photos!
Plan to arrive at 6:30 or later. The box office opens at 3 p.m., though the festival starts at 6:00 p.m. I got my tickets during the day so I wouldn't have to stand in line that evening, and the lady working there said there's a mad rush at 6:00, but that the crowds die down on weeknights by 6:30. She was right. We walked right in at 6:32.
Related to that, purchase tickets in advance to avoid standing in that queue. Click here for ticket prices and to purchase online.
All bags are searched at entry.
Don't touch the displays. After passing through the red lantern arch (called the Chinese lantern gallery), a table is set up with displays from past years that you can touch. A staff person there can answer any questions about how the displays are made as well.
Watch the live performances! They're pretty incredible, and offer a further glimpse into Chinese culture.
Allow at least an hour to visit. But, if you watch the full live performance and take your time looking at the details of each display, it could take up to two hours to see everything. It was not crowded last night, and our visit lasted just under two hours (I was trying to get some good photos for y'all, which did slow us down a little)
Be sure to get a Chinese Lantern Festival Guide. It explains the meaning of each display.
Click here to plan your visit: Hours, directions and ticket prices are all available.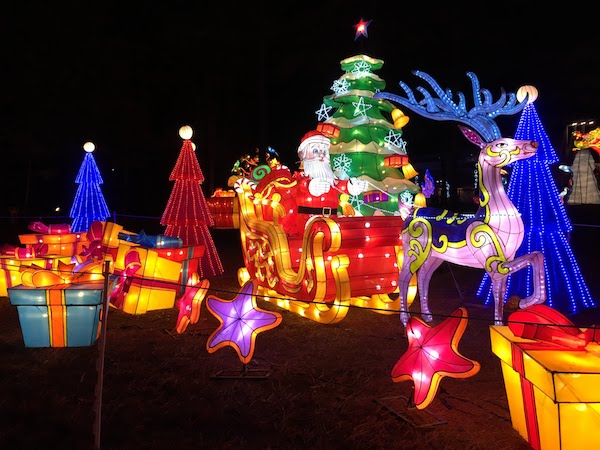 Choosing a favorite
Our whole drive home, we debated over the displays. Each one is beautiful, but to choose just one favorite is tough! These are the "finalists".
Which do you like best?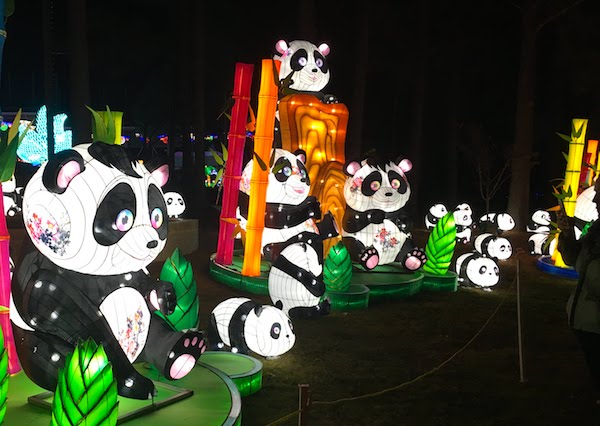 Pandas — just look at those faces!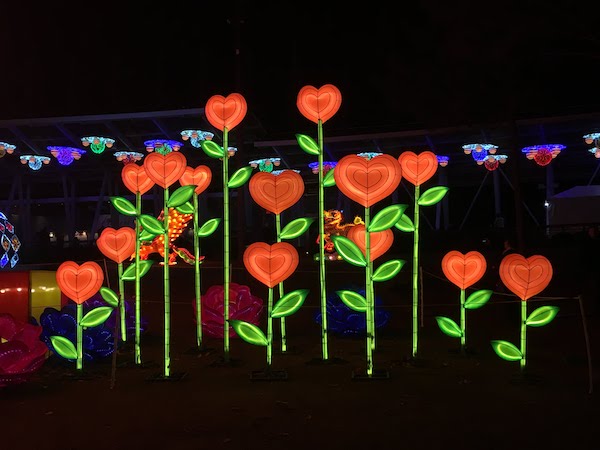 The rose garden — so much love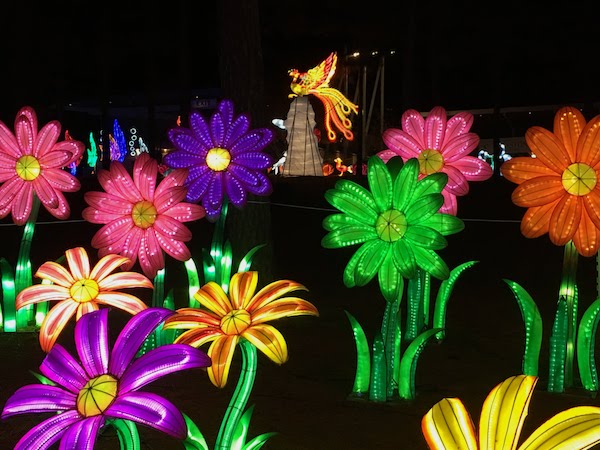 Daisies (Gerberas) — and the amazing Phoenix in the background!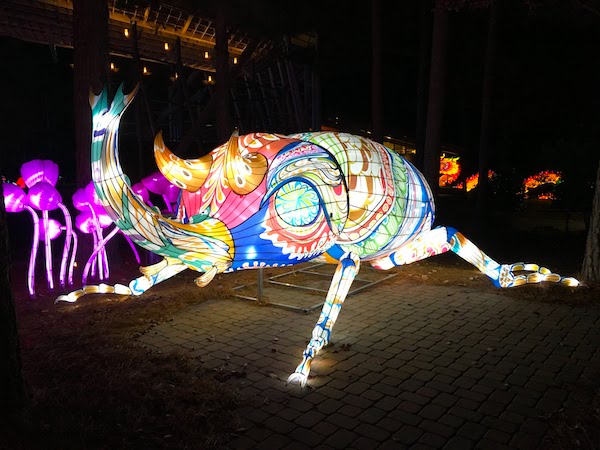 A rhinoceros beetle — particularly beautiful with this paint job!
I am really glad I got to take Ellie to the Chinese Lantern Festival. We got to celebrate her heritage and appreciate the beautiful craftsmanship. Her grins and giggles all evening long were music to my ears. As long as the festival comes to Cary, we'll be visiting. Lucky for us, that means at least three more years. Lucky for you, this year's festival just got started. It's open through January 14, 2018.
You might also enjoy