The George Washington Grand Hotel: Location, location, location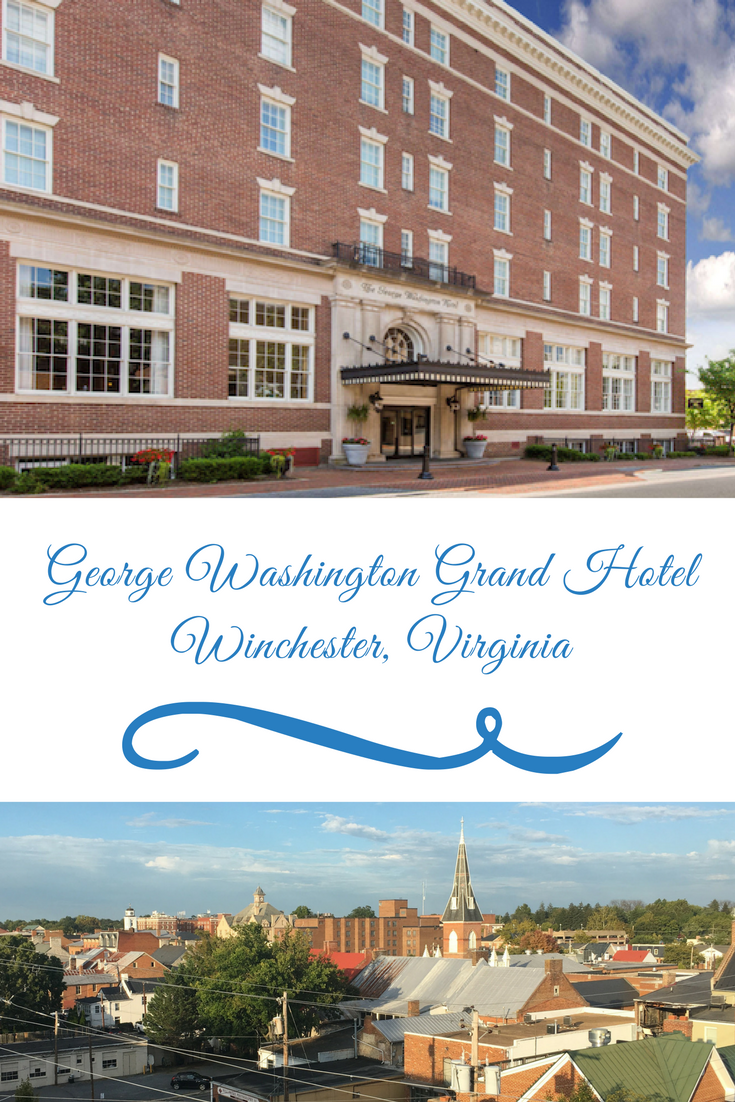 Visiting the historic town of Winchester, Virginia earlier this year, I got to stay at the luxurious George Washington Grand Hotel, a Wyndham Grand property. In the heart of downtown, it's convenient to Old Town Winchester — the city's historic walking mall. But, the hotel itself is a destination — with spacious, comfortable rooms, an indoor pool, a fitness center and a spa.
George Washington Hotel: A grand resort
In the early years, the George Washington Hotel was a popular place for the rich and famous. Entertainers like Lucille Ball, Fred Astaire and Jack Dempsey stayed here when they were in the area. As train travel gave way to car travel on highways that bypassed town, the hotel fell onto hard times. It closed in the 1970s, a time when stately old hotels in smaller towns weren't popular.
The hotel spent a short season as "home for adults," but then lay vacant for several years. In 2004, investors purchased the building and spent four years renovating it to its historic glory. Today, the hotel takes guests back in time with classic design while offering all the modern comforts travelers expect.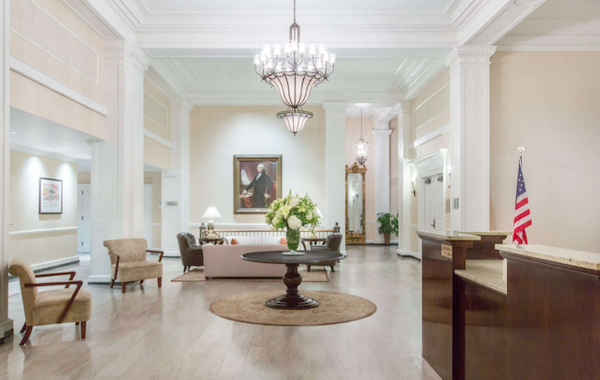 When the friendly staff is done checking you in, take a moment to soak in the lobby's grand atmosphere. Can you imagine witty Lucille Ball crossing the marble floors? Or Fred Astaire descending the stairs at the far end of the lobby to meet with "the guys"?
Look up at the chandelier — and picture ladies dressed in 1940s couture with gloves, heels and pearls and men dressed in top hat and tails as they head to dinner on the town.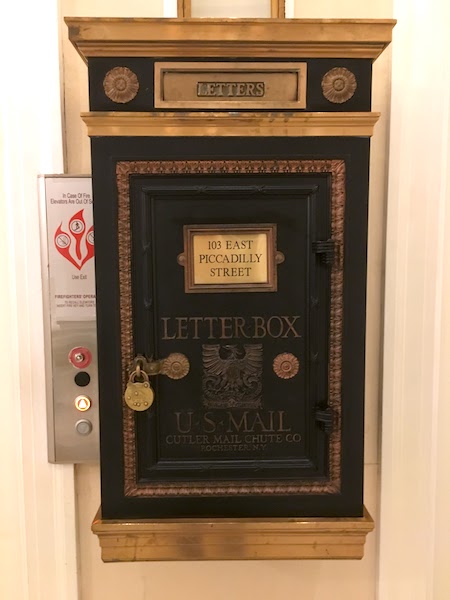 As you head upstairs to your uniquely appointed room, check out the letter box between the elevators. When I saw it, it brought to mind the movie Miracle on 34th Street, don't you think? I simply love that this detail survived the renovation.
Modern rooms with classic style
The rooms at the George Washington Hotel come in a number of different configurations. I had a corner room with a king bed and super-comfy leather chair. Though it was one of the smaller rooms, I felt cozy and at home. I got more work done there than I normally do at a hotel. Even the ceiling light fixture added to the classic feel. (Can you tell this is high on my list of hotels? Though, maybe a suite with a fireplace would be a nice treat! With room rates ranging from around $100 to about $200, it's not super expensive.)
Having a corner room with the town's main intersection right outside my windows, I wondered if noise would bother me overnight. Nope! So quiet!
My only complaint — honestly — is the lack of counter space in the bathroom. Because of the configuration, with the outlets to the left, I had to move things around a lot while getting ready. Truthfully, it's my only complaint. And it wouldn't keep me from going back — this is just an FYI for those who like lots of counter space.
Other amenities
The hotel has a Roman style indoor pool, an exercise room and an onsite restaurant. In addition, the Half Note Lounge offers light meals and drinks each evening. I appreciate that the lounge is accessible during the day to relax or work. Tucked in a back corner, I was able to "people watch" while working — a nice change of venue.
In the hotel's lower level, Saumaj Health Spa is a welcome retreat for weary travelers.
I had been on the road four days before arriving at the George Washington Grand Hotel, and I could feel the tension in my neck. I scheduled a massage for the afternoon of my arrival — knowing it would be a welcome treat.
The spa is located in the lower level of the hotel — accessible by elevator or stairs. At first, I wasn't sure I had gone to the right place as it's very small. There is no separate dressing room.
At first, I found the lack of privacy a little off-putting. But, once I got to the massage room, it didn't bother me at all. I had all the privacy I wanted to get ready for my massage, and soft music masked the background noise of others in the lobby.
Kelly Davall, who owns the spa, gave me my massage. It was the best. massage. ever!
I am not exaggerating! She listened well as I explained my days on the road and history of tension and migraine headaches. She asked some great questions and targeted all my trouble spots. I had a recurring cough at the time, so she used some aromatics to help the massage be even more effective. For the first time ever, I almost fell asleep during a massage treatment.
The spa is open Tuesday-Saturday and on Sundays by pre-scheduled appointment. Besides massage, the spa offers facials and body wraps and waxing services. Check the website for packages and specials, including a romance package and bridal packages.
Location, location, location
Besides the hotel and amenities, its location is another benefit. In walking distance of Old Town Winchester, great restaurants, shopping and coffee shops are just a couple blocks away. I spent more time in Old Town Winchester than I expected, in large part because of its convenience. But, I also enjoyed the restaurants!
Take a look for yourself!
Well, this is one long hotel review — not something I usually do. If you're headed to Winchester, Virginia (or places nearby), please consider staying at the George Washington Grand Hotel. It's luxurious, especially for the moderate price point. It's located in the heart of town, close to many other cities and historical spots, and the staff is awesome.
About the hotel
George Washington Grand Hotel — A Wyndham Property
Address: 103 East Piccadilly Street Winchester, Virginia 22601
Phone: 1-540-678-4700
Rooms: 90 rooms, some sleep four. Connecting rooms available
Amenities: Pool, Exercise Room, Spa, Free wifi and business center
Parking: Outdoor lot parking and covered parking garage (fee) available.
I stayed at the George Washington Grand Hotel during a travel conference. My stay was hosted, but all opinions offered here are my own. Read our disclosure policy to learn more.
More great family-friendly hotels