Grand Canyon vacations for families
Now that we can travel again, families are flocking to US national parks in record numbers, lured by the promise of wide open spaces. That sure sounds like a great idea, but the crowds are another story.
With just a little creativity — and the help of an informative blog (wink, wink) — family vacations near the national parks can offer amazing experiences without quite the same crowds. This post focuses on Grand Canyon vacations for families.
Discover More: Ricketts Glen: Pennsylvania's answer to over-crowded national parks
They're what we like to call "just off the beaten path" adventures.
Grand Canyon West is just such a place.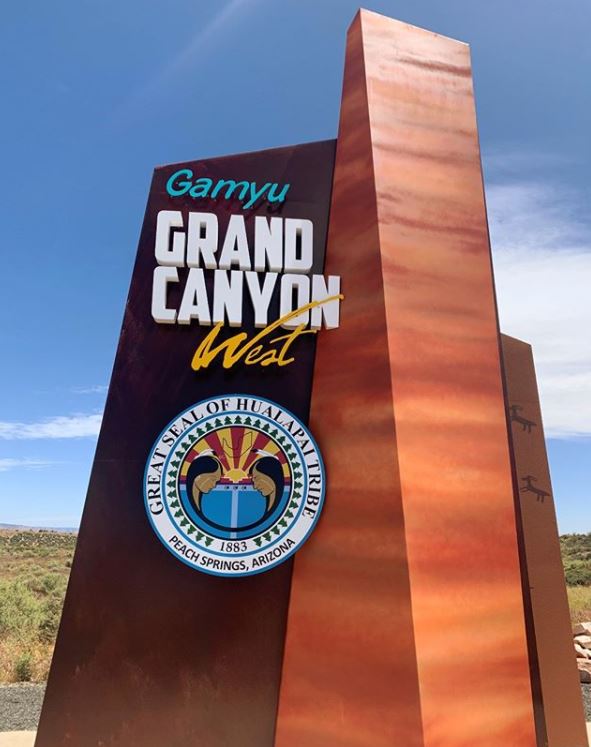 What is Grand Canyon West?
The famous South Rim of Grand Canyon National Park is located on the eastern end of the Grand Canyon. Drive four hours west to Grand Canyon West for an entirely different experience.
If you're visiting from Las Vegas or Kingman, Grand Canyon West is a short two hours away — perfect add-on excursion when considering Grand Canyon vacations for families.
DAY TRIP OFFER: Las Vegas Bus Tour to the West Rim with Sky Walk
And from the Phoenix area, Grand Canyon West is only a 4.5 hour drive.
Read more: Family Friendly Vacations to Tempe and Phoenix
Grand Canyon West, which is owned and managed by members of the Hualapai Tribe (pronounced Wal-lah-pie), provides visitors with unique views and experiences at the Grand Canyon that can't be found elsewhere. The Hualapai Tribe incorporates heritage and cultural traditions into guest experiences to make a vacation here so much more than a visit to one of the world's seven wonders.
I only recently learned about this area, and had the opportunity to speak with Ruby Steele, proud tribe member and CEO of Grand Canyon West. Admittedly, I expected to learn about hikes, helicopter tours and hotels. I learned so much more… how about if we let Ruby share it?
Me: Ruby, thank you for talking with me today. I had never heard of Grand Canyon West until quite recently. First, would you give me an overview of the area?
Ruby: Sure. Grand Canyon West is the recreational enterprise of the Hualapai Tribe and is located entirely on the Hualapai Reservation on the western rim of the Grand Canyon.
Near the rim, two recreational areas have been established. One is the Hualapai Lodge area in the Peach Springs area on historic Route 66. The other is the Grand Canyon West area which offers rustic cabins, a zipline, and the famous Skywalk over the canyon.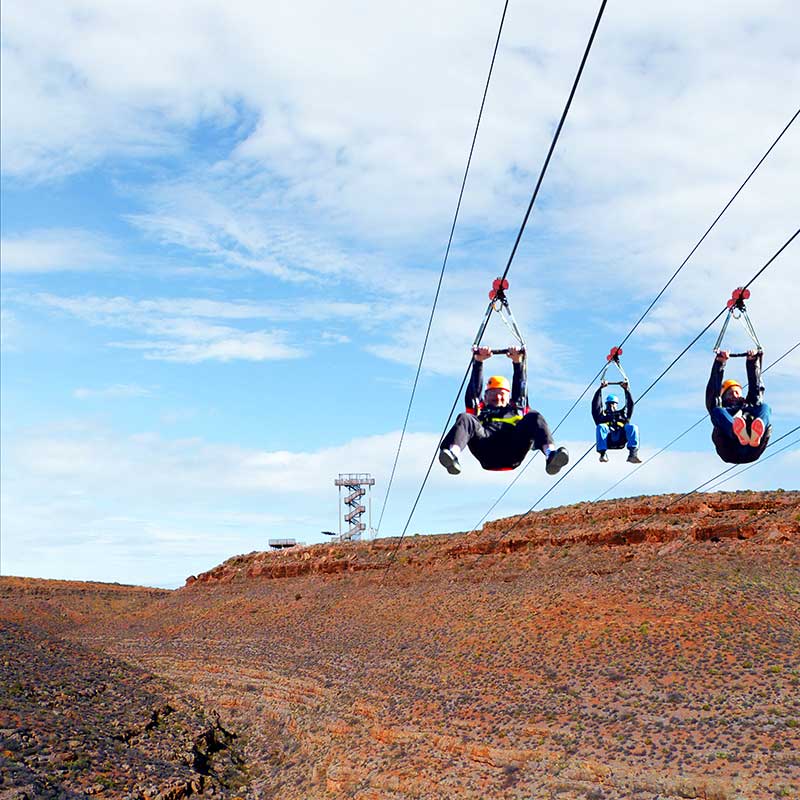 Of the million acres of land that makes up the Hualapai Reservation, only a portion has been designated for building. The northern boundary of the tribal land is the Colorado River. On the eastern side, known as the high country, you'll find the Ponderosa Pines and mountains. To the west is desert and canyon land.
Me: Before we go further, what does Hualapai mean?
Ruby: It means People of the Tall Pines. When visitors come, that's one of the things you will learn. Grand Canyon West employs tribal members. When you visit, there are many opportunities to learn about the culture and history of our tribe.
Me: That certainly sounds different than "just" a canyon visit. Please tell me more about how visitors can learn about Hualapai culture when they visit.
Ruby: We have a great respect for the land and for our history and culture, so there are many ways to learn.
At Eagle Point at Grand Canyon West, visitors can learn Native American dance, take self-guided tours of a Native American village and shop.
On the helicopter and pontoon tours, guides will point out important places along the canyon that have special meaning to the Hualapai.
The Skywalk, which is our most well-known attraction, is a glass bottomed walkway that extends 70 feet out over the rim of the Grand Canyon providing a clear view to the canyon floor 4,000 feet below. Before going out on the walkway, learn about what you'll see and its significance from the displays inside the attraction.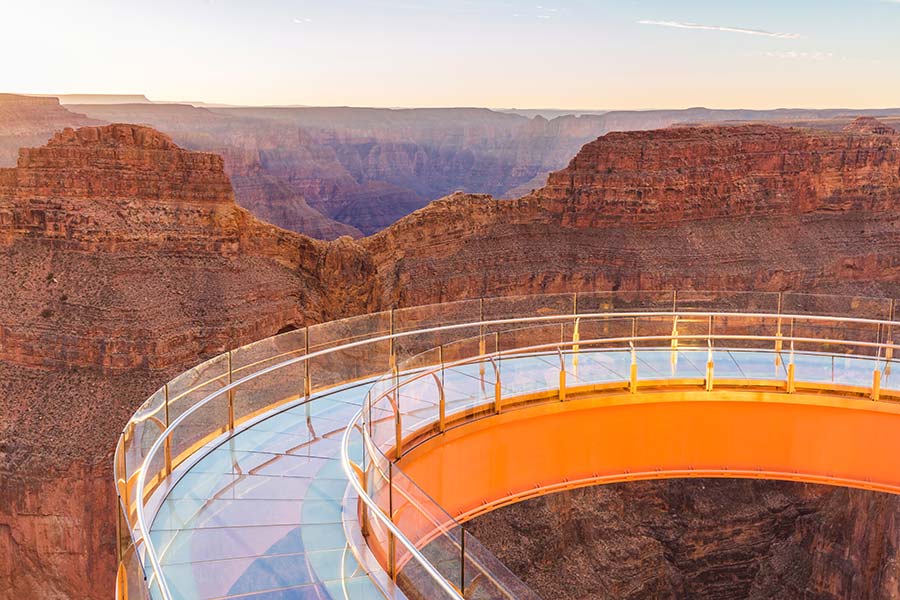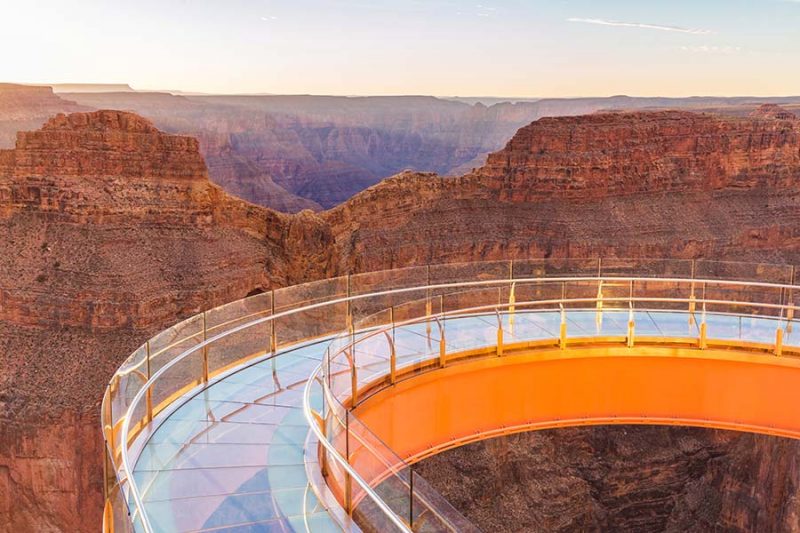 On the whitewater rafting tours, the guides incorporate photo stops along the river to share the culture and history of the region, such as what the wildlife means to the Hualapai and some of the stories and songs that preserve our history.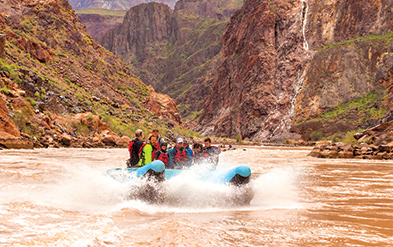 Me: Wow. That sounds absolutely incredible. When adventure, culture and history come together, that's the kind of vacation that people remember. This conversation has already taught me more than I expected!
One of the things I like to do for my readers is provide the information they need to plan a vacation, from lodging to attractions and vacation packages.
Take us to places to stay near the Grand Canyon. What's offered at Hualapai Lodge?
Ruby: When thinking about places to stay near the Grand Canyon, Hualapai Lodge in Peach Springs on historic Route 66 is a great choice for family vacations. Hualapai Lodge in Peach Springs is less than one hour from Kingman, Arizona. The lodge has a total of 57 rooms which have either two queen beds or one king bed. Each room has a flat-screen cable TV, a seating area, free WiFi and coffee makers.
The two story lodge has a heated pool, hot tub, full service restaurant and gift shop. All of our whitewater rafting trips depart from Hualapai Lodge in Peach Springs, and we strongly recommend that guests stay here the night before their whitewater rafting excursion.
When considering Peach Springs, AZ hotels, the Hualapai Lodge is a great option. With spacious rooms and modern conveniences, this Peach Springs hotel makes a great home base on Grand Canyon vacations for families.
Me: And when considering other places to stay near the Grand Canyon, exactly how rustic are the cabins at Grand Canyon West?
Ruby: [Chuckles] The Hualapai cabins have no televisions or radio, so we call them rustic. But, the cabins do have heat and air conditioning, private bathrooms, comfortable beds and a seating area. Each room has a mini-fridge and microwave for snacks and quick meals, and there is a restaurant onsite.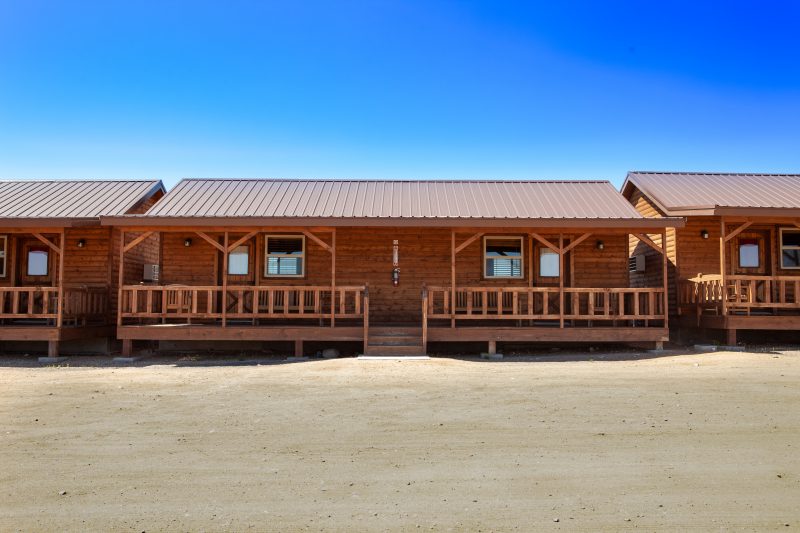 For families wanting to unplug and reconnect with each other, the Hualapai cabins are one of the best places to stay near the Grand Canyon!
One of the best things about staying at the Hualapai cabins is the sunset over the canyon. It's simply breath-taking.
We also have nightly campfires with songs, storytime and s'mores, relaxed trails throughout the property and easy access to most of the tourist attractions at Grand Canyon West.
When considering Grand Canyon vacations for families, the rustic Hualapai cabins are especially popular because of the space and the unique experience they provide. We get a lot of repeat guests which is the best compliment.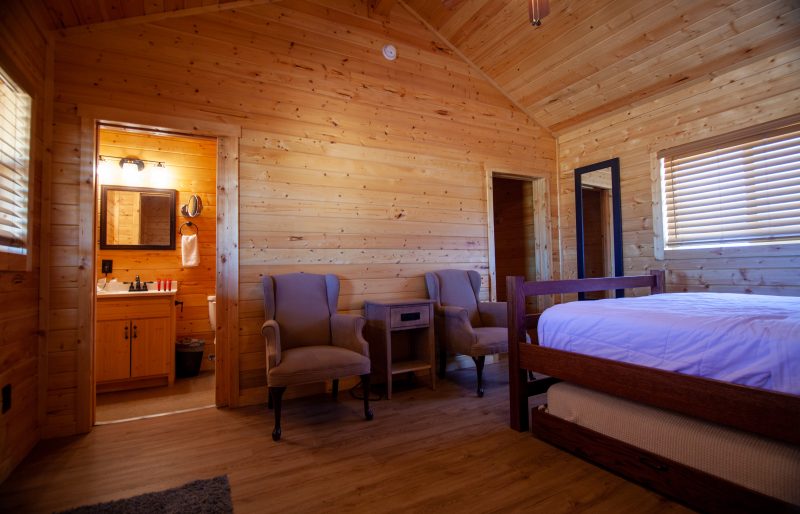 Me: Is there a recommended age to visit Grand Canyon West?
Ruby: Not at all. We are family friendly vacation destination, and people of all ages can enjoy most of our attractions. For safety reasons, whitewater rafting is for ages eight and up, but otherwise our attractions are good for the whole family. For Grand Canyon family vacations, Grand Canyon West is a great option.
The helicopter/pontoon adventure is good for all ages. It's a great way to see the canyon without having to hike down to the bottom. The helicopter flies into the canyon, lands on the canyon floor and then the pontoon ride takes guests for a tour on the Colorado River. This is the only place in the world where you can do that, and it's absolutely incredible.
The Skywalk is suitable for all ages. For those afraid of heights, the outer edges along the railing have white flooring so you can't see the canyon beneath your feet.
If a family wanted to experience all the culture at Grand Canyon West, it can be done in 5-6 hours, though that might be rushing it. I recommend that the helicopter/pontoon experience be done separately.
Trams are available to carry guests from one area to another, such as the Grand Canyon Skywalk and Eagle Point at Grand Canyon West, so this is a pretty easy vacation to plan. Just get here and we will take care of the rest!
Me: Tell us more about the whitewater rafting options.
Ruby: We offer several whitewater rafting trips that all start at Hualapai Lodge in Peach Springs. There are one, two and five day trips available. They include all the supplies for rafting and tenting. All meals are included as well, and rumor has it the steak dinner is absolutely amazing.
Guests are provided a packing list for clothes and personal supplies, but we provide the tour essentials.
Each guide is water safety certified, and they make several stops along the river to share cultural stories, history and to point out important wildlife and landmarks along the way.
The rafting trips are a great way to learn about the Grand Canyon and the Hualapai Tribe.
Me: I know you have several vacation packages to the Grand Canyon this summer. I'll include information on that in my article. Before we go, though, if you were talking to my readers, what would you want them to know about Grand Canyon West?
Ruby: That's a great question. There are a few things I would like to share.
First, tourism through Grand Canyon West is the number one revenue generator for our tribe. Tourism dollars are used to build schools, support our boys and girls clubs, safety and infrastructure. In fact, 80% of all tourism dollars come right back into the community to support the Hualapai Tribe.
Another thing I'd love people to know is that not all Native Americans lived in teepees or wear head dresses. Every tribe has its own unique traditions. The Hualapai did not live in teepees, but in wickiups. A wickiup is a small, round house made of a willow frame covered with brush and dirt. The houses were simple and used for sleeping. Otherwise, we were outdoors.
When visiting Eagle Point, guests have the opportunity to learn about many of the native tribes of the region.
And finally, we are not crowded like at Grand Canyon National Park. While the national park has a lot to offer, it's different than Grand Canyon West. We have different views of the canyon and different experiences at the west rim. And, we incorporate cultural history into the experience so that you get more than a visual memory when you visit. You get to know a whole different culture, and that's pretty special wherever you choose to vacation.
Me: Thank you so much for taking the time to share your destination with me. I look forward to visiting in person sometime very soon!
Ruby: It's my pleasure. I look forward to your visit.
Grand Canyon Vacation Packages for Summer 2021
There are several Grand Canyon Vacation Packages available for visiting the West Rim. Each offers a different level of activity and/or convenience for easy planning of Grand Canyon vacations for families.
Grand Canyon Vacation Packages to Grand Canyon West
Grand Canyon West has four Grand Canyon vacation packages available through September 15, 2021.
"Grand" Package – $59:
General Admission which includes parking, Eagle Point and tram use
Sky Walk
"Grander" Package – $78:
General Admission
Sky Walk
Meal ticket
"Grandest" Package – $278:
General Admission
Sky Walk
Helicopter Flight and Pontoon Ride
"Grandiose" Package – $360:
Hualapai River Runner – 1 day rafting trip
Build your vacation package directly with Grand Canyon West
All packages can have a zipline adventure, meal tickets and accommodations at Hualapai Lodge or the Cabins at Grand Canyon West added to their package.
The rafting trip leaves from Hualapai Lodge near Kingman, about two hours away from the Sky Walk and other attractions at Grand Canyon West. Combine the "Grandiose" package with others for the full Grand Canyon West experience.
Grand Canyon vacations for families: Special Savings!
There are many ways to save on Grand Canyon vacations for families. Here are some great promotions offered at Grand Canyon West. All these discounts are offered at the ticket center, and cannot be purchased online. Check the website for full details.
Discount admission for Seniors aged 65+. Must show ID.
Discount admission for active military and veterans. Must show ID.
Discount admission for children ages 5-12.
Family package discount. Save on admission for families, including two adults and two children.
Arizona residents, save 10%. Must show ID.
Las Vegas residents, save 10%. Must show ID.
Special thanks to Ruby Steele at Grand Canyon West for her time. To learn more about Grand Canyon vacations for families visit their website.