Great Wolf Lodge Concord, NC: A Teen Review
For years, I've wanted to take the kids to Great Wolf Lodge. An indoor water park? Awesome. No sunscreen required! With a seven year age gap between the kids, though, it just didn't happen. Ellie was too little. Then, we thought Ben was too big. This past week,
we traveled through Concord, NC, and decided to try it out.  Ben was doubtful… "Mom," he said, "I might be too old for this." His love of adventure won out, though, and the four of us plunged in.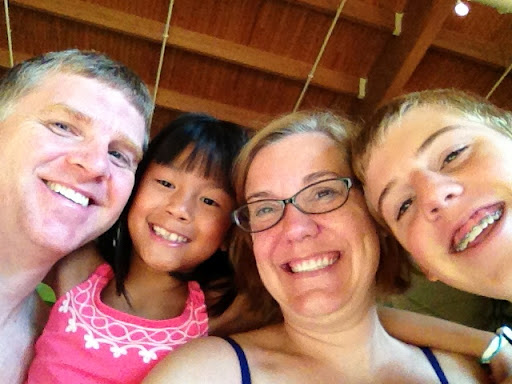 Ben's review of Great Wolf Lodge accommodations:
We stayed in a KidKamp Suite. No photo (sorry! Space is accurately depicted on the
website
), but Ben was impressed with the size of the room and the overall quality. His high points included: comfortable furniture, great sports channels on the TV and lots of room in the fridge for snacks.
His review of the sleeping quarters: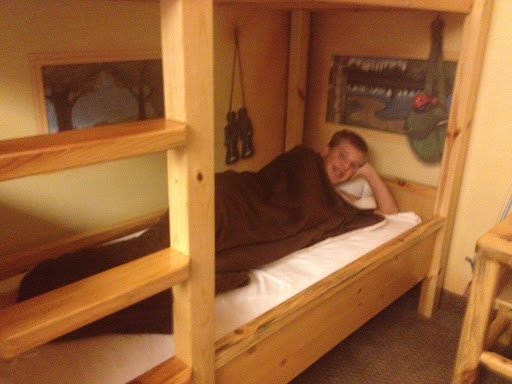 The twin bed is long enough (he's 5'7″ tall)
But the mattress is hard and the decorations are for little kids.
The blanket is super soft, which he liked.
But, the blanket's not big enough for a teen.
He used the extra blanket for the sleeper sofa instead.
Ben's review of the Great Wolf Lodge Water Park:
"It's really loud inside, but you get used to it after a while. It's quieter on Sunday than Saturday." (The resort was at 90% capacity on Saturday. Sunday was much less crowded and quieter. We all enjoyed it more.) 

"I didn't like the smell of the chlorine everywhere or coughing after going through the rides." (There's little water evaporation at the water park. It seems that the chlorine hangs in the air, especially in the water tubes. While none of us have asthma, the intense chlorine made everyone in the family cough after a few hours… Ben coughed the most.)
"I wish there were more slides, but these are all pretty cool. They are definitely big enough and fast enough for teens. It would be cool to come here with friends and hang out all day." (Though I am mom, I choose not to be offended by this commentary! I understand that friends are always more cool than mom.)
His favorite slide, no surprise, is the Howlin' Tornado: "Our most thrilling adventure… drop into the 6-story funnel [to] swish and swirl 30 feet up the sides of the funnel before making a safe splash landing."
Ben says:
 It's best with four people.
Try to be one of the people who goes sideways — you go higher up the wall of the funnel.
His second favorite slide is Alberta Falls, four stories tall: "Twist in and out of the Lodge before dropping into the plunge pool." Ben says:
The blue slide is faster than the yellow slide (We tested his theory many times, and blue always wins.)
Lay your head back and make yourself as flat as you can to go faster and higher up the sides of the tube.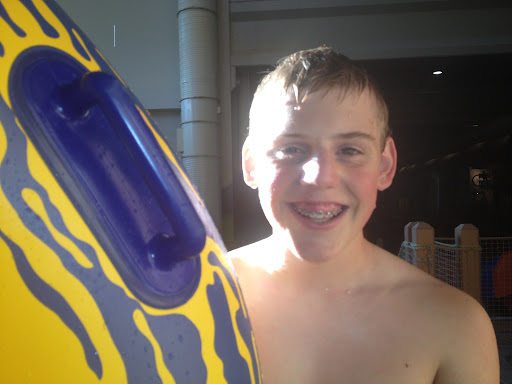 Alberta Falls? Sure, I'll gladly go again!
Ben's absolute favorite attraction is Fort Mackenzie, the resort's 4-story tree house complete with "suspension bridges, swinging cargo nets, treetop slides and soaking spray stations" and a 1,000 gallon bucket that tips every few minutes drenching everyone below. Ben ran through the entire fort, dumping water on passers-by and squirting people (especially Dad) with the hoses. He wasn't the only teen there, either!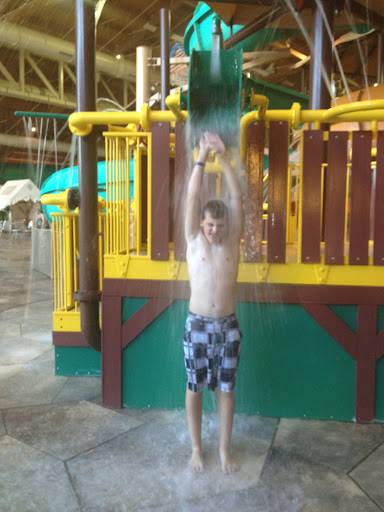 Must. Get. Wet!
Here comes the bucket!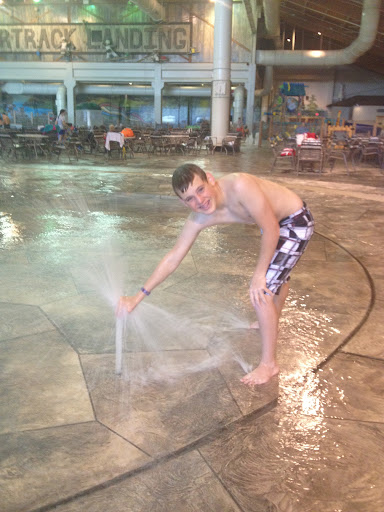 Never too old for fun!

We all enjoyed our trip to the Great Wolf Lodge in Concord, NC and our once-reluctant teen would like to go again sometime. Summer might be over, but it's never too early to plan the next getaway!
Great Wolf Lodge of Concord, NC (one of ten Lodges throughout the U.S. and Ontario) provided a discount in exchange for this review. The content of this post, with the exception of quotes describing attractions, is entirely mine and my son's. We both give the Great Wolf Lodge two thumbs up for teens (except those with asthma or sensitivity to noise).

Happy travels!