Jet Lag: How to adapt to time zone change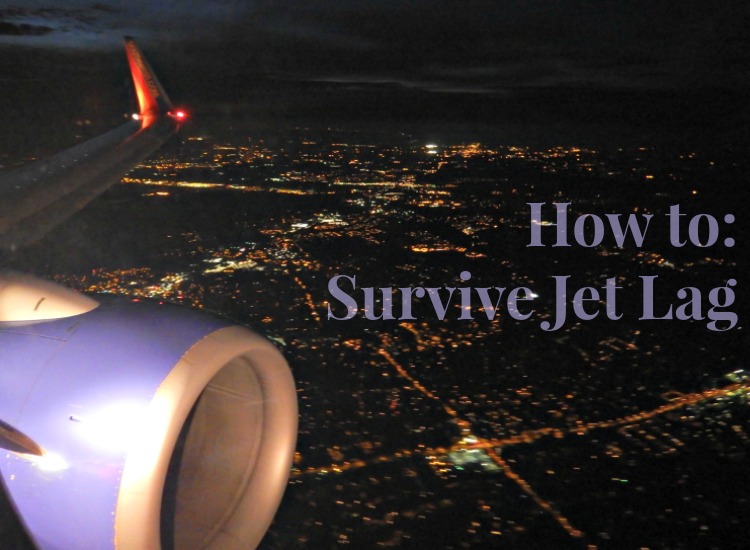 We have traveled west and east with our children, requiring us to learn how to adapt to time zone change. When making a vacation investment, I don't want to battle jet lag, I want it done before we leave home. I want to vacation!
How to Adapt to Time Zone Change When Traveling West

It's a little easier to know how to adapt to time zone change when traveling west. At 10:00 a.m. on the east coast, it's only 7:00 a.m. on the west coast. Traveling "back in time," the darkness helps kids sleep longer and adjust more quickly. Even if kids wake up early in eastern time zone rhythm, the family can arrive at popular attractions before the crowds and lines. Stopping for dinner a little earlier sometimes translates to early-bird savings.
Other suggestions for how to adapt to time zone change when traveling west:
Push back bedtime.

Start a couple weeks before, if possible, and move bedtime back 1/2 an hour every couple nights.

Push back mealtime.

Again, a gradual transition works better. Push meals back1/2 an hour every few nights over the course of two weeks. During the school year, only dinner can be pushed back, so make sure kids get a decent-size snack after school.

Explain it!

Of course, the older the child, the easier this is. Explain time zones and how you're helping them adapt to "vacation time." A couple nights before the trip, push back bedtime up to an hour.

Book a late morning flight.

Scheduling flights for "morning" where you'll be means that kids can sleep in a little more before heading out on vacation. Early morning flights might be cheaper, but they push sleeping patterns the wrong direction. If at all possible, fly out just a few hours later.
When we visited California in 2010, we flew out about 11:00 in the morning. We rented a movie for them to watch the night before, pushing their bedtime back to 11:00. They slept until 9:00, or 6:00 California time, the next morning. Because we helped the kids adapt to time zone changes in advance, we had a fabulous trip, enjoying the coast, San Francisco and Yosemite, all on "California time."

How to Adapt to Time Zone Change When Traveling East
It is more difficult to know how to adapt to time zone change when traveling east. Convincing kids to go to bed early is quite difficult! Whatever adaptations made, though, will help everyone enjoy the trip more. The hard part about traveling east is that sunlight wakes kids up — even if they should be sleeping. Getting too little sleep, they get cranky. A couple tantrums into the vacation, everyone gets cranky. Yet, it is possible to adjust — the key is to start well in advance.
When we traveled to Paris, six hours ahead of time here in North Carolina, we began to adapt to time zone changes in Paris two weeks before the trip. The first few days were easy. Then it got strange. Awake at 4:00, we weren't quite sure what to do with ourselves. Heading to bed at 8:00 p.m., we ignored spring baseball games and favorite television shows. Yet, arriving in Paris ready for "Paris time," we enjoyed the trip immensely! We got out early — avoiding the long midday lines, particularly at the Eiffel Tower.

Other tips for how to adapt to time zone change when traveling east: 
Move up bedtime.

As we did when going to Paris, move bedtime back a little at a time. We went to bed 1/2 hour earlier every three days for two weeks before traveling east. By the time we actually got to Paris, we adjusted bedtime so that the kids were ready for bed at 11:00 Paris time — much better than 2:00 a.m.!

Move up wake up time.

The first two days, we didn't adjust wake up time. The kids didn't fall asleep well, even though bedtime was just 30 minutes earlier. The third day, we woke them up 30 minutes earlier. Once they started waking up less groggy, we moved "wake up" back another 30 minutes.

Make morning your family time.

When we finally figured out that our family connect time would occur before school, not after dinner, we had a lot of fun with it! We made large breakfasts and lingered over the morning meal instead of dinner. We played cards — UNO at 6:30 a.m. was fun!

Discipline yourself to go to bed too!

My husband and I focused more on the kids, at first. After about a week, they were doing great. We were exhausted. Make sure mom and dad go to bed a bit earlier too. Sleep deprivation and vacation planning do not mix well!

Schedule that red eye flight!

We flew overnight to Paris, catching a 5:30 p.m. flight that arrived at 6:00 a.m. Paris time. I'd like to say we slept well, but we didn't. We did get a solid four hours of sleep, though, better than most of the others on our flight.

Push through day one.

That first day, we didn't plan anything major. We knew that we'd be tired, no matter what. We stuck to simple adventures — visiting the Eiffel Tower, but not climbing it (save that for when you're awake enough to enjoy it), savoring a crepe, and exploring the market. We took in the sights and sounds of the city, but saved the real visiting for day two and beyond.
Gradual changes well advance of the trip helped our kids understand how to adapt to time zone change, making the trip more enjoyable for everyone!
Do you have a favorite tip for how to adapt to time zone change?

Happy travels!