This week, the kids and I got an unexpected treat — a Lake Gaston vacation! Though we live only 77 miles away, according to my GPS, we had never ventured to the lake before. I'm such an ocean beach lover, I just couldn't imagine a lake vacation being half as fun. I was wrong!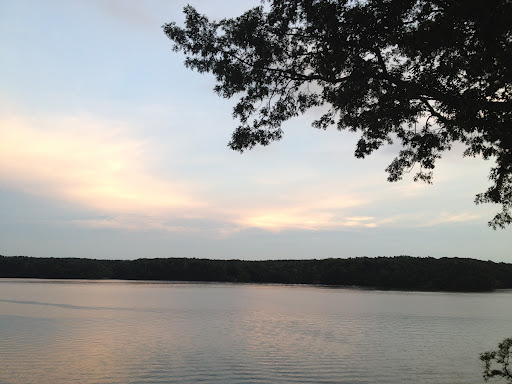 Lake Gaston
quiets as evening falls
When my friend from high school called to invite us to stay at her vacation rental for a few days, I couldn't say no! After all, research is important, right?
We packed the car and hit the road. Lake life here is special. Lake Gaston offers all the water sports: swimming, boating, floating, tubing, kayaking and SUP. The lake house we stayed at had a sun deck, swim deck, firepit and lots of open porch space to take in the views and the lovely lake breezes. My kids enjoyed jumping into the lake, swimming and floating on rafts. I enjoyed relaxing in the sun and listening to their shouts and whoops, reminding me of Huck Finn.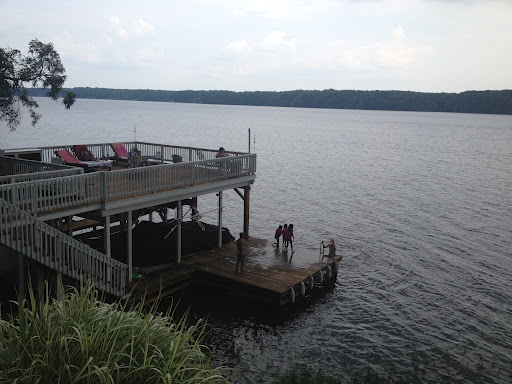 Kids on the swim deck and adults on the sun deck. NICE vacation for all!
We discovered the joy of a lake getaway and the slower pace of lake life. Each unique home, tucked among the trees, offers privacy that just isn't available at the ocean. Squirrels racing through trees and hummingbirds buzzing provide entertainment you can't find at the beach. The stress just melts away.
Jumping in and climbing out of the water all day, without the sting of salt in their eyes, worked wonders on the kids. My daughter fell asleep the instant her head hit the pillow!
Tips to rent a lake house
If you're interested in a lake vacation — at Lake Gaston or a lake near you — check out these lake rental sites to find the perfect home for your vacation needs:
VRBO (Vacation Rentals By Owner)
Specialized sites featuring rentals at specific locations offer homes too. Try googling "lake house rental"
As always, make sure you understand exactly what you're renting.
Are cable and utilities included?
Is the rental fee comprehensive or are there add-on fees for guests over a certain number, cleaning, key rental, etc.?
Which amenities are included (the boat looks great in the photo, but it won't be much fun if you can't use it), pool tables, board games, certain areas of the home and property? Read the fine print to avoid unpleasant surprises.
Does the rental fee include sheets, towels, toiletries or kitchen basics (soap, dishwasher detergent, paper towels)?
Talk directly with the rental agent or owner (email is fine) to firm up all the details. You may be able to negotiate a better rate!
While I'll always be an ocean loving girl, I certainly look forward to more vacations at
Lake Gaston
and other lakes in
the Carolinas
!