Mardi Gras: 5 lessons we all can learn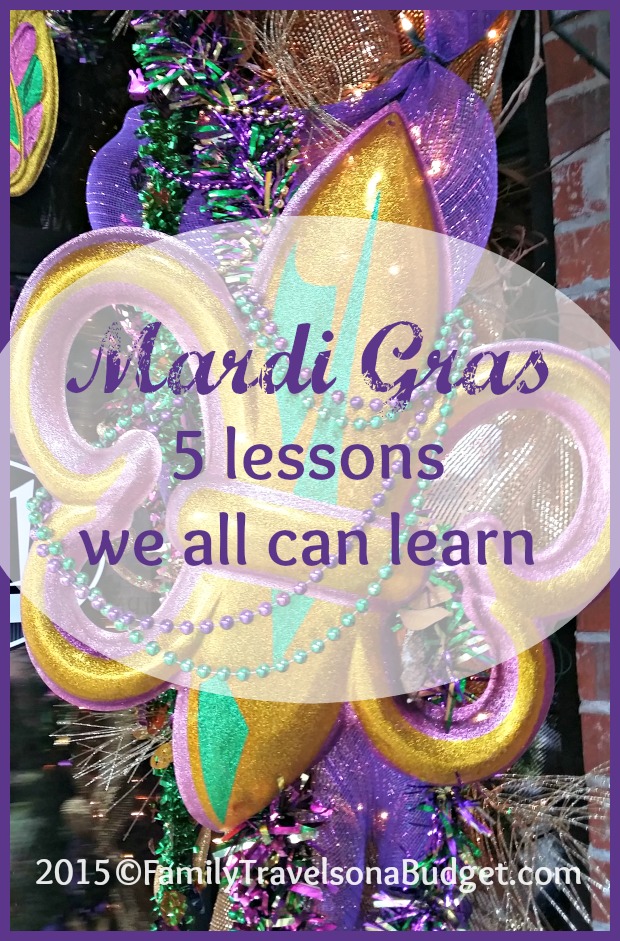 What's your first thought when you hear the words Mardi Gras? Do you think Bourbon Street? While that craziness might be what makes the national headlines each year, that's not the whole story. I just got home from celebrating Mardi Gras in Louisiana, and the experience shattered my stereotypes!
In fact, I think if we all adopted a little Mardi Gras culture, the world would be a far friendlier place! In no particular order, here are five lessons we all can learn from Mardi Gras.
Save $60 on Universal 3-Park 3-Day Park to Park! Visit Universal's Volcano Bay Water Theme Park.
Tradition matters. Thousands of years ago, before papyrus and the written word, history was preserved through storytelling and tradition. Today's Mardi Gras, especially the Chicken Run festivals throughout rural communities, preserves tradition going back to the middle ages when the poor would run from landowner to landowner asking for provisions to make gumbo. The landowner would offer chicken, pork, onion and other ingredients to these masked marauders. Today's tradition continues much the same way, with zydeco dancing, chicken chasing, masked fun that entire communities enjoy.
Community counts. After reading that, maybe you're not surprised to hear that community counts in Louisiana. Mardi Gras brings large groups together — not just in January and February, but throughout the year. Planning parties, fund raisers and other events build camaraderie, and then, throughout Mardi Gras it's one big celebration of community and connectedness. Imagine if the rest of us knew our neighbors that well!

Family rituals. In Louisiana, boudin and gumbo are king! So is zydeco. But above all is family! The littlest mardi gras revelers learn it all as grandparents, parents, aunts, uncles and cousins join in,  just as they have for hundreds of years. Louisianians don't seem interested in catered meals — it's the real deal around these parts — and the kids love every bit of it!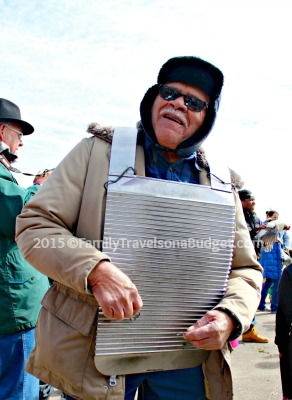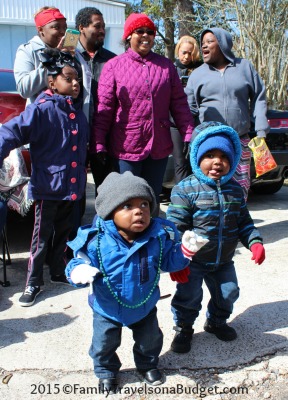 Laid back attitude. I don't know if I can say one of these lessons is more important than the other, but if I had to pick one, this is it! Mardi Gras floats and costumed revelers might be elaborate, but the celebrations are low stress! Forget the Pinterest-worthy centerpieces molded out of sugar paste and imported feathers. Just toss some Mardi Gras beads in the middle of the table next to the hot sauce and napkin pile and call the party palace ready. Most people have beads they've collected through the years and costumes worn with age, but still so festive. In Louisiana, people understand what's most important and impressing the neighbors with fancy decor ain't it!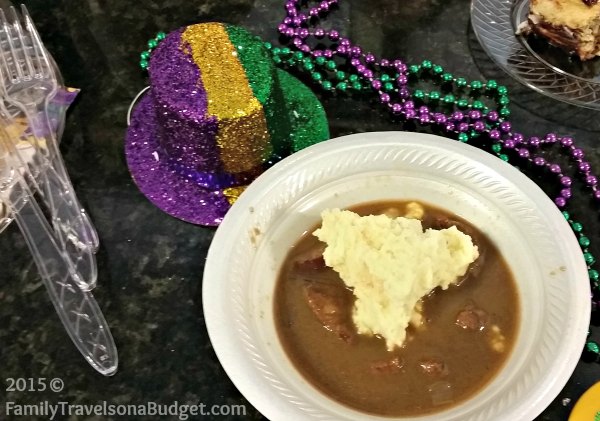 Laissez les bons temps rouler. Of course, when you combine centuries of tradition with close-knit communities and even tighter bonded families who know what matters, it's easy to let the good times roll! I'm not surprised that Louisiana is home to the happiest people in the United States. They aren't worried about keeping up with the Joneses, they just love 'em!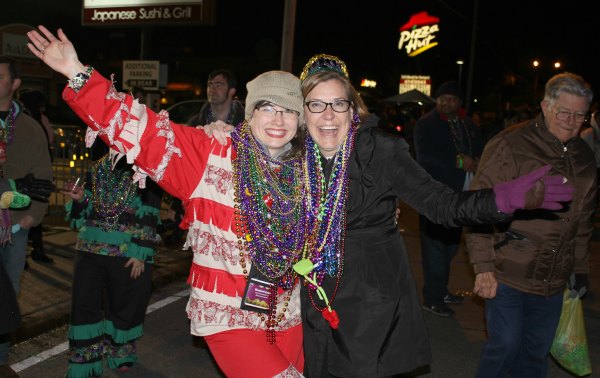 This year I promise to love more and fuss less. I promise to live more in the moment! I promise to focus on what really matters and let my inner Louisiana shine! Laissez les bons temps rouler, today and every day.
World, why not join us?