Spring Shines at Epcot International Flower and Garden Festival
This post may contain affiliate links. Click here to see what that means.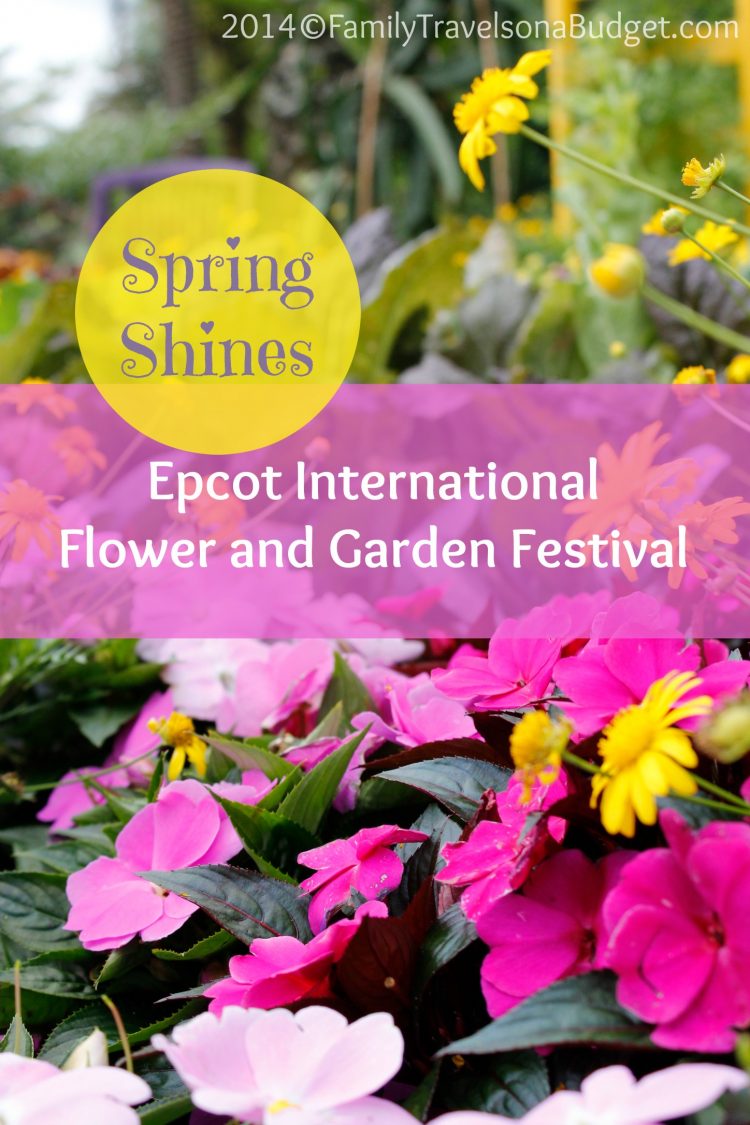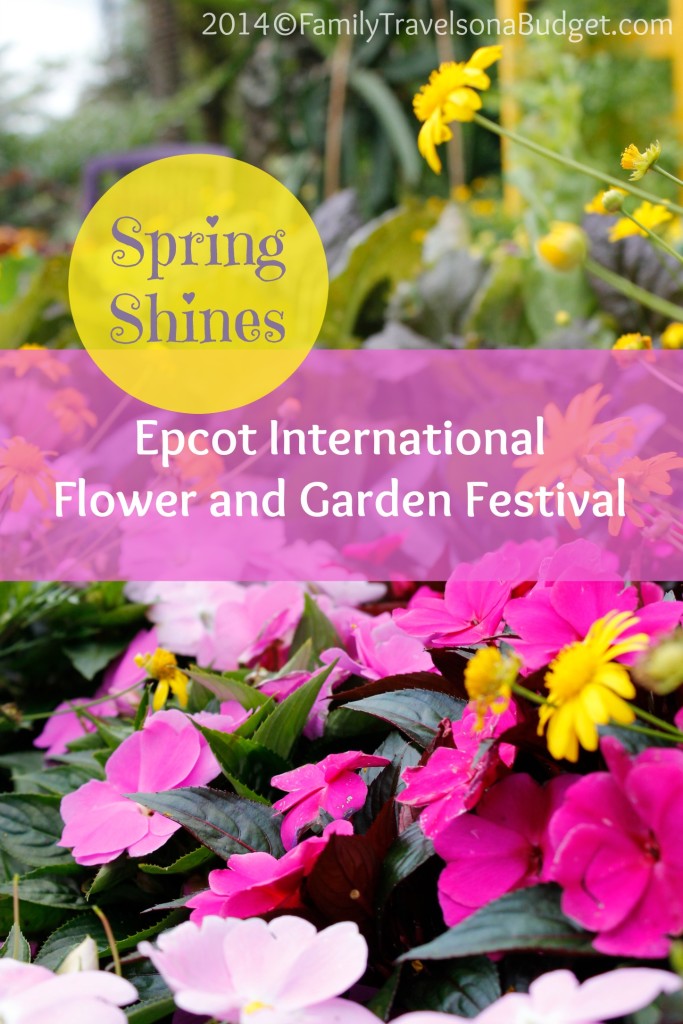 We took our first trip to Walt Disney World in the spring of 2000, during the Epcot International Flower and Garden Festival. At the time, my boys were 5 and 2. That trip, especially our day at Epcot, was perfect, just what you'd expect from the TV commercials. We loved the vibrant gardens, topiaries and a Mother's Day Brunch that included edible flowers.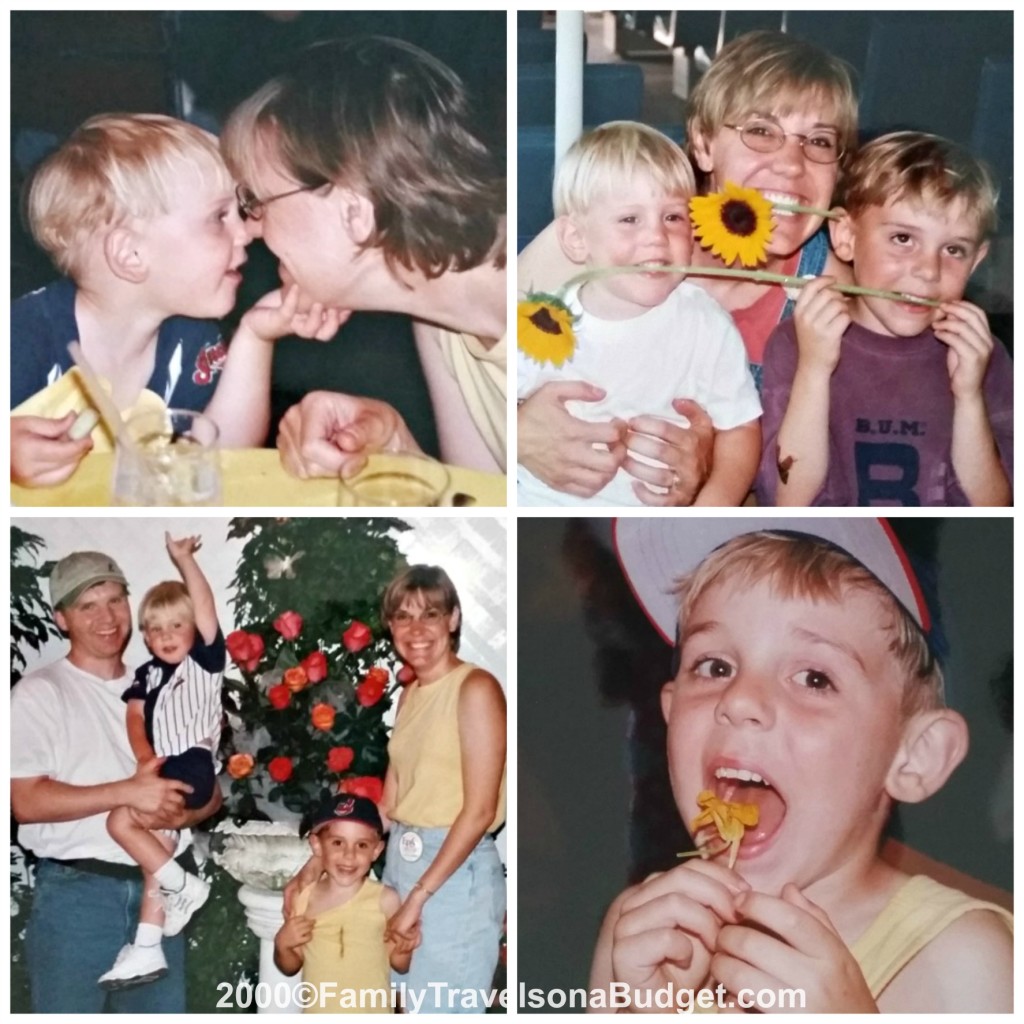 Last year, we went back, this time with our second son (17) and daughter (9). I doubted the trip could live up to the memory of that first one, but my optimistic self still hoped. My optimistic self was right! If anything, the Epcot International Flower and Garden Festival is better than ever! If you're headed to Walt Disney World this spring, be sure to include a day at Epcot! Spring is when this park shines.
Epcot Food
Each country in World Showcase offers a special menu at outdoor kiosks during the Flower and Garden Festival. Instead of making dining reservations, stroll around the World Showcase and enjoy a taste from each country (for us, that stroll took about 3 hours and cost about $100 — we got at least one dish from each pavilion).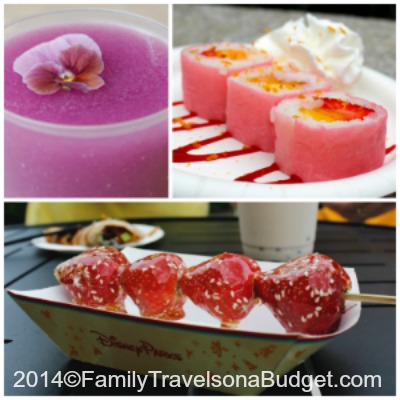 Our favorites:
• Frushi in Japan, which is fresh pineapple, strawberry and melon wrapped in coconut rice with toasted coconut. SO GOOD! We went back for seconds. And thirds!
• Beijing style candied strawberries and bubble tea in China. When you get your bubble tea, sit on a bench, sip it and watch everyone else take their first taste. Hilarious entertainment. We enjoyed bubble tea so much, we searched it out here in North Carolina.
• Pulled pork sliders or other barbecued meats at the American Pavilion.
• And at Pineapple Promenade, be sure to order a frozen desert violet lemonade (non-alcoholic) which is topped with an edible flower (throwback to 2000)!
We enjoyed our edible adventure enough to go back another day for dinner, trying some new foods and ordering our favorites again!
Epcot Gardens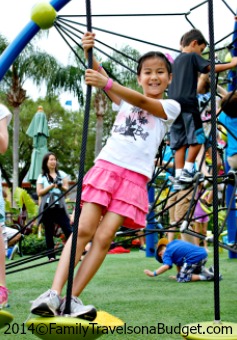 The International Flower and Garden Festival is as much a feast for the eyes as a treat for the mouth. Spring shines and if you rush through the park, you'll miss much of what makes it so special this time of year. While topiaries and gardens are always part of the Epcot experience, in springtime, they really kick it up! Explore the gardens to find the whimsical treasures tucked here and there. Some, like Tinkerbell, who greets guests at the butterfly pavilion are easy to find. Others are tucked away in the World Showcase waiting to be discovered by those willing to look (not too hard, just a bit). After dark, many of the exhibits take on a new look with a magical, night glow — so visit after dark!
New exhibits this year (please don't tell my daughter!) include:
• Elsa and Anna at World Showcase Plaza,
• Goofy, Chip 'n Dale and friends at the main entrance (last year it was Donald and friends),
• Miss Piggy and her flower garden at the Italy Pavilion.
Enjoy unstructured playtime at the playgrounds too! The Cactus Road Rally, featuring Mater and Lightning McQueen near Test Track, and Mike & Sully's Monstrous Garden, at the Imagination Walkway, let kids play and parents rest. Double win!
Easter Egg-stravaganza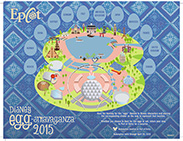 Guests visiting Epcot between March 27 and April 5, 2015 can enjoy the added fun of the Easter Egg-stravaganza event. Disney character "eggs" are hidden throughout World Showcase. Purchase a map for $4.95 and then start your egg hunt, placing a sticker on the map to mark which egg is in which country. Complete the map and return it to the Port of Entry for a special surprise.
Maps are available while supplies last at Heritage Manor in the American Adventure Pavilion, Pin Central, World Traveler (International Gateway), and Plaza Towers (Port of Entry).
My kids are older, and we didn't want/need the "special surprise," so we played a twist on this egg hunt. Instead of collecting stickers, we took a photo with the eggs as we found them. I've included only a couple here, because I don't want to ruin your egg hunt! We had a blast figuring out how to pose with each egg. These photos have become a favorite souvenir!

If you're lucky enough to be visiting Walt Disney World this spring, I hope these tips make it even more magical! Happy Spring!