Keswick Hall: Kid-friendly Luxury
This post may contain affiliate links. Click here to see what that means.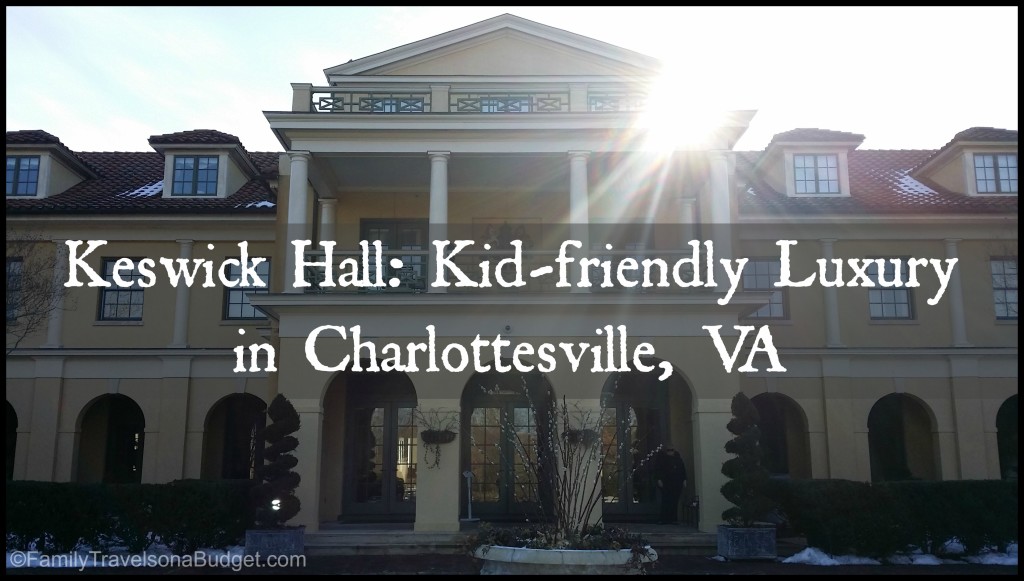 • 2018 Update: Keswick Hall is closed for a complete refurbishment and will reopen in 2019. I will update this review then! •
When Keswick Hall invited us to stay with them on a weekend getaway to historic Charlottesville, Virginia, I simply had to say yes! The resort, which has has attained Condé Nast Traveler "gold" status, and is one of Travel + Leisure's 500 "World's Best Hotels," offers so many activities for the whole family! There's a Pete Dye designed golf course, a world-class spa, indoor and outdoor pools, archery (yes, archery!) and much more. You can even walk the resort's hunt dogs. I knew we were in for a treat!
First Impressions
Pulling up to the front entrance, Ellie squealed. "Mommy, it looks like a real castle!"
My husband dropped us ladies off at the front entrance before parking the car.
To be honest, I expected a stuffy, uptight resort experience, and was pleasantly surprised by the warm, genuine greeting we received. At the check-in desk (an actual desk with chairs, not the chain hotel countertop), the manager greeted us and offered us a seat. Her assistant gave Ellie a stuffed fox and explained that he's their mascot honoring their hunt club heritage.
All checked in, they handed us the brass keys (no magnetic key cards here) to our rooms.

By then, the guys had joined us. Opening the door to our room, Ellie gushed, "It's so beautiful!" Each room is furnished with solid antiques, king size beds and luxurious linens. They offer all the modern conveniences of a traditional hotel in a prettier package.
We headed to the indoor pool and hot tub. Lockers and dressing rooms are conveniently located near the pool with attendants on staff if needed. My little princess loved all the towels, the dressing area and the water with lemons and cucumbers. (She has no idea that there are spas all over the place offering such pampering treatment!)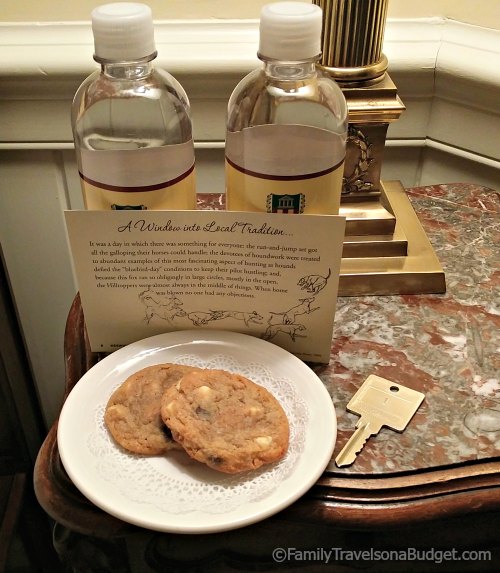 Returning to our room, we discovered cookies and bottled water on our bedside tables — another pampering touch! Ellie had long been swept up in the magic of the experience. The cookies helped the rest of us catch up to her.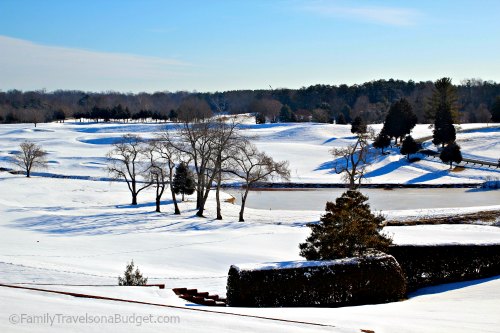 Saturday morning, we got to see the entire grounds — rolling hills, much of it the Pete Dye golf course. Simply breath-taking.
Over breakfast at Fossett's, a fabulous restaurant with windows on three walls, we enjoyed watching the geese as we sat by the cozy fireplace. As for the food, we highly recommend the Eggs Keswick, a croque monsieur of Kite's ham and gruyere cheese topped with creamy leeks and a sunnyside egg. My son wanted to lick the plate! For lighter fare, we all recommend the yogurt parfait, topped with house made granola.

While we couldn't enjoy the outdoor amenities due to heavy snows earlier in the week, we enjoyed the board games (stored in a cupboard in the billiard room), a movie (they bring your choice and the DVD player right to you and hook it up) and the views!
Mom Says – Kids Say: Keswick Hall
Mom Says
Keswick Hall is certainly a splurge, though wintertime rates are lower (beginning around $250). Keswick Hall is a destination, not a stop-over for raodtrippers just looking for a place to sleep. BUT, if you want to get away and really enjoy a stay someplace, Keswick Hall is perfect. The staff is incredibly friendly. The furnishings are beautiful, but sturdy — able to withstand family visits. The resort offers so many amenities, it's a complete vacation in one package (check with the resort for any additional fees — some activities have them, some don't). While this resort is in the Italianate style, I felt quite "Downton Abbey" in my stay!
Rollaway beds are available (only one per room), but they're a bit expensive at $50/night. My kids shared their king-size bed.
Kid tip: When kids share a bed, roll a blanket to divide the space evenly and place it between them.
Money saving tips:
Check online for promo codes (just search Keswick Hall promo codes)
Look for packages at the Keswick Hall website for savings
Get breakfast included — Fossett's has great food, and you'll save a lot if you get the breakfast package.
Kids Say
Ellie (age 10) gives this place, "All the thumbs up!" She loved every moment. The grand decor is reminiscent of a castle, suitable for any princess. The friendly staff treated her like a queen. She loved the giant bed, "even if I did have to share with Ben." About the pool, she says, "It's so cool. You can take your shower at the pool (private shower rooms in the spa dressing room) and they have yummy lemon water." Her final remarks, "I wish I could stay here every day."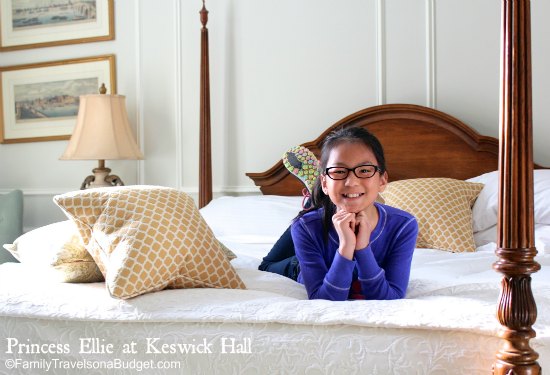 A funny aside: Ellie wondered where the staff lives, and she says she'd like to live there and work there when she grows up.
Ben (age 17) also gives the place a 5-star review, though more objective. He says that the indoor pool is a little small, big enough to splash around, but not big enough to really exercise. He recommends that you make sure the outdoor pool is open if you want to swim laps.
About the rooms, he says, "They are really spacious and I love the views." When we needed ice (housekeeping fills the ice bucket daily, but ours had melted), we sent Ben to get some. The porter took the ice bucket and filled it for him. Ben's reaction to this type of service, "It was kind of weird to have people wait on you all the time. I felt a little bad that they went to get my ice and I didn't have to do it myself."
Obviously, we don't stay in many 5-star resorts.
He said the staff was really friendly, and he would love to go back to try archery, badminton and hike the trails in the area sometime. He also says you must get the Eggs Keswick! (We're working on a copycat recipe. If we perfect it, I'll share a post later…. or if Keswick shares the recipe, well…. you know!)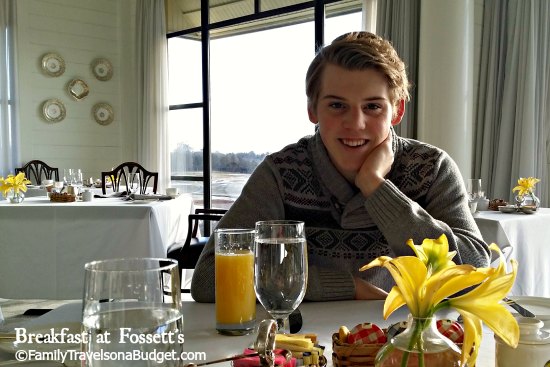 Planning your visit to Keswick Hall
Website: Keswick Hall
Who should go: Winter family getaways to Keswick Hall let you escape the winter doldrums! The resort is also great for father/son golf outings, mother/daughter weekends, girlfriend getaways and couples' escapes — check packages for each!
Directions: If your route takes you on "Club Drive," you'll check in at the gate and drive through the neighborhood surrounding Keswick Hall. The Louisa Road route is a bit easier drive generally.
Rooms: The deluxe rooms offer a sitting area and balconies.
Free coffee: Villa Crawford offers coffee and tea each morning, with house made vanilla or caramel syrups. Yes, we loved it.
Irons and ironing boards: I try to travel without needing to iron, but this trip didn't work out that way. Irons are included on the room amenities list, but you need to call the front desk to request them. The nice part is they bring the iron, ironing board, a spray bottle and spray starch! Nice.
**Special thanks to the Charlottesville CVB and Keswick Hall for hosting my visit. While this trip was sponsored, all opinions are my own.**
Related articles