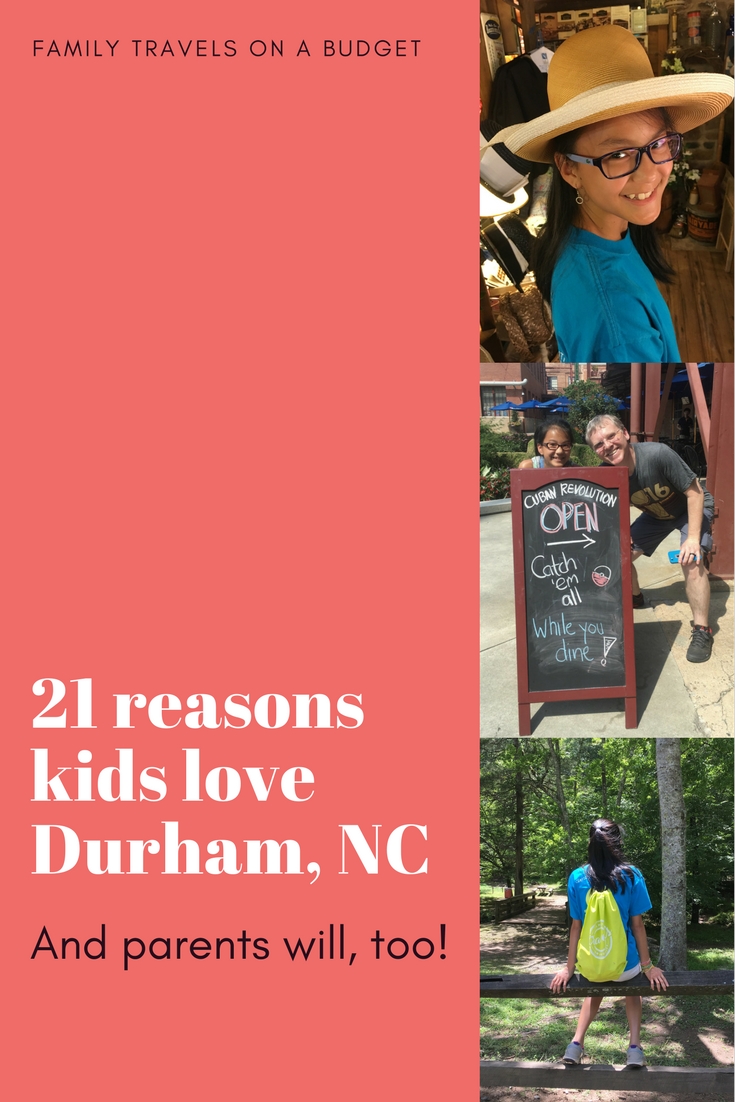 When we moved to North Carolina back in 2001, we never went to Durham. In part, it seemed far away (about an hour). Also, living so close to the beach (compared to when we lived in Ohio), the novelty of that took years to wear off. When I homeschooled, we finally ventured into Durham to visit the Museum of Life and Science, but that was about it.
A couple years ago, that all changed. My sweet hubby planned a day date for us that started at the Sarah P. Duke Gardens followed by lunch downtown.
What a gem!
We finally realized what we'd been missing. There are so many things to do in Durham, NC! Now, we head to Durham often — lots more than the beach! And for good reason.
Our kids love Durham!
And yours will too!
21 reasons kids love Durham
Download the kids' guide to Durham to plan your trip!
1. American Tobacco Entertainment District (Downtown).
Of all the places to visit in Durham, NC, this former Lucky Strike cigarette factory tops the list! It has been transformed into a fabulous entertainment district with restaurants, outdoor spaces to relax (with water features for dipping feet and talking the day away). It's also a great Pokemón hunting area for those still hooked on that craze! We've been here many times and still haven't eaten at all the restaurants.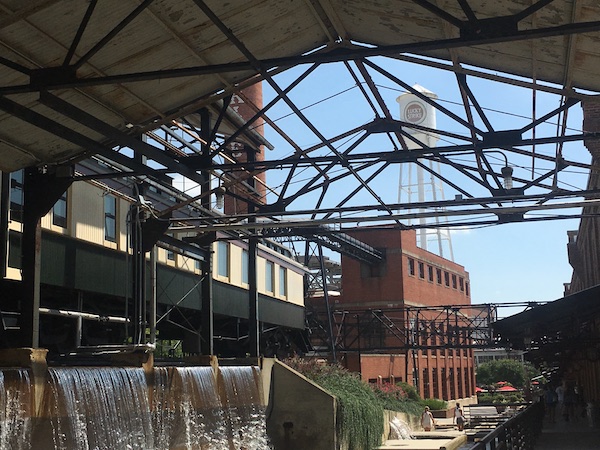 When it's too hot to play outside, or the rain just won't stop, kids go bonkers. When it comes to do in Durham, NC to beat the summer heat, the whole family can jump and play in air conditioned bliss.
Southern Living Magazine (March, 2017) featured the Sarah P. Duke Gardens as one of the best botanical gardens in the south. Don't miss the new Pine Clouds Mountain Stream exhibit with waterfalls and streams, though the whole place is amazing. These gardens helped us discover that there are many places to visit near Durham, NC that the whole family can enjoy.
So, I'm not a Duke basketball fan (I really don't like basketball much — those squeaky shoes. UGH!). But, Duke basketball is a really big deal. College hoops fans will love this place! It's on the Duke campus, which is beautiful — an added bonus. Of course, though, when you consider what to do in Durham, NC, Duke has to be included somewhere, right?
Among our favorite activities in Durham, NC, this 84 acre property has indoor and outdoor exhibits to encourage hands-on exploration. Our favorites exhibits: Aerospace, Dinosaur Trail, Explore the Wild: Lemurs, Gateway Park, Play to Learn (climb, climb, climb), and Soundspace. Great for all ages — allow at least half a day to visit.
This beloved Durham baseball team is a AAA affiliate of the Tampa Bay Rays. The stadium is incredible, with a kids' play area and great food. Designed by the same people who designed Camden Yards, there is no such thing as a bad seat! (It helps that they win a lot!) No visit to the city of Durham is complete without taking in a Durham Bulls game.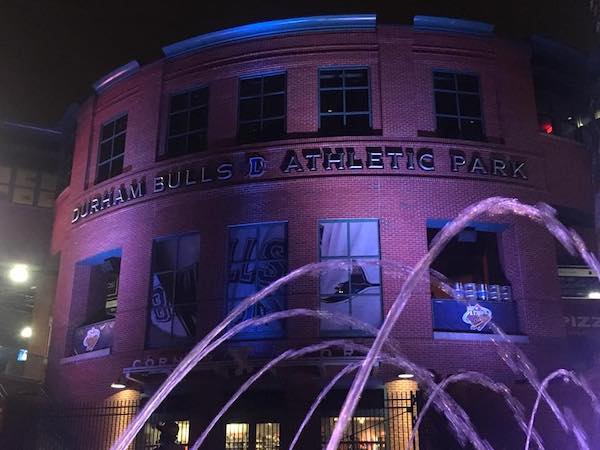 Imagine an indoor playground where every piece of equipment is also a musical instrument! Oh yeah… Kids love it! Who wouldn't enjoy climbing a guitar fretboard that makes noise, or bouncing in an inflatable drum that plays the beat? Remember the movie BIG? Here, kids can play organ pedal keys while the musical notes light up in front of them. Older kids will like the sound-proofed karaoke/mixing booths and other high tech exhibits. Admission is only $8 — and parents are free!
Also part of the Duke campus, we like this museum because it's small enough to explore in a couple of hours without being overwhelming. When my daughter saw the outdoor sculpture on the lawn, she was ready to tour! (The museum offers free admission Thursday evenings! Added bonus)
This non-profit collects materials from local businesses and individuals to repurpose and reuse in creative exploration. The Design Center (best for teens up) provides sewing machines and other equipment to encourage textile design. YEP! Learn to knit, crochet, weave or design a t-shirt! The Make N Take Room ($5 for 1.5 hour session) inspires creativity and you get to keep whatever you make — all materials are there for you.
10. Wheels Fun Park.
This is a pay as you play park with go-carts, mini golf, and arcade. A couple unique features (which we recommend) are the new maze — like a corn maze only permanent — and the play gym. You can buy a one day pass and spend a whole day here.
(This is where I was headed when my GPS went crazy and sent us to Patterson's instead) A City of Durham Heritage Park, Leigh farm shows the progression of agriculture from the 1830s and beyond. There's a speakeasy (circa 1930), all the farming buildings, the main home and the Enslaved People's Cabin. Tours are offered on Saturdays, but the park is open daily. Ellie and I visited on a Friday and had a meaningful discussion about the difference between where the enslaved people lived and where the plantation owner lived. She grasped history in a new way and said, "more kids need to come here." The park also has a disc golf course, hiking trails and the Piedmont Wildlife Center. Admission is free.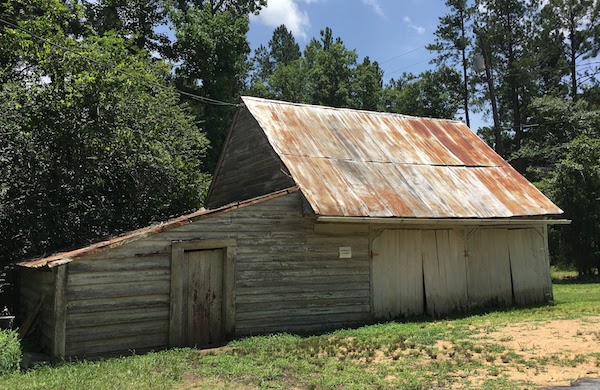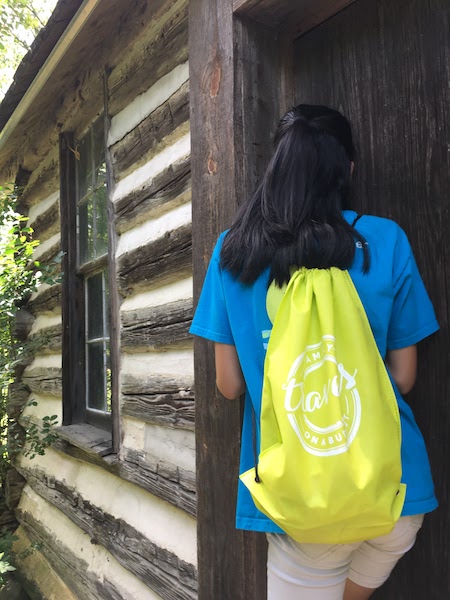 This Civil War site is where Confederate general Joseph E. Johnston finally surrendered to Sherman in April, 1865. Not a battlefield, Bennett Place includes restored historic structures and special events throughout the year. And it's FREE!
13. Brightleaf District.
Durham is called the Bull City not because of livestock, but because of tobacco! So, visiting the Brightleaf District, an area once owned by the American Tobacco Company and listed on the National Register of Historic Places, just makes sense. ("Brightleaf" was a highly desirable type of smoking tobacco cured in a particular way <— I've learned so much since I moved south!) Besides, local restaurants in this neighborhood offer fabulous food.
Confession, Ellie doesn't know about this one yet — but it's on the list! Lemurs are native only to Madagascar, but the Duke Lemur Center is home to 250 of these entertaining creatures, the largest collection outside of Madagascar. And, you can shadow a lemur keeper for a day! Oh. My. Goodness! So much cuteness.
Ellie and I stumbled onto this place when my GPS flipped out and sent me the wrong way. Planning only to turn around in the driveway, I quickly realized we'd found a hidden gem (Or my GPS was plotting against me). Anyway, the country store opened in 1973 but is built from 19th century buildings saved from a planned flooding for the Sharon Harris Nuclear Plant construction. The buildings were transported to this hillside location and used to build the store. Besides a country store, there's a 19th entry doctor's office and many 19th century pharmaceutical supplies on display. Super cool place to visit — and FREE!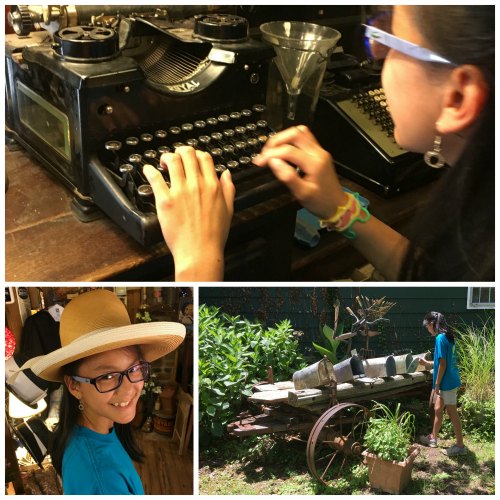 16. The Streets at Southpoint.
This mall and entertainment district just east of Durham (easy access off I-40) is a shoppers dream come true. Restaurants and a movie theater complex complete the space. My little shopaholic loves it here!
We just discovered this park, a personal challenge to find new things to do in Durham for this post. And, we've already decided it's a "must see" for any visitor to Durham. The old mill and photography exhibit are open on weekends, but the park is open daily. With hiking trails that run along the Eno River, this is a beautiful place to explore.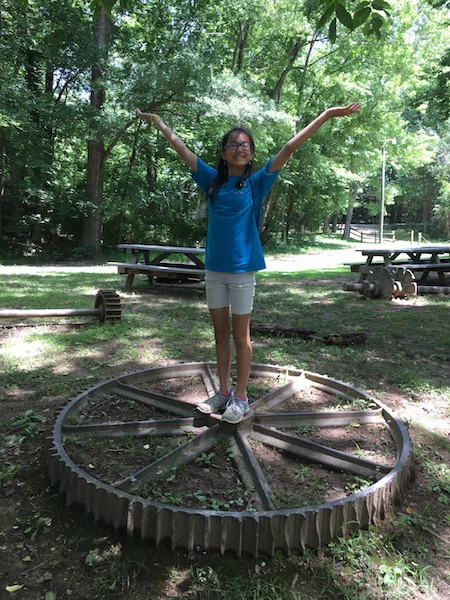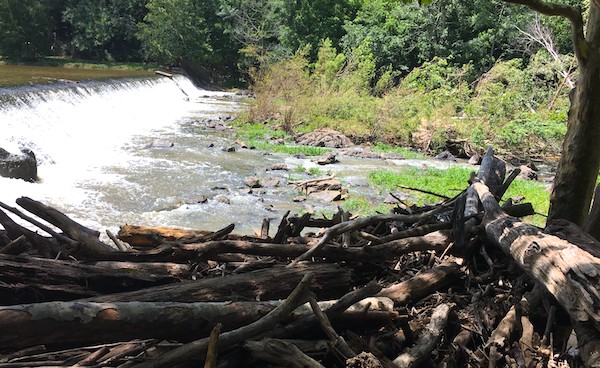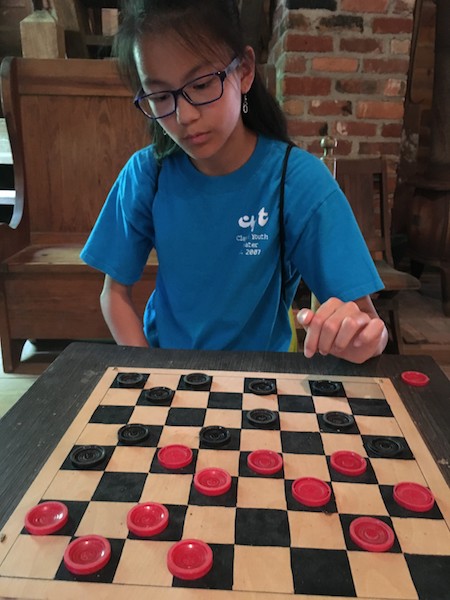 Located downtown, this park is a city treasure. With slides, climbing nets and a boulder climbing area, kids love it here. Parents can sit under trees and watch from shaded comfort.
On a vacation years ago, we surprised our son with an afternoon at a local skate park. Little did we know that there was one nearby in Durham! Thrill seeking kids love this skate park also located in Durham Central Park.
Besides Broadway style shows and other entertainment, DPAC also offers free behind the scenes tours the second Monday of every month. Guests will get to stand on stage and see where the stars prepare for showtime. Reserve your spot in advance at their website.
When I was a kid, we made many trips to our local custard stand. Goodberry's takes me back to my childhood with its rich, creamy custard made fresh every hour. Ellie and I recommend a Carolina Concrete! (Goodberry's is a regional chain. The Durham location is near West Point on the Eno <– that's a great tip!)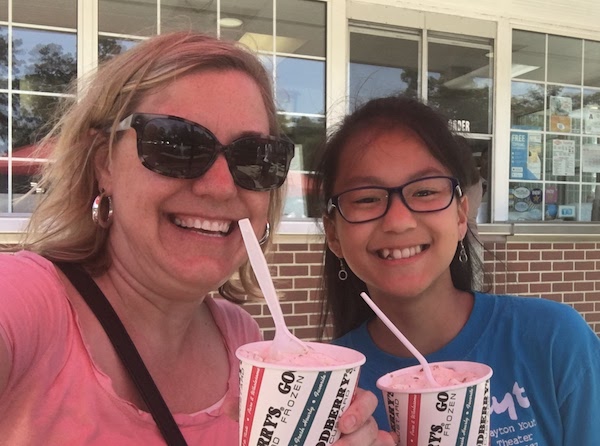 And there you have it, 21 reasons kids love Durham (and parents will, too)!
While this is a sponsored post, I was so excited for the offer! We genuinely love Durham and consider ourselves fortunate to live nearby. Believe it or not, I've only scratched the surface here. I didn't cover restaurants, downtown art sculptures, festivals or splash parks (among other things). I sincerely hope you'll visit Durham sometime soon. Download the Kids Guide to make planning easy!
Other posts you might like