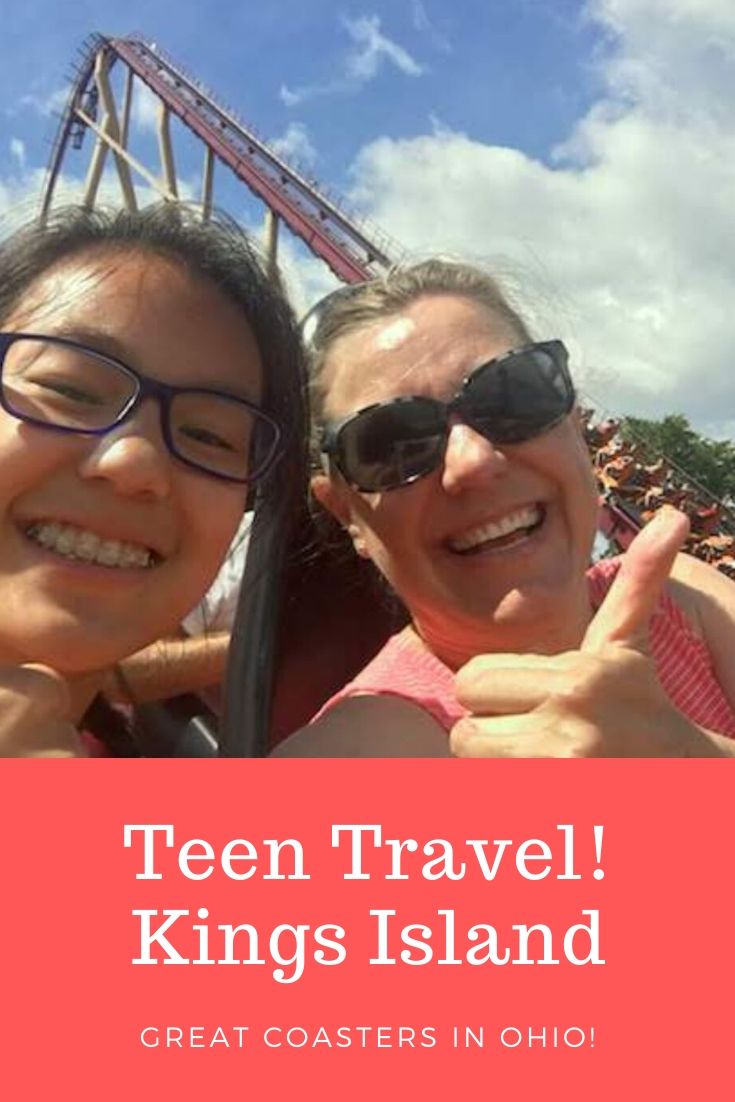 We kicked off our summer vacation to Ohio with a fabulous day at Kings Island theme park. Roller coaster fans know the park and its historic coasters, "The Beast" and "The Racer." For our adventure loving family, there was absolutely no better way to start our summer!
About Kings Island Theme Park in Ohio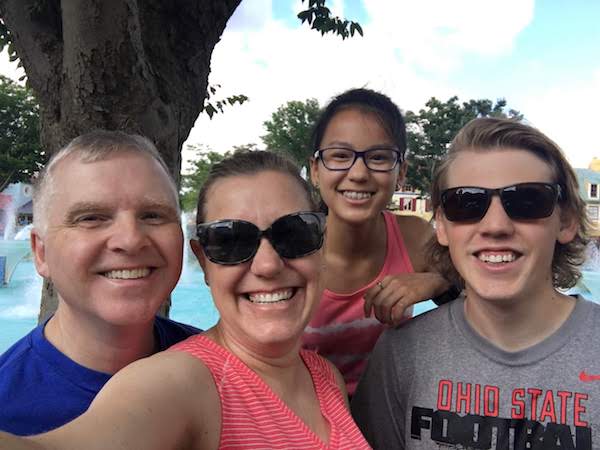 Before our vacation, I was surprised that many of my friends in the south had never heard of Kings Island. So, allow me to introduce one of my favorite theme parks.
Kings Island opened in 1972. Guests enter the park at "International Street," a pedestrian boulevard with fountains lined on both sides with trees, restaurants and shops. Beyond the fountains, a 1/3 scale replica of the Eiffel Tower stands tall.
My uncle took us to Kings Island the first time, back in the early 1980s. I remember walking into the park with the fountains straight ahead and that Eiffel Tower just beyond. Stunning! The whole area has a European charm about it that almost makes you forget there are roller coasters and other adventures waiting just beyond the tower.
If you haven't been to Kings Island before, try to arrive a bit before park opening so you can take it all in before the crowds arrive. Of course, most people go to Kings Island for the rides and attractions, right?
Kings Island rides and attractions
Roller Coasters at Kings Island
Kings Island (and its neighbor to the north, Cedar Point) holds a few roller coaster records. The Beast, which opened in 1979 as the longest, fastest and tallest wooden roller coaster in the world. It still holds the record as the world's longest wooden roller coaster — with 7,359 feet of track. The ride is more than 4 minutes long — and you feel every second of it! The Beast is wildly popular to this day, but as a wooden coaster, it's also quite jerky. True coaster fans must ride it — just like 53 million others have done!
My kids, spoiled by growing up in the era of steel roller coasters don't have much appreciation for wooden coasters. They rode along on The Beast, astounded that we thought it was incredible. It doesn't go upside down or anything. They rode along on The Racer, which has been at Kings Island since the park opened in 1972. They were happy that the red racer won, in part because that meant the kids beat the parents. But also, because as die-hard Buckeyes, we're always happy when red beats the color of that team up north.
Theme park travel hack: Wear a fanny pack to Kings Island. I know — they seem so geeky, but the new ones are really cool. My daughter has a sequin fanny pack and got lots of compliments on it. We all appreciated being "bag free" for the roller coasters! I am super glad the fanny pack is back — and better than ever!!!
Of the other roller coasters at Kings Island, our family favorites were:
Diamondback. Ellie gives it a 9.5 out of 10 (measured against her favorite coaster of all time, Griffon at Busch Gardens Williamsburg). From the first drop of 215 feet, riders can expect serious air time throughout the 3 minute ride. We loved the drops, twists and turns so much we rode it three times — and it's even more awesome after dark!
Firehawk. Ellie and Rob give it a 7 and 6 out of 10, respectfully. The line for this coaster moves very slowly because it takes so long to get riders on and off, but it's a lot of fun. Imagine lying on your back as you climb that first hill. You can't see where you're going, then you flip over, face down as you soar through the track. It's a fun thrill, similar to Manta at Sea World.
Mystic Timbers. We all rated this one a 7, solid coaster. The newest of Kings Island's roller coasters, this one's for the wooden coaster purists. It's a fun ride with a bit of a surprise ending but not as terrifying as The Beast.
Flight of Fear. Ellie and Rob both found this coaster disappointing, a 4 out of 10. Ben and I didn't ride because we needed a break from the twists and turns. I think, perhaps, we are spoiled by Disney's Space Mountain. Without the special effects, this was just a crazy ride in the dark.
The Bat. This coaster has been around quite a while, with a few different names through the years. It's tucked away in a corner and you walk forever to get to the ride, but it rewards you with a fun ride through the treetops. It's not a scary coaster compared to most, but we really enjoyed swooping and swaying through the treetops. This is a great coaster for the less confident or younger riders.
One big tip: Use the fanny pack! For the most part, you can keep your fanny pack on when riding Kings Island roller coasters. Purses and backpacks can't go with you on most rides.
Other family rides at Kings Island
Kings Island is, first and foremost, a thrill rides park. Most people come for the coasters, but there are other rides here, too. Classics like the Scrambler, Viking Fury (the swinging ship), and Dodgems are fun for the whole family… Well, my husband won't ride swinging ship rides, but all the rest are awesome.
There's also the K.I. and Miami Valley Railroad, which provides a chance to escape the crowds and enjoy a scenic train ride. The railroad also connects Kings Island to Soak City, the water park next door.
If you don't have tickets for Soak City (separate admission or a combination ticket is required), Kings Island has two water rides — Congo Falls, which is really short but gets you wet, and White Water Canyon, which will soak you. Don't ride White Water Canyon with anything you don't want drenched! But if you're really hot, it's a quick, fun way to cool off.
Of course, no theme park is complete without a Grand Carousel. The carousel at Kings Island is its oldest ride, built by the Philadelphia Toboggan Company in 1926. This antique beauty is as entertaining today as she was back then.
Kings Island for kids
Kings Island consistently ranks #1 in the world for best kids' area at a theme park, and I'm not surprised one bit! Called Planet Snoopy, the park offers tons of rides to entertain guests under 48″ all day long. Since none of us met that criteria, we could merely walk through the area.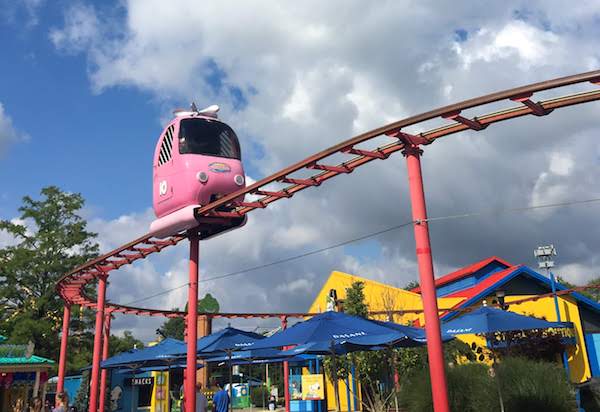 I will confess that a certain millennial in our group really wanted to ride the Woodstock Whirlybirds, so cute! We also loved the whole concept behind Joe Cool's Dodgem School. Who wouldn't want to hang out there while the big people rode coasters nearby?
Another thing about Kings Island that is great for families with young kids is the abundance of shady places to take a break. Or, if you want, you can even take a nap. Ben found this great spot to take a break while the rest of us got a few roller coaster rides in. Doesn't that look peaceful?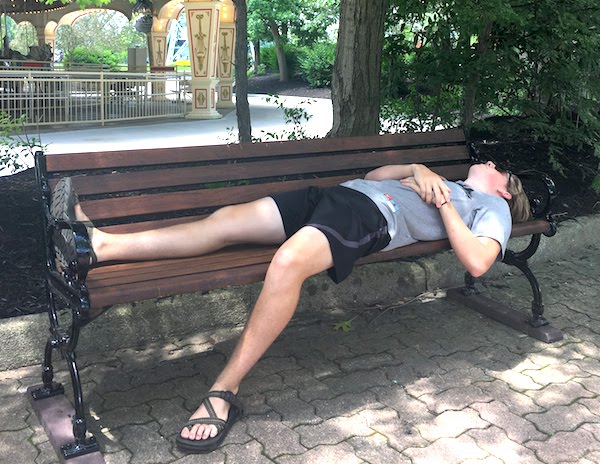 With such an amazing kids' area, Kings Island is definitely a park families can enjoy with little kids and come back to when they're big enough for the thrill rides. It's consistently ranked as one of the best things to do in Cincinnati with kids — of all ages!
Search Vacation Deals. Any time. Anywhere. Any Budget.
Even more to do at Kings Island
Adrenaline junkies might focus on the coasters, but there are some pretty amazing shows here, too.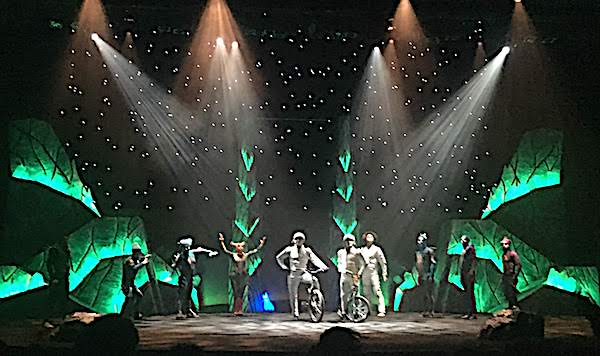 Gravity, in the air conditioned Kings Island Theater, was a spectacular surprise. High energy and entertaining, it's a great show for all ages.
Jump! The Ultimate Dog Show wasn't quite as exciting. The trainer explained early on that most of the dogs in that day's show are new to the program, so maybe the show will improve as the summer goes on. With that said, if there are dog lovers in your crew, they'll probably love seeing what these rescue pups can do!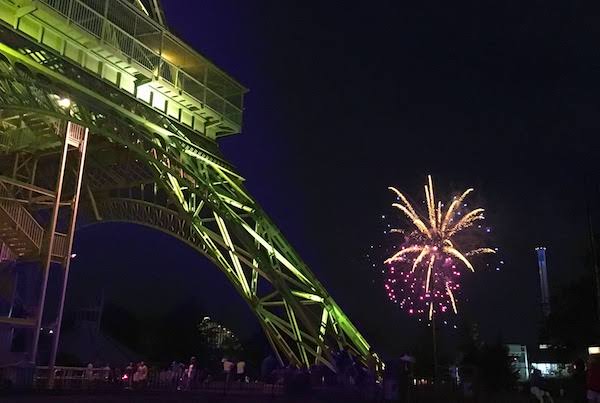 As the park closes, the International Street Light and Fireworks Spectacular lights the way home. The show isn't very long and it doesn't draw the crazy crowds you experience at the Magic Kingdom, but if you stay until park closing, find a spot near the Eiffel Tower where you can see the fountains and the fireworks to enjoy the show. Then dance your way to the parking lot as your day comes to an end.
We didn't see the Country show or any of the Peanuts' kids shows. When we walked past one of the kids' shows, they sure looked like they were having a blast. I guess when you have the #1 kids' park, you have great shows, too!
Check out the shows, locations and times and add a couple to your day at Kings Island.
Kings Island dining options
If you go to theme parks regularly, you're probably used to the standard menu: chicken fingers, fries, burgers, pizza, popcorn and cotton candy. Kings Island's restaurants and dining take things a whole lot further — not quite Epcot, but more gourmet than I have come to expect from theme park food.
That's due, in part, to their new executive chef, James Major. Chef James knows how to cook for a crowd since he honed his skills in the Navy. He is an Ohio native, dedicated to providing quality food that people will remember.
In an interview with the Cincinnati Journal-News, he shared his excitement, saying "when our guests come here they have a great time, they enjoy themselves, they have great food, and that they leave here with a big smile on their face. That's what I'm looking forward to doing every day this summer."
His excitement shows. The food was great — and the restaurant staff was incredibly professional, too.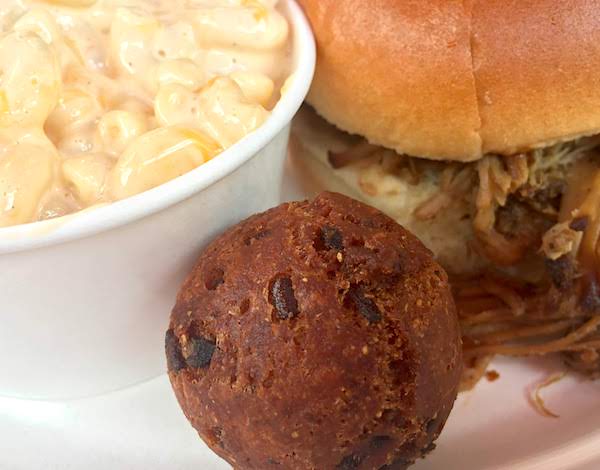 We tried the brand new restaurant, Coney Bar B Que, which features rotisserie chicken, ribs and pulled pork sandwiches. Side dishes here are AMAZING! The mac 'n cheese rivals my homemade version. They sometimes change the sides, and the day I was there, they had loaded baked potato salad which was also quite good — loaded with bacon, cheese and sour cream.
If you need more culinary ideas how about these:
The Sweet Spot on International Street. Ever had gourmet cotton candy? From Butter to Red Pepper flavored, the Sweet Spot has flavors you've never even heard of before! We chickened out on the red pepper. If you try it, let me know how it tastes!
The Turkey Legs on International Street. Not just any turkey legs, but Chef James' special recipe Bacon-on-a-Stick complete with maple syrup glaze and a special spice rub.
Planet Snoopy — Home of the famous (and tasty) Blue Ice Cream. No trip to Kings Island is complete without this treat.
Island Smokehouse in Soak City. This new restaurant features barbecue, shrimp, tidal wave fries and more.
So… we couldn't resist the world famous blue ice cream, a perfect treat on a hot summer night. We splurged on waffle cones and called it dinner! Can you blame us?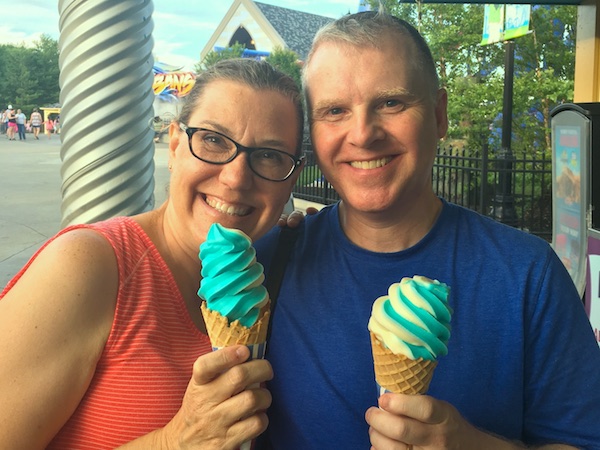 Our family adventure began as a way to share our childhood memories with our kids. And, new memories were made: new rides, great food, laughable moments. We truly had our Kings Island Best Day!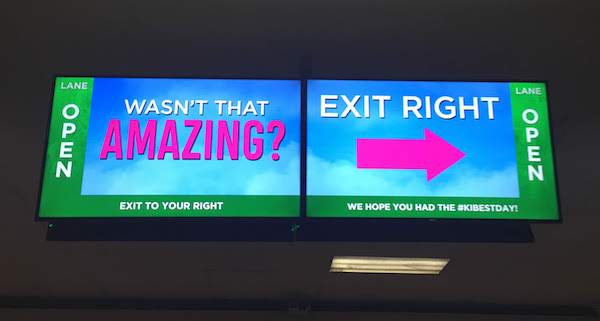 Kings Island FAQ
Kings Island Tickets
A popular question is where to buy Kings Island tickets to save the most (and skip the ticket line)?
Daily Kings Island tickets can be purchased full price at the gate, but you can save money if you plan ahead.
Purchase online at their website. There are a number of different options available. Also, online discounts change from time to time throughout the season. The best deals seem to be late fall for the following season. Online purchases can be redeemed any day during the regular season.
Purchase at local Kroger grocery stores, though the price is the same as the Kings Island website.
Kings Island also offers military discounts to active duty and retired military personnel.
Purchase parking vouchers online.
Unless you buy a season pass that includes free parking or purchase a vacation package, buy a parking voucher in advance online. You'll save $5 on general admission parking if you buy early. As the season goes on, the discount drops to just $2 or $3. But, it's still a budget stretcher!
A popular add on is the fast lane, Kings Island fast pass to the front of the line for most rides. For avid coaster fans, a fast lane pass is tempting. Purchase the tickets online in advance to get the best rate. Prices are higher in the park.
There are two options: Fast Lane and Fast Lane Plus. The Fast Lane Plus pass includes the 20 rides on the regular Fast Lane pass PLUS the most popular coasters and Soak City attractions. It costs about $20 more and is sold in limited quantities only. Be sure you review which rides are included as we saw a few guests who were confused about what they could ride with their passes.
Now that I've said all that, is it worth it?
According to the many season pass holders I talked with, the answer is probably not — unless you can only go on a Saturday AND you want to ride everything in the park! But, you will get a Kings Island fast lane discount if you purchase in advance online.
One couple told me that the park is never super-crowded on Sundays because of the "church effect." They explained that the locals go to church in the morning, so the park isn't crowded. They come in for a few hours after lunch and go home to get ready for the week. We went on a beautiful, sunny Sunday and never waited long for any rides, not even the new Mystic Timbers roller coaster.
Another local resident said that Saturdays and holidays are the only days that get really crowded. She recommended avoiding them if you want to ride everything, and she only buys the Kings Island fast pass for her teenage son when he goes with friends, but that's a special splurge once or twice a year.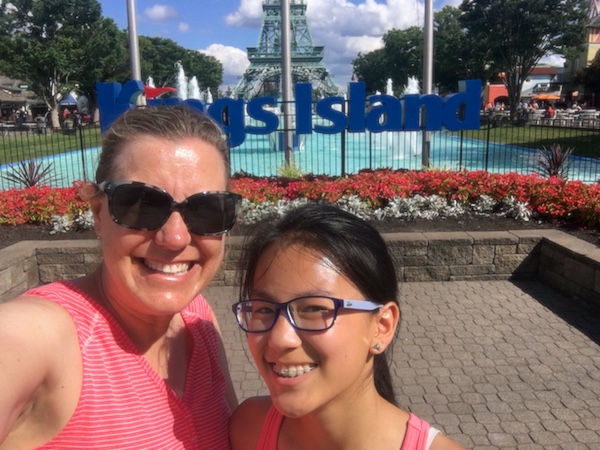 We arrived before the park opened and stayed until closing. We ate a big breakfast at our hotel that morning, and got one big meal in the park at about 2:00 (when the park was most crowded so we could take a break from the lines). The single meal deal is definitely cheaper than a meal with side and soda at full price. If you're not planning to drink soda, though, there's not much savings.
The all day dining plan allows guests to get an entree and side dish (no drink) every 90 minutes throughout the day. For us, that's not a great deal because we tend to eat only one meal during the day so we can snack on park treats, too! But, for big eaters, this can be a money saver.
You can also buy a souvenir cup (currently $11.99 online) and get free refills on select beverages the first day you use it. If you go to the parks multiple days, refills are $1 each. Purchase the cup online to save.
Another way to save on your trip is to purchase a vacation package with select hotels near Kings Island. The vacation packages include lodging and park tickets (several options to choose from). An optional parking voucher add-on is also available (savings of $6 on general admission parking).
Selecting a Kings Island vacation package is easy!
Search Vacation Deals. Any time. Anywhere. Any Budget.
1. Choose your hotel from the list – many offer FREE Breakfast and Parking!
2. Select your tickets – single and multiway options are available!
3. Have fun while enjoying these exclusive savings.
If you prefer to book separately, there are many great hotels near Kings Island to choose from. Here's a list from our hotel travel partners.
We were provided free admission to Kings Island for purposes of this review. All opinions are mine (and my family's).