Merry Go Round Museum: Family fun in Sandusky, Ohio
Our summer vacation this year was a time capsule trip! We took the kids back to our home state of Ohio to experience some of our favorite places: King's Island, Columbus' German Village, Ohio Stadium (Go Buckeyes!) and Sandusky, home to the world's best roller coaster theme park, Cedar Point!
That's a LONG road trip, so we scheduled a relaxed day in Sandusky to recharge the batteries.
To be honest, the kids were only semi-committed to the plan, especially our first stop at the Merry-Go-Round Museum in Sandusky. They expected it to be lame — very lame. Even my dear, sweet, supportive husband threw in a sarcastic, "Yippee. The merry go round museum… Where has this been all my life?"
By the end, they were singing a much different tune, enough so that we went back for souvenirs before the long drive home! TIP: If you collect Christmas ornaments of your travels, the museum carousel ornament features three of the horses from the carousel you ride at the museum!
What makes the Merry-Go-Round Museum special?
When it comes to Sandusky, Ohio tourist attractions, the Merry-Go-Round Museum should be on everyone's list. The museum isn't large, comprised only of a large foyer and huge room beyond, but it packs a lot of interest into the space.
After purchasing tickets, explore the foyer, which features some unique horses, highly prized for their rarity and significance in merry go round history. A series of plaques along the wall explains the history of the carousel, going back to its earliest days training knights for battle.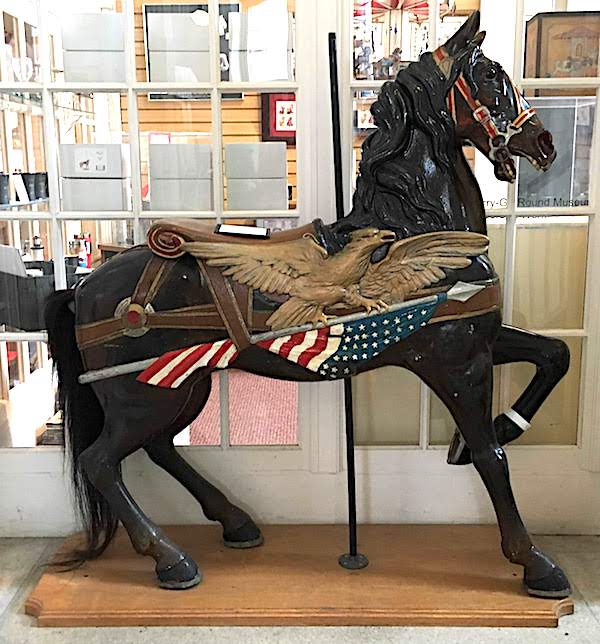 We spent more than a half hour in the foyer space… where Rob and Ben readily admitted they had misjudged the museum. They were GENUINELY excited to see the rest.
In the main room, a 1938 county fair carousel takes center stage. The bright lights, colorful horses (and rabbits and frog and dragons) and festive music draw guests in. Really!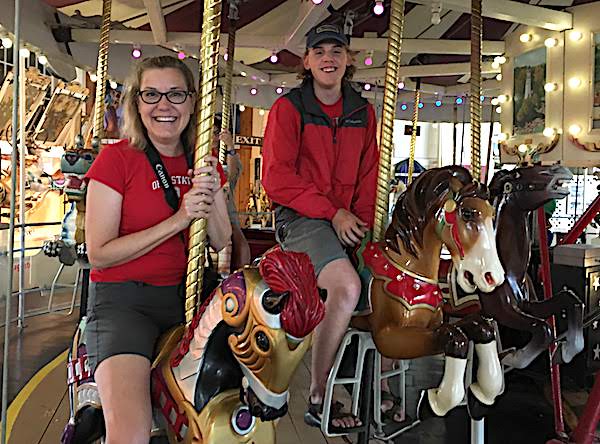 Around the room, special displays show how the carousel has impacted entertainment around the world, especially in the United States. Many of the pieces are original, dating back more than 100 years. Some are restored, while others are reproductions that illustrate how a carousel horse (or other creature) is made.
In one corner, a group of dedicated volunteers, who make new carousel horses and restore those sent to the museum, explain the process of making a carousel horse and answer visitor questions.
We spoke with John, who has volunteered at the museum since the 1990s, and made the horse he's pictured with here. His explanations made carving a horse sound so easy — though, I know it's not! He told us that there are no nails or screws in an authentically created carousel horse and that sanding is the hardest part.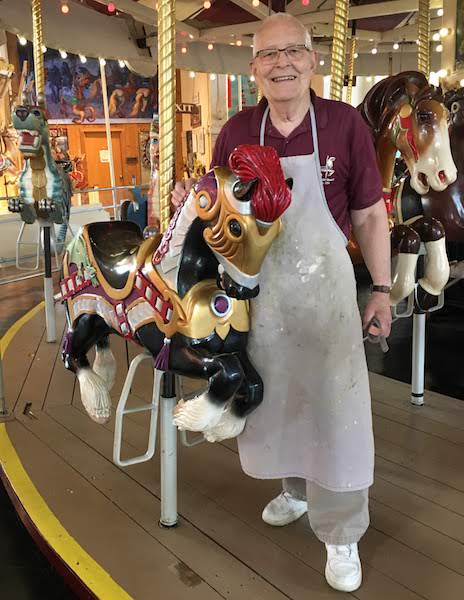 Every visit includes a ride on the carousel, of course! The merry-go-round at the Sandusky museum was built in 1938 and used at county fairs. The "portable" carousel can be disassembled in just four hours.
Hmmmm, I never thought to ask how long it takes to assemble. Anybody know? If so, let me know on Facebook or Twitter!
Plan your visit to the Merry-Go-Round Museum
The Merry-Go-Round Museum is located at 301 Jackson St, Sandusky, OH 44870. There is free parking behind the museum, but if you're downtown, it's just across the street (west end) of Washington Park — an easy stroll. For up-to-date information on hours and admission, click here.
Hours
Monday – Saturday, 10 a.m. to 4 p.m.
Sunday, Noon to 4 p.m.
I recommend two hours for visitors age 8 and above. If visiting with younger kids, I'd allow an hour to visit as most of the displays are read-only. There are a few interactive displays in the museum that allow kids (and adults!!!) to make prints of a carousel horse. We all took a turn at that!
Admission
As of 2018, adult admission is $6. Kids 4-14 are $4, and kids under age 4 are free. Admission includes a ride on the carousel.
Tips for visiting
The museum is a great option when there's bad weather, but it's worth a visit whenever you make it to Sandusky. TripAdvisor ranks the museum #1 of the best things to do in Sandusky, beating out Cedar Point. (We loved it, but I don't think I could convince my crew to go without including Cedar Point!).
If your kids have a short attention span, have them count the lions or camels or reindeer while you learn about the displays.
Ask kids to choose their favorite creature and why they like it. They're developing art appreciation skills without even knowing it!
Here are some of our favorites — the giraffe, the elephant and the lion.
And, ask the volunteers about the museum — what they do, what drew them to the museum and what they remember about riding carousels in their youth. They truly are experts about this art form and love sharing their passion.
If you're visiting nearby Put-in-Bay or the other islands, Port Clinton, Huron or other nearby towns, add a day trip to Sandusky and include the museum. It's truly a gem!
[amazon_link asins='B00EGWBY8U,B00EGPJTXE,0762408472,B01M05PPSM,B06XH91Q5C' template='ProductCarousel' store='ftoab-20′ marketplace='US' link_id='b7007d3b-ea17-11e8-8b1c-798edbf53bcd']
Special thanks to Lake Erie Shores and Islands and the Merry Go Round Museum for hosting our visit. All opinions are ours.