Kings Island Tips (2023)
This post may contain affiliate links. Click here to see what that means.
Kings Island, about 20 miles from Cincinnati, Ohio, is a 364-acre amusement park that opened in 1972. Sister parks with Cedar Point in Sandusky, Kings Island is well known for its wooden roller coaster, The Beast, and its historic Grand Carousel. It's a large park, so knowing Kings Island tips from a true fan of the park really helps make the most of your day!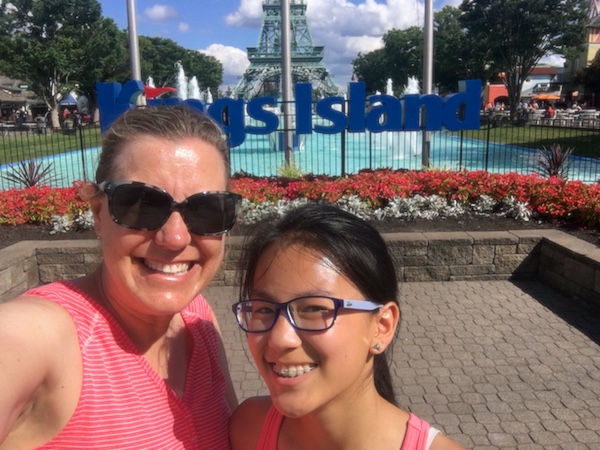 Rides and Attractions at Kings Island
If you haven't been to the park before, my first Kings Island tip is to arrive before park opening so you can enjoy International Street before the crowds arrive.
Like its sister parks, Cedar Point, Carowinds and Kings Dominion, Kings Island is an amusement park with strong thematic elements.
A number of thrill rides and roller coasters offer a full day's entertainment for the adrenaline junkies. Family friendly rides and shows offer entertainment for families of all ages. And, the Kings Island kiddie land offers plenty of fun for little ones.
Thrill rides at Kings Island
Kings Island holds a few roller coaster records, which roller coaster afficionados know quite well.
The Beast, which opened in 1979 as the longest, fastest and tallest wooden roller coaster in the world, still holds the record as the world's longest wooden roller coaster. It's got 7,359 feet of track providing a bumpy ride that lasts more than 4 minutes. And, you feel every second of it! The Beast is wildly popular to this day, but as a wooden coaster, it's also quite jerky. True coaster fans must ride it — just like 53 million others have done!
My kids, raised in the era of steel roller coasters, don't have much appreciation for wooden coasters. They rode along on The Beast, astounded that we thought it was incredible. It doesn't go upside down or anything.
The Racer is another iconic Kings Island roller coaster, entertaining adrenaline junkies at the amusement park since it opened in 1972. The Racer is two identical roller coasters, one red and one blue, that run on parallel tracks in a race to the finish.
Our kids were happy that the red racer won, in part because that meant the kids beat the parents. But also, because as die-hard Buckeyes, we're always happy when red beats the color of that team up north.
Of the other roller coasters at Kings Island, all new since my teen years, our family favorites were:
Diamondback. Ellie gives it a 9.5 out of 10 (measured against her favorite coaster of all time, Griffon at Busch Gardens Williamsburg). From the first drop of 215 feet, riders can expect serious air time throughout the 3 minute ride. We loved the drops, twists and turns so much we rode it three times — and it's even more awesome after dark!
Firehawk. Ellie and Rob give it a 7 and 6 out of 10, respectfully. The line for this coaster moves very slowly because it takes so long to get riders on and off, but it's a lot of fun. Imagine lying on your back as you climb that first hill. You can't see where you're going, then you flip over, face down as you soar through the track. It's a fun thrill, similar to Manta at Sea World.
Mystic Timbers. We all rated this one a 7, solid coaster. The newest of Kings Island's roller coasters, this one's for the wooden coaster purists. It's a fun ride with a bit of a surprise ending but not as terrifying as The Beast.
Pro Tip for visiting Kings Island: Use the fanny pack! For the most part, you can wear your fanny pack when riding Kings Island roller coasters, but purses and backpacks are not allowed on rides!
Family friendly rides at Kings Island
Kings Island is, first, a thrill rides park, making it one of the best theme parks for teens in the United States.
While most people come for the coasters, it offers lots of family friendly rides, too. Classics like the Scrambler, Viking Fury (the swinging ship), and Dodgems are fun for the whole family… Well, my husband won't ride swinging ship rides, but he thinks the rest are awesome.
Of course, no theme park is complete without a Grand Carousel. The carousel, Kings Island's oldest ride, was built by the Philadelphia Toboggan Company in 1926. This antique beauty is as entertaining today as (I assume) she was back then.
Kings Island has two water rides — Congo Falls, which is really short but gets you wet, and White Water Canyon, which will soak you. Don't ride White Water Canyon with anything you don't want drenched! But if you're really hot, it's a quick, fun way to cool off.
The K.I. and Miami Valley Railroad provides a handy way to get from one area of the park to another while enjoying a scenic train ride.
Pro Tip for visiting Kings Island: The Kings Island railroad connects Kings Island amusement park to Soak City, the water park next door, through a back entrance. Soak City admission is included with your Kings Island admission — no separate ticket needed.
Kings Island Adventure Port, new for 2023
Kings Island Adventure Port opens in 2023, located between Coney Mall and Action Zone.
Adventure Port portrays the myths of an ancient civilization and its mighty city carved out of stone which have lured travelers from around the globe to this lively community for more than a century. Discover a dense tropical forest, the ruins of an ancient civilization and its forbidden temple as you enjoy new rides an experiences.
Kings Island Adventure Port will offer two family friendly rides: Sol Spin and Cargo Loco. Sol Spin is a spinning ride that starts out horizontally, but spins to close to vertical at 25 mph. Bright lights make it even more exciting at night. Cargo Loco is a reimagined tea cup ride — though you'll spin in barrels at the "shipping port."
The Mercado, with bright colors and flags reminiscent of Mexico, will have covered shopping, quick snacks and spots to relax. Enrique's quick serve restaurant wraps up the new area, with a menu that offers traditional burritos, burrito bowls, tacos, salads and sides.
Kings Island kiddie land
Kings Island consistently ranks #1 in the world for best kids' area at a theme park, and I'm not surprised one bit!
Called Planet Snoopy, Kings Island kiddie land offers tons of rides to entertain guests under 48″ all day long.
Our family was all (way) too tall to ride the Kings Island kiddie land rides, but we did enjoy walking through Planet Snoopy to see all the fun!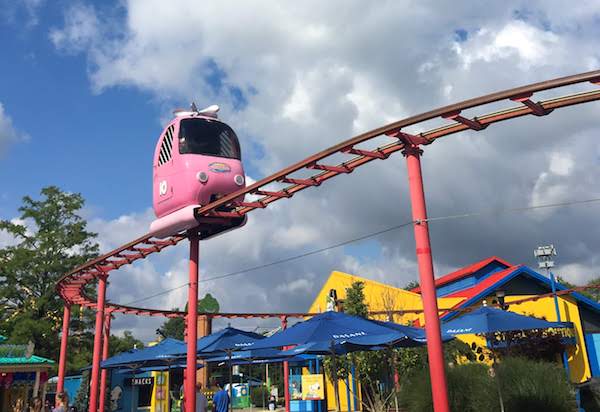 I will confess that a certain millennial in our group really wanted to ride the Woodstock Whirlybirds, so cute!
We also loved the whole concept behind Joe Cool's Dodgem School. Who wouldn't want to hang out there while the big people rode coasters nearby?
Another thing about Kings Island kiddie land that's great for families with young kids is the abundance of shady places to take a break.
Or, if you want, you can even take a nap. Ben found this great spot to take a break while the rest of us got a few roller coaster rides in. Doesn't that look peaceful?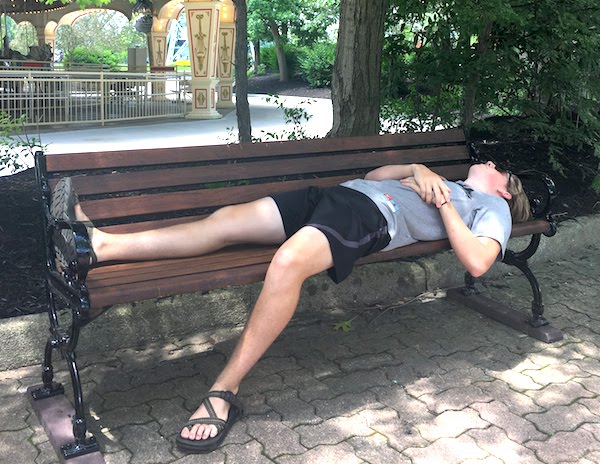 With such an amazing kiddie land, Kings Island is definitely a park families can enjoy with little kids and come back to when they're big enough for the thrill rides. It's consistently ranked as one of the best things to do in Cincinnati with kids — of all ages!
Other things to do at the park
Adrenaline junkies might focus on the roller coasters at Kings Island, but there are some pretty amazing shows here, too.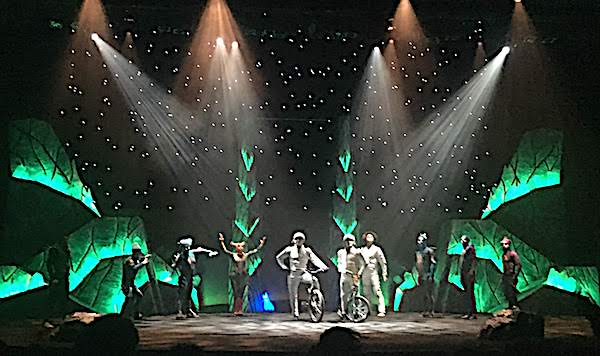 Escape summer heat and humidity and catch an entertaining show in the air conditioned Kings Island Theater. High energy and entertaining, the shows are great for all ages.
The shows at Kings Island amusement park change each year. Check the Kings Island website to see what shows are offered when you plan to visit.
Pro Tip for visiting Kings Island: Plan ahead and pick a show to enjoy sometime between 2:30-4:30 to take a break from the heat and humidity. This is also when the park is most crowded and ride wait times can get long.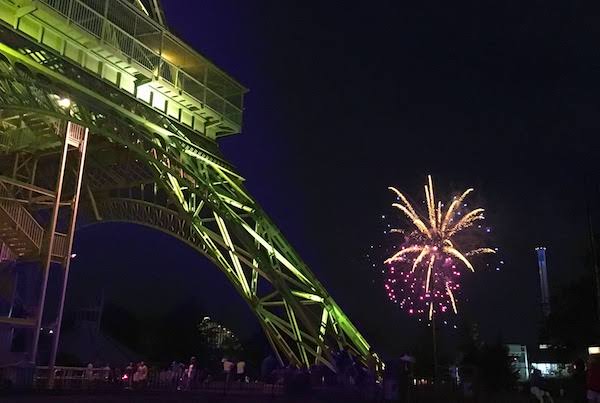 As the park closes, the International Street Light and Fireworks Spectacular lights the way home. The show isn't very long and it doesn't draw the crazy crowds you experience at Disney, but if you stay until park closing, find a spot near the Eiffel Tower where you can see the fountains and the fireworks to enjoy the show.
This year's show is titled "Adventure Awaits, a Kings Island Fireworks Spectacular" and celebrates the fun, thrilling moments and memories of your day at Kings Island. The show features fireworks, 200 synchronized drones and laser projections on International Street.
When the show ends, dance your way to the parking lot as you head home.
Tips for visiting Kings Island
Just about anywhere you go, there are tips to make your visit even better, and Kings Island is no different. These planning tips for visiting Kings Island can take your day from good to GREAT!
What is the Kings Island bag policy?
All bags are subject to search before entering Kings Island. That includes purses, backpacks, waist packs, and diaper bags — or any other bag you bring. Sharp objects (including pocket knives and metal chains), firearms, or other items that could be considered a weapon are strictly prohibited and cannot be brought into the park.
We recommend using a fanny pack on your trip to Kings Island! Based on our personal experience, fanny packs that fully close and DO NOT INTERFERE with roller coaster safety bars, are allowed on all rides.
We recommend this fanny pack for Kings Island, because it is lightweight and compact. It has a separate, small pocket for credit cards or theme park passes, so you don't have to dig through a big pouch to find it. Use the smallest, lightest fanny pack to meet your needs.
Pro Tip for visiting Kings Island: Due to the dynamic movement of many rides, a digital watch or mobile phone may activate its emergency call function. To prevent your device from making unintended 911 calls, turn off your phone before riding, switch it to airplane mode or temporarily store it in a locker.
What is the Kings Island Bag Policy during Halloween Haunt?
During "Halloween HAUNT," the Kings Island bag policy is VERY STRICT!
Bags larger than 6.5″ X 4.5″ X 2″ are NOT ALLOWED in the parks on Fridays, or after 6:00 p.m. on Saturdays and Sundays. This includes fanny packs, purses, shoulder bags and diaper bags.
During regular park days, the Kings Island bag policy is less strict. Bags are permitted, but they will be searched at security prior to park admission. Sharp objects, glass, firearms and other objects that can be considered weapons are not allowed in the park.
What can I bring to Kings Island?
You can bring necessary medications, sunscreen and sunglasses to Kings Island. If you get motion sickness on rides, SeaBands motion sickness wrist bands are allowed.
You CANNOT bring outside food into Kings Island, though baby food and formula are allowed. AND, people with special dietary concerns may bring food into the park. However, if you have special dietary needs, you need to stop at guest services when you get to the park to get approval to bring food into the park.
Can I use cash at the park?
Surprisingly, Kings Island is a CASHLESS park. You cannot use cash at Kings Island. You can use your credit card, debit card, Apple Pay or Google Pay throughout the park.
If you bring cash to the park, there are FEE FREE Cash-to-Card kiosks throughout Kings Island and Soak City Water Park. Kings Island cash-to-card kiosk locations can be found at the Front Gate Main Entrance, at Festhaus, at Diamondback Trading Post, and at the Coney Mall Arcade.
These fee free cards can be used outside the park, as well, so if there's money left on them, you still have access to it!
We saw many people last summer at a sister park who didn't know about the cashless system and were quite frustrated. Hopefully, knowing in advance makes this easier for someone planning a day at Kings Island.
What is the Kings Island Chaperone Policy?
Like many theme parks, malls and other places where teens like to hang out, the park has a new rule called the Kings Island Chaperone Policy.
The Chaperone Policy states that "all guests ages 15 years old or younger must be accompanied by a chaperone who is at least 21 years old in order to be admitted to, or remain in, the park after 4:00 p.m. local time to close. The chaperone must present a valid government-issued photo identification with date of birth at ticket entry. One (1) chaperone may accompany no more than ten (10) guests ages 15 or younger per day. In addition, the chaperone must accompany their party during entry, remain inside the park during their visit, and be available by phone throughout their stay. Guests ages 15 years old or younger who are found inside the park unaccompanied by a chaperone will be subject to ejection. This chaperone requirement applies to all Kings Island ticket and season passholders."
The Chaperone Policy is an important element of the park's code of conduct, which prohibits things like line jumping, aggressive and threatening behavior, harrassing behavior, smoking and vaping, and other behaviors that can disrupt the family friendly atmosphere of the park.
Click here to read the full Kings Island Chaperone Policy and Code of Conduct.
Does Kings Island have lockers?
Lockers are available throughout the park to store items while riding certain rides. Use a credit card to purchase the amount of time you need.
Season pass holders might prefer locker season rentals, available as an add-on when purchasing passes. These lockers are sold out for 2023.
Kings Island Meal Plan and other dining options
If you go to theme parks regularly, you're probably used to the standard menu: chicken fingers, fries, burgers, pizza, popcorn and cotton candy.
Kings Island's dining plan gives you the option take things a whole lot further. The food is not quite Epcot, but it's really good for a theme park!
We really enjoyed lunch at Coney Bar B Que, which features rotisserie chicken, ribs and pulled pork sandwiches. Side dishes here are AMAZING! The mac 'n cheese rivals my homemade version. They sometimes change the sides, and the day I was there, they had loaded baked potato salad which was also quite good — loaded with bacon, cheese and sour cream.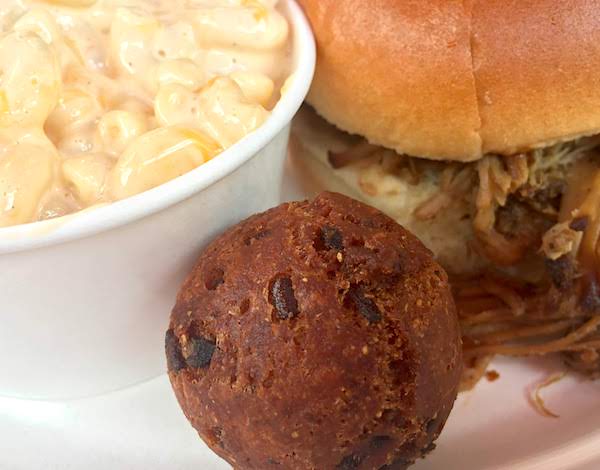 If you need more culinary ideas how about these:
The Sweet Spot on International Street. Ever had gourmet cotton candy? From Butter to Red Pepper flavored, the Sweet Spot has flavors you've never even heard of before! We chickened out on the red pepper. If you try it, let me know how it tastes!
Bacon on a Stick on International Street. Not just any bacon, these are Chef James Major's special recipe Bacon-on-a-Stick complete with maple syrup glaze and a special spice rub.
Planet Snoopy, Home of the famous (and tasty) Blue Ice Cream. No trip to Kings Island is complete without this treat.
So… we couldn't resist the world famous blue ice cream, a perfect treat on a hot summer night. We splurged on waffle cones and called it dinner! Can you blame us?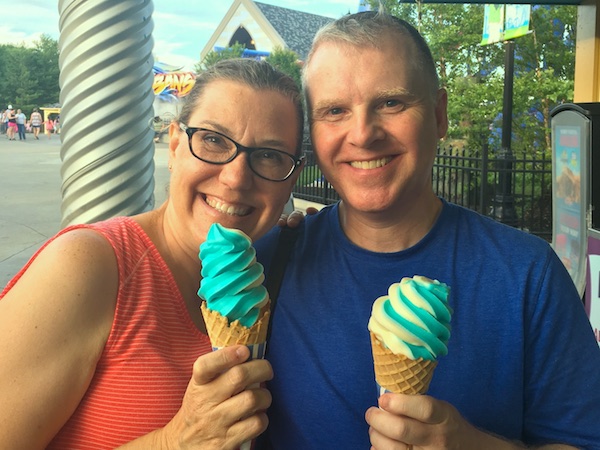 Are you wondering if you should get the Kings Island Meal Plan?
Whether to get the Kings Island meal plan is a popular question, especially for families who keep watch of their travel budget. Is the Kings Island dining deal a good choice?
We visit theme parks every year, and we crunch the numbers every time. And, yes, if you will be at the park all day, we highly recommend the Kings Island all-day dining plan. It allows you to get an entree and a side every 90 minutes while you're at the park for only $31.99. Eat two meals and a "snack" and you will save. Water is free at the parks, and water cups are available at the checkout stand.
If you're a soda drinker, consider the Premium All Day Dining Plan, which includes a meal every ninety minutes PLUS a drink wristband that lets you get sodas all day, with only a 15 minute break between drinks. The Kings Island Premium all-day dining plan is only $42.99.
Other Kings Island meal plans are available, too, particularly for season pass holders.
Is there a way to save on Kings Island tickets?
A popular question is where to buy tickets to save the most (and skip the ticket line)?
Daily Kings Island tickets can be purchased full price at the gate (currently $85), but you can save money if you plan ahead.
Kings Island tickets INCLUDE admission to the Soak City water park when it's open! You get two parks for one price.
Purchase daily tickets online for $49.99 and save $35 over purchasing tickets at the gate! Online discounts change from time to time throughout the season. The best deals seem to be early spring before the park opens and late fall for the following season. Online purchases can be redeemed any day during the regular season.
There is an "After 4 p.m. Ticket" available online for $34.99 which saves you $50 off the full-day admission!
Kings Island also offers military discounts to active duty and retired military personnel.
A popular add on is the fast lane, Kings Island fast pass to the front of the line for most rides. For avid coaster fans, a fast lane pass is tempting. Purchase the tickets online in advance to get the best rate. Prices are higher in the park.
Kings Island Fast Lane passes start at $80 online. Yes, that's basically the full price of a single day ticket to the park!
Now that I've said all that, is it worth it?
According to the many season pass holders I talked with, the answer is probably not — unless you can only go on a Saturday AND you want to ride everything in the park!
One couple told me that the park is never super-crowded on Sundays because of the "church effect." They explained that the locals go to church in the morning, so the park isn't crowded. They come in for a few hours after lunch and go home to get ready for the week. We went on a beautiful, sunny Sunday and never waited long for any rides, not even the new Mystic Timbers roller coaster.
Another local resident said that Saturdays and holidays are the only days that get really crowded. She recommended avoiding them if you want to ride everything, and she only buys the fast pass for her teenage son when he goes with friends, but that's a special splurge once or twice a year.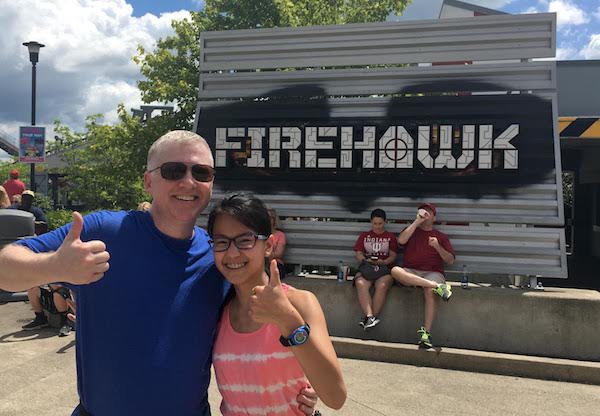 Where should we stay?
When visiting Kings Island amusement park, we recommend staying at Family Friendly hotels nearby. Family friendly hotels often include free breakfast for convenience, as well as a pool, larger rooms, and family friendly amenities like children's TV channels and free WiFi.
Our top hotel pick is Comfort Suites Mason near Kings Island. It's less than a mile away from the park, and offers great family friendly amenities including: Indoor pools, extra beds/cribs, free breakfast for the whole family, laundry and free WiFi. It's also close to Great Wolf Lodge, which has day passes available, so families can enjoy the indoor waterpark without the high hotel fees!
Our Ohio family road trip began as a way to share our childhood memories with our kids. Spending the day at Kings Island amusement park with them was a great way to kick off a spectacular vacation!