Sea World's All-Day Dining Deal
Do you know what it's like feeding TWO teenage sons at a theme park? Expensive! These guys are bottomless pits! Thankfully, Sea World's All-Day Dining Deal actually is a deal because so many SeaWorld restaurants are included — and helps our budget! I just wish I had done the math our first trip!
We got to Sea World Orlando about 11:00 after eating a horrible hotel buffet breakfast (more on that another day). By 1:00 we were really hungry and looking at the restaurants in Sea World Orlando. The Seafire Inn was close-by, so we ducked inside to get lunch. Staring at the menu, my husband asked, "What do you think of the All-day Dining Deal?"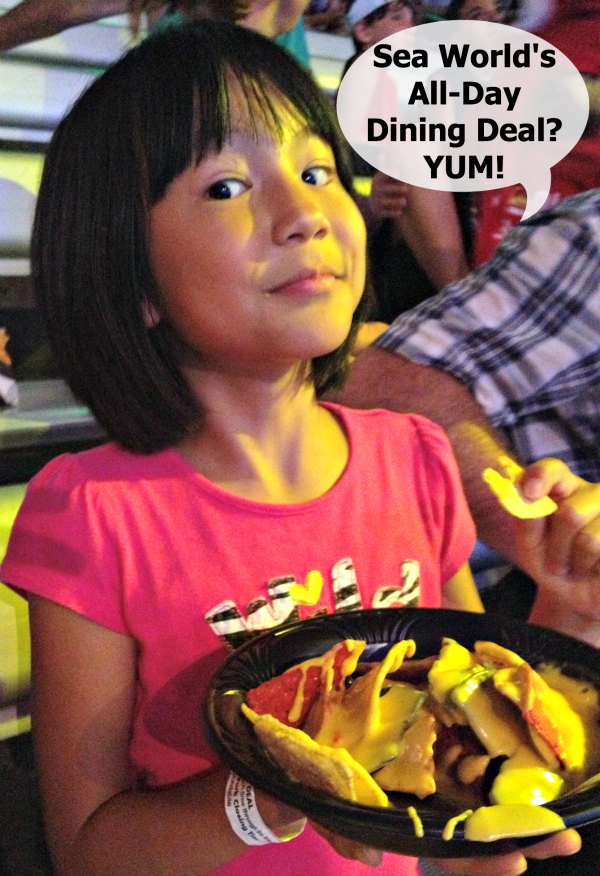 • Updated February, 2018 •
Our oldest quickly calculated the cost of a meal, dessert and drink and determined that we would need to eat two meals to break even. Anything extra would be "free food."
Remember I have TWO teenage bottomless pits to feed!
What is the Sea World All-Day Dining Deal?
The All-Day Dining Deal is a convenient, all-you-care-to eat deal allows you eat selected Sea World restaurants all day, until 30 minutes before park closing. Currently, participating SeaWorld restaurants include Voyager's Smokehouse (excluding Baby Back Ribs), Seaport Pizza, Terrace Garden Buffet, The Spice Mill, Seafire Inn, and Mango Joe's, most of the restaurants in Sea World Orlando.

Cost in 2020:
Adults (ages 10 plus): $39.99
Child (ages 3-9): $19.99
Under 3 eats from adult plate for free.
Is SeaWorld's All-Day Dining Deal worth it?
Our total cost for the SeaWorld dining plan was $134.96 plus tax (2013 rates). We have annual passes that offer a 10% discount on all SeaWorld dining prices, even the SeaWorld all-day dining deal. Nice!
We ate two meals, lunch and dinner, in the park. Full price, these SeaWorld restaurants prices were $145.96 plus tax. We saved $11 just on two meals.
In addition to the two meals, we used the all-day dining deal for snacks, saving us even more on SeaWorld restaurants' menu prices! Just because the menu says you get a meal, side or dessert and drink doesn't mean you actually have to do that. We got bottled water several times during the day. Each bottle costs $3.00. We saved $45 on water alone.
Those bottomless pits I mentioned earlier also ate five desserts, an entree salad, two servings of oranges, a serving of watermelon and three servings of strawberries. That saved us another $52 — not to mention it kept the boys quite content.
Before heading "home," we stopped in at Mango Joe's for a final snack. Instead of getting a full meal, we got two servings of nachos and cheese. I'm not sure what they'd charge for that, but the nachos meal is $9.89. We also got four servings of strawberries, two more servings of cookies and five bottled waters. That saved us (approximately) $58.
Grand total savings using the Sea World All-day Dining Deal: $166.
Without a doubt, the SeaWorld dining plan discount offers a tremendous value! Unless you plan to picnic at the park (coolers are not allowed inside the park, but picnic benches are available), the All-Day Dining Deal is worth it!
Tips to use SeaWorld's dining plan
As we went through the day, we appreciated some great benefits to using the SeaWorld meal plan.
1. The intense Florida sun saps energy. Having chilled, bottled water available all day ensured we drank enough.
2. Just because the plan includes main dish, side or dessert and drink doesn't mean you have to get it all. Eat what looks good and remember, you can always go back for more when you want something else.
3. Having the SeaWorld food wrist band makes "paying" quite easy. We didn't have to go through the register line. We just showed our wrist bands as we passed by the clerks and they waved us through. I'm not sure that this is the actual policy, but we sure appreciated the convenience when we were there.
4. Look for the short line. Regardless of whether you use the all-day dining deal or not, always check all open restaurant lines. Most people seem to queue up at the first line they see leaving the less visible line short and quick!
5. Have a light eater in the family? Skip the meal deal if you want. It's not required for every member of the family. However, paying members will have to go through the register line every time they eat.
6. Remember, with SeaWorld all day dining sharing is not permitted, except with a child under age 3.
Our review of the SeaWorld All-Day Dining Deal
Of course, my husband and I appreciated the value of the dining deal. Some menu items at participating SeaWorld restaurants are not included (the full plate of baby-back ribs at Voyager's Smokehouse) and only the named restaurants participate. Snack stands and specialty restaurants are not included. Still, the cost savings is worth it. We will choose all you can eat SeaWorld dining deals whenever we go as long as the plan stays as it is.
Both our boys loved being able to eat whenever they wanted — definitely not something we usually do at theme parks. All of us appreciated having fresh fruit, salads and water available for healthy options.
Of all the theme park dining plans available, the Sea World All-Day Dining Deal seems to offer the best overall deal because so many options are included in the restaurants at Sea World. I wish the sister parks at Busch Gardens Williamsburg and Tampa, Aquatica and and Water Country USA offered a similar dining option.
For more information on Sea World Orlando
**For Current Dining Plan Costs and Information, visit the dining plan link here.**