Best Camping in Florida for Families
While Florida is well known for theme parks and beaches, it's also a great place for family camping vacations.
Some of the best campgrounds in Florida are near the beach, though others are found close to Orlando and other popular vacation spots. The best campgrounds in Florida have great family amenities!
When I wrote an article on the best campgrounds in the US for families, I got so many submissions for Florida, that I decided to make a separate list just for the state! I hope you find this information helpful as you plan your family adventure vacation!
Bahia Honda State Park, 1200 S. Crandon Blvd. Key Biscayne FL
If you've always wanted to visit the Florida Keys but you are a budget traveler, then you should definitely plan on staying at Bahia Honda State Park!
Bahia Honda is one of the best campgrounds in Florida for so many reasons, but mostly due to the location. Just an hour drive north of Key West, Bahia Honda Key is the perfect mix of relaxation and adventure. Besides relaxing in the Florida Keys, you can enjoy all sorts of outdoor adventures like fishing, hiking, geo-caching, stargazing, and swimming.
Bahia Honda campground amenities include electricity, water, picnic tables and grills. There is also a bathhouse with restrooms and hot showers and a dump station for camping convenience.
For those who enjoy boating or fishing, Bahia Honda State Park has a marina allowing guests to arrive by boat and stay overnight. Or for some beach time down in the Florida Keys, spend the perfect day at Bahia Honda by snorkeling in the pristine water and lounging under the palm trees in the sand. No matter what you enjoy, this is one of the best places for camping in Florida.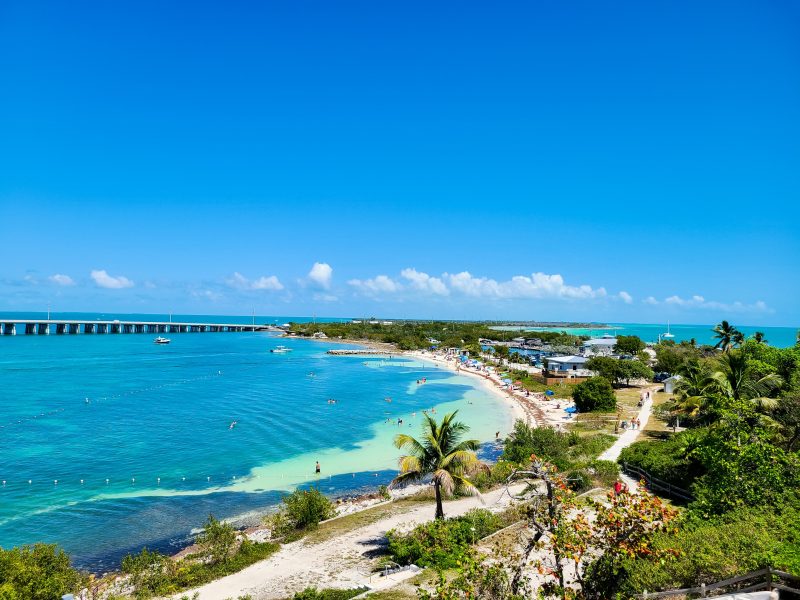 Dry Tortugas National Park, near Key West
Rates begin at $15 (plus separate ferry costs)
One of the most unique and adventurous campgrounds in Florida for families is on Garden Key at Dry Tortugas National Park.
This is an incredibly remote camping spot since this national park lies 70 miles off the coast of Key West.
To get there, families must reserve ferry tickets aboard the Yankee Freedom III well in advance. Tickets start at $190.00 per adult, and the journey takes about two hours from Key West. It's a trip that kids will love as they cruise through the water and look out at the ocean all around them.
Additionally, visitors must arrange a return date in advance with the captain of the Yankee Freedom III prior to visiting the island.
Families can only spend 4 days and 3 nights on the island. There are no bathrooms, food service, or shower facilities on the island.
Essentials to bring include food, fresh water, cookware, tents, and related gear. You must also carry all of your own waste off of the island with you.
But don't let that keep you away!
Adventurous families, planning well in advance and packing all their own supplies, will be rewarded with one of the quietest and most beautiful campgrounds anywhere.
Upon arrival at Garden Key, you and your kids will love stargazing, snorkeling, swimming at pristine beaches, and exploring nearby Fort Jefferson.
Garden Key, clearly, is a primitive campground. The eight campsites accommodate between two or three tents each. There is a grassy overflow area if additional space is needed.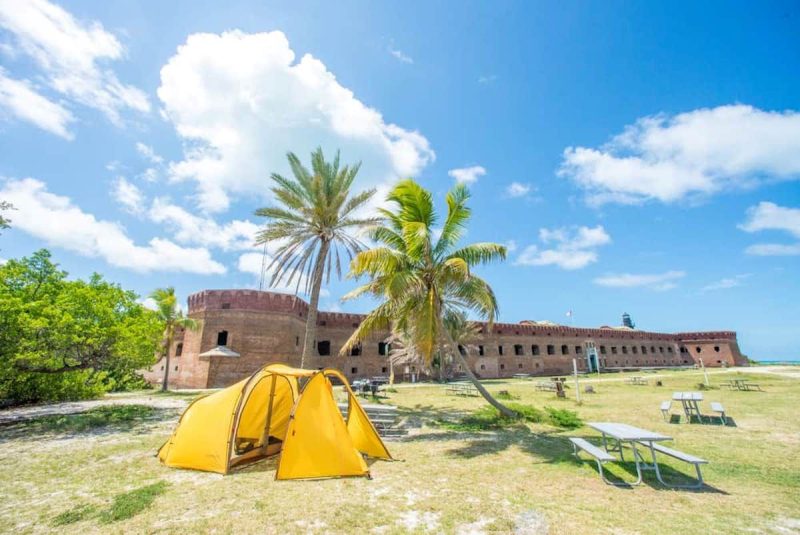 Fort Pickens Campground 1463 Fort Pickens Rd, Pensacola Beach, FL
Rates are $40. (50% discount for seniors and access pass holders)
Fort Pickens Campground, part of the Gulf Shores National Seashore, is near Pensacola Beach, Florida. This campground offers the perfect family experience with a combination of great beaches and a historic fort to explore. What more could a kid want?
It's a short hike or drive from the campground to Fort Pickens where the fort offers plenty of opportunities to explore the old living quarters and armories. It's sure to capture the interest of children and adults alike.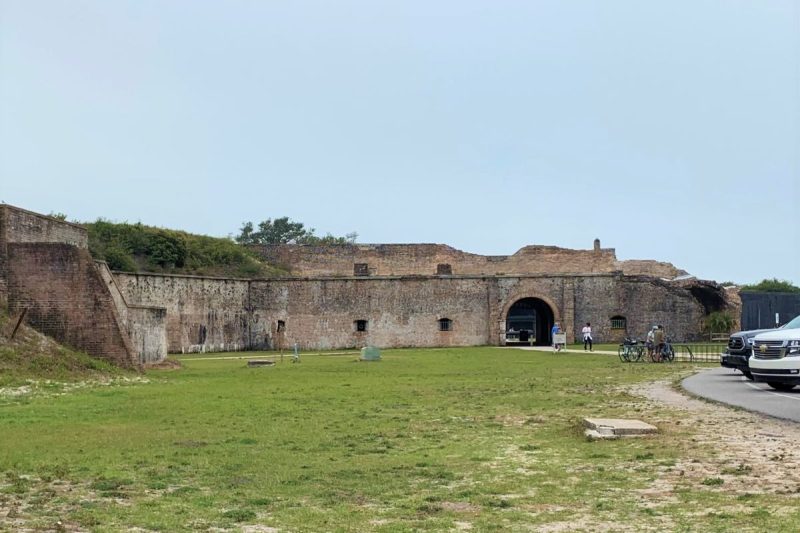 The nearby pier offers an easy spot to enjoy a little bit of fishing. Langdon Beach is close by with ample space for swimming, sandcastle building, and shell collecting.
Fort Pickens is also very dog friendly, with dogs allowed on the nature trails and on the fort's exterior grounds.
The park is gated in the evening, reducing traffic, making the campground safe for the brigades of kids on bikes scooting around the campground after dinner.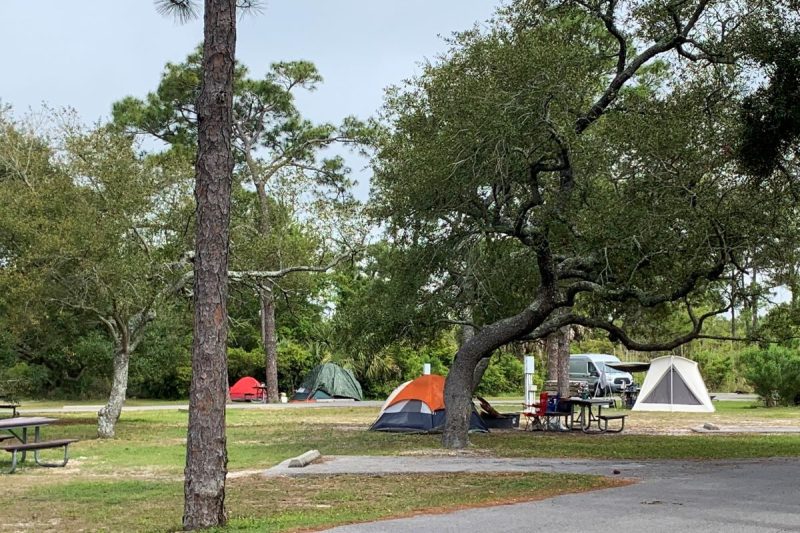 Fort Wilderness Resort at Disney, 4510 North Fort Wilderness Trail, Lake Buena Vista, FL
Rates begin at $77 (campsite only, not park tickets).
Possibly the most family-friendly campsite in the world is located in Lake Buena Vista, Florida. Camping in Florida at Disney's Fort Wilderness Resort allow guests to sleep in a tent, motorhome, or cabin on Disney property.
Families can rent bicycles, kayaks, and canoes as well as speed boats and pontoon boats. You can even see Cinderella's castle on a boat ride on the lake.
Fort Wilderness has multiple pools to enjoy, including one with a waterslide and splash pad for younger kids. Kids can also play on the playground or in the arcade.
You can also visit the animals at the petting farm and enjoy horseback riding and pony rides as well.
Each week there is a schedule of events with a variety of crafts, games, and entertainment for all ages. Various sports can be played including tennis, volleyball, basketball, and archery.
While it is easy to walk around, families can rent golf carts or use the bus system that travels through the campground.
At night, Chip and Dale lead a sing-a-long before a Disney movie is played in the outdoor theatre. A fire pit is lit nightly so families can roast marshmallows for s'mores. Another option at night is to head to the beach to watch the Electric Boat Parade and view the fireworks at Magic Kingdom.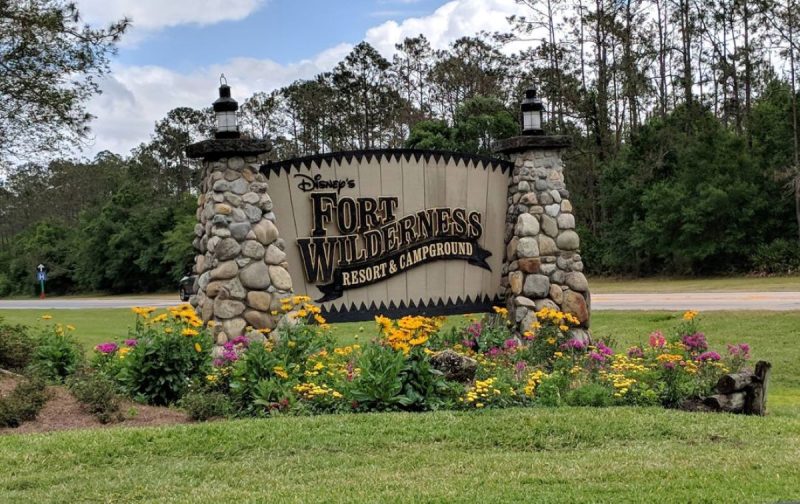 Henderson Beach State Park, 17000 Emerald Coast Pkwy, Destin, FL
Rates begin at $30 (plus tax and fees).
Henderson Beach State Park Campground is a fantastic place to camp while visiting the beautiful and lively Destin, Florida area.
This campground has 60 campsites ready to accommodate either tents or RVs. Maximum RV length is 60 feet. Each site has water and electricity hook-ups, as well as picnic tables and ground grills.
Keep in mind that the sites do not have sewer hook-ups but instead a dump station in the center of the campground. There are comfortable restrooms on-site as well, so campers can opt to use them and avoid the dump station if so desired.
Showers, coin-operated washers and dryers, and nearby stores and restaurants make this one of the most convenient places to camp in the state. There's a nature trail nearby where kids can walk through dunes with their pets, which are also welcome at the campground.
Henderson Beach State Park Campground is a wonderful place for camping in Florida for families. That said, campsites are difficult to come by. Travelers wishing to stay here should plan to make reservations as soon as they become available, which is 11 months in advance.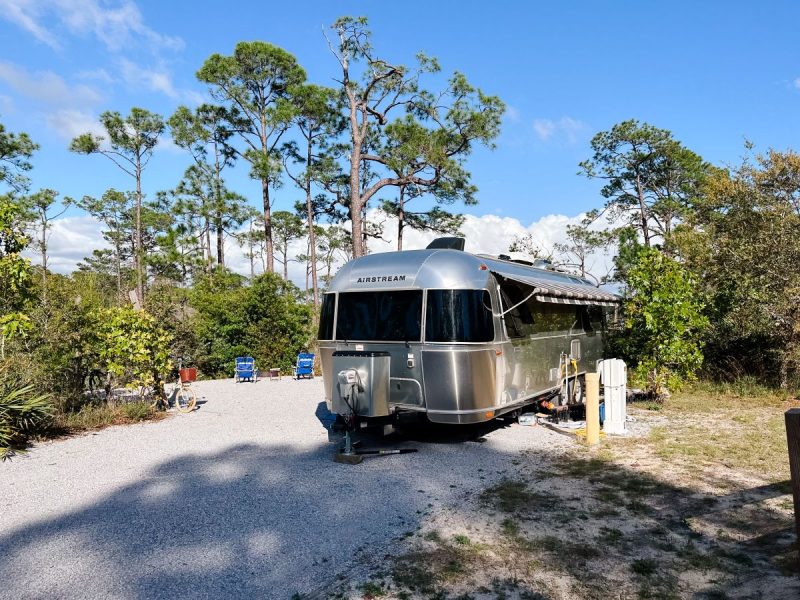 Margaritaville RV Resort, 361 Denton Ave, Auburndale, FL
Check site for special offers when booking (currently 15% discount on summer stays)
Anyone who knows Jimmy Buffet's song Margaritaville might wonder how family-friendly its eponymous RV resorts are.
In fact, my family had a wonderful time during our weekend stay here.  
Basic RV spots fit even the largest campers and "suites" have tiki huts and a grill. There are also "cabana cabins," where we stayed, which have beachy color schemes, good kitchens and a comfortable living room and porch.
It's the sort of place where we saw kids out riding bikes while parents lingered over coffee. Families can swim in two large pools on opposite sides of the park. The main one has waterslides and a kids' splashpad. It's surrounded by mini-golf and other outdoor games, firepits, colorful Adirondack chairs, a burger grill and a pizza place, and even a play area for dogs (bark-aritaville).
There's a Tiki bar, of course ,and in the afternoon they set up Gaga ball and cornhole for families to play while mom and dad have a colorful cocktail or local beer.
Most weekends have themes, like Glow Party or Game Shows.
By 9:30 the resort is quiet and people are in for the night.
Legoland and other family attractions are close by and Orlando's theme parks are less than an hour away. But for a weekend stay Margaritaville offers more than enough fun and relaxation for families.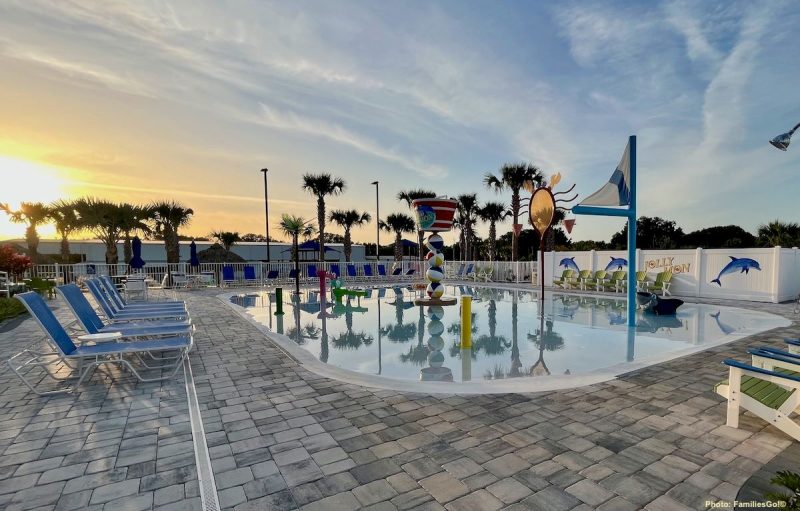 Moss Park, 12901 Moss Park Road, Orlando
Rates begin at $18 (Orange County Residents), $23 for others.
For camping in Orlando without paying Disney prices, consider camping at Moss Park. Located near Lake Nona, this campground has spots for tents and RVs. They also have primitive group campsites.
Moss Park is set on Lake Mary Jane with lake access. They offer playgrounds, a baseball field, and pavilions.
It connects to Split Oak, an area great for hiking and biking. Make sure to stop by and see the 200-year-old split oak tree that gives the park its name.
Winter is a great time for camping in Florida. If you'll be camping at Moss Park, you don't want to miss one of the top things to do in Orlando at Christmas, "O, What Fun in Lake Nona," just a 15-minute drive away.
And, with it being so close to Orlando, there are lots of family restaurants in Orlando nearby to enjoy.
This park is made for relaxing and enjoying time with your family, making it one of the best places for camping in Florida for families.
St. Andrews State Park, 4607 State Park Ln, Panama City, FL
Rates begin at $28 (plus fees).
St. Andrews State Park Campground is a fun and convenient place for families to stay while exploring Florida. The Panama City campground is nestled between the Gulf of Mexico and the beautiful St. Andrew's Bay.
With 158 sites, the campground is expansive and can accommodate many family adventures. Campsites are full hookup ready, with parking pads equipped for vehicles 25 to 50 feet.
The best part about this campground are all the family-friendly features. Besides the beach, families will enjoy exploring the and many trails — on foot or on a bike. And the on-site playground is a hit for younger kids.
It's such a convenient place to stay, with access to drinking water, toilets, showers, and a dump station all on-site.
During the popular travel seasons of spring and summer, families will enjoy the convenient camp stores for groceries, fishing essentials and beach gear rentals.
For the best camping in Florida for families, St. Andrews State Park is hard to beat!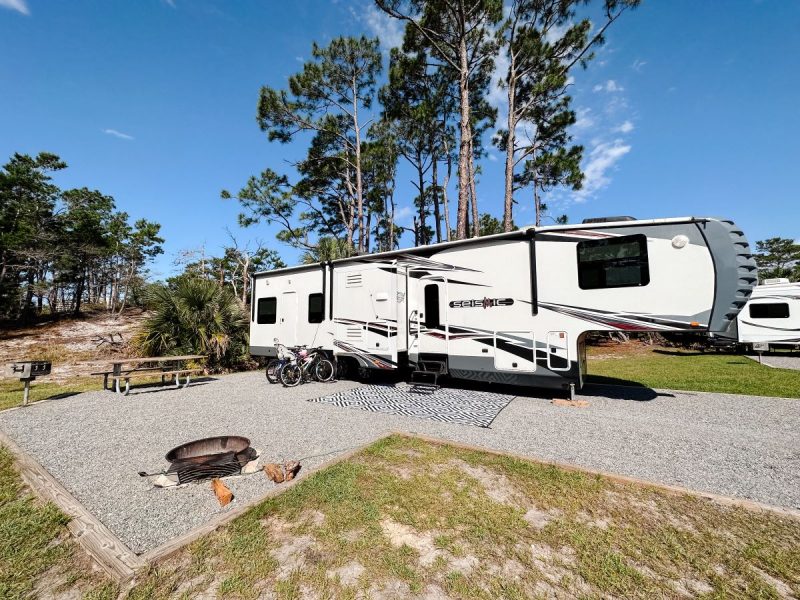 Westgate River Ranch, 3200 River Ranch Blvd, River Ranch, FL
Westgate River Ranch is one of the best family campgrounds in Florida, but it is so much more than just a campground. Located an hour or so south of Orlando, it's a great spot for a weekend getaway or even a longer vacation.
No matter your comfort level when it comes to being one with nature, you'll find accommodations that work for everyone. While they have cabins, hotel rooms, rail cars and Conestoga wagons, they also have teepees, glamping tents, RV hookups, and basic tent camping available.
Plus, you won't run out of things to do.
Westgate River Ranch has everything from airboat rides to swamp buggy rides, plus a zipline and archery, too. If you are there on a Saturday night, don't miss the weekly rodeo – and make sure to sign your kids up for the fun games during the rodeo as well.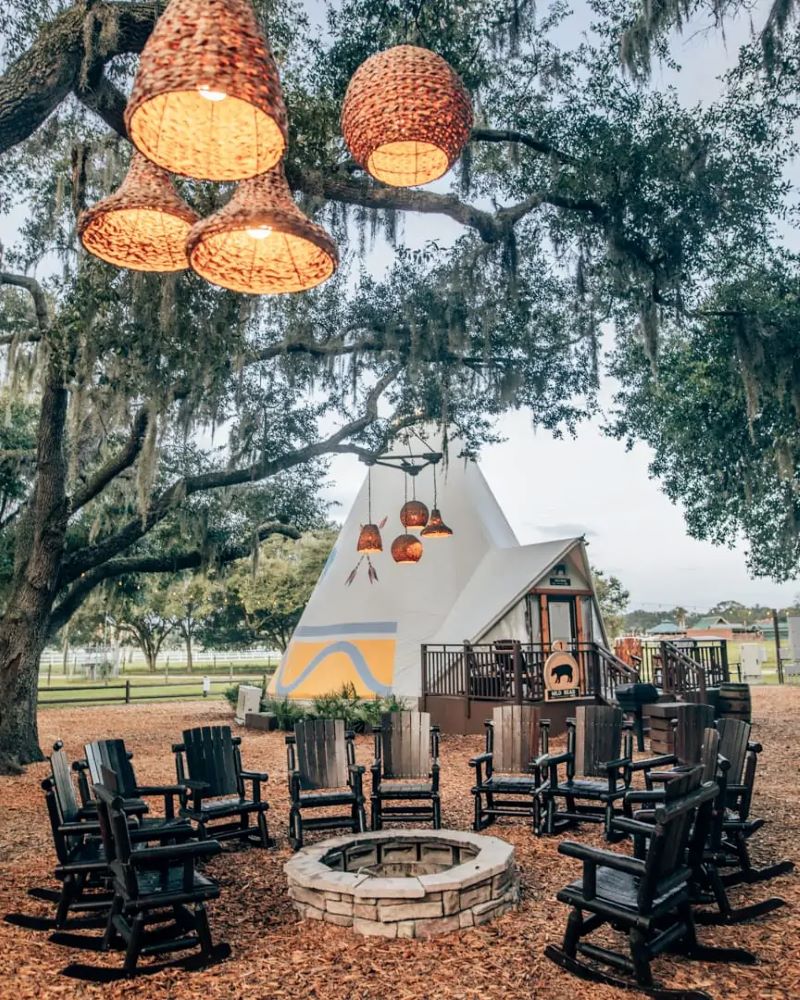 While Florida is known for theme parks and beach resorts, there are certainly great places for camping in Florida for families. These campgrounds, in the Florida Keys, near Orlando, and up to the panhandle offer family friendly fun in truly unique settings.