21 things to do with kids in Durham!
One day, not so long ago, my daughter and I needed something to do. Living in Raleigh, which is only 30 minutes from Durham, we decided to head there and see what we could find! We sure found a lot — 21 things to do in Durham with kids!
Durham is NOT Raleigh, though many people talk about "Raleigh-Durham" as if they are one. But when you explore these 21 things to do with kids in Durham, you'll find it's got a rich history and vibe all its own. It's a great day trip from Raleigh or weekend getaway all on its own!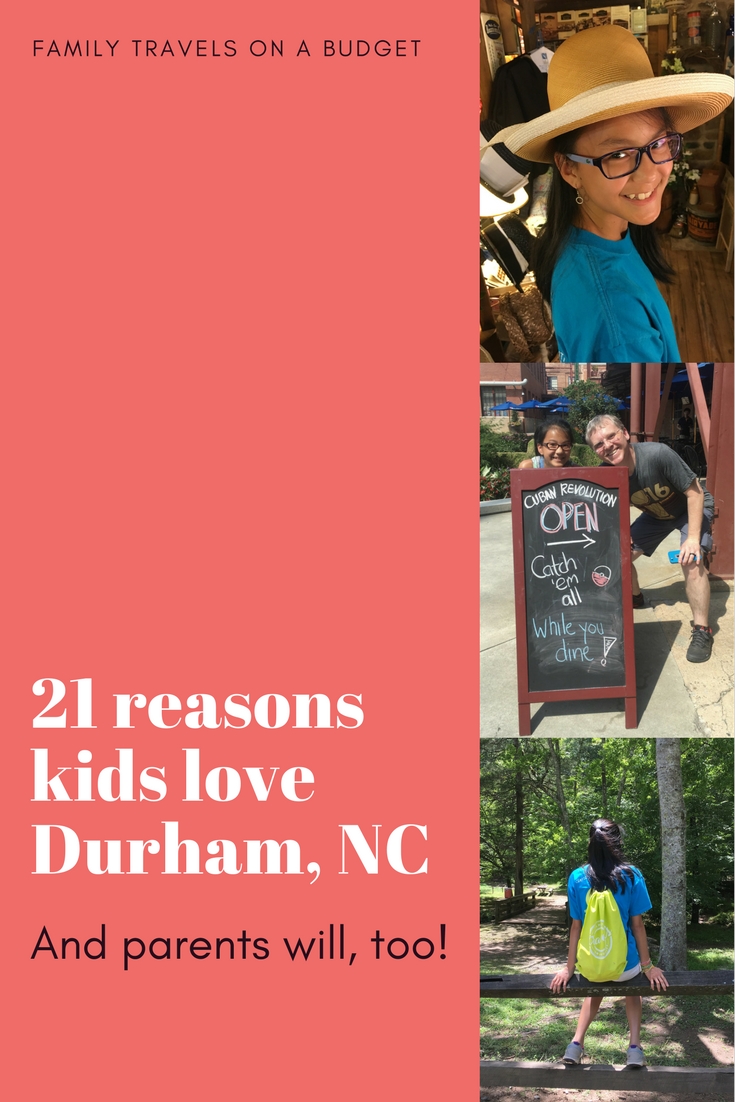 Our kids love Durham!
And yours will too!
The top 21 things to do with kids in Durham!
1. American Tobacco Entertainment District (Downtown).
Of all the places to visit in Durham, NC, the American Tobacco Campus tops the list of things to do with kids in Durham!
At one time, this was a Lucky Strike tobacco factory, but when tobacco got less popular, the area sat, dilapidated and unused.
Today, it has been transformed into Durham's premier entertainment district with restaurants, outdoor spaces to relax (with water features for dipping feet and talking the day away). It's also a great Pokemón hunting area for those still hooked on that craze!
We've been here many times and still haven't eaten at all the restaurants.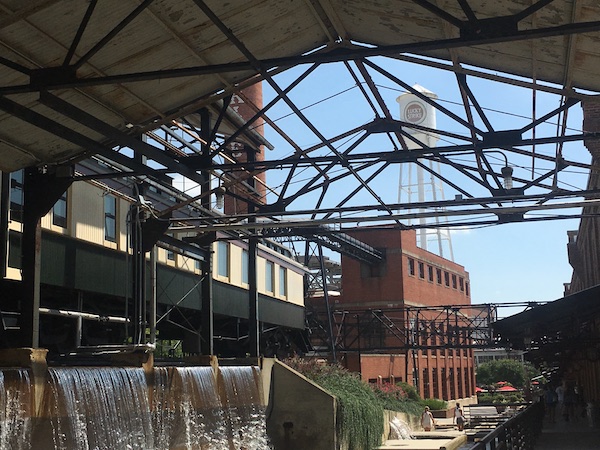 2. Durham Central Park
Durham Central Park, at 502 Foster Street in downtown Durham, is a community park with a number of kid friendly activities and events. Mount Merrill kids playground is a handicap accessible climbing area for kids with slides and a climbing net.
The park also hosts free concerts, food truck rodeos and other family friendly events. This green space in the heart of Durham is another great thing to do with kids in Durham!
Southern Living Magazine (March, 2017) featured the Sarah P. Duke Gardens as one of the best botanical gardens in the south.
We couldn't agree more! Sarah P. Duke Gardens has many different gardens — like an Asian garden, a woodlands garden, formal gardens and more. We visit often and always find something new to see.
Our daughter said it's not just one of the best things to do with kids in Durham, but one of the prettiest places to go anywhere!
Admission to Sarah P. Duke Gardens is free, but you have to pay for parking!
Of course, when you consider what to do in Durham, NC, Duke basketball has to be included somewhere, right?
So, I'm not a Duke basketball fan (I really don't like basketball much — those squeaky shoes. UGH!).
But, Duke basketball is a really big deal. College hoops fans will love the Duke Basketball Museum!
It's on the Duke campus, which is beautiful — an added bonus.
Among our favorite things to do with kids in Durham, NC, the Museum of Life + Science spans 84 acres with indoor and outdoor exhibits to encourage hands-on exploration.
Our favorite exhibits: Aerospace, Dinosaur Trail, Explore the Wild: Lemurs, Gateway Park, Play to Learn (climb, climb, climb), and Soundspace.
This is a great museum for kids of all ages. Be sure to allow at least half a day to visit.
The Durham Bulls baseball team is a AAA affiliate of the Tampa Bay Rays.
The stadium is incredible, with a kids' play area and great food.
Designed by the same people who designed Camden Yards, there is no such thing as a bad seat! It helps that they win a lot!
No visit to the city of Durham is complete without taking in a Durham Bulls game.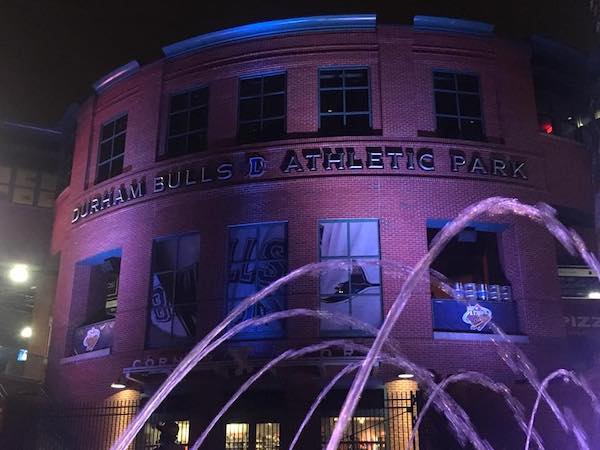 Remember the movie BIG? At Notasium, it's a real thing!
Notasium is an indoor playground where every piece of equipment is also a musical instrument! Oh yeah… Kids love it!
Here, kids can play organ pedal keys while the musical notes light up in front of them.
Older kids will like the sound-proofed karaoke/mixing booths and other high tech exhibits.
Admission for one child is $10, and siblings are only $7 each. And, parents are free!
Also part of the Duke campus, we like the Nasher Museum of Art because it's small enough to explore in a couple of hours without being overwhelming.
When my daughter saw the outdoor sculpture on the lawn, she was ready to tour!
Admission is free, and parking is $2/hour. There's also free parking available in the gravel lot across from the Karsh Alumni and Visitors Center, one block away.
The Scrap Exchange is an art centered non-profit that collects materials from local businesses and individuals to repurpose and reuse in creative exploration.
You have to plan ahead for a visit to The Scrap Exchange, but it sure is fun for creative pursuits without having to make a mess at home! Check the calendar for a workshop or class your kids would enjoy!
10. Wheels Roller Rink
TEMPORARILY CLOSED. Wheels Roller Rink was privately owned and operated for more than 40 years. It is currently being refurbished and brought up to ADA standards by the City of Durham Parks and Recreation. It is scheduled to reopen, better than ever, in 2024.
A City of Durham Heritage Park, Leigh Farm Park shows the progression of agriculture from the 1830s and beyond.
Preserved buildings at Leigh Farm Park include a speakeasy (circa 1930), all the farming buildings, the main home and the Enslaved People's Cabin. T
ours are offered on Saturdays, but the park is open daily.
Ellie and I visited on a Friday and had a meaningful discussion about the difference between where the enslaved people lived and where the plantation owner lived. She grasped history in a new way and said, "more kids need to come here."
The park also has a disc golf course, hiking trails and the Piedmont Wildlife Center. Admission is free.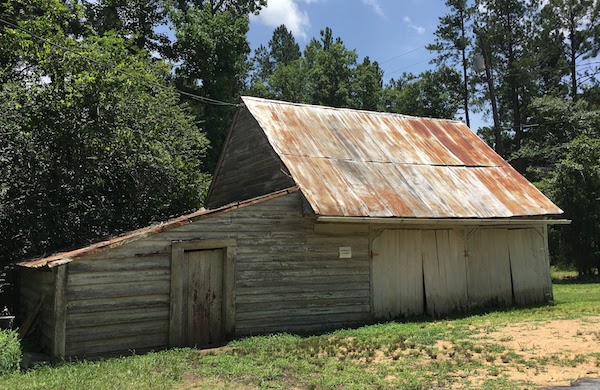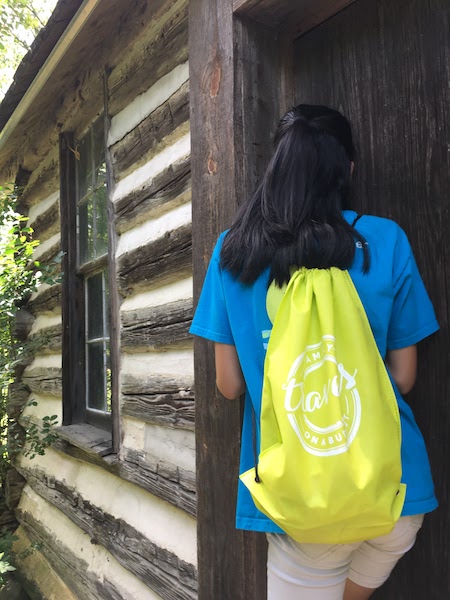 Bennett Place State Historic Site is a Civil War site where Confederate general Joseph E. Johnston finally surrendered to Sherman in April, 1865.
Not a battlefield, Bennett Place includes restored historic structures, trails through the grounds, and special events throughout the year. And it's FREE!
13. Brightleaf District.
Durham is called the Bull City not because of livestock, but because of tobacco! So, visiting the Brightleaf District, an area once owned by the American Tobacco Company and listed on the National Register of Historic Places, just makes sense.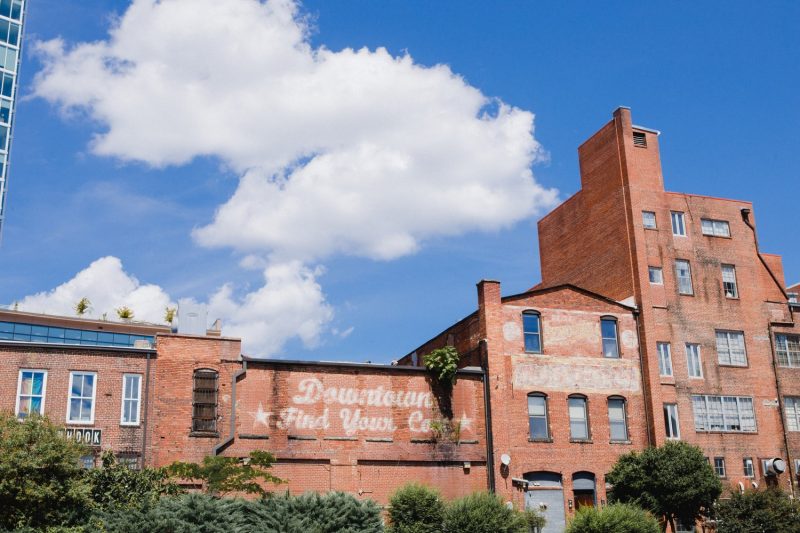 "Brightleaf" was a highly desirable type of smoking tobacco cured in a particular way, inspiring names for many streets and places throughout the south.
Besides preserved industrial buildings repurposed for small business and residential use, local restaurants in the Brightleaf neighborhood offer fabulous food.
As things to do with kids in Durham go, the statues, architecture and restaurants make this an enjoyable place to spend a day.
Lemurs are native only to Madagascar, but the Duke Lemur Center is home to 250 of these entertaining creatures, the largest collection outside of Madagascar. As the most endangered mammal on the planet, the work done at the Duke Lemur Center is incredibly important.
But really, all I had to say was lemurs, right?
The Duke Lemur Center offers a number of tours and experiences, which have to be reserved in advance, so book your visit on their website. Then, let the oohs and aahs tell you that this is (probably) one of the top three things to do in Durham with kids!
15. Shop at the Streets at Southpoint Mall.
One of the largest malls in the southeast, the Streets at Southpoint is easy to get to — just off I-40 with its own exit!
We like heading to the mall on hot or rainy days. There are lots of restaurants here, as well as a massive food court on the second floor. There's also a large movie theater complex here.
16. Enjoy a show at the Carolina Theater.
The Carolina Theater is located at 309 West Morgan Street in downtown Durham, and offers a wide variety of shows throughout the year.
We include it on our list of things to do with kids in Durham specifically for its Family Saturday series.
The Family Saturday Series is a curated, family-based program created to provide high quality and affordable arts experiences for younger audiences. Shows include live performances, music, storytelling and magic.
West Point on the Eno is one of Ellie's favorite places in Durham.
There are so many things to do with kids in Durham at this park alone that one visit isn't enough to see it all!
This 404 acre city park stretches more than two miles along the Eno River. It offers boating, greenway trails, picnic shelters with grills and tables, a recreation center and historic buildings.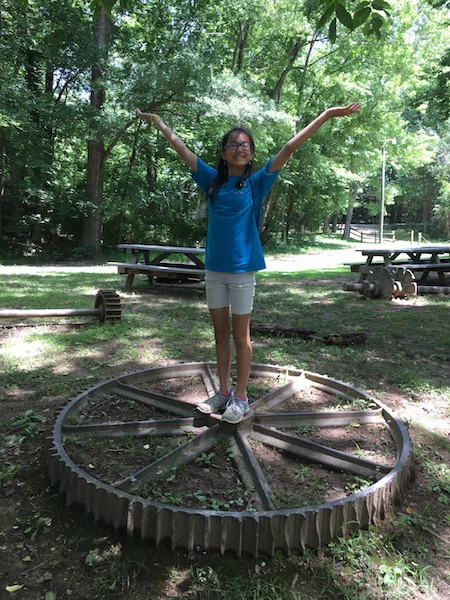 Ellie poses as a "statue" at one of the picnic areas at West Point on the Eno.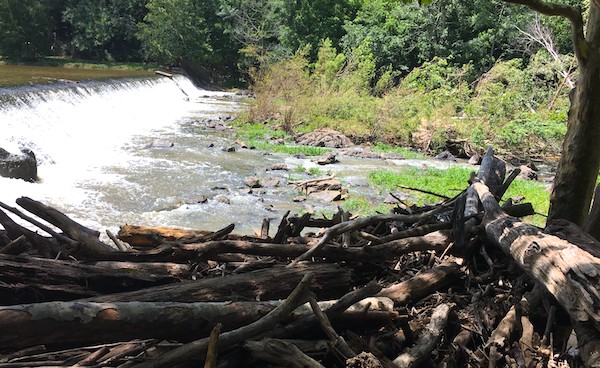 Waterfall on the Eno River.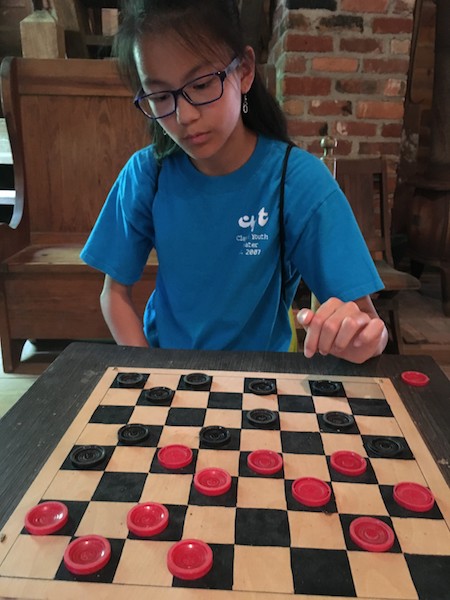 Playing checkers in one of the historic buildings at West Point on the Eno.
18. Duke Park.
Duke Park, located at 106 W Knox St, Durham, NC is a 17+ acre community park in Durham with a dedicated dog park space and playground facilities designed for kids ages 2-12.
With greenway trail access, a picnic area and open space to play and run, there are lots of things to do with kids in Durham at this community park!
19. Durham Skate Park.
Durham Skate Park, which is adjacent to Durham Central Park, is a dedicated skateboarding park for adventurous kids (and kids at heart). Young kids on scooters can be found here when it's not too crowded, and teens love it too.
With nearby playgrounds, restaurants and food trucks, the whole family can hang out here while the daredevils skate!
20. DPAC, Durham Performing Arts Center.
DPAC, the Durham Performing Arts Center, is the premier spot for Broadway style shows in Durham.
Dress up for a special holiday performance or watch a Broadway musical without having to go to New York City.
21. Goodberry's Frozen Custard.
When I was a kid, we made many trips to our local custard stand. And kids today love it just as much!
Goodberry's takes me back to my childhood with its rich, creamy custard made fresh every hour.
Ellie and I recommend a Carolina Concrete!
Goodberry's is a regional chain. The Durham location is near West Point on the Eno (<– that's a great tip!)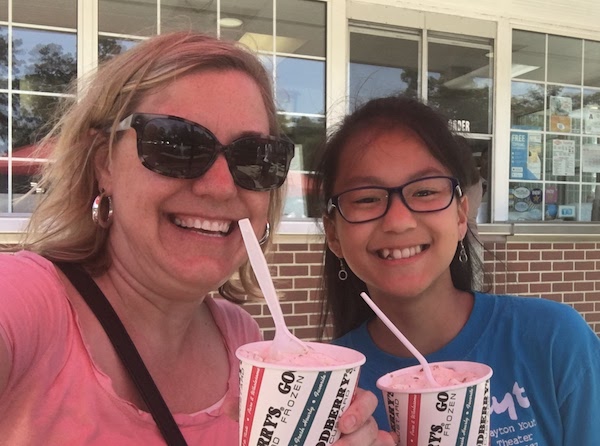 And there you have it, 21 things to do in Durham with kids that parents will love, too!