Visiting Valley Forge with Kids
Valley Forge National Historical Park, near Philadelphia, PA, offers history, outdoor fun, picnicking areas, and family fun! And, when visiting Valley Forge with kids, the Junior Ranger program and other interesting exhibits, make it both educational and fun.
Valley Forge, set on the most well-known winter encampment of the Revolutionary War, covers 3,500 acres of rolling hills, forests and streams.
The National Park Service added miles of paved trails making this park truly accessible to the replica log huts, monuments and Washington's Revolutionary War headquarters.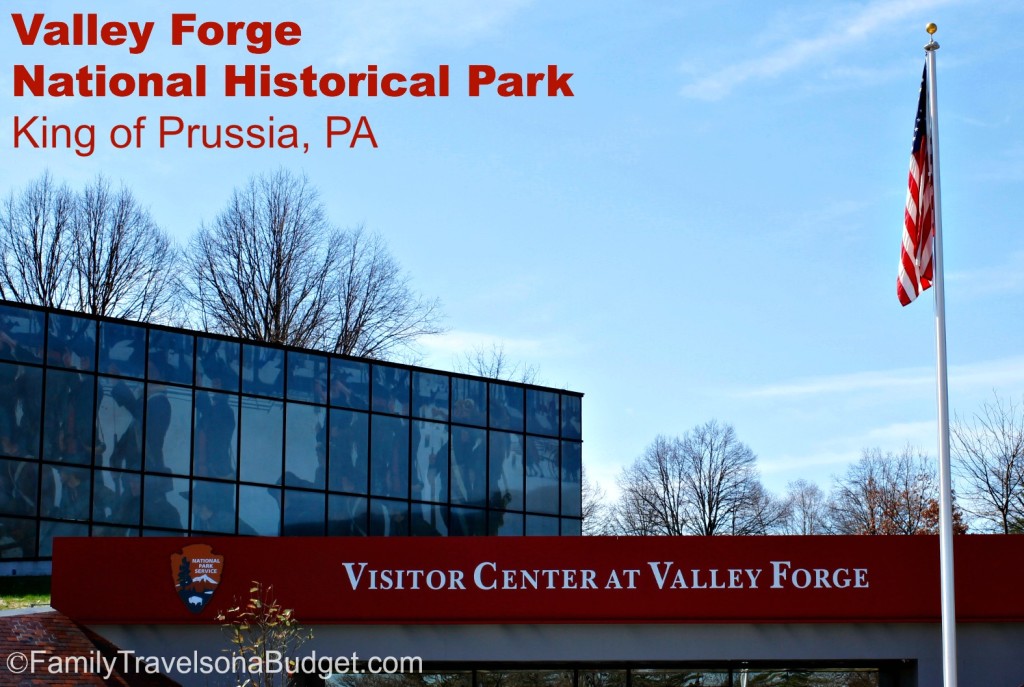 On a recent visit, we shared Valley Forge park trails with fitness enthusiasts, young couples, boy scout troops and families. It seemed the warm, sunny weather brought everyone out of hiding to enjoy the park's tranquil setting.
Things to do in Valley Forge
Valley Forge is one of the most important locations from the Revolutionary War. Most kids learn at least a little bit about Valley Forge in their history classes.
There are so many things to do in Valley Forge that bring that history to life. Other things to do in Valley Forge are more focused on enjoying the wide open park space available to us today.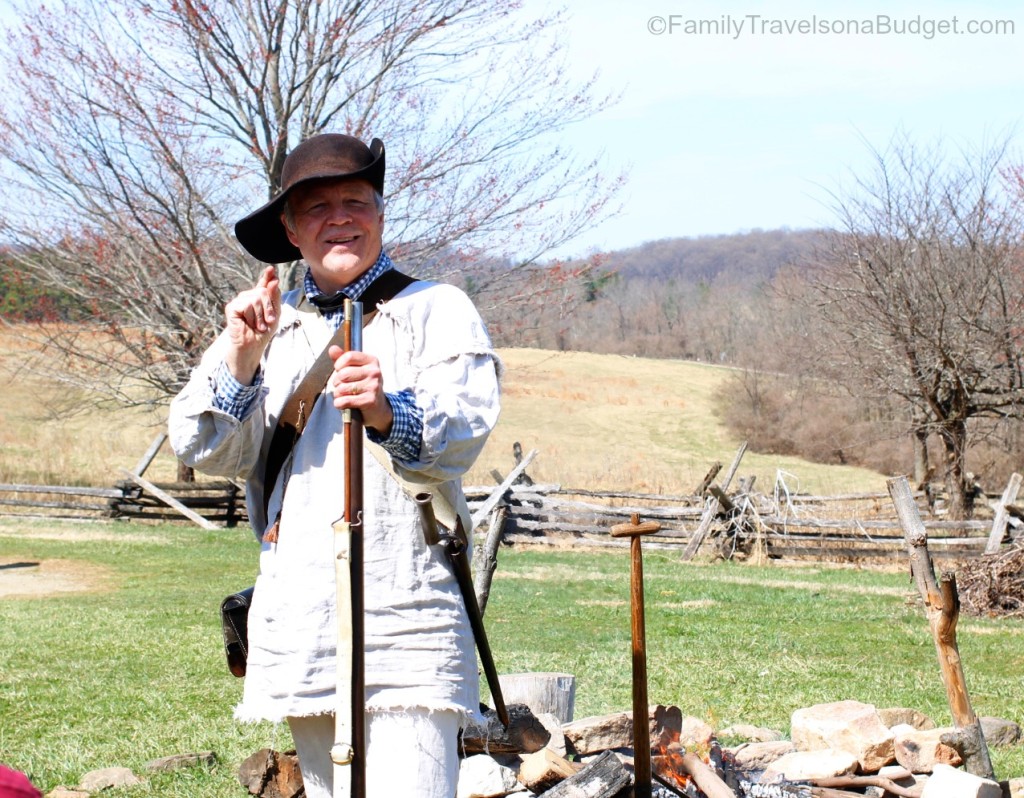 Learn from Historic Re-enactments at Valley Forge
One of the things to do in Valley Forge that we really enjoyed were the historic reenactments.
These "historical figures" appear in period costume, and share information about the colonial era.
During our visit, we learned how the Continental Army built log huts, kept warm and got food during the long winter at Valley Forge.
See historic artifacts and reproductions
Another of the popular things to do in Valley Forge park is seeing the to-scale reproductions of cannons.
Set high on a grassy ridge in Valley Forge park, the cannon pictured above sits where Washington's Continental Army would have used them to protect the ridge from attacks by the British Army coming in from the valley below.
When visiting Valley Forge with kids, these reproductions, placed where they really would have been used, helps children visualize how vast and challenging the Revolutionary War was.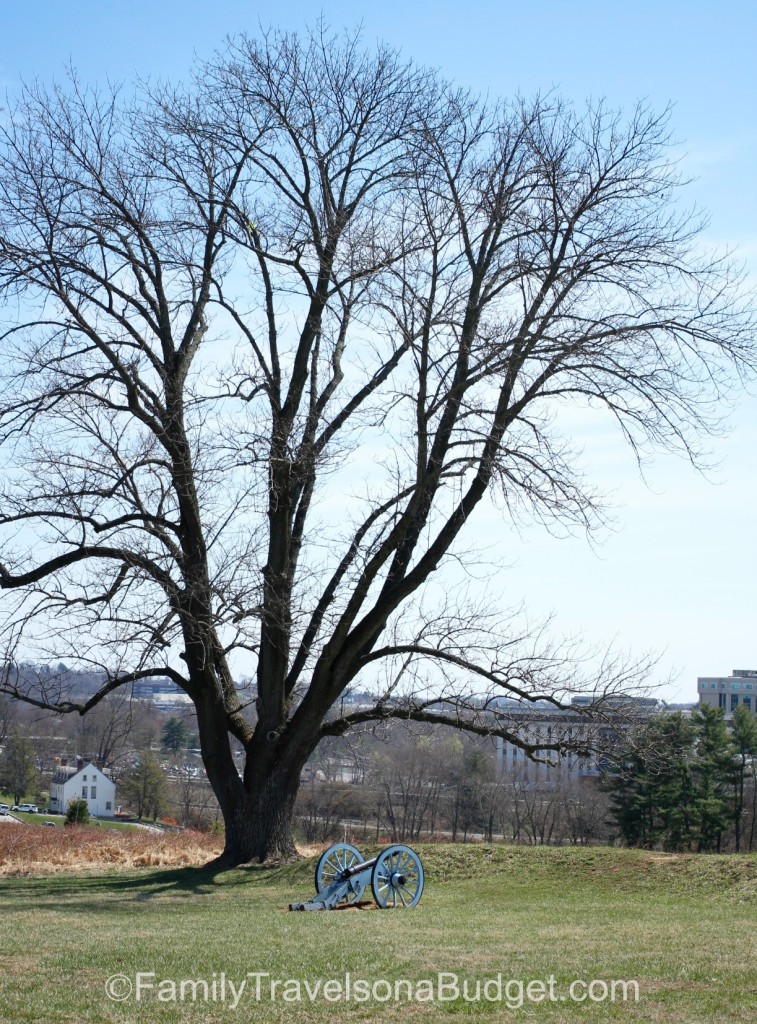 Here's some food for thought when visiting Valley Forge with kids. The juxtaposition of the Revolutionary War cannon with the modern city below allows families the opportunity to consider how different life might be if the Continental Army had lost the war.
Visit the National Memorial Arch at Valley Forge National Historical Park
The United States National Memorial Arch, can be found at the intersection of Outerline Drive and Gulph Road in the Valley Forge park. The National Memorial Arch was built to commemorate the arrival of Washington and his Continental Army into Valley Forge.
When visiting Valley Forge with kids, this is a popular spot, as you can see in the photo above.
Our daughter loved watching the American flag flying in the opening of the arch. Our son enjoyed learning about the architecture and its symbolism.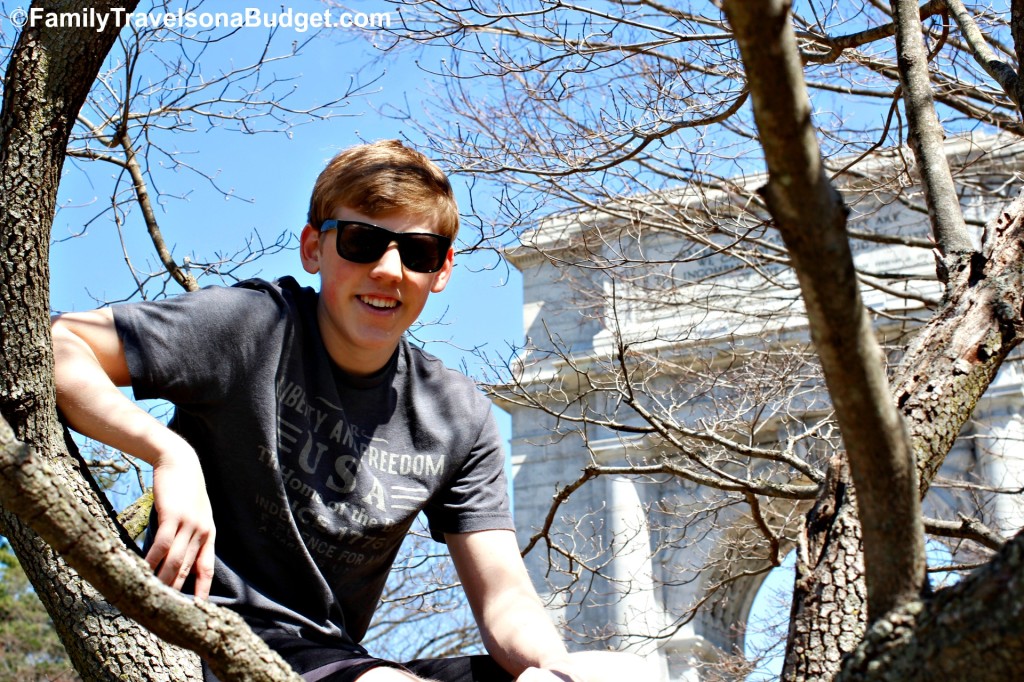 Of course, just hanging out at the National Memorial Arch in Valley Forge park is okee-dokee too!
Participate in the Valley Forge Junior Ranger Program

When visiting Valley Forge with kids, one of the very best things to do in Valley Forge is participate in the Junior Ranger Program!
Throughout the United States National Park System, kids can participate in the junior ranger program.
These programs are carefully designed to both educate kids and make park exploration more meaningful and fun.
When visiting Valley Forge park, get Junior Ranger Program packets at the information kiosk in the Valley Forge visitor's center.
After kids complete a specified number of activities (based on age), they can return to the Valley Forge Visitor Center to receive their junior ranger badge.
Every park in the National Parks System participates in this program.
Our daughter, Ellie, was thoroughly captivated by the Junior Ranger Program at Valley Forge park. As you can see in the photo above, she's studying the log hut to determine how it was made. When she got her junior ranger badge (sadly, after my camera battery died), she squealed with delight. The badge now resides in her treasure box. How's that for a funtastic, free souvenir?
Is Valley Forge worth visiting?
When considering that the Revolutionary War happened hundreds of years ago, you might wonder is Valley Forge worth visiting? After all, these buildings and items are all reproductions.
We fully believe that Valley Forge is worth visiting!
Valley Forge park offers something for everyone.
Quiet family members can sit and enjoy the scenery while the rambunctious run and climb. The wide open spaces at Valley Forge park are a rare treasure to enjoy!
Those who want to understand what happened at Valley Forge can read about it on easy to understand plaques installed throughout Valley Forge park. And, the historic re-enactments at Valley Forge mean that visual and auditory learners will be engaged as well.
Our kids loved visiting Valley Forge. Our daughter liked learning what it was like for the Continental Army to live there all winter. Our son, who was a sophomore in high school when we went, liked the National Memorial Arch best. He would have liked to explore Valley Forge park by bike like many of the locals were doing.
When visiting Valley Forge with kids, dress for the day. Valley Forge park is QUITE LARGE! Wear comfortable shoes and clothes (flip flops are not recommended). Bring snacks and water bottles. Or pack a lunch and enjoy a picnic on the grounds. And, wear sunscreen!
Plan your visit to Valley Forge
If you can only visit the park for a few hours, use the resources at the Valley Forge park website to plan your visit. We spent three hours here and could easily have stayed longer.
Valley Forge Address:
1400 North Outer Line Drive, King of Prussia, PA 19406
Admission is always free for Valley Forge!
Valley Forge National Historical Park is always free to the public. Parking is also free. Families can take food onsite. Some special events and trolley tours require an additional fee.
Valley Forge Park Hours
Park grounds: Open daily, year-round 7:00 AM to dark (1/2 hour after sunset).

Valley Forge Visitor Center: Open 9:00 AM to 5:00 PM daily.
Closed Thanksgiving, Christmas, and New Years Day.
Washington's Headquarters at Valley Forge (aka, the Isaac Potts House): Open 10:00 AM to 5:00 PM daily, with limited hours in winter. It will close if weather conditions at Valley Forge dictate closure.
Closed Thanksgiving, Christmas, and New Years Day.
Valley Forge Train Station (an interactive museum exhibit space): Open 10:00 AM to 5:00 PM daily with limited hours in winter.
Closed Thanksgiving, Christmas, and New Years Day.
The Washington Memorial Chapel is now privately owned and not open to the public.
One last thought about visiting Valley Forge with kids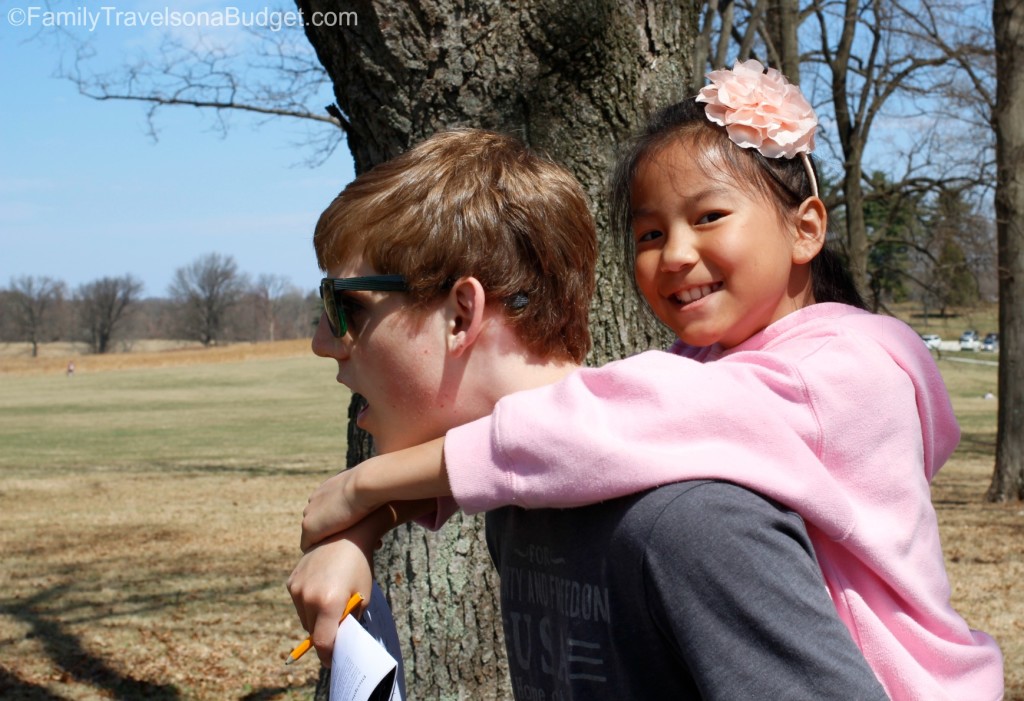 When you spend the day exploring all the things to do in Valley Forge, and your kids are still smiling and getting along, you know you found a great spot! We highly recommend planning a leisurely day visiting Valley Forge with kids. Learn things. AND, enjoy the wide open space! It's a historical — and modern — treasure in Montgomery County, PA.
For more information to plan your trip to the Valley Forge area, visit the Valley Forge & Montgomery County web page.