Review: Epcot International Flower and Garden Festival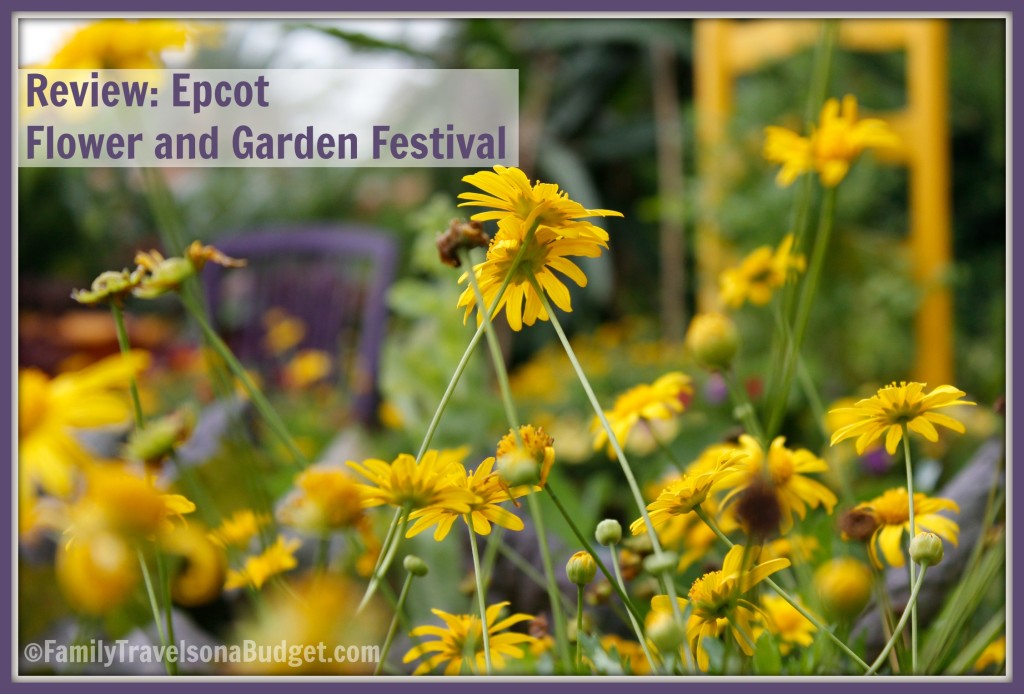 My husband had a conference at Walt Disney World last week which just so happened to coincide with my kids' spring break. Poor guy! He had to work while we got to play…. Well "work" is relative.
Save $53on a Disney World 4-Day Park Hopper! Hop through all 4 parks.
Anyway, I digress. Since he had to attend this conference, we went along mostly to enjoy the Epcot Flower and Garden Festival. We went once before, way back in 2000, when my boys were little. This trip, the oldest didn't even get to attend. College, you know. But, Ellie did. She LOVED it! The Epcot Flower and Garden Festival brings out the best of this park.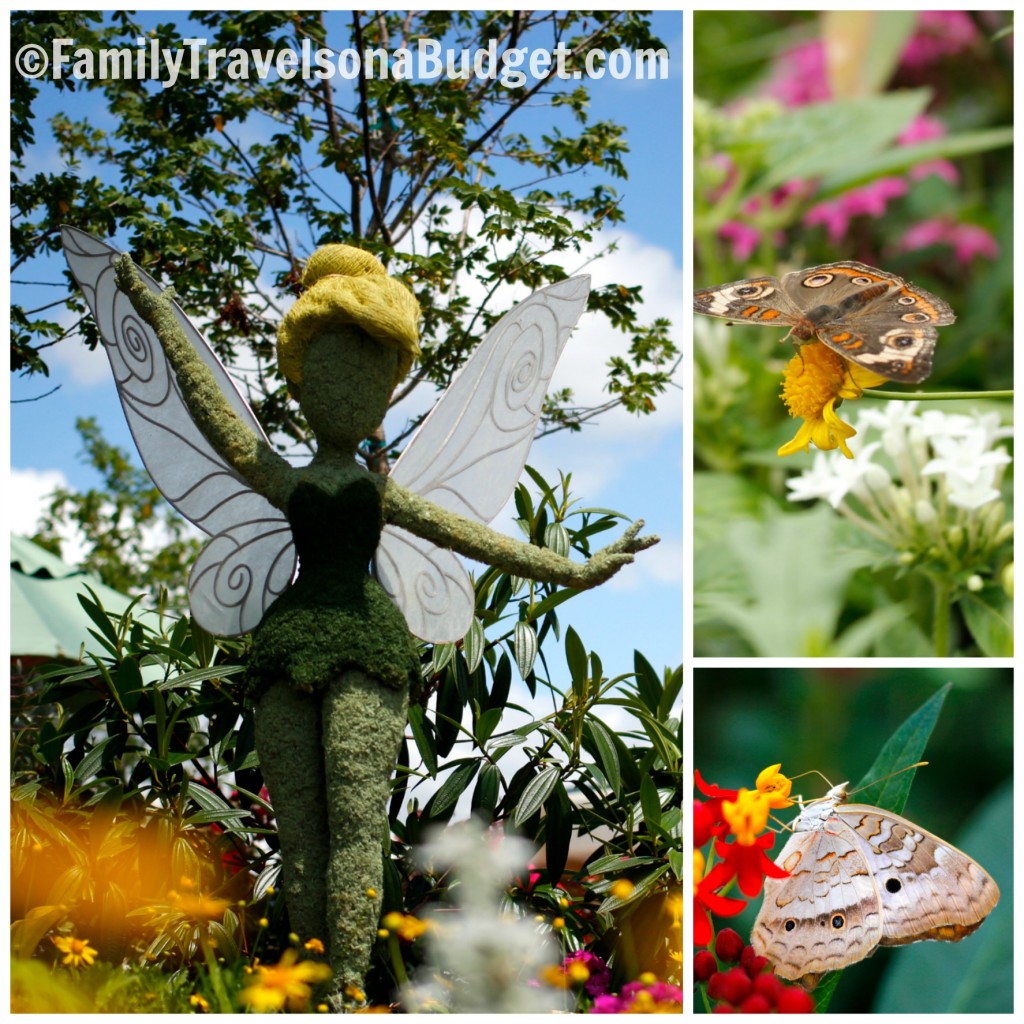 Why we love the Epcot Flower and Garden Festival
1. The flowers
Of course, with HGTV on board, the Epcot Flower and Garden Festival is even more vibrant than back in 2000. Floral displays and topiaries have always been spectacular, but the HGTV gardens make it even more special. The kids especially enjoyed the Butterfly House, the recycled garden and the children's flower garden. I enjoyed the quiet sanctuary of the serenity garden, tucked away from all the hustle and bustle. (It sure helps to have a 16 year old who is willing to take his sister to explore while I take a break!)

2. The food
Much like Epcot's fall food and wine festival, the Flower and Garden Festival offers unique eats only available at the kiosks set up just for this event. Each country (except Germany and Morocco) offered a la carte small bites menus with an assortment of beverages, both alcoholic and non-alcoholic. This is a pay-as-you-go event, though many items are available as snack purchases for those on the Disney Dining Plans.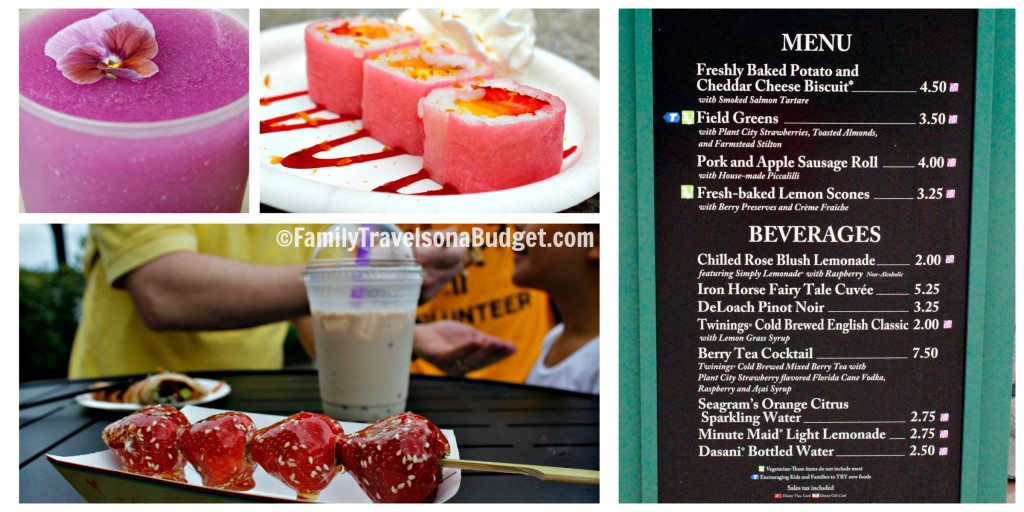 We spent one entire afternoon — from 1:00 until after 5:00 — eating our way around the world. We enjoyed sampling the wide variety of foods and will definitely return for this event again in the future.
Our top five favorite foods were:
The Beijing Style Candied Strawberries — China's Lotus House
The Bubble Tea (a creamy tea with tapioca and peach pearls that burst in your mouth — impossible to describe, but good enough we drank 6 in two days!) — also China's Lotus House
The frushi — fruit sushi, no seafood involved — Japan's Hanami
The Field Greens Salad with strawberries, almonds and stilton cheese — the UK's Buttercup Cottage
The Temaki Chicken Hand Roll — Japan's Hanami
3. The relaxed pace
Let's face it. A trip to Walt Disney World is hectic. Bright lights, big crowds, and busy rides lead to sensory overload. Somehow, the Epcot Flower and Garden Festival rises above the chaos. No matter what time of day, we saw parents and kids walking hand in hand enjoying the displays and the food. Our second evening, I heard a young boy (age 8 or so) tell his dad, "This was the best day ever!"
My kids felt much the same way. We spent two full days at the Epcot Flower and Garden Festival, and when it was over, they both said it was one of their favorite vacations ever. I asked why — since they didn't seem too excited before the trip. They both said it was fun to just "hang out" and enjoy the park instead of running from place to place to do everything. YAY!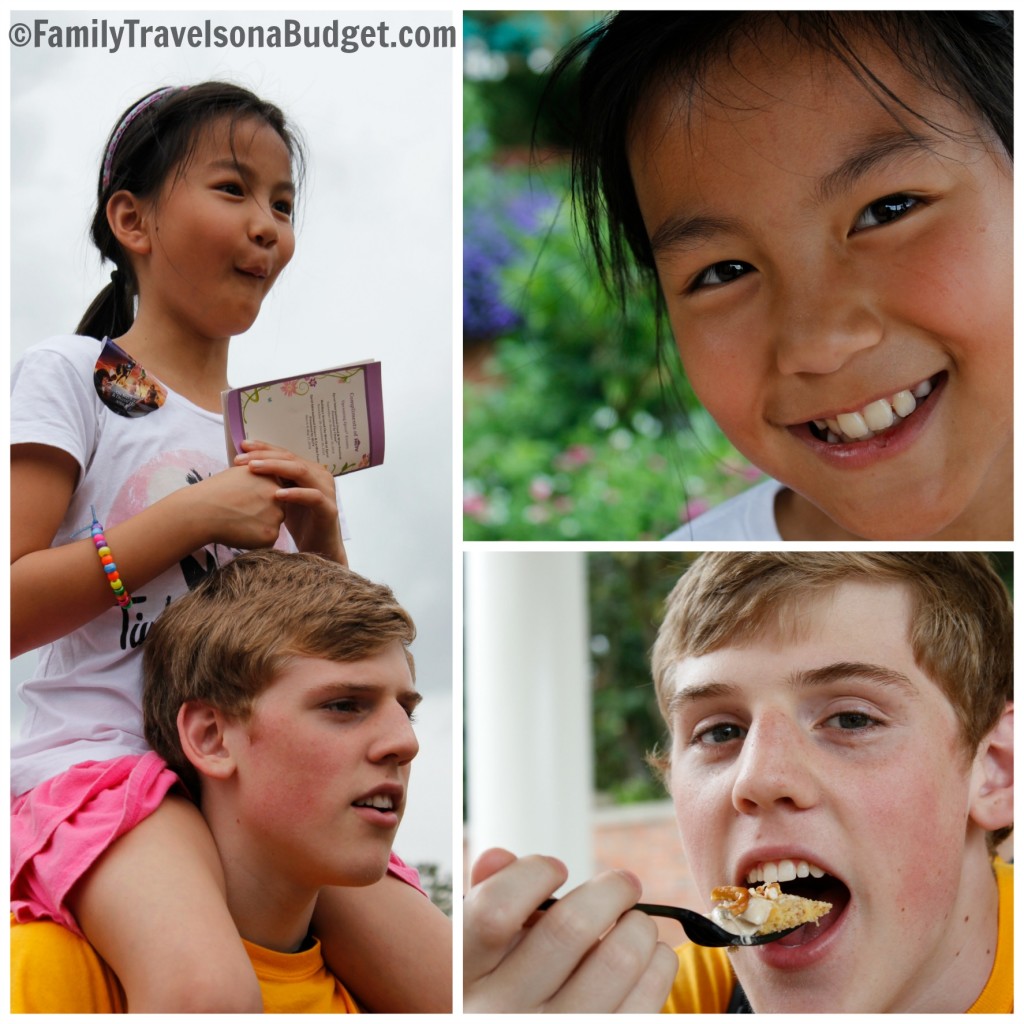 Tips for enjoying the Epcot Flower and Garden Festival
1. Wear comfortable shoes
This probably goes without saying at Walt Disney World, but especially for the Epcot Flower and Garden Festival, wear walking shoes! The walk around the lake is .8 miles. Add in the walk to get there and all that time on your feet enjoying the exhibits, and your feet need the support! Flip flops and high heels — no matter how good you want to look — do not work for this event. In fact, you'll likely have people pointing at your feet and laughing behind your back. (Yes, we saw that. More than once. No, I did not allow it from my well-behaved children.)
2. Enjoy the kiosk food experience
If you have the Disney Dining Plan, this is the day to use all those snack credits! If you have a sit-down meal plan, use it for breakfast and snack your way through the rest of the day.
At each food kiosk (Epcot calls them outdoor kitchens), we selected one or two items that sounded the best and shared them. Most came as four bites, but if they didn't, the servers were willing to cut them into four bites. By the time we made our way around the lake, we were stuffed. And, it was one of the most memorable food experiences we've ever had.
3. Enjoy the gardens
The Epcot Flower and Garden Festival offers unique gardens sure to inspire you.
But what about the kids, you ask? Won't they get bored? NO!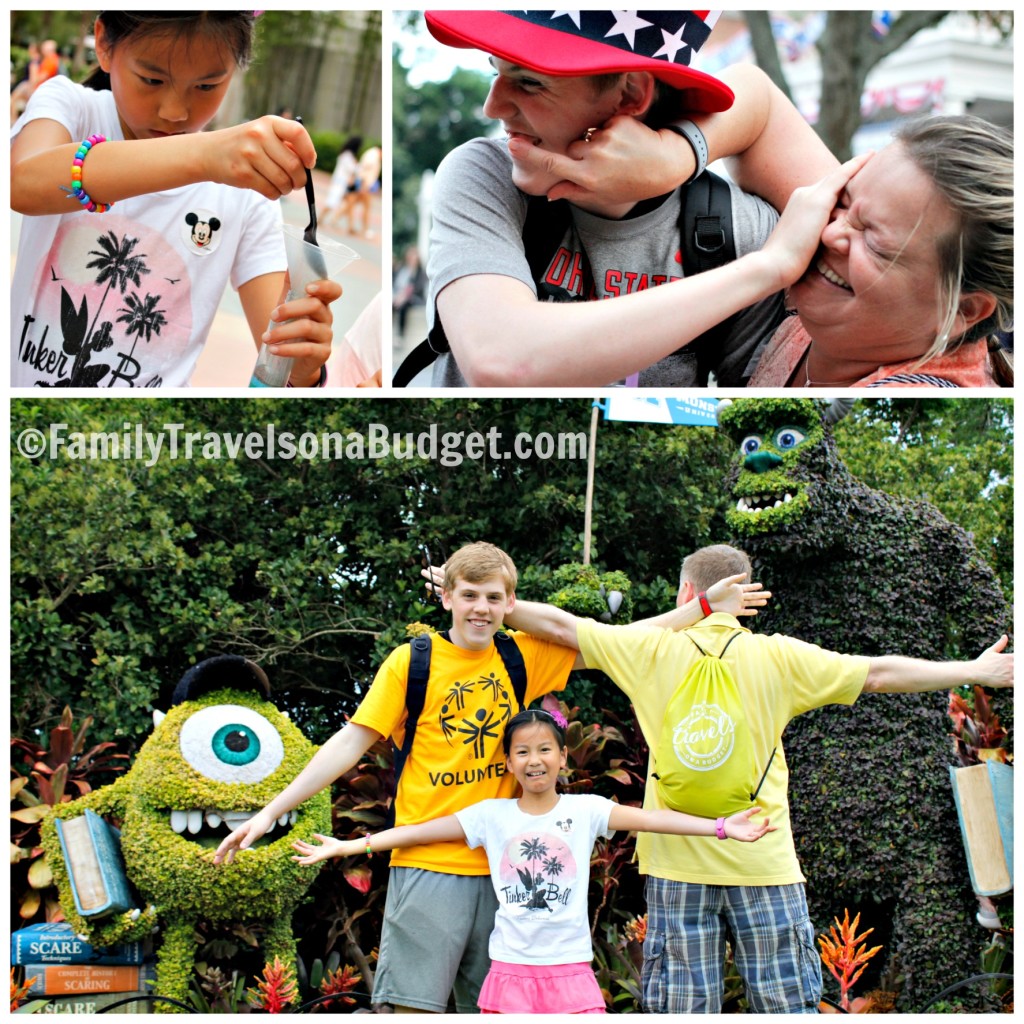 They offer a Garden Passport to keep kids engaged and interested. Each destination on the Flower and Garden tour offers a checklist of items for kids to find and explore. They also receive a stamp, unique to the destination, to collect as they go through. Some of the attractions are geared specifically to kids, as well, and are spaced out throughout the venue. Both our kids enjoyed collecting their stamps as they explored the gardens and the topiaries.
It seemed the more time we spent at the Epcot Flower and Garden Festival, the more relaxed we were.
4. Visit day and night
The neatest thing about the Epcot Flower and Garden Festival was how it changed at night. It might be hard to believe, but there was a definite "hush" over the park after dark. The topiaries, carefully and creatively lit, added a charm to the park not noticeable during daylight.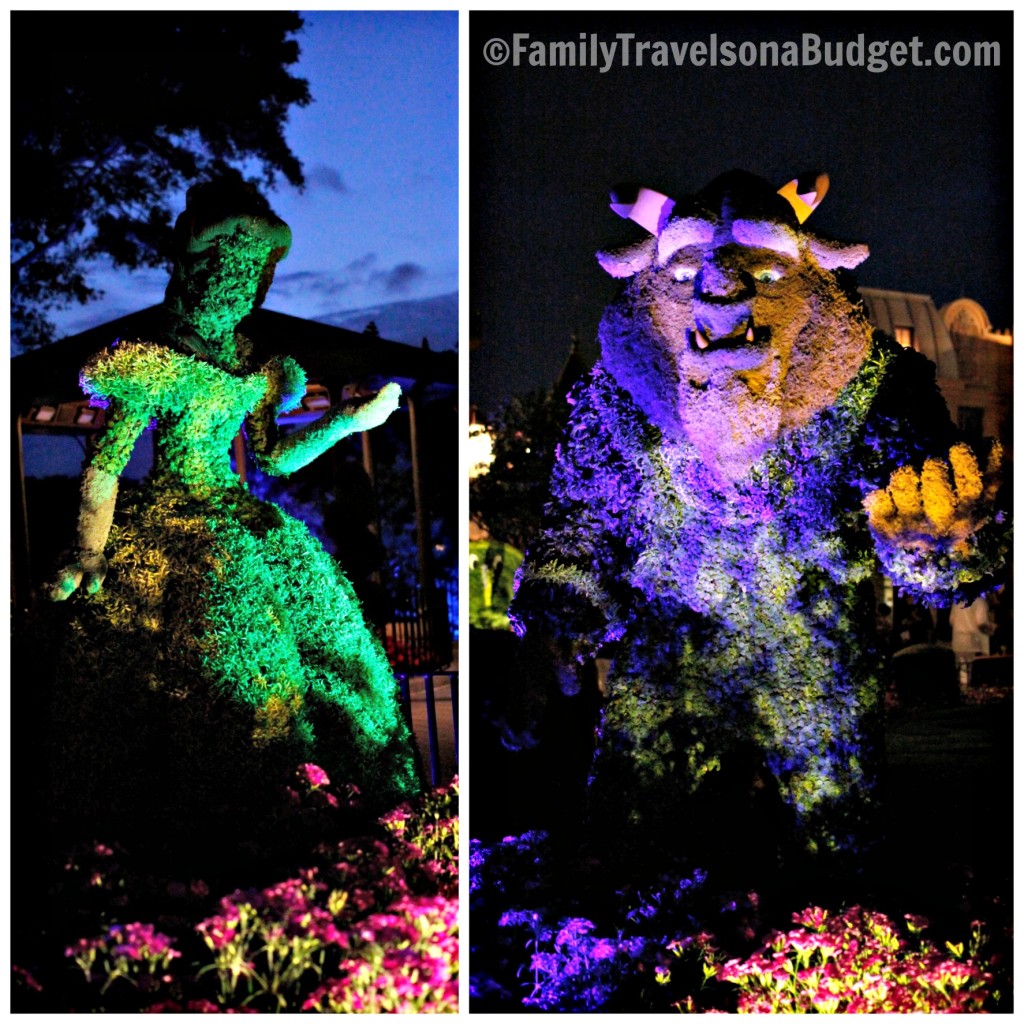 5. Remember to hydrate!
The floral displays at the Epcot Flower and Garden Festival are well-hydrated. Make sure you stay that way too! A long day of walking under the hot Florida sun can zap your energy without you realizing it. Be sure to drink plenty of water (especially if you'll also be enjoying those adult beverages at the kiosks). The kiosks offer bottled water for sale, but all permanent restaurants also offer free cups of water. Just ask.
The Epcot Flower and Garden Festival is definitely an event the entire family can enjoy. Garden enthusiasts can get lost in one garden for hours. Families can enjoy the displays and activities at whatever pace they prefer. Foodies, too, can enjoy everything from edible flowers in purple lemonade to apple sausages in puff pastry and even caramelized strawberries. This festival definitely offers fun for the whole family!
That's enough from me. Have you been to the Epcot Flower and Garden Festival? What did you like best?