Columbus Ohio Weekend Getaways: things to do In Columbus with Kids!
When looking for great weekend getaways, consider Columbus, Ohio! There are so many things to do in Columbus with kids.
Columbus, Ohio weekend getaways are easy to plan because there's so much to do! Museums, parks, festivals and other attractions mean you'll never run out of things to do with kids in Columbus!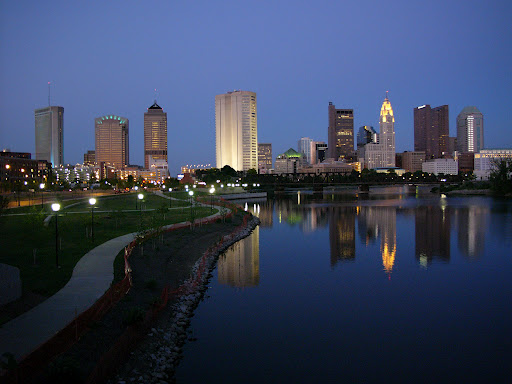 Columbus, Ohio skyline
Where to stay when planning a Columbus Ohio weekend getaway
Columbus is the state's capital, and it's a prominent business hub. That means there are lots of hotels in Columbus, so planning a weekend here is easy!
Things to do in Columbus with Kids
There are some great museums and other kid friendly attractions in Columbus, which makes it great for families planning a Columbus Ohio weekend getaway.
Here are our favorite family friendly attractions in Columbus:
COSI (Center of Science and Industry). Rated first among hands-on science museums in the United States by Parents Magazine, COSI offers hands-on exhibits in space exploration, physics, the ocean and more. The museum includes special areas designed just for younger children. Allow a full day to visit. Enjoy a "historical" lunch at the original Wendy's located right across the street!
Columbus Clippers. Cheer on the Cleveland Indians' AAA team at Huntington Park. More than baseball, a visit to the park offers family entertainment and food. What says summer more than a baseball game under the stars?
The Topiary Park. This unique park downtown is a "work of art and a work of nature." Beautiful gardens to visit and explore.
Franklin Park Conservatory. The conservatory offers a variety of exhibitions for one admission price. Fans of model railroads should consider a trip to the Conservatory to see the fairytale themed railroad designed and built by artist Paul Busse in the Himalayan Mountain Biome.
The Columbus Zoo. Visit Jack Hanna's zoo! When we lived in the area, we had annual memberships to the Columbus Zoo. It's that good! The zoo is quite large offering a variety of animal habitats to explore, rides, playgrounds and food.
Zoombezi Bay Waterpark. Adjacent to the Columbus Zoo, this waterpark offers something for every member of the family. To save money, buy a two-park pass at the zoo: spend the first day with the animals of the wild and the second letting the kids run wild!
Best restaurants for a Columbus Ohio weekend getaway:
When you plan your Columbus, Ohio weekend getaways, you'll have no shortage of great restaurants to choose from. Of the things to do in Columbus with kids, the restaurants on this list will not disappoint!
Schmidt's Sausage Haus. Located in German Village, Schmidt's has been our favorite restaurant for decades. We eat there every time we visit friends and family. In fact, their German cream puff is so good, it has been featured on Food Network's "Best of Ohio." It has also been featured on the Travel Channel's "Man v. Food." Honestly, it's that good!
Graeter's Ice Cream. Seriously, I need to schedule another Columbus road trip. I'm drooling! Graeter's makes the world's best ice cream! I have eaten ice cream in Paris, France and I love a good gelato, but nothing — absolutely nothing — tastes as great as Graeter's. We have been known to drive a few hours out of our way to buy six pints on dry ice and bring them home. Can't wait to try it? You can order online and have it shipped directly to you. I recommend chocolate chip (should say ginormous chocolate chunk… chip is a modest description!), mocha chocolate chip or Elena's blueberry pie! YUM!
Skyline Chili. I've tried to duplicate it. I can't. Skyline Chili, which originated nearby in Cincinnati, Ohio, is the most amazing chili there is. Period. Skylines fast food restaurants offer chili "three way," "four way," or "five way." (you choose: beans, spaghetti, onions, and/or cheese). Or order some coney dogs. Whatever you choose, you can't go wrong.
Shopping in Columbus — something for everyone!

The Short North. Situated just north of downtown, hence the name, the Short North arts district offers a variety of unique shops, including home decor, specialty food items, imports and "earth friendly." Whether to window shop or purchase, you'll enjoy a stroll through the area.
Easton Town Center. Far more than a mall, Easton is an experience! Indulge in a day at the spa. Catch a movie. Grab something to eat. Whatever you want to do, you'll find it at Easton.
Greater Columbus Antiques Mall. Looking for something different? Located on South High Street, this mall offers five floors of antiques featuring more than 70 antiques dealers.
Columbus, Ohio weekend getaways are easy to plan. Columbus is a friendly, midwestern city offering something for everyone.