Make a splash at Zoombezi Bay in Columbus, Ohio
This post may contain affiliate links. Click here to see what that means.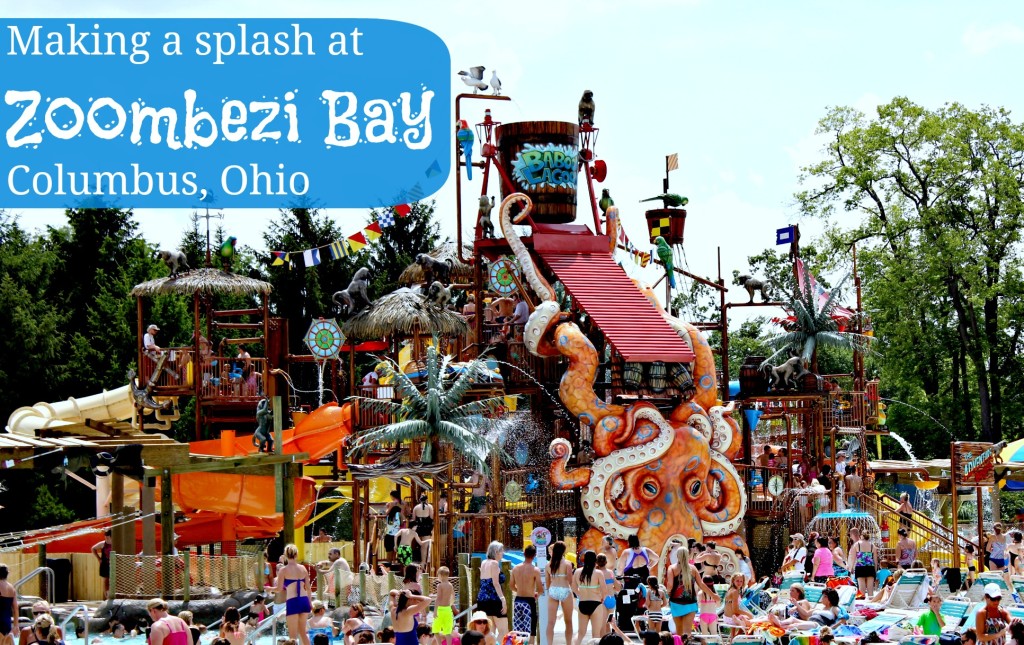 For a great weekend getaway, head to Zoombezi Bay, Ohio's premier water park, located next door to the Columbus Zoo and Aquarium. Spend a day at the waterpark and a day at the zoo for great weekend fun with the kids.
Zoombezi Bay boasts 18 attractions including popular waterslides, the Baboon Lagoon play structure, a lazy river, a wave pool and special areas just for little ones. There's plenty to do for a full day at the park.
Zoombezi Bay also has food kiosks that serve a variety of food and snacks, including tacos, pizza, chicken and burgers. Two of them serve beer, cider and cocktails for the adults.
Guests can bring their own food to the park, though coolers are not allowed inside. Zoombezi Bay has "Cooler Cove," where guests can store their coolers for easy access throughout the day.
What's new at Zoombezi Bay this year?
Pelican Point is the newest attraction at Zoombezi Bay, a splash pad area just for toddlers. Everything in Pelican Point is pint-sized, just right for the youngest guests at Zoombezi Bay. Beach umbrellas, loungers, benches and open spaces give caregivers a place to relax as they keep an eye on their little explorers.
The area is surrounded by a fence, which helps keep bigger guests from passing through!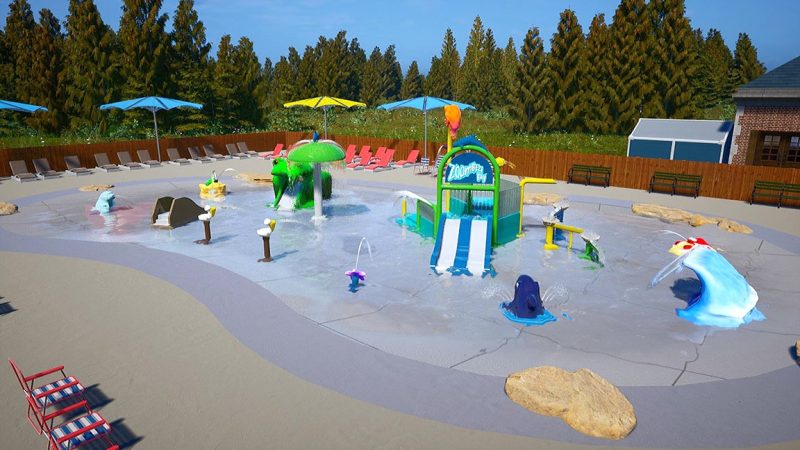 Other attractions at Zoombezi Bay (height requirements)
Baboon Lagoon
The Baboon Lagoon multi-level play structure includes 90 interactive aquatic controls (squirt stations), 10 water slides, a challenging net climb, an activity pool and the crowd-pleasing 1,000-gallon tipping water bucket.
The attraction is designed for kids, but adults love it, too!
Height Requirements for Baboon Lagoon:
36″ for lower slides,
40″ for upper slides,
48″ for Cargo Crossing.
Baboon Lagoon is an accessible attraction.
Water Slides at Zoombezi Bay
When I visited the park, I spoke to several kids about their favorite water slide.
Jake said, "Big Boa Falls is the best ride here. You really feel like you're flying." His friend, Colton, disagreed, insisting, "Dolphin Dash is better because you go headfirst, and it's so fast."
See, I told you they can't agree on what's best! So, my recommendation is ride them all and decide for yourself!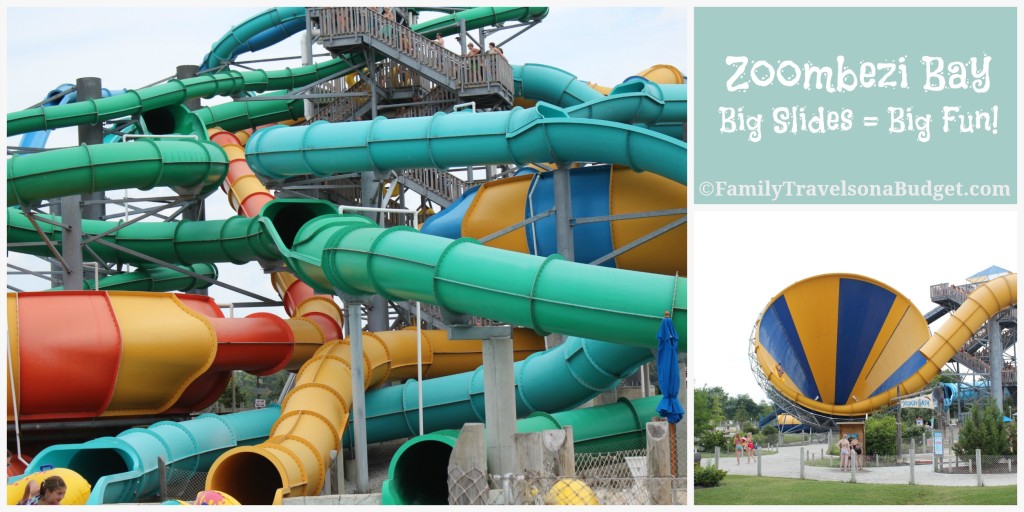 Big Boa Falls is a double rider tube slide that takes you through an enclosed tunnel before you careen over a zero-gravity 50-foot hill and splash down into a landing pool. Height requirement 48″.
Cyclone (my personal favorite) is a multi-rider raft that spins you into the largest enclosed reducing radius tunnel in the world. Hang on tight for the final splashdown! Height requirement 48″.
Dolphin Dash is a 6-lane mat racer slide that drops 51 feet over the 300 foot course. Lay face first on your mat and race riders in the other five lanes to the bottom. The flatter you are (don't look up), the faster you go! Height requirement 42″.
Python Plunge, a water coaster, head downhill and gain speed, then hang on as you're blasted up the water coaster hill before the final drop into the landing pool. This is a thrilling ride for sure! Height requirement 48″.
Sea Snakes drops 51 feet over a run of more than 200 feet. Like its name suggests, there are lots of twists and turns to keep you guessing on the way down. Ride on a single tube, or go with a friend on a double tube. Height requirement 48″.
Sea Tubes, another option for single or double riders, is rumored to be the fastest ride at the park. This tunnel water slide is certainly popular with the kids! Height requirement 48″.
Slippery Seals Body Slides is a trio of body slides that launch from a 63′ high tower. The slides are 310 feet long and riders go more than 20 mph by the time they reach the bottom. Like Dolphin Dash, the more flat you are, the faster you'll go. Feet first only! Height requirement 48″.
Soundsurfer is a 5-person raft ride that's got LED lights, speakers and lots of thrills. Riders get to choose the music (Hip Hop Drop and Rockin' Rafts) to enjoy on the 512 foot long ride packed with speedy drops, vortex loops and other unique effects. The ride is not recommended for those with sensitivity to flashing lights or loud noises. Height requirement 48″. Kids 42-48″ can ride when accompanied by an adult.
Other attractions at Zoombezi Bay
There's lots to enjoy at Zoombezi Bay besides the super slides.
Crocktail Creek & the Sandbar, which opened in 2020, is strictly for grown-ups! This 21+ area of Zoombezi Bay features a lounge pool with in water seating, a 700 foot long, heated, adults only lazy river, and the Sandbar, a walk up/swim up daiquiri bar (with beer and more). Height requirement 36″.
Otter Banks is three attractions in one!
Sandpiper Splash Drop Slides is a body slide that drops riders 6 feet into the landing pool. Because the landing pool is ten foot deep, this slide is recommended for stronger swimmers. Must be 48″.
Sea Challenge is a water obstacle course where two people race to the finish. If you make it to the wall, you're rewarded with a slide down into the victory pool! Hand strength and balance help with this attaction. Height requirement between 44″ and 74″.
Sand Dollar Shores is a more relaxed element of this attraction with waterfalls and relaxed seating areas in the water. A zero entry pool with a water basketball court, this is a fun spot to unwind at Zoombezi Bay. Height requirement 42″. Smaller guests can participate if wearing a life jacket and/or accompanied by an adult.
Roaring Rapids Action River is anything but a lazy river! As you float along the river, expect to get drenched by waterfalls or jostled by waves. This 1500 foot long river is loads of fun for the whole family. Height requirement 48″. Smaller guests can participate if wearing a life jacket and/or accompanied by an adult.
Wild Tides Wave Pool is the Zoombezi Bay wave pool, providing beach like waves for adventurous "body surfers" — or those who like to bob up and down! Height requirement 48″. Smaller guests can participate if wearing a life jacket and/or accompanied by an adult.
Zoombezi Bay review
I've seen my fair share of water parks through the years, and Zoombezi Bay is among the best.
This waterpark is thoughtfully laid out, with areas for young families, preteens, and big kids/kids at heart separate from each other (though the park's not too big to explore end to end). Families with younger kids can certainly enjoy this park without fear of getting trampled by fun-seeking teens.
The park is really popular and gets crowded, even on weekdays. When planning a trip to Zoombezi Bay, arrive early to claim your seats, avoid the long lines at the slides, and float leisurely on the lazy river. Alternatively, buck up for a Zoompass to cut ride wait time significantly.
Fellow mom, Chelsea, who just moved to Columbus from San Antonio, agrees with my recommendation to arrive early. Her overall opinion of Zoombezi Bay is that it is "much cleaner and has more to do" than Six Flags Fiesta Texas. She highly recommends a family visit to Zoombezi Bay, but just arrive in the morning.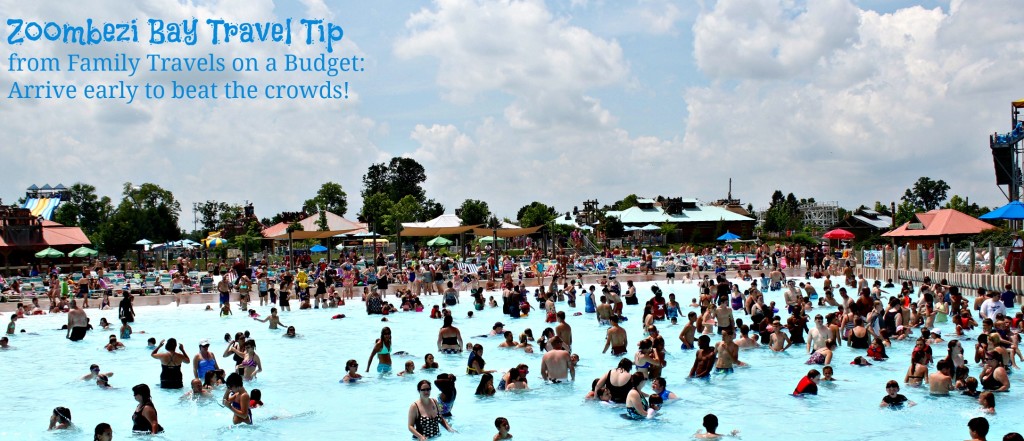 Plan your visit to Zoombezi Bay
Zoombezi Bay is open Memorial Day through Labor Day and hours vary. Check hours HERE.
Admission, which includes same day admission to the zoo, is:
At the gate: $44.99 for adults; $41.99 for children/seniors.
Online rates offer significant savings beginning at: $37.99 for adults: $34.99 for children/seniors.
Zoo member rates: $31.99 for adults; $29.99 for children/seniors.
Other fees:
Parking is $10/vehicle.
Daily locker rates range from $10-$20/day.
Cabana rentals begin at $49/day (early season for value cabanas), offering shade, reserved loungers, table, chairs and a refrigerator.
Strollers, wheelchairs and scooters, prices vary.
Zoompass is Zoombezi Bay's answer to fast pass and quick queue at theme parks. Offering three levels of passes, the lowest tier gold pass begins at $199.99 per day. This pass serves as a placeholder in line, allowing guests to enjoy the wave pool or action river until it's time to ride.
At this time, Zoompass attractions include Dolphin Dash, Cyclone, Soundsurfer, Sandpiper Splash, Python Plunge, Big Boa Falls, Sea Snakes and Sea Tubes water slides.
Zoompass does not include park admission. It is an add-on. When the passes sell out for the day, no more will be offered.
Other important things to know
Zoombezi Bay is open Memorial Day to Labor Day. Hours vary throughout the season, but generally run from 10 a.m. to 7 p.m.
Proper swim attire is required to use the attractions at Zoombezi Bay: Lined swimsuits, swim diapers for those who need them, and no thong swimsuits. Denim shorts, cutoffs, and other clothing with metal are not allowed on the water slides.
Life jackets are provided for free at Zoombezi Bay, and are available throughout the waterpark, hanging on racks. Outside life jackets ARE allowed, but they must be Coast Guard approved — water wings, pool noodles and similar items are not allowed in the park for safety reasons.
Towels and sunscreen are not provided, but they are available for sale if you forget yours!
If you leave the park, get your hand stamped for same day re-entry. This includes going to your cooler or to the Columbus Zoo. Speaking of which, zoo admission requires dry clothes. Admission is not allowed for people in swimsuits.
Planning your trip to Zoombezi Bay and Columbus
If you're new to the Columbus area or planning a visit, there sure is a lot to see and do in Ohio's capital city! Read these articles to learn more about the area as you plan your visit to Zoombezi Bay.
Our hotel recommendation near Zoombezi Bay
When visiting the area, we recommend the Fairfield Inn & Suites by Marriott Columbus/Dublin above all others. It's an easy 3.5 mile drive to Zoombezi Bay, and gets spectacular ratings from guests, particularly for cleanliness and friendly staff.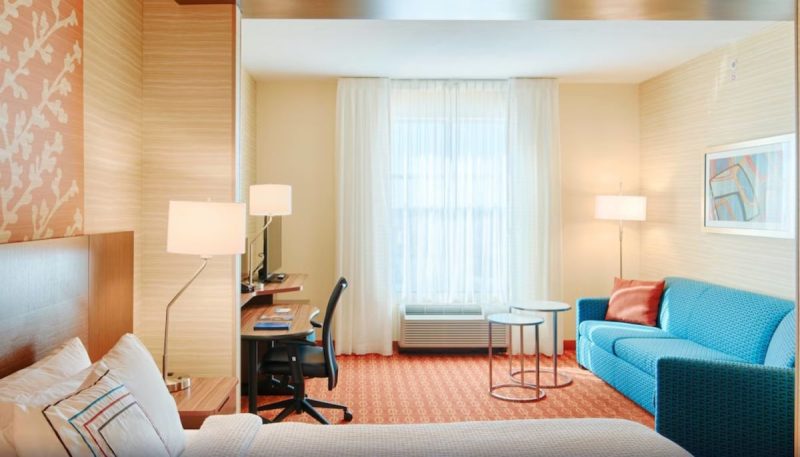 Amenities include free WiFi, free parking, free daily breakfast, an indoor pool for year-round use and a fitness center.
Rooms include refrigerators and microwaves. Indoor lounge areas and an outdoor sun lounge offer space to relax. Rates begin at $116.
We know the area well (my husband worked just one mile from the Columbus Zoo for several years), and the other hotels nearby are okay, but some are dated and need a facelift. Others do not offer the same family friendly amenities like the indoor pool and breakfast. For convenience and quality, the Fairfield Inn & Suites is hard to beat!