A weekend in Columbus, Ohio
This post may contain affiliate links. Click here to see what that means.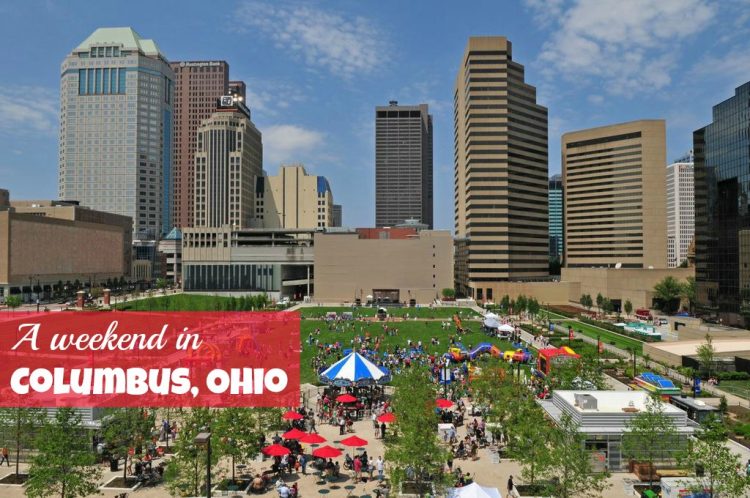 Post updated May, 2017
Columbus is my first love…. as travel goes. It's no secret (to regular readers) that I love Ohio State football. I moved away 13 years ago (wow! 13…. really?), and Columbus still holds a special place in my heart. And, there are just so many things to do in Columbus, Ohio — you can spend a weekend or a week here and still not see it all!
A (long) weekend in Columbus
Columbus hosts conferences and sporting events throughout the year — and that means hotel rooms are plentiful. Book a room at your favorite chain. Or, if you want something different, stay at an inn or B&B in one of Columbus' charming neighborhoods. The Columbus CVB has partnered with several hotels and attractions to create money saving packages based on things to do in Columbus, that's a double win! Prepaid and preplanned.
Day One of our Weekend in Columbus
Explore Downtown Columbus. With so many things to do in Columbus, I highly recommend you spend one day downtown. The CBUS — a free downtown bus makes navigating the city easy — and cheap! You can't beat free!
Start at COSI, the Center of Science and Industry. This hands on science museum provides educational entertainment the whole family is sure to enjoy. Little Kidspace, designed especially for the museum's youngest guests includes a tree house, health clinic, ambulance and helicopter. Staff supervises the entrance to this area, giving parents peace of mind if a little one toddles off. This area also includes a lunch area, vending machines, a quiet nursing room and family friendly restrooms. For older kids, COSI's attractions reflect Columbus' contribution to the world — including exhibits on the body, technology and space exploration.
DID YOU KNOW? More astronauts come from Ohio than any other state.
Enjoy lunch at a Food Truck. Columbus' progressive food scene includes a number of food trucks, offering unique cuisine. See? Mid-size cities pack the same fun as the big ones! An added bonus, food trucks in Columbus are easy to find! If you plan your trip for mid-August, enjoy the Columbus Food Truck Festival and support Ronald McDonald House at the same time!
Next, kick back and relax at Columbus Commons and the Scioto Mile. Shops, restaurants, paved paths along the Scioto River and a 15 thousand square foot water feature provide plenty of entertainment. Benches, swings, and grassy areas provide plenty of places to relax and soak in the atmosphere. Bring the kids' swimsuits and towels. They're sure to get soaked in those fountains!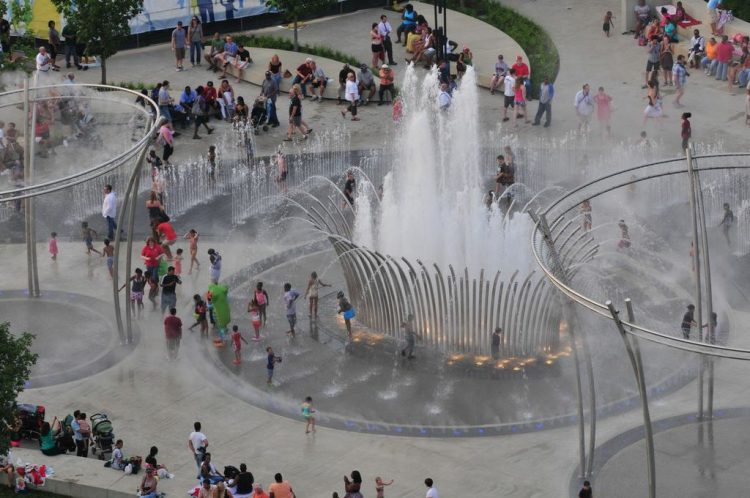 Enjoy dinner on the Commons, or venture into German Village for an authentic German bratwurst dinner (okay, that's what I'd have…. the German Village restaurants offer a variety of cuisines. I'm partial to the original!)
Return to your hotel to enjoy the pool and amenities or rest your feet! You'll need it for tomorrow!
Day Two of our Weekend in Columbus
Today it's all about the lions and tigers and bears! Oh my! Why? Because of all the things to do in Columbus, the Columbus Zoo and Zoombezi Bay Waterpark are a kids' top pick!
Seriously, the Columbus Zoo is my absolute favorite zoo in the entire country (admitting my bias, again!). Known as Jack Hanna's home zoo, the animals reside in  "natural" habitats, providing guests with a better understanding of habitats and making animals feel more comfortable. The zoo is home to Manatee Coast, one of only three facilities outside the state of Florida to rehabilitate these docile creatures so often injured by boat propellers and illegal hunting.
Wear your walking shoes today! Feel free to pack a picnic lunch, just leave straws and glass at home as they are dangerous to the animals. Strollers, wagons and wheelchairs are welcome — or you can rent a stroller at the park.
When it gets hot, do what the animals do and take a swim next door at Zoombezi Bay Waterpark, which offers 14 water attractions to cool and refresh! Purchase a combo ticket for both parks to save on admission. NOTE: The water park is open later than the zoo most days, so enjoy the zoo first.
Before going home, stop for ice cream. In fact, you could plan a whole day around ice cream! In a recent poll on my blog, Jeni's Splendid Ice Creams came out on top, but I have yet to try it. I do know that Graeter's is AH-MAZING!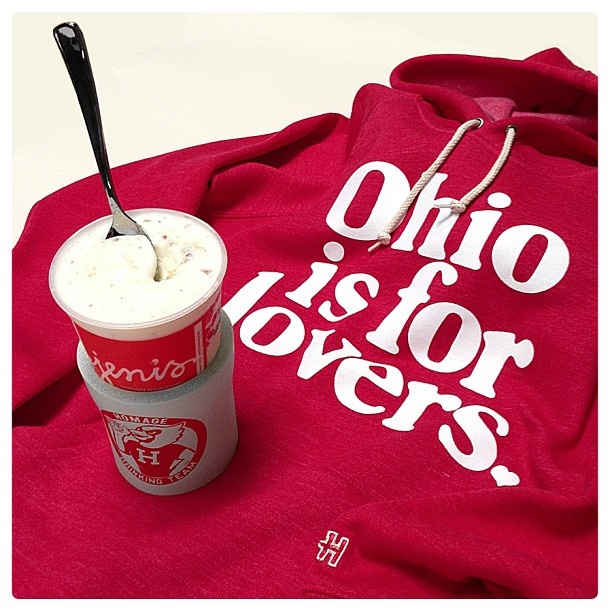 Day Three of our Weekend in Columbus
Honestly, I could write another five days worth of things to do in Columbus. If my family was traveling, we'd take the Buckeye Nut Trail since we're nuts about the Buckeyes. We'd add a stop at Ohio Stadium for a photo op, too. I realize not everyone is as nuts about the Bucks as we are, so here are some other one day itineraries. Pick your favorite. Enjoy the day and rest well before going home.
Resources to help you plan a Weekend in Columbus
In addition to the links to specific attractions and restaurants included in this post, these resources will help you plan your trip to Columbus. I can't wait to hear what you think of it!
The Columbus CVB website, Experience Columbus. It provides suggested itineraries, discounts, and package offers.
Catch the CBUS. Columbus offers free public transportation on a set route downtown. It's both budget friendly and hassle free! Kids get to ride the bus, something rare for those of us in small towns.
Franklin County Parks Guide. With more than 220 parks in Franklin County and an extensive trail system, you'll find the perfect park to relax. Many are dog friendly, too!
Pin this for later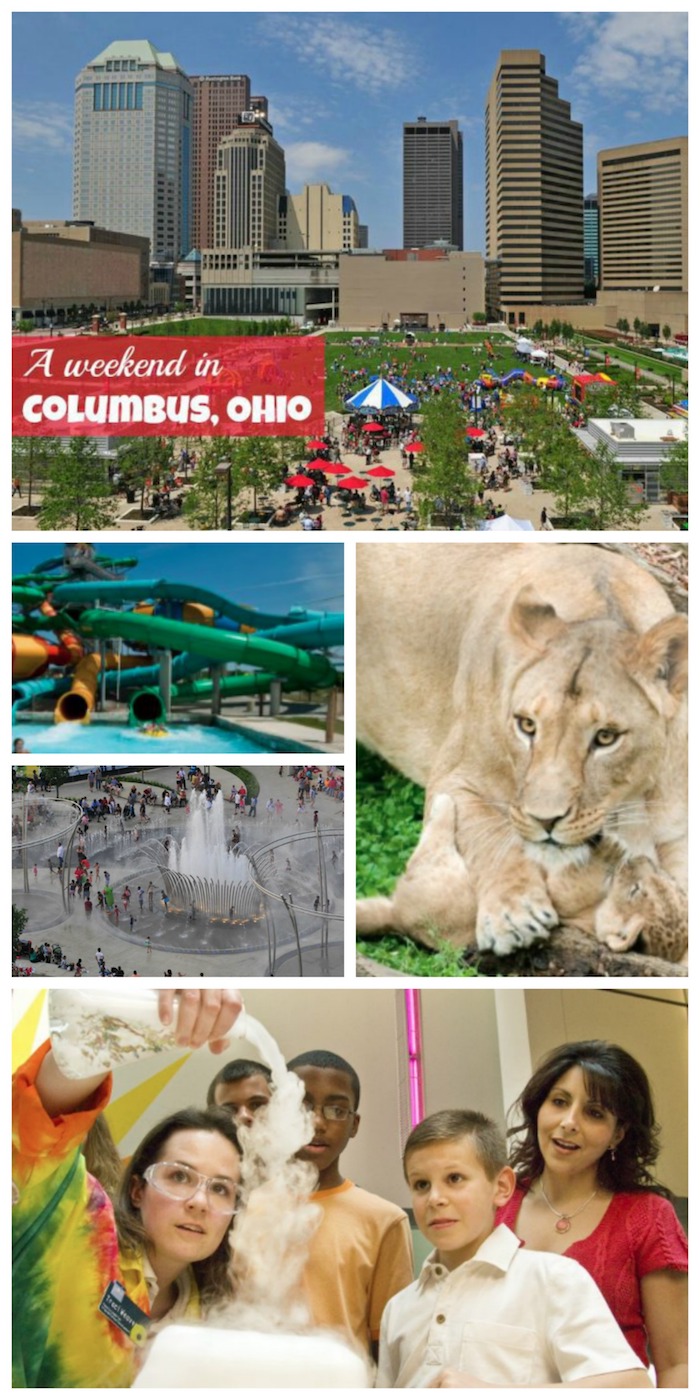 More articles about things to do in Columbus