Baltimore's National Aquarium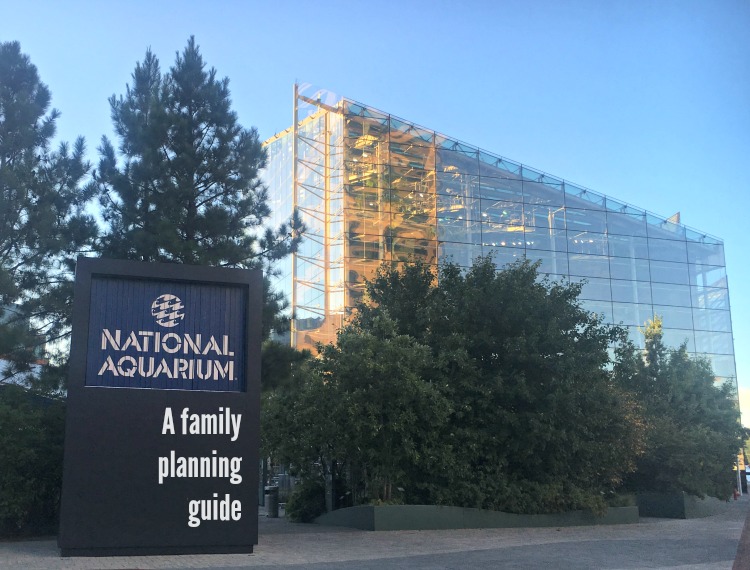 The National Aquarium, which sits on the waterfront in Baltimore's Inner Harbor earns its name as the NATIONAL aquarium. With incredible exhibits, hands on activities and great educational programs, families can easily spend a whole day here.
Save up to $58 on Discovery Cove – Day Resort Package! This ticket also includes 14-day unlimited admission to SeaWorld Orlando and Aquatica.
The National Aquarium on Baltimore's Inner Harbor is not only a jewel of a building, it houses the most amazing aquarium exhibits you're likely to see. I know it's the best aquarium I've ever visited.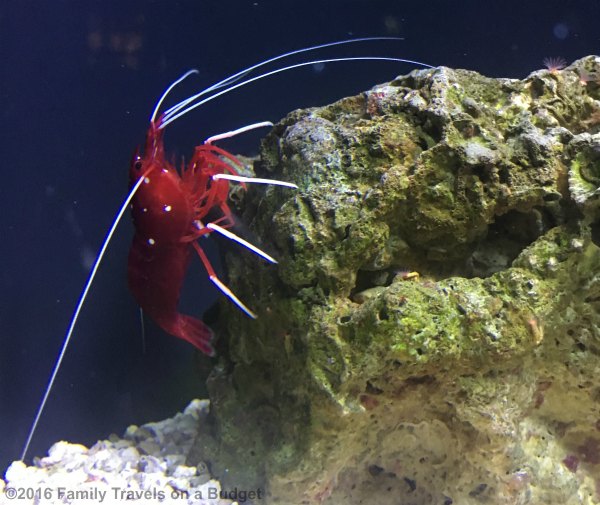 What can you do at the National Aquarium?
With more than a dozen exhibits and behind the scenes tours (some require an extra fee), a family could easily spend a full day at the National Aquarium. Most exhibits include hands on activities to engage kids, while aquarium staff and docents provide additional information for adults.
The Living Seashore Exhibit is geared toward kids and families. The Living Seashore 5,000 gallon saltwater touch pool is home to stingrays, horseshoe crabs and moon jellies. With so much to see and do, visitors leave with a fresh appreciation for beach habitats.
Another exhibit, the Atlantic Coral Reef, is a 335,000 gallon, 13 foot tall aquarium with more than 500 fish and sharks to watch. Museum guests enter the exhibit at the top, where they can peer into the water below — much like peering into the ocean at the beach. Walk down the winding ramp, surrounded by walls of glass and all those fish, to see this marine habitat from a different perspective.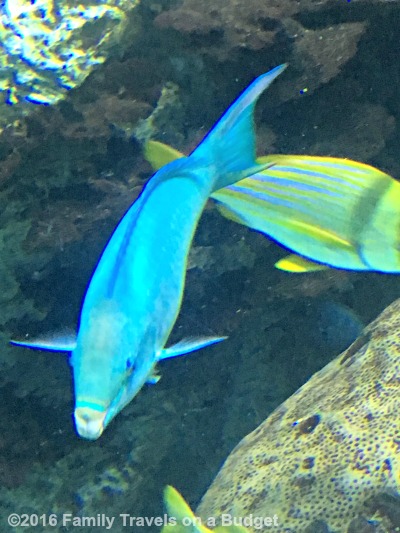 You might squeal with delight as you watch fish swim by like many of the kids did during my visit. Or, like me, you might find yourself holding your breath as you "descend" into the deep. I had to remind myself to breathe! The fish have so much space to roam that you get a real sense of their underwater world.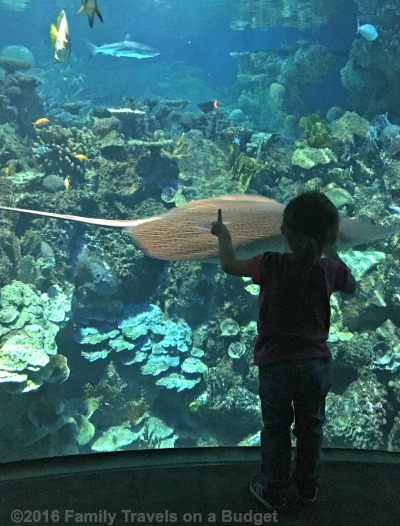 The other exhibits at the National Aquarium are impressive as well. Beyond the regular exhibits, families might consider a behind-the-scenes tour to learn more about how the aquarium works and what the staff does.
FAQ about the National Aquarium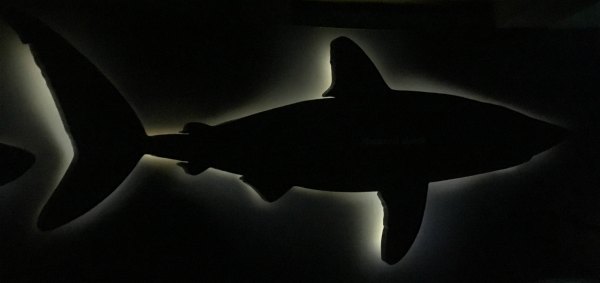 Where is the National Aquarium located?

 The address is 501 East Pratt Street, Baltimore, MD 21202 at Baltimore's Inner Harbor. For those staying at hotels downtown, the aquarium is in easy walking distance. There are parking garages nearby as well.

How long can you stay at the Baltimore Aquarium?

It can take two to three hours to get a solid sense of the exhibits at the National Aquarium. Those who really like aquariums could probably spend a full day here. And those with young kids might not want to stay as long — it's a lot to take in. See the tips below for travel with young kids.

What are the operating hours of the National Aquarium?
Can I buy tickets in advance? Or do I need to purchase tickets at the entrance?

We highly recommend that you purchase tickets in advance online, especially during peak travel dates as tickets can sell out. Pre-ticketed guests can skip the ticket queue and go directly to the entrance.

When is the best time to visit the National Aquarium?

Your best value is selecting early morning tickets to beat the  midday crowds. National Aquarium tickets allow you to come and go all day so you can leave for lunch and then come back!

Does the Baltimore Aquarium offer discount tickets?

Military discounts are provided year-round. Check the website for other Special Offers (including parking discounts).

Can you bring food to the aquarium?

You can NOT bring food into the National Aquarium (for animal safety reasons). You can get your hand stamped for re-eintry and enjoy a picnic or get lunch at a nearby restaurant. Since the aquarium is most crowded from 11-3, this is a great way to escape the crowds.
Tips for visiting the Baltimore Aquarium:
I recommend the National Aquarium for all ages. Though for kids under 3, consider taking a midday break to run around outside or take a nap.
Strollers are NOT allowed in the National Aquarium.
Plan a full day to see everything, but leave for lunch when it's most crowded.
Visit weekdays if possible, but expect school tours from October-May.
If visiting on a weekend or holiday, buy tickets in advance!
Prepare kids ahead of time by looking at the museum exhibits online. That provides a frame of reference for what they will see making it easier to absorb all the new information.
Read our post on visiting museums with kids
Additional resources for parents, educators and homeschool groups:
The National Aquarium developed a number of downloadable resources for teachers and students, from pre-K through high school. Before visiting, your kids might enjoy learning about the animals they will see. Or, afterward, these resources could become part of a child's science education or enrichment. Check those resources here — and share with your favorite science teacher or homeschooling family!
I mistakenly thought the National Aquarium was "just" an aquarium — like any other aquarium you might visit. It's not. It's the National Aquarium. I will not take the name — or the exhibits — lightly again. The National Aquarium should top your family's list of things to do in Baltimore.
You will also like these posts: