National Gallery Sculpture Garden: Hidden in plain sight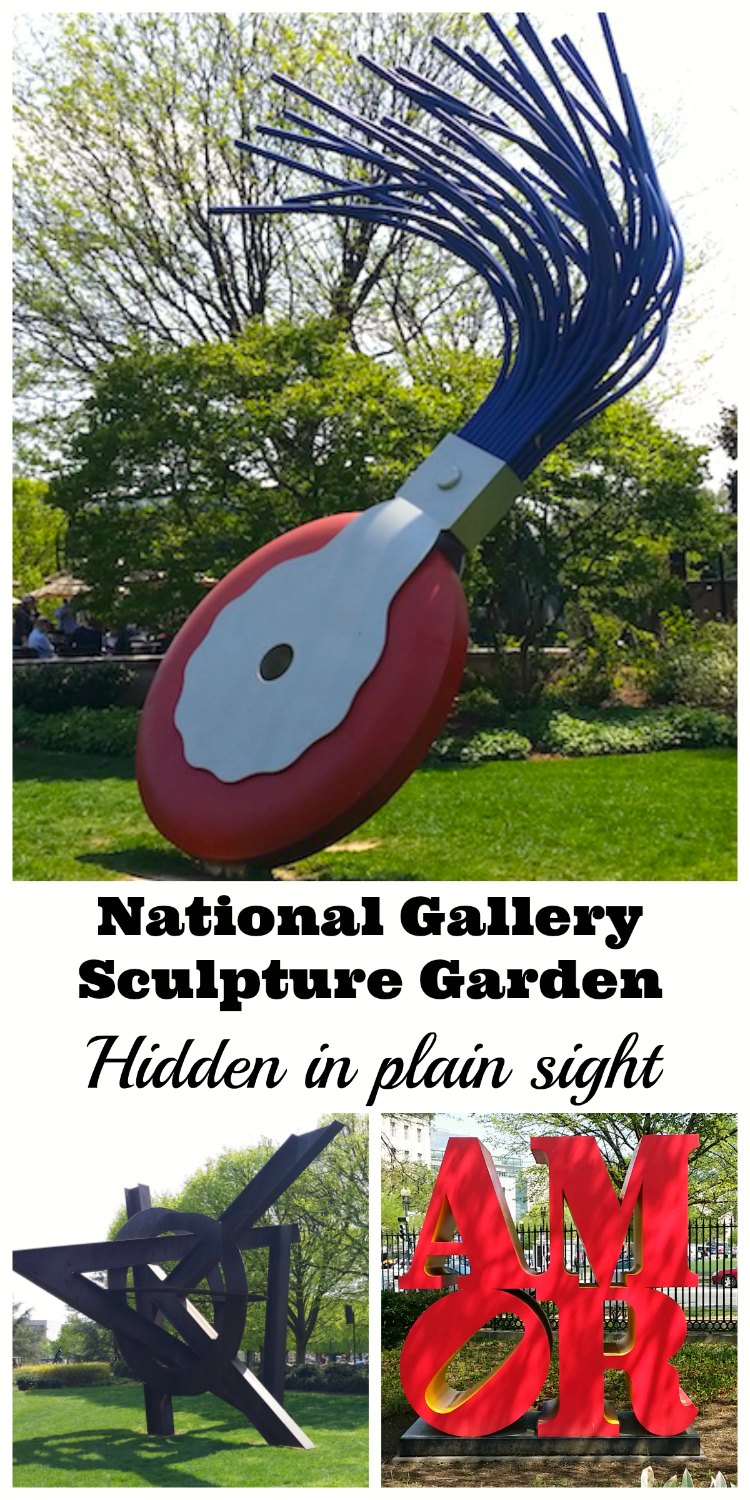 Visiting Washington, D.C. last spring, I headed to the National Mall to explore the museums.
As I passed the National Gallery of Art, I was drawn into the sculpture garden — following the lead of young children tugging on parents' arms to see the shiny tree.
One little boy was so drawn, he squealed with delight, "It's the prettiest tree I ever saw. Look dad."
His father replied, "Mmmhmmm it's nice. Now let's go. We have a schedule to keep."
Not surprisingly, a battle of wills — and whines — ensued. The boy, clearly taken with the tree, complained. His dad insisted that they must stick to the schedule and see the "real art."
He took the boy's hand and pulled him away from the tree toward the building.
My heart broke for that little boy.
For all the little boys — and girls — whose curiosity is piqued by something stunning that catches their imagination… only to be dashed by the schedule. The dreaded schedule!
About the National Gallery Sculpture Garden
The National Gallery Sculpture Garden sits on 6.1 acres outside the West Building of the National Gallery of Art. In the center of the garden, a fountain anchors a space surrounded by sculptures, gorgeous greenery, park benches and walking paths. Adding to its cozy charm, the Sculpture Garden is surrounded by a decorative fence made to complement the character of the Gallery beyond. The Garden is accessible to all. Along one side, the Pavilion Café provides year-round dining with indoor and outdoor seating.
The Collection
Many pieces in the National Gallery Sculpture Garden have been there for years. My favorites are:
Graft, by Roxy Paine, is the tree that caught the young boy's attention on the day I visited. Graft is a stainless steel and concrete structure measuring 45 feet high. Can you see why a child would be mesmerized by a shiny metal tree standing so tall? Take a close look at the branches — it tells the story of the piece.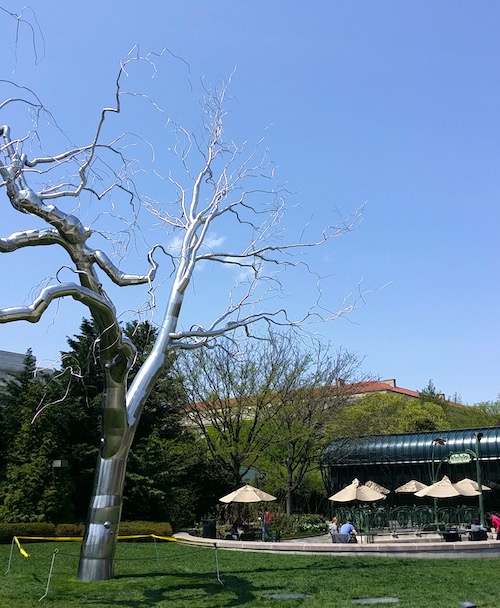 House 1, by Roy Lichtenstein, is another piece that captures the imagination — of children and adults (if they allow it). Lichtenstein is best known for his 1960s pop art, but this sculpture created late in his life shows him to be a talented sculptor as well. Does the house jut out at you or does it recede?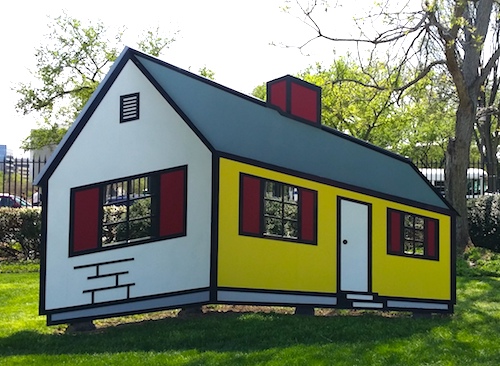 Chair Transformation Number 20B, by Lucas Samaras, is another of those pieces that seems to change before your eyes — a three-dimensional optical illusion. From one angle, it appears to stand straight up, but from another it looks to lean forward and from a third it leans back.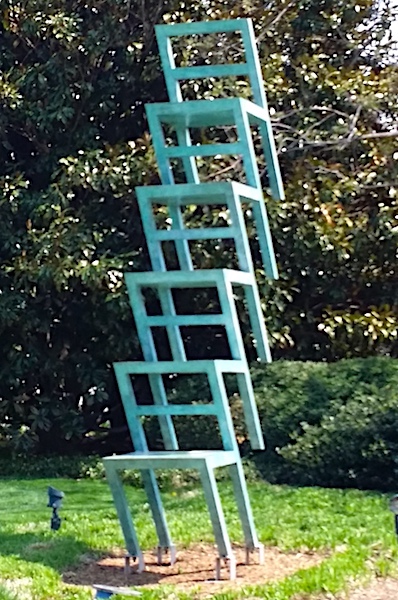 Typewriter Eraser, Scale X, by Claes Oldenburg and Coosje van Bruggen, may have been my favorite of all! The common — or today, not so common — typewriter eraser I knew from childhood had morphed into a super-sized art piece. It took me back in time, for sure!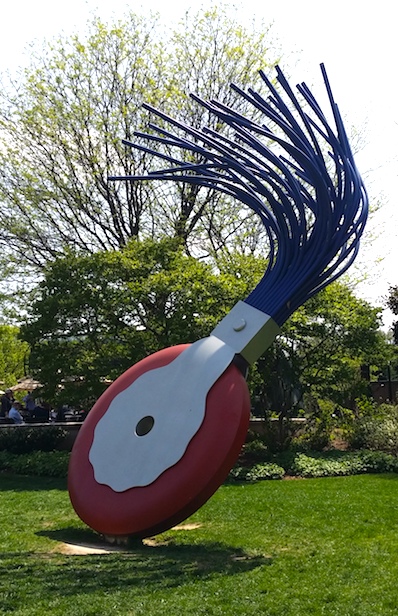 The National Gallery Sculpture Garden holds a total of 21 sculptures, each unique and inspiring. When visiting the National Mall, step out of the crowds and take in this quiet, yet somehow free-spirited, garden.
Visiting the Sculpture Garden with kids
The Sculpture Garden really is hidden in plain sight. Tucked in by the West Building of the National Gallery of Art, many walk by not realizing it's there. Others rush pass hurrying into the building to see the "real" art. But, art is more than paintings and marble statues. Grand outdoor sculptures, larger than life, bring out the child in all who will let them.
Tips for visiting with kids:
Read about the sculptures ahead of time (or while you're there) so you can answer their questions. Better yet, ask some. For instance, with Graft, ask which side of the tree your child likes best and why.
If they're excited, let them be! Give them time to explore and admire. Who knows, you might be raising the next famous sculptor!
If time allows, give them time to draw an art piece of their own — or once you get home get out the blocks, craft items and glue to let them create their own pieces. They'll remember the visit forever. Here's a website with inspiring kid-sculpture ideas, if you'd like.
Use the Sculpture Garden as a much needed break between museum buildings. Kids can talk a little louder, run a little freer (respectful of others, of course) and laugh a little bigger when they're outside!
Consider lunch at the Pavilion Café. It's a little pricey, but it's in such a wonderful location. Where else can you dine under a stainless steel tree?
Before going, know the "rules" (set by the National Gallery):

Don't touch the art pieces,
Don't ride bikes, skates or skateboards in the garden,
Only service animals are allowed,
Alcoholic beverages are not allowed to be brought in.
Now back to the little boy I saw in the garden…
His dad pulled him away from a shiny tree that clearly caught the boy's attention. But when visiting a museum, isn't that boy's reaction exactly what we hope for?
And with that, here's one last tip. Make vacation plans, but don't sacrifice wonder for the schedule. It's the moments we can't plan that make the best memories.