Whimsical Boxerwood Gardens: Play, Explore, Connect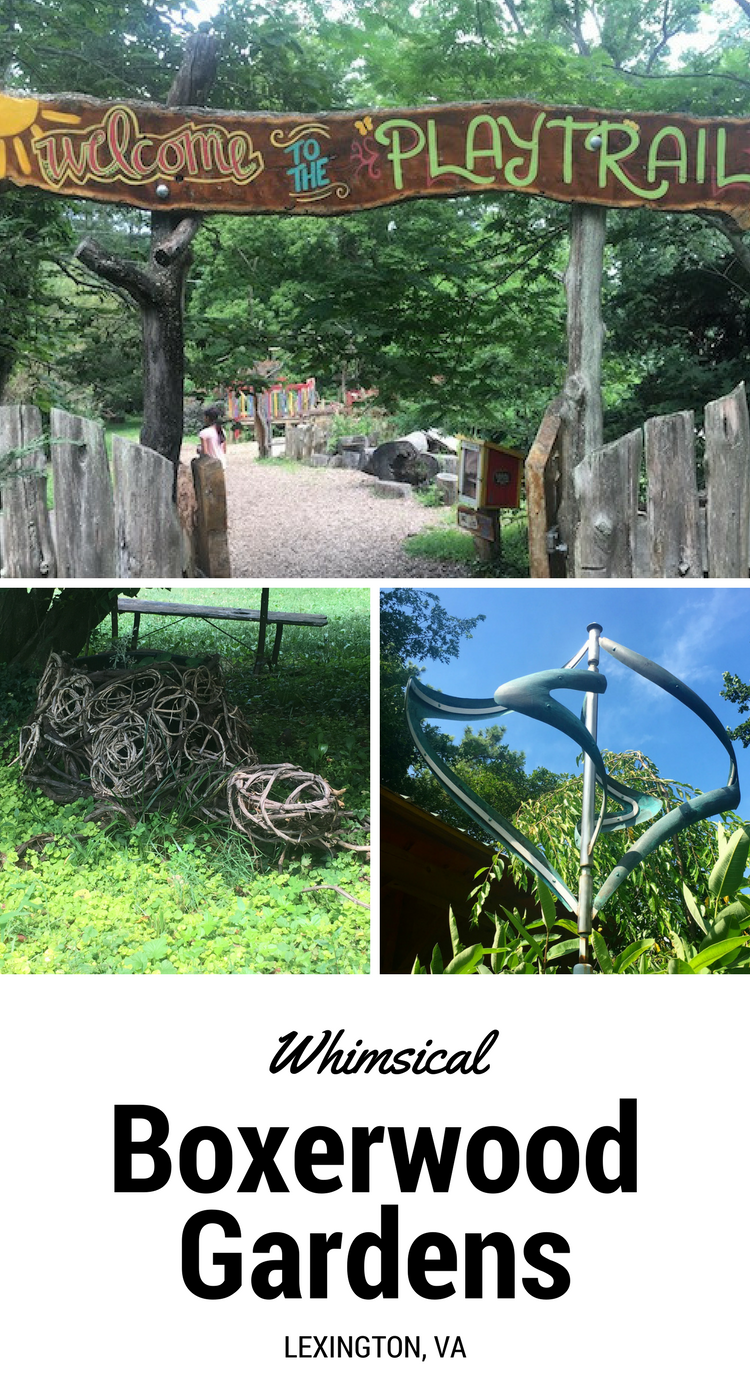 When traveling with three tween girls, some things just draw them in — like mention of fairies! So, on our trip to Lexington, VA last year, even after spending much of the day touring this historic town, everyone piled into the car excited to go fairy hunting.
We drove through picturesque Lexington neighborhoods until eventually arriving at Boxerwood Gardens on the edge of town. We climbed out of the car and headed to the covered park map to get our bearings.
Just across the walkway was the park's star attraction, the Play Trail.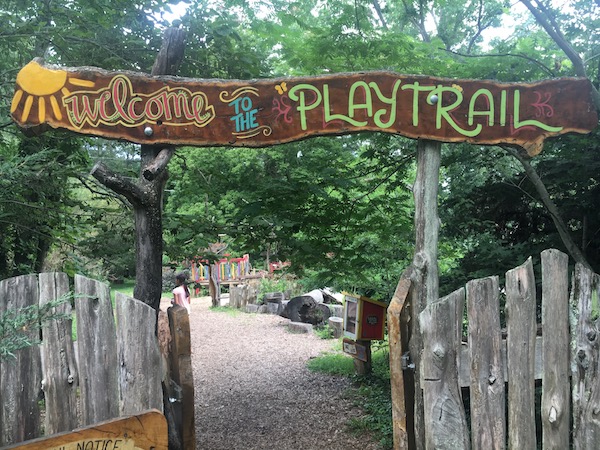 Everyone agreed, we should start there. Wow! Ellie and her friend, Leah, ran directly to the rope bridge to test their skills. It's way harder than it looks!
It didn't take long, though, until we all got into it. Just look at fellow mom, Stephanie, sharing her musical talents!
The girls checked out the whole Play Trail, the kitchen, the teepee, the "dig to China" pit and even crawled through the bug tunnel. I thought at age 12 they might find it too childish, but I was pleasantly wrong!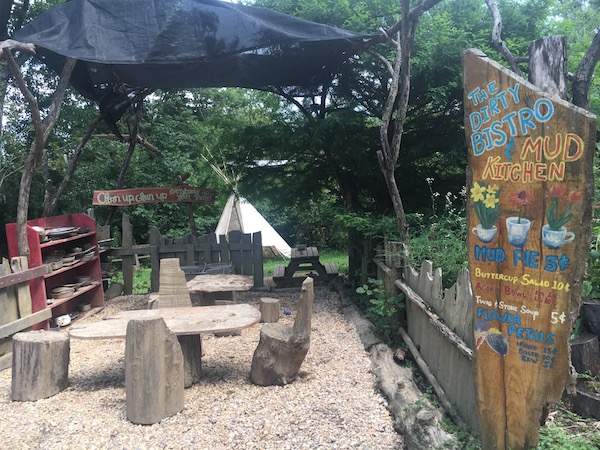 After playing in the garden, we wandered along the trail to the Munger home that now provides restrooms and education space. Along the way, we enjoyed the many sculptures tucked into the garden scape.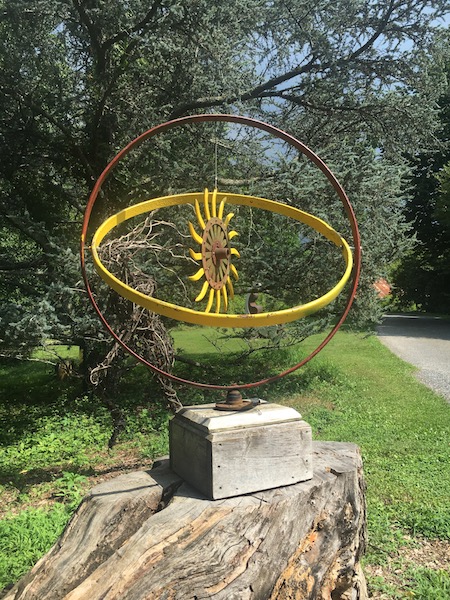 After a break in the air-conditioning, we ventured out to find the fairy garden. Once again, we were not disappointed. Well, the girls were a little disappointed that they didn't see a single fairy. Maybe they were off taking a swim in the creek to beat the heat?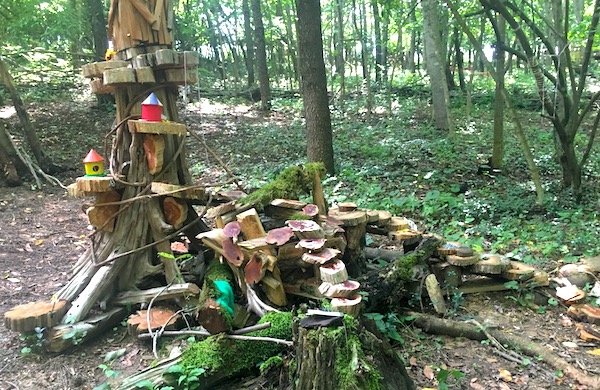 We all enjoyed exploring the gardens and using up some pent up energy left over from a day of museum tours. 🙂
Boxerwood Gardens: How it all began
In 1952, Dr. Robert Munger and his wife built a family home just outside Lexington, Virginia. To provide summer shade, Dr. Munger planted his favorite trees — conifers, dogwoods, rhododendrons and more. Through the years, his family and his garden grew. In 1977, he retired from medical practice to become a full-time gardener, a passion he pursued until his death in 1988.
Boxerwood Gardens was such a passion that his wife and friend, Karen Bailey (KB), continued to care for the grounds after his death. Ownership eventually passed to KB Bailey and Hunter Mohring, and Boxerwood Gardens opened to the public in 1997. Since then, a number of organizations have invested in the gardens, creating an education program that is used by local elementary and middle schools every year.
Beyond the school programs, Boxerwood Gardens is open to the public year-round and sponsors special events seasonally.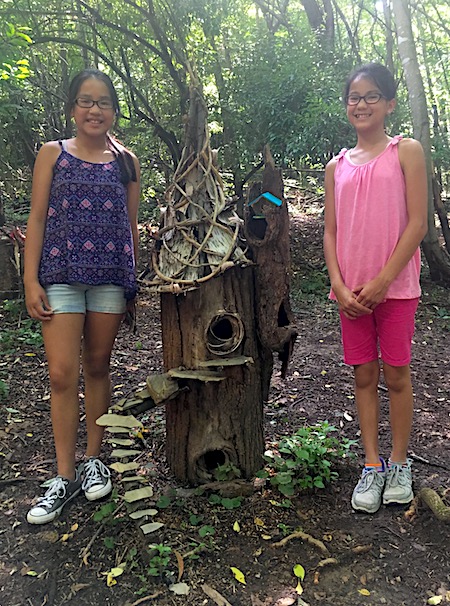 Tips for visiting Boxerwood Gardens
Boxerwood Gardens are whimsical and inspire play. Encourage exploration with these tips:
Let the kids get dirty! The Play Trail, especially, inspires kids (and adults, too) to try new things!
Though geared more toward "kids" than "teens," teens will enjoy it too — if you let them explore what interests them.
Parents, you play too! Boxerwood Gardens is a great place to let kids' imaginations take the lead and you can join in the fun!
Bring bug spray and sun screen. Designed "organically," bugs like it here. Bug spray helps. And, while much of the garden is shady, wear sunscreen.
Allow several hours (3-4 hours) to visit.
Bring a picnic — or at least bring snacks and water bottles!
Discover something new.
Bring your camera!!!
Important: Double check camp and school field trip dates before you go — some areas might be closed to the public during these times.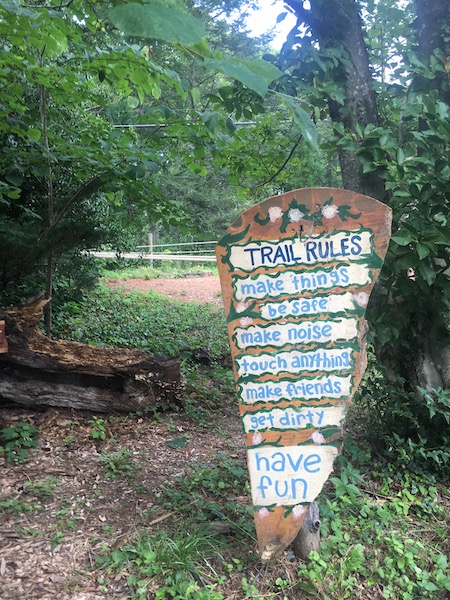 Location: 963 Ross Road, Lexington, VA (you drive through residential neighborhoods to get here!)
Hours: Open daily from dawn to dusk (some gardens may be closed to the public during special events)
Admission: FREE! Boxerwood Gardens relies on grants, donations and memberships to operate. Consider supporting it by making a donation.
More to see and do in Lexington