2017 Lexus NX 300h: My luxury road trip experience
This post may contain affiliate links. Click here to see what that means.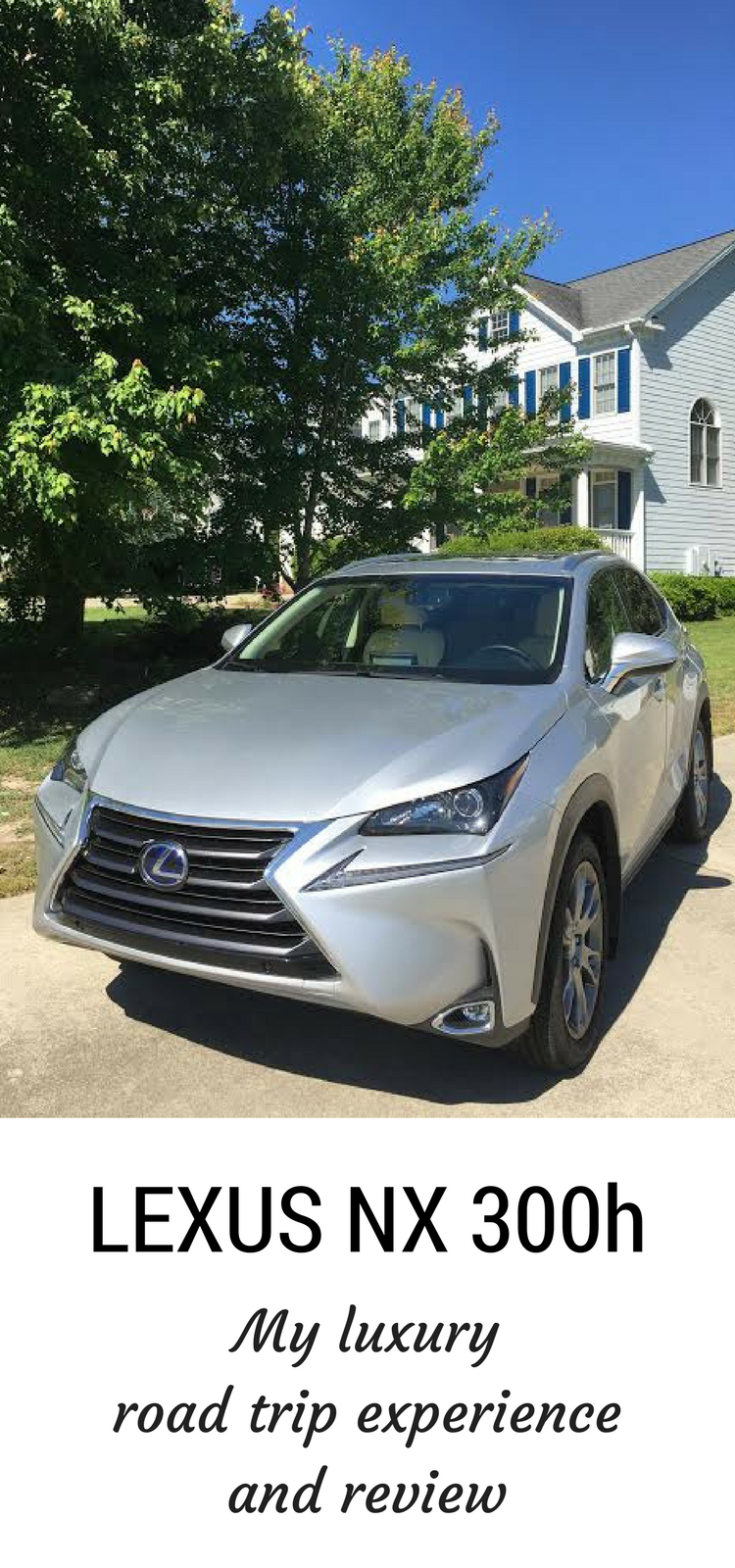 When the Lexus NX 300h, Lexus' luxury hybrid crossover vehicle, was dropped off at my house for a road trip test drive, I tried not to smile. But, a huge grin spread across my face. It's not often that I get to drive a luxury car, much less take a luxury road trip in one.
Right away, I noticed the sporty design. This hybrid SUV disguises its good gas mileage (I got 29.3 mpg) in a high end package. The sport wheels, daytime running lights and moonroof certainly drew no complaints from me — or from Ellie.
I opened the door to take a peek inside. Just look at that buttery yellow leather interior with black and chrome accents. More sporty lines, double stitching on the trim and an impressive center console scream luxe, but let me know that this car was designed for people who really like to drive. Or, for people like me who road trip often.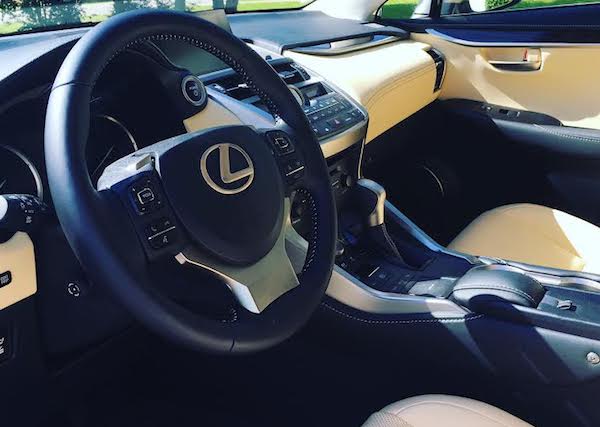 The interior design is all about driver control. The Remote Touchpad, which operates much like the trackpad on a computer, controls multimedia, climate controls and navigation. . I was able to adjust navigation, entertainment and other information screens intuitively. For this tech challenged lady, that says a lot!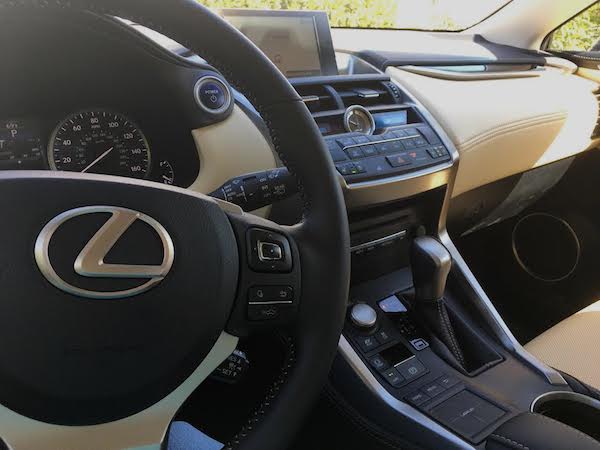 I dropped into the seat and immediately noticed how it "hugs" the driver. To be honest, it took me a while to get the seat in just the right position — but that's just because there are so many options. Once I found my sweet spot, I knew my personal car would never feel quite so comfortable again.
The Lexus NX 300h doesn't lack for safety features either, such as:
Backup camera with dynamic gridlines (which shows where you are going — and where you should be going)
Blind spot monitoring with rear cross-traffic alert
Rain-sensing wipers (which I needed on my trip!)
Whiplash injury lessening (which I did NOT need, thankfully)
Intelligent high-beam headlights (which adjust based on traffic)
Rigid body structure with crumple zones (thus the 5 star safety ratings)
Direct tire pressure monitor system (with alerts if too low or too high)
and more.
Beyond the obvious safety features, thoughtfully placed controls add to the car's overall safety. With control buttons on the steering wheel, I could change channels on the sound system, set cruise control and following distance, and check engine status, tire pressure and miles left in the gas tank — all without having to look away from the road. When the NAV system is active, a small screen in the center of the driver's dash even shares information so I don't have to look to the side.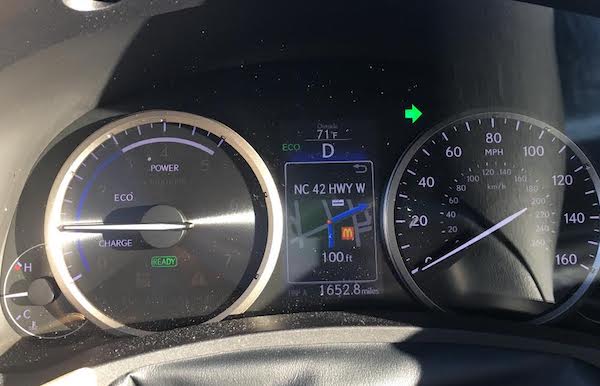 Who should consider the Lexus NX300h
This is a great car for:
Singles or couples,
Road trippers who want a luxury crossover AND good gas mileage,
Business people who spend a lot of time on the road.
I wouldn't recommend this car for:
Families with more than one child,
Families that take long (more than a week) vacations and/or pack a lot,
People who haul a lot in their car.
What the Lexus NX300h costs
The base price of the Lexus NX 300h is $39,720.
Add-ons to consider include:
Luxury Package:   $4545
Navigation Package: $1815
Pre-collision system with all-speed cruise control: $900
Many other features are available allowing the buyer to personalize a car to their unique needs.
Putting those Lexus features to the test
I'm on the road a lot — and I'm a safety freak. Seriously, ask my husband. My kids know everything there is to know about assured clear distance, signaling lane changes, using lights in the rain and everything else you can think of.
I drove the Lexus NX 300h a grand total of 1,800 miles. I tested it out on curvy country roads. The car handled like a dream. My husband chuckled when he realized I took the lakeside road along all the coves when we were out running errands.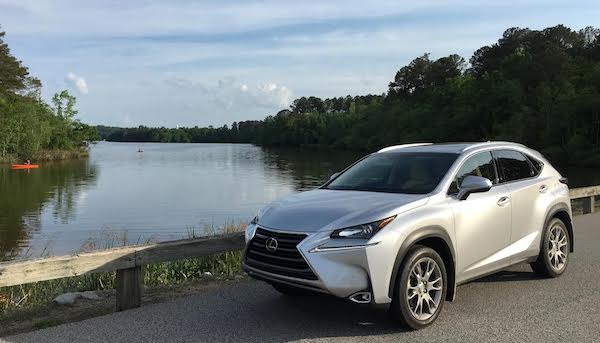 I timed my drive through Atlanta during rush hour — on purpose! The alert systems made that crazy traffic bearable.
When I got stuck in unexpected construction traffic in western Georgia, I discovered the "hold" button. When activated, this button holds the brake until you tap the gas to move again. My leg did not get tired holding down the brake pedal. Seriously, this little feature is a game changer for anyone who gets stuck in traffic a lot.
In Birmingham, summer heat and humidity welcomed me. I loved the air conditioned seats — no more hot sticky back! Lovely.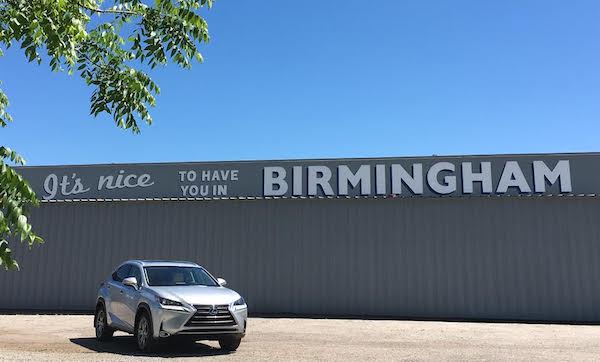 And then in Huntsville, I got the exact opposite weather, a cold, pounding rain. The heated seats came in handy there.
Even more, I LOVED the traction and control I had in a torrential rainstorm. High winds, hail and driving rain were no match for my Lexus hybrid.
In fact, when I got home from the trip a few days after this storm, my husband asked how I liked the car and I RAVED about how it handled in a rain storm. Yep. Leather, nav system, great stereo — and I was most excited about the traction in the rain.
What works inside
I loved driving the Lexus NX 300h. The console storage bin was perfectly positioned for me to rest my elbow. Though, I did find using the storage bin a little cumbersome. A shallow shelf to charge a cell phone sits just below the lid. You have to lift both the lid and the cell phone shelf to get to the storage below — so much for easy access gum.
My husband and both my sons got to ride along at some point on my trip. I expected them to be impressed with all the high tech features. The first thing each one of them noticed: the analog clock in the middle of the dash.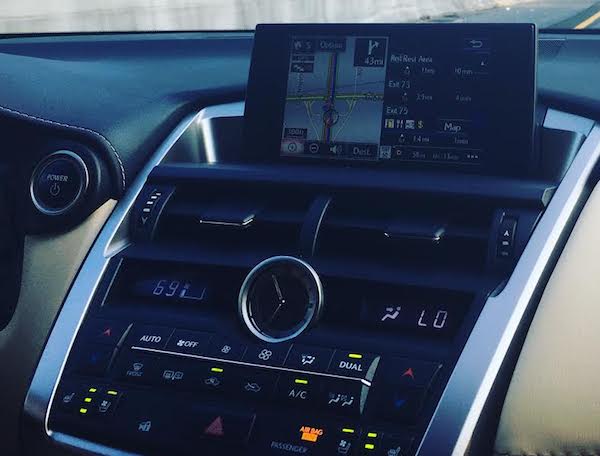 It does make a dramatic design statement, and apparently, men notice.
The biggest drawback of this car is its trunk storage. I got a week's worth of groceries in the back end — the cargo net was a big help. I easily carried my luggage, computer and pillow for a weeklong trip in the back end. However, I don't think the car would have enough trunk space for a family of four to vacation for a week, unless you pack really light.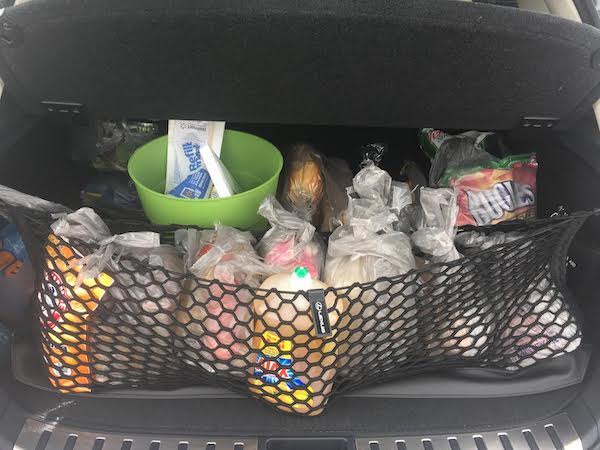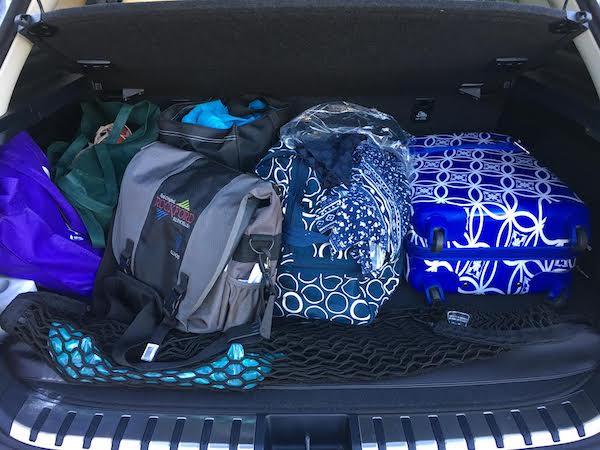 If you're in the market for a luxury hybrid SUV, the Lexus NX300h should definitely be on your list. It's a great car for people like me who spend a lot of time on the road. It's fun to drive, turns heads (especially at the grocery store) and handles like a dream.
Special thanks to DriveShop and Lexus for allowing me this extended test drive experience. To learn more about the Lexus NX 300h, visit Lexus online.