Busch Gardens Tips for 2023
Planning to visit Busch Gardens Williamsburg this year?
We have had annual passes to Busch Gardens Williamsburg for many years, so we know this theme park really well!
Here are all the Busch Gardens tips we know will make your trip great!
Things to do at Busch Gardens
There are lots more things to do at Busch Gardens than just ride the rides! Though, the rides at Busch Gardens are pretty amazing! Busch Gardens Williamsburg is regularly voted the most beautiful theme park in the world — and for good reason. It's a gorgeous park. Each area is true to its theme, enhanced by gardens.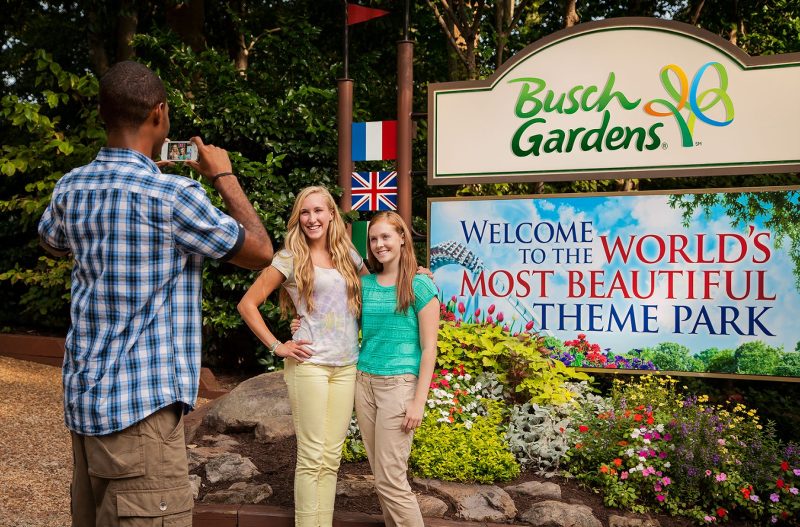 Busch Gardens Williamsburg gardening staff do a fantastic job creating the "mood" for each area of the theme park.
1. Our first Busch Gardens Williamsburg tip is take time to look around as you "rush" from ride to ride!
The gardens provide a good clue as to which part of the park you're in! They're a handy navigation tool for first timers. Like, this statue? It's in Italy. This isn't likely something you'd associate with Scotland.
And that leads me to our second tip.
2. Our second Busch Gardens tip is learn the map!
Busch Gardens Williamsburg is laid out loosely in a circle.
Each area's decorating theme is based on a country. The building facades, the music, the ride names and the gardens (of course) all reflect the feel of the theme country.
Looking at the map as if it's an old fashioned clock face, the park entrance themed like England is at 5:00.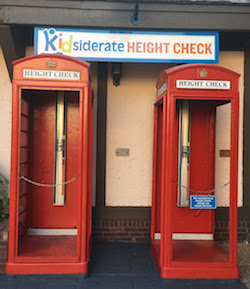 These iconic red phone booths reminiscent of England are just inside the park entrance on the right. Families with smaller kids can get a height check here with wrist band so they don't need height checks throughout the day.
If you go clockwise (toward the left) from there, you'll pass through these "countries" in this order:
Sesame Street Forest of Fun — an area for the smallest Busch Gardens guests!
Italy — featuring Apollo's Chariot, a 170 foot tall coaster that reaches 73 miles per hour and Pantheon, the worlds fastest multi-launch coaster!
Germany — featuring Verbolten, a multi-launch roller coaster that has an 80 foot drop, DarKoaster, the only indoor "straddle-coaster," and Das Festhaus, an indoor dining area that also hosts many shows.
New France/France — featuring two coasters: Alpengeist, an inverted coaster with six inversions at the gateway between Germany and New France, AND Griffon, the first floorless dive coaster with a 205 foot drop, in the heart of the France area.
Ireland — featuring the award winning Celtic Fyre which performs traditional Irish dance daily throughout the summer in the Abbey Stone Theatre.
Scotland — which has the main train station for the park and the famous Highland Stables, home to famous Clydesdales.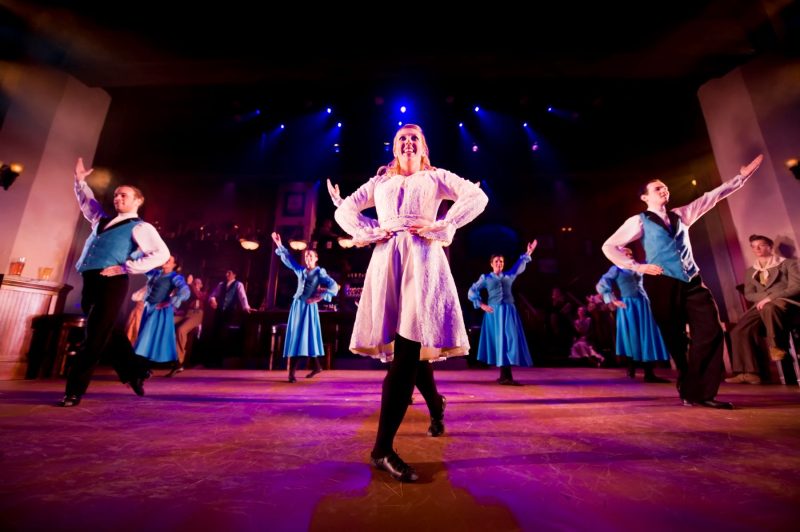 3. Our third tip is download the FREE Busch Gardens Park app before you go
The Busch Gardens park app is available for both android and Apple devices:
The apps are free and make finding things in the park very easy. The map section lets you search by name of attraction if you know what you're looking for.
If you don't know the name, you can search by category: Animals, Shows and Presentations, Rides, Dining, Shops, Restrooms and Guest Services. If a ride, attraction or dining area is closed, it will not show up on the map!
A guide provides descriptions of each attraction, activity and dining option.
It's easy to navigate, making your day at the park easy to navigate!
4. Our fourth Busch Gardens Williamsburg tip is have a plan for the day!
One thing we see early morning every time we visit Busch Gardens is people rushing to the train station (Scotland) or the Skyride (toward Italy and Sesame Street Forest).
I'm sure they're thinking they'll catch a ride to the back of the park to get ahead of all the other people coming into the park. It's a great idea, except everyone else has that idea too! The train line is really long early in the day!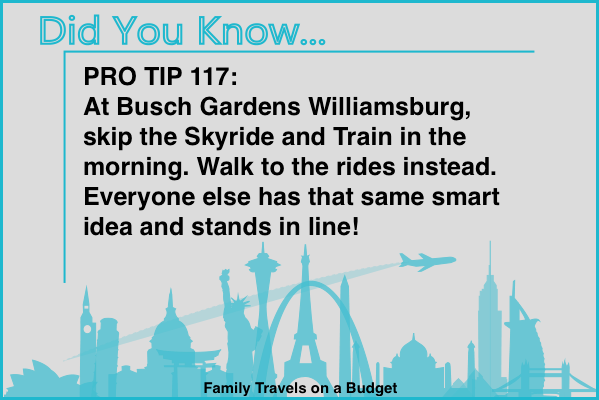 We generally choose to start the day in France to ride Griffon or in Germany to ride Verbolten. And then we continue clockwise from there.
Skipping past Italy, we tend to get ahead of the long lines.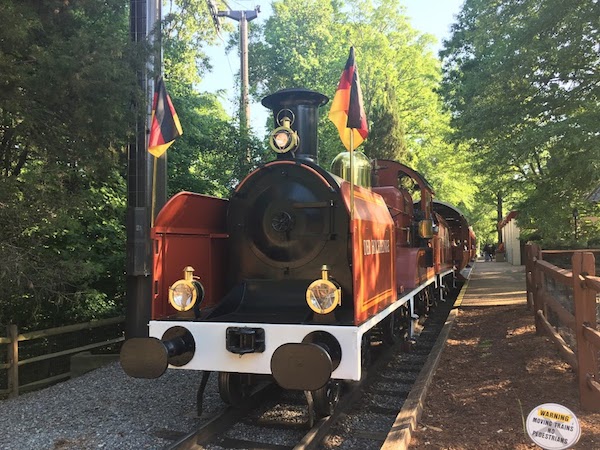 Later in the day we like to use the train or the Skyride to get from one section of the park to another.
The train has stops in Italy, France and Scotland.
Skyride connects England, France and Germany.
Using them later in the day, we can reapply sunscreen while giving tired feet a break!
5. Our fifth tip is reassurance: Yes, Busch Gardens is a good park for little kids
Busch Gardens strives to be a "kidsiderate" park, aimed at entertaining the 9 and under crowd so parents and kids can play together.
With more than 40 kid-friendly attractions, kids' meals and family restrooms throughout the park, they take their mission seriously.
Not only that, Busch Gardens Williamsburg is offering FREE park admission for 3 to 5 year olds through October, 2023. This ONLINE ONLY offer must be redeemed by May 31, 2023. Simply register for the FREE preschool pass AND REDEEM it at the park before May 31, 2023 for free admission all season long.
Busch Gardens Williamsburg makes it really easy to know which rides are safe for kids — from the youngest to the "almost big."
Have your child's height measured at the Kidsiderate Height Check near the park entrance. Your child will get a wrist band for their height. Signs at rides indicate which color bands can ride.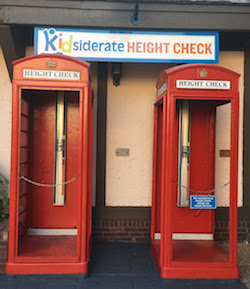 There are two kid-specific areas in the park. Sesame Street Forest of Fun near Italy has kids' rides and a splash pad area. They even have covered stroller parking to keep the seats from getting hot in the bright sun!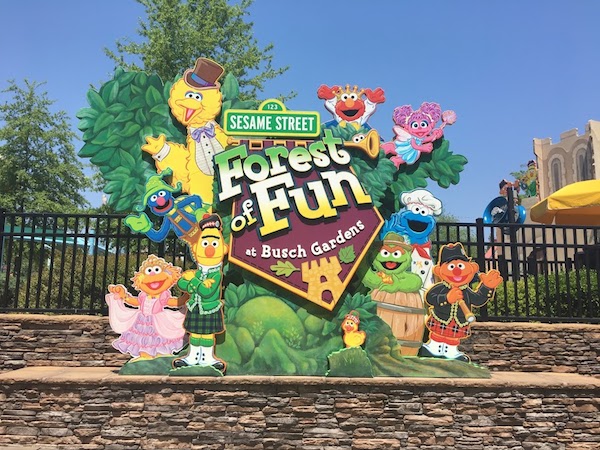 Land of the Dragons near Germany has climbing nets, a splash area and more kid-friendly rides.
But kids aren't relegated to the kids' areas. Throughout the park, kids will find fun rides to enjoy, like the bumper cars. The train and SkyRide are also great for kids — little and big.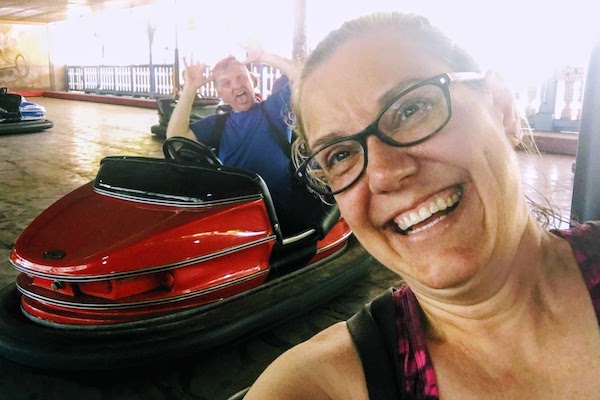 6. Our next tip is enjoy the award winning entertainment!
Shows offer a great break from the hectic pace of theme park rides.
An added bonus, most are air conditioned — or at least have big fans to cool the crowds!
Find shows like Celtic Fyre (Ireland), Trainer Talks at Highland Stables (Scotland), and Sunny Day Celebration (Sesame Street Forest) in the Busch Gardens app.
The shows in Das Festhaus and Italy let you eat while enjoying the show!
7. Our seventh Busch Gardens Williamsburg tip is consider Water Country USA!
Water Country USA is where you'll find most water rides.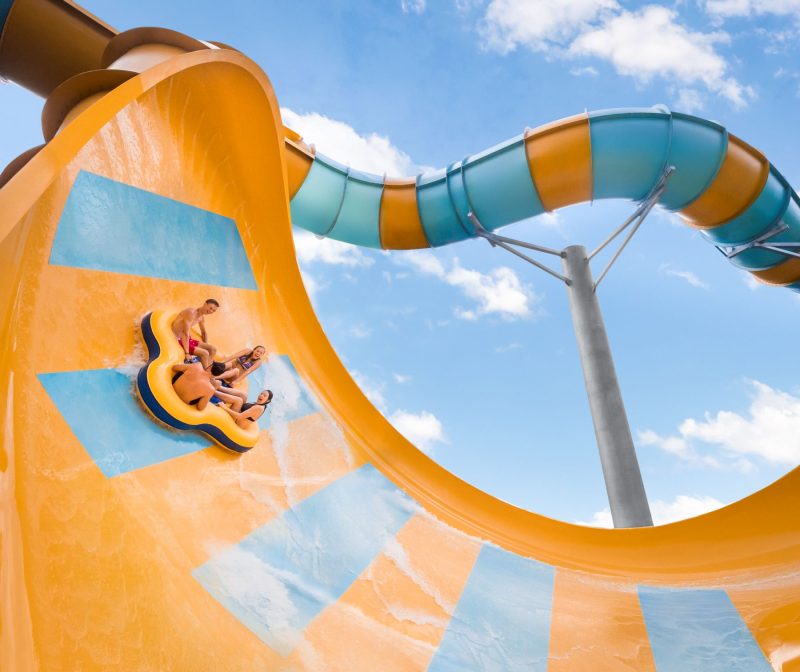 Though, Busch Gardens does have "Le Scoot," a traditional log flume ride in New France, "Escape from Pompeii" in Italy, and "Roman Rapids," also in Italy.
Back to Water Country USA…
Water Country USA is Virginia's largest family water park featuring a cool beach vibe, with resort-style amenities. With more than 40 water rides and attractions, including Cutback Water Coaster — the only RocketBLAST® coaster on the East Coast, Water Country USA consistently is voted one of the 10 best outdoor water parks in the country.
Family Travels on a Budget PRO TIP! If you plan to visit the water park and the theme park, save with a multiday ticket!
8. Our eighth Busch Gardens Williamsburg tip is don't miss DarKoaster!
The newest attraction at Busch Gardens Williamsburg is DarKoaster, in the Oktoberfest/Germany area.
The story is that King Ludwig's abandoned fortress resurfaces as strange weather patterns are recorded near cursed castle grounds. Brave riders will mount snowmobiles, the first all-indoor straddle coaster, on an expedition to discover the mysterious phenomenon. Of course, there's more to it than just a snowstorm!
This is the ONLY ride of its kind in North America! It's going to be amazing!
9. The ninth of our Busch Gardens Williamsburg tips is get the All-Day Dining Deal
We crunched the numbers and can say, with certainty, that the All-Day Dining Deal is a good value for most people!
How does the Busch Gardens All-Day Dining Deal work?
Guests receive a wristband that will lets them to go through a restaurant line once every 90 minutes for the day at Das Festhaus, Marco Polo's Marketplace, Squire's Grille, Trappers Smokehouse, Les Frites, German Pretzels and Beer.
ADULT plan: (1) entrée, (1) side OR dessert and (1) regular-sized non- alcoholic fountain beverage
CHILD plan: (1) Kid's entree, (1) side OR dessert and (1) Kid's size drink
That's a main dish, a side or dessert and a beverage every 90 minutes!
If you just want fries and a soda, skip the main dish. If you just want a sandwich and drink, that's okay, too!
If you eat three different times — lunch, afternoon snack, and dinner — you'll save money with the All-Day Dining Plan.
Busch Gardens does not allow you to bring outside food into the park.
---
---
10. Our tenth tip for Busch Gardens Williamsburg is SAVE SAVE SAVE!
Busch Gardens Williamsburg has great ticket bundles to help you save! And at Family Travels on a Budget, if we can save a few bucks here and there, that's awesome!
Here are some of the ways to save at Busch Gardens Williamsburg:
Get a two-park FUN CARD for unlimited visits the whole season (May-Labor Day) for BOTH Busch Gardens Williamsburg and Water Country USA for only $116.99! **This is a limited time offer!
Get a Two-Day Ticket if you want to spend two days in the parks, and save at least $40 over single day tickets! (You know, bundle and save!) Two-day tickets are only $99.99 and can be used anytime within six months. So, if you want to go for one day in June and again in August, you can!
For even greater savings, get a Three-Day Ticket for only $10 more (that's $109.99)
You know how I said that the Busch Gardens meal deal is worth it?
You can SAVE even more if you purchase the All-Day Dining Plan with your tickets. Purchased separately, the adult dining plan is $49.99. A deal, but not a great deal.
If you purchase the dining plan WITH YOUR TICKET, that price drops as low as $27.50 per day! Only $27.50 to eat every 90 minutes all day long? That's what we call a bargain!
Frequently asked questions about Busch Gardens Williamsburg
How much is parking at Busch Gardens Williamsburg?
Single-day parking in Busch Gardens Williamsburg starts at $30/day for general parking and goes up to $50 for VIP parking closest to the park entrance.
If you buy a season pass, general parking is included, along with many other perks!
What day is Busch Gardens least crowded?
Generally, Busch Gardens is least crowded on Tuesday and Wednesday.
What day is Busch Gardens most crowded?
Busch Gardens Williamsburg is most crowded on Saturdays during the summer, and also on holidays.
Where can I find Busch Gardens Williamsburg discounts?
Start with the Busch Gardens website for annual passes which offer the most savings!
But also look at Fun Cards that offer seasonal savings.
Family Travels on a Budget PRO TIP: Purchase by the middle of May for greatest savings.
How many days should I plan for Busch Gardens Williamsburg?
With a little planning ahead using our Busch Gardens Williamsburg tips, you can enjoy the park in one day. Though, we recommend two days for a more relaxed visit. If you want to experience Busch Gardens and Water Country USA, you'll need at least two days!
What else is there to do near Busch Gardens Williamsburg?
Busch Gardens is a great theme park, but there's lots to do nearby in historic Williamsburg and Hampton, Virginia:
We hope these Busch Gardens Williamsburg tips help you plan the perfect getaway for your family.