Tips for Travelling to Ireland
When people consider their first European vacation, an Ireland family vacation is often near the top of their list.
A land of magic and mystery, history and hauntings, faeries and friendly people; with no (or very little!) language barrier, Ireland is tailor made for families!
But you might wonder how much does it cost to go to Ireland? Or, are there any good tips for traveling to Ireland for the first time?
With so much to see and do, tips for travelling to Ireland are sure to help!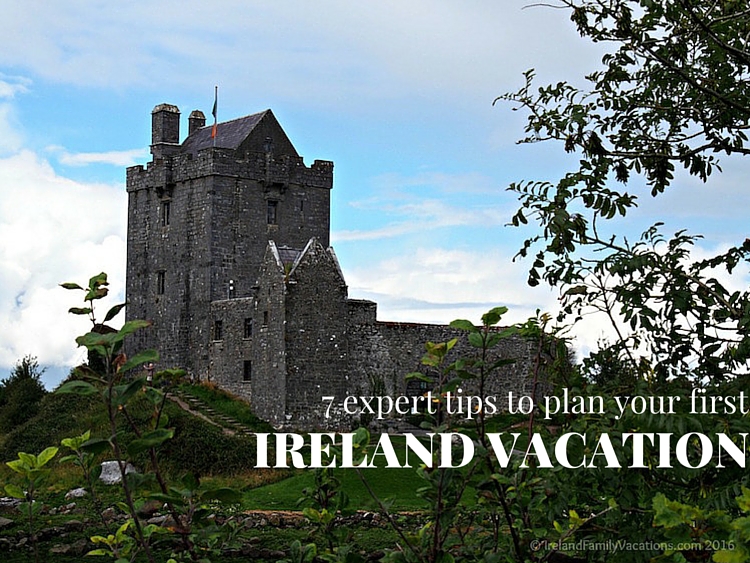 To make vacation planning easier, I have compiled these tips for traveling to Ireland for the first time to help you plan your own magical Ireland vacation.
The first two steps in Ireland vacation planning are obvious: choose your dates and purchase your flights.
But after that point, options get a bit more difficult. City or country? Train, bus, or car? Ring of Kerry or Giant's Causeway? History or adventure?
Taken one step at a time, these tips for traveling to Ireland for the first time will help you plan the perfect Ireland vacation for your family.
Ireland Travel Tip One: Rent a car
DO rent a car on your Ireland family vacation.
Yes, I know it's a bit scary to think about driving on the 'wrong' side of the road. But it is really quite easy to manage if you have a good navigator and have a general idea of your route beforehand.
Some things to remember about renting a car in Ireland:
Most cars in Ireland are manual transmission (stick shift), so if you can't drive one, be sure to reserve an automatic transmission (costs a little bit more).
Auto insurance in Ireland is mandatory and a bit tricky as most credit cards do not offer overseas coverage. Some that do offer coverage are not accepted in Ireland. With that said, learn about

Collision Damage Waiver and car rentals in Ireland

before you rent a car

.
If you just can't imagine driving in Ireland, look into hiring a driver guide from a company like Ireland Chauffeur Travel.
Or consider staying in larger cities like Dublin, Galway, and Killarney and taking guided tours from there.
Renting a car will keep overall transportation costs down during your trip, but letting someone else handle the driving can ease your stress.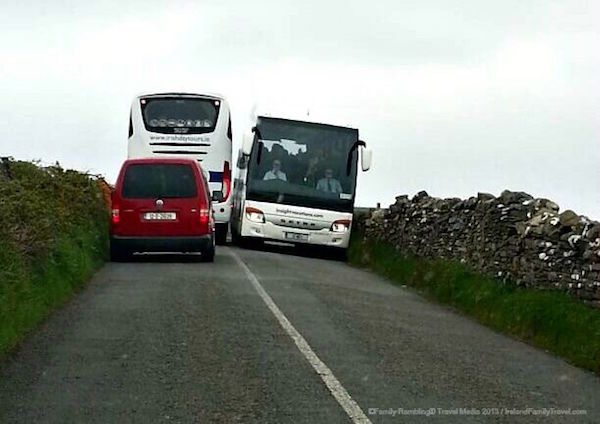 Ireland Travel Tip Two: Don't try to see it all in one trip
Don't try to 'see it all.'
The one thing that will ruin your Ireland family vacation is too much driving and not enough doing. You will not miss places you didn't see, but you may always regret leaving a location too soon, before you really had a chance to explore it.
Ireland is not a country made for zipping from site to site. Point A to Point B may only be 100 miles apart, but those miles include narrow, winding roads through mountains, small villages, and picturesque farmland edged by stone walls which hug the road.
Of all the Ireland travel tips, this one really impacts enjoyment the most: Explore, enjoy, and embrace slow travel to get the best of what Ireland has to offer. Don't be a 'snapshot tourist'.
Ireland Travel Tip Three: Pick your "must see" sites and plan your Ireland family vacation around those
DO choose a few 'must visit' sites and plan your Ireland vacation itinerary around those.
Choose activities and destinations based on what your family enjoys- not what others say you must see.
Yes, the Cliffs of Moher are incredible, but if your family enjoys science over scenery you may find that Birr Castle is a better option.
Not sure how to decide what to see? Begin by determining your family's goals for the trip and interests. Then use the interactive map on Ireland Family Vacations to discover attractions around Ireland.
You can also compare prices, especially if you want to keep your budget low.
After deciding on your 'must visit' sites, find other fun activities in the area to add to your itinerary if time allows.
Essentially, this tip for travelling to Ireland can be simplified as don't miss out on enjoying one thing by rushing to get to the next!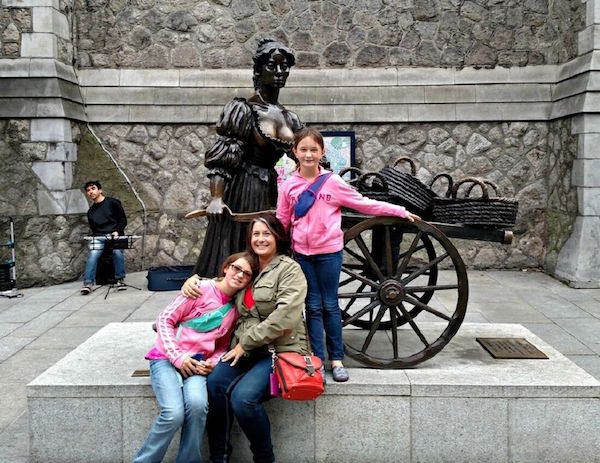 Ireland Travel Tips Four: Visit touristy attractions like Killarney National Park, Dingle Bay or the Blarney Castle
Don't skip an attraction or activity because it seems 'too touristy.'
To be honest, this is a travel tip for wherever you go.
I've been guilty of this myself and have regretted it. Tourist sites and activities are popular because they are good. Does that mean they are all the right fit for your family? No. But just because someone else says it's 'touristy' doesn't mean you won't enjoy it.
Prime examples of this are horseback riding in Killarney National Park, the boat ride to see Fungi the Dolphin in Dingle Bay, and a visit to Blarney Castle.
So, file this in your tips for traveling to Ireland for the first time: Do what your family will like whether it's touristy or not!
Ireland Travel Tips Five: Spend an evening at the local Irish pub
DO spend an evening in the local pub on your Ireland family vacation — yes, even with the kids.
Ireland and pubs go together like fish and chips. You really can't fully experience one without the other. Of course, Irish pubs and fish and chips go together quite nicely, too.
Travelers tend to see the Irish pub as an adult experience, but it is a place your entire family is welcome and can enjoy. The Public House (or pub) is a community gathering place. A place to relax, enjoy the craic, and (hopefully) catch some live music.
---
---
An article on Ireland travel tips would be incomplete without a word on good pub etiquette!
Choose a table near to the bar, but far enough away that your family won't be in the line of food and drink delivery. Know that few pubs have table service, you'll be ordering from the bar.
And always ask if there is a time kids need to leave. Most village pubs will leave that to you – as long as children are well behaved, they can stay as long as you like.
Ireland Travel Tip Six: Consider B&Bs and cottages for lodging in Ireland
Don't shy away from B&B's, hostels, or self-catering cottages. Lodging options in Ireland are as varied as the landscape.
We usually mix & match our lodging – choosing a comfy B&B one night, followed by a self-catering cottage or family-friendly hostel for a few days to save money, then splurging on a 5-star resort or castle stay for a night or two.
Much like choosing what to see, there are many options to help you choose where to stay, like KAYAK and MOMONDO.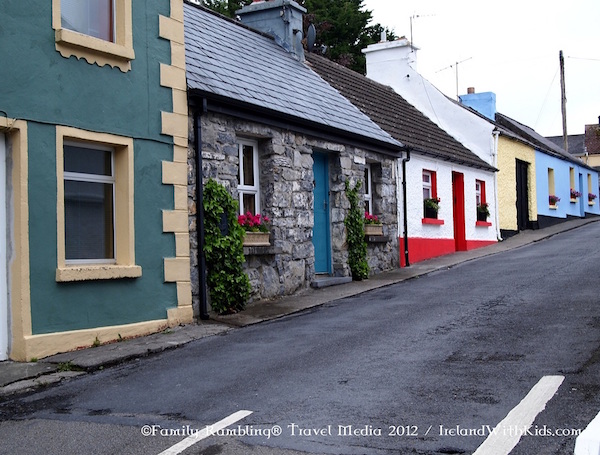 Ireland Travel Tip Seven: Try new foods!
DO try new foods on your Ireland family vacation.
Irish food had a bit of a bad reputation for many years, but that has changed. You can expect fresh, hyper-local ingredients nearly everywhere, from the small village B&B to the best restaurants in Dublin.
When talking Ireland travel tips, enjoying the local cuisine is a great way to learn about the culture. Then, when you get home, enjoy a home cooked meal reminiscent of your travels.
---
---
Each region in Ireland has its own flavor.
Independent butchers will have their own recipe for black and white pudding, for example. Buttered eggs are a specialty in Cork. And each restaurant serves local goats' cheese differently.
So while some Ireland travel tips are meant to make travel easier, this one is meant to help you get the most of this cultural experience! Go outside your comfort zone and try something new. Encourage your kids to do the same. You may be surprised by what you really enjoy.
A truly magical Ireland vacation is a very personal thing, not a 'one size fits all' itinerary cobbled together by a stranger. Even if you do use a planning service, be active in that planning and make that trip your own as much as possible. Follow the road less traveled and discover the magic of Ireland.
About the author
Jody Halsted has traveled across Ireland for over a decade with her own children, discovering the most family friendly sites and activities on the tourist trail and off. Dedicated to Ireland family travel, her website Ireland Family Vacations, provides exceptional Ireland travel tips for a magical Irish vacation.
More travel tips to help you plan a great vacation!