9 more fun things to do in Huntsville, Alabama
If you're wondering about fun things to do in Huntsville, AL, look no further!
I've made several visits (my last one a hosted conference for travel writers), discovering what to do in Huntsville, AL over the past few years. Every time, the city surprises me!
Seriously, I had no idea there were so many cool things to do in Huntsville — from the space center, to family fun, to nightlife, there are lots of fun things to do in Huntsville, AL — enough to make this a TOP vacation destination recommendation for budget family travel!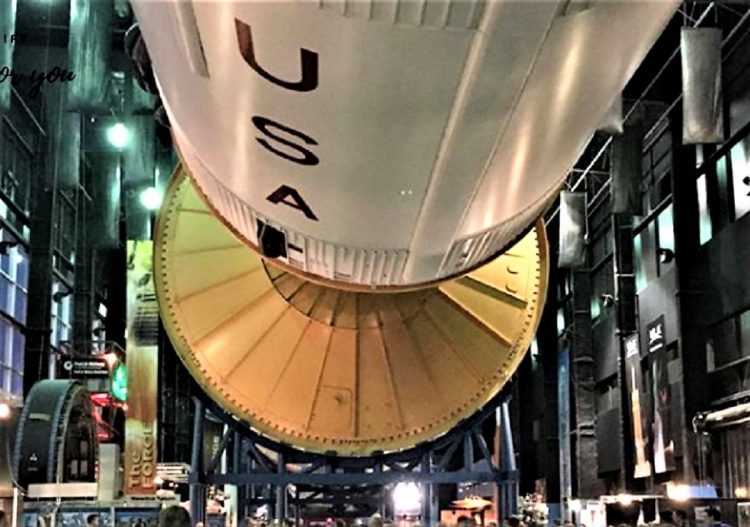 • Post updated January, 2020 •
10 fun things to do in Huntsville, AL
Huntsville is home to some of the smartest people in the United States.
Seriously, people here really are rocket scientists. And if they're not rocket scientists, they know one or two! When you put a bunch of really smart people together, they make some really wise choices — like the Land Trust of North Alabama — ensuring there are lots of fun things to do in Huntsville, Alabama to improve the quality of life for residents and visitors.
The Land Trust of North Alabama preserves farms and natural areas in the Huntsville area to enhance the quality of life for its people (and creatures). Nature preserves include the 1,100+ acre Monte Sano Mountain Nature Preserve, 843+ acres at Wade Mountain Nature Preserve and 971 acres at Blevins Gap Nature Preserve. Combined, the preserves provide more than 65 miles of free public trails to explore, some easier than others.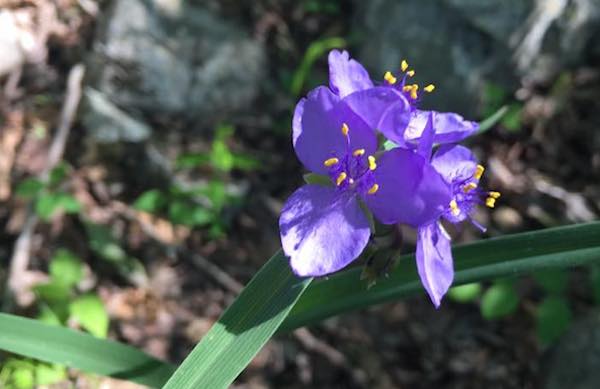 Docents offer guided hikes in the Land Trust of North Alabama region. On my hike, I learned how to identify spider wort (and other plants), listened for bird calls (but didn't figure them out — birding needs practice) and learned the history of the region. I enjoyed hiking with local experts whose enthusiasm for the Huntsville, Alabama area is infectious.
Volunteers lead hikes throughout the year for those who want to learn more about the area. Other events, such as kayaking on the Flint River are available (fees for some events).
2. Enjoy dinner and drinks at Campus 805, 2620 Clinton Ave. W
Campus 805 in Huntsville, Alabama is one of the premier entertainment districts in the citywith breweries, Huntsville restaurants and even pinball.
Campus 805's name comes from its legacy — as a school in the 35805 zip code! When school bell rang its last in 2009, the campus stood empty for years.
In 2014, a private development company purchased the school building and campus to create an entertainment district for the neighborhood. The first tenants were Straight to Ale Brewing and Yellowhammer Brewing. From there, the project grew and Campus 805 has become exactly what was intended — an entertainment district for families. After one visit, you'll be clamoring to go back to school!
Don't the let brewery tenants keep you from bringing the kids. Kids are welcome, too. And with all the events on campus, you'll never hear complaints of "I'm bored."
Some highlights, though I recommend everything, include:
A visit to Straight to Ale, where it's okay to drink beer in gym class! (As long as you're 21),
Ronnie Raygun's Pinball — you know. Pinball!
The Speakeasy. I'd tell you more about it, but then… well… you know. Anyway, the door to the speakeasy is hidden. Find it if you can! (A speakeasy? In Huntsville! YES!)
And the Fringe Hair Salon, where fun is part of the plan! (They do a great job on hair — this was their contribution to our 80's night event!)
Lowe Mill ARTS & Entertainment is the largest privately owned arts facility in the United States. It is housed in a historic cotton factory. Lowe Mill has 152 working art studios and six art galleries, in addition to theater and performance venues.
When you visit Lowe Mill, you can watch artists create, take a class or grab a bite to eat.
Besides the art studios, Lowe Mill also hosts concerts on the dock, one of the best entertainment values in Northern Alabama! The concerts are FREE! This family friendly concert series is offered on Fridays in spring and fall. Bring lawn chairs, picnics and even Fido (on a leash) for great entertainment "under the water tower."
If free concerts under the stars aren't cool enough for you, then you should attend concert in the caves at Three Caves Park. This — literally — is the coolest place in Huntsville, Alabama!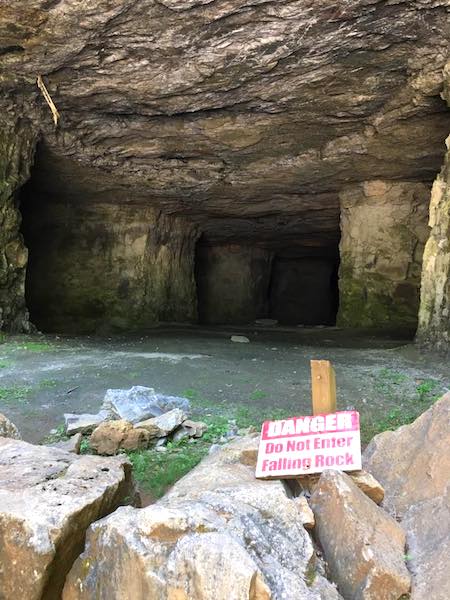 Three Caves Park (which is more than a concert venue) was once a limestone quarry. After the quarry was abandoned (too expensive), locals would explore the caves. When that became too dangerous, because of rocks falling from the ceiling for people to hike the caves, the Land Trust of North Alabama needed to find a new purpose for this unique area.
And it doesn't get much more unique than music concerts in a quarry with natural air conditioning — featuring Bonnaroo and Lollapalooza performers! Tickets are limited and sell out early, so plan ahead.
If you aren't able to attend a concert, hike the Three Caves Trail which meanders above the cavse to get a bird's eye view of the caves.
5. Take a Guided Walking Tour (Twickenham District, Ghost Tours and more), Downtown.
Many cities offer walking tours so I wasn't really excited to take the Twickenham Historic District tour of Huntsville. I'm just being honest!
The city's not all that big — there can't be much to say about the place. Right?
WRONG! The tour was both informative and entertaining — in just the right balance of both.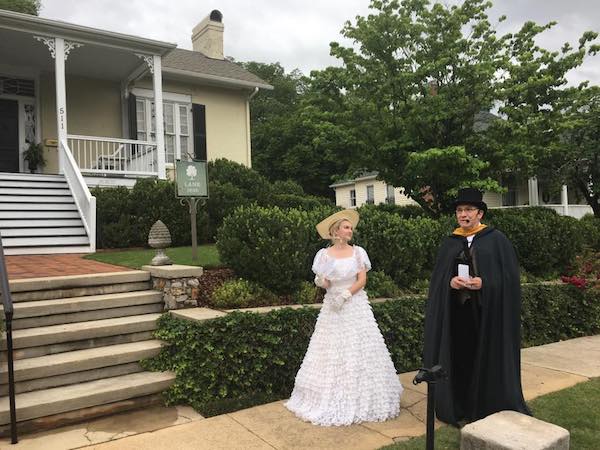 Many of the homes in Huntsville pre-date the Civil War, so the architecture is stunning. Isn't it curious that the city survived destruction from the invading north? (Find out why on the tour!) You'll also learn the Hallelujah story and giggle (I did anyway) when you find out who designed the university president's stately home.
Self-guided tours are available year round and guided tours are available at certain times.
6. Explore the Huntsville Museum of Art (at Big Springs International Park), Downtown.
The Huntsville Museum of Art is located in the heart of Huntsville, right next to Big Spring International Park. Tour the museum in the morning, then enjoy a picnic lunch in the park for a spectacular day.
The museum has a permanent collection of more than 3,000 pieces. It also hosts a number of traveling exhibitions each year. The museum shop also sells local art, jewelry and handmade items for unique souvenirs you're sure to treasure.
One thing I really like about this museum is that it's "big enough" to wander for hours if you want to, but "small enough" that kids won't be overwhelmed.
Built in 1819, the Weeden House Museum and Garden is now a 19th century house museum. Visitors travel back in time to learn the home's rich history — including its occupation by northern officers during the Civil War.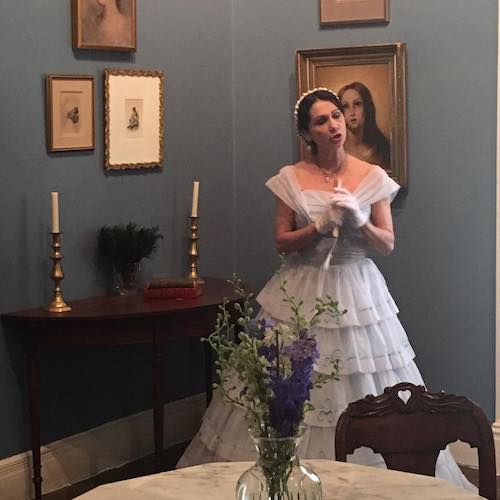 When you visit, look at the portraits hanging in the blue room on the first floor. They're simply astounding and challenge you to rethink stereotypes.
Public Tours are offered Wednesday to Saturday from 10:30-11:30 a.m. Admission is $5 for adults and $3 for children (5-12). Email theweedenhouse@att.net to reserve your spot.
8. Attend an event at the Von Braun Center, 700 Monroe Street
Also located in the heart of Downtown Huntsville along Big Spring International Park, the Von Braun Center is vital to the city. Besides serving as the city's convention center, the Von Braun Center is also home to the Huntsville Symphony Orchestra, the Huntsville community chorus, Broadway style shows, sporting events and other indoor events.
9. Enjoy a memorable dinner from The Biergarten at the US Space & Rocket Center
I truly love Huntsville, so it seems unfair to pick a favorite activity, but if I was forced to, I'd choose the Biergarten Dinner at the US Space & Rocket Center.
What's not to love about dining on authentic German cuisine while listening to German music and sitting below the Saturn V Spaceship? I mean, really? Who can argue with that?!
The Biergarten event is hosted Thursdays from 4:30-7:30 p.m. April through October. A portion of the food sales are donated each week to local non-profits.
And there you have it, nine more reasons to love Huntsville. And I haven't even gotten to the restaurants, the malls or the antiques!
If you're looking for someplace new to take the family on vacation, I really hope you'll consider Huntsville. People might look at you strange (like the looks I get), but once you go, you'll know what I do: rocket scientists know how to have fun!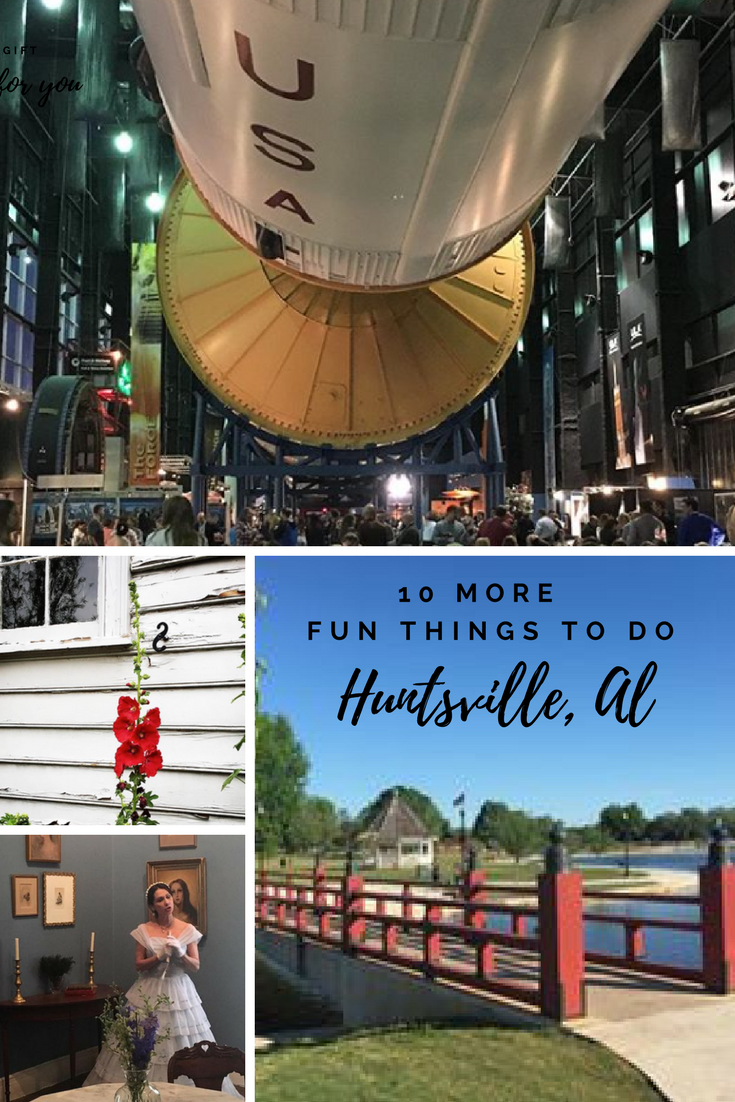 Family fun in Huntsville
For more on fun things to do in Huntsville, read these posts: