Hyatt Place in Charlottesville: Convenience and comfort for a great stay
Eight minutes! Yep, 8 Minutes in Charlottesville is all you need to explore this fabulous college town rich with history, arts, entertainment and food. More on Charlottesville's award winning foodie traditions in a later post…. for now, learn why all you need is 8 minutes in Charlottesville!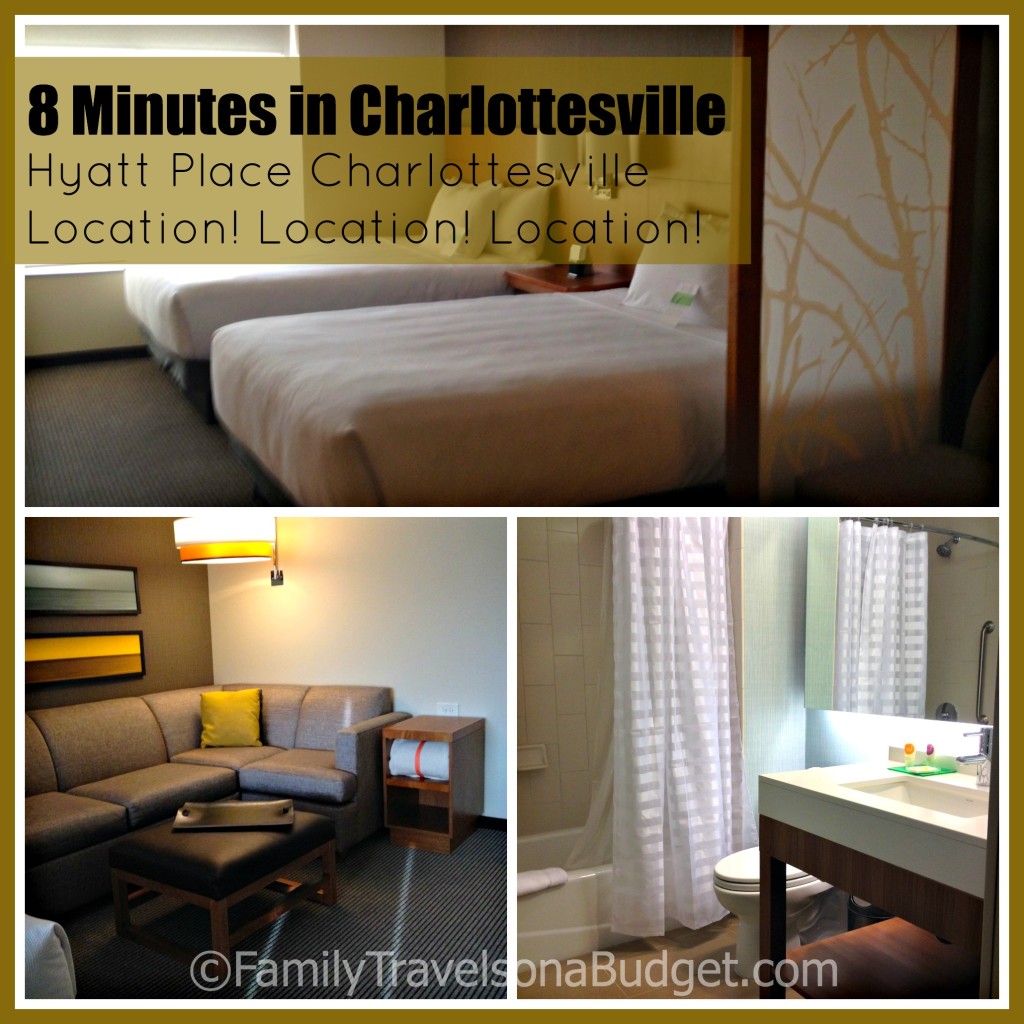 Introducing Hyatt Place Charlottesville
On a visit to Charlottesville, I stayed at Hyatt Place, located at 2100 Bond Street, near the Shops at Stonefield. Trust me ~ this Charlottesville hotel is in a GREAT location! Close to shopping and dining with easy access to downtown and the University of Virginia, the Hyatt Place Hotel makes a great home base for any Charlottesville visit.
Families will enjoy the spacious accommodations which offer two queen beds and a pullout sleeper sofa. Rooms also include a mini fridge, coffee maker, flat screen TVs and free wifi. On site, enjoy the indoor pool and fitness center, free HOT breakfast, and nooks and crannies to enjoy some quiet time with a book.
Traveling for business? Hyatt Place is designed for business travelers and rooms include great amenities like USB ports for the TV to review presentations. With Starbucks and dining options onsite, you can get lots of work done here in the comfort of your own room.
I stayed at Hyatt Place for a girls' getaway! What more could a girl ask for than a spacious, clean, nicely-decorated room, free breakfast to suit all palates and safe parking? How about, comfy sheets, a sleek bathroom with lots of shelf space and convenience to all things Charlottesville? YEP! Great place for a girls' getaway.
Our only "complaint" was the bathroom door. Hyatt Place is a loft-style hotel, and the sliding glass door doesn't offer the same privacy as a traditional door. It is finished to offer privacy, but light shines through and it doesn't buffer noise like a traditional door. Seriously, that's my only complaint. My son, who loves loft style living, would not see this as a problem.
Location! Location! Location!
Perhaps the greatest thing about the Hyatt Place Charlottesville Hotel is its convenient location. It's just about 8 minutes from everywhere and everything in the city!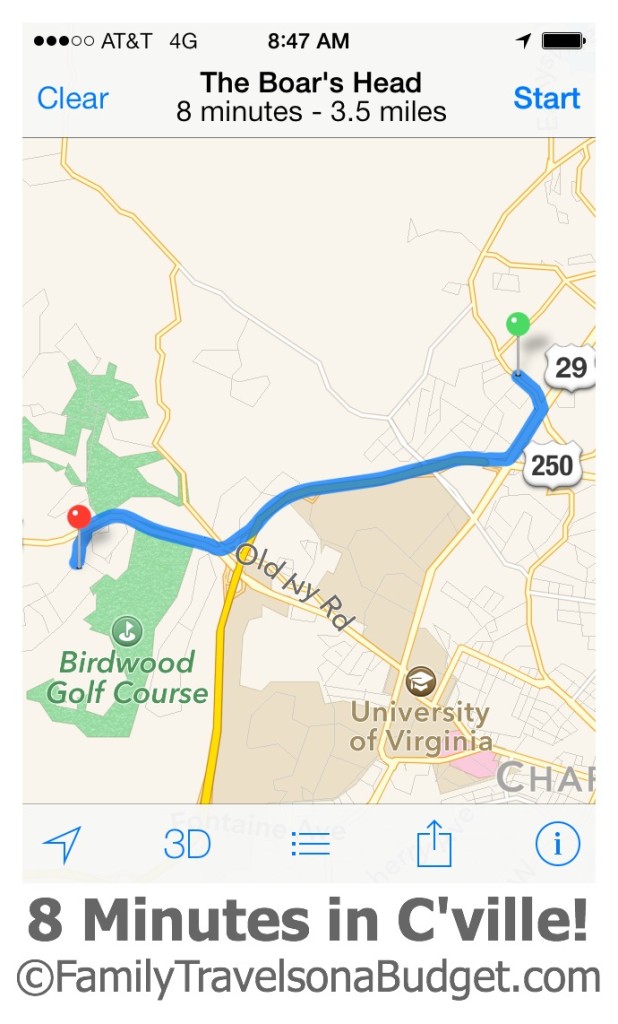 Really! My friend and I ventured all over the city and just about every time I plugged a destination into my phone, the GPS told me I was 8 minutes away. The first few times, we didn't notice. By the middle of day two, we'd wait for the GPS to upload our destination expecting it to say "8 minutes!" Seriously, everything in Charlottesville is 8 minutes away. How convenient!
So…. you don't need just 8 Minutes in Charlottesville. I suggest three or four days… but wherever you go, if you stay at Hyatt Place, it should only take 8 minutes to get there!
Address and Phone:
2100 Bond Street
Charlottesville, VA, USA 22901
Tel: 434-995-5200
Fax: 434-995-5211
Amenities:
Complimentary hotel-wide Wi-Fi Internet access
Gallery Menu, Fresh 24/7 with mouthwatering options including our signature flatbreads & more
Enjoy your complimentary a.m. Kitchen Skillet™ served daily, with hot breakfast items, fresh fruit, oatmeal and plenty more to choose from.
Grab 'n Go case offers new sandwiches & greens from our Gallery Menu and bottled beverages for moments on the run
Intimate Bakery Café serves Starbucks® specialty coffees & teas, premium beers and wines
Self-service check-in/check-out kiosks (NOTE: The front desk was well staffed and quite friendly. I suggest checking in with the staff!)
Audio visual equipment
Complimentary 24-hour Stay Fit® fitness center with Life Fitness® cardio equipment
Rates:
Range from $150-$250
SAVINGS TIP: Book ahead online to save about 10% per night.
We received a complimentary stay in exchange for this review. The opinions included in this post are entirely my own. For more info, read my disclosure policy.