Indoor Skydiving Fayetteville, NC (Our Experience and Review)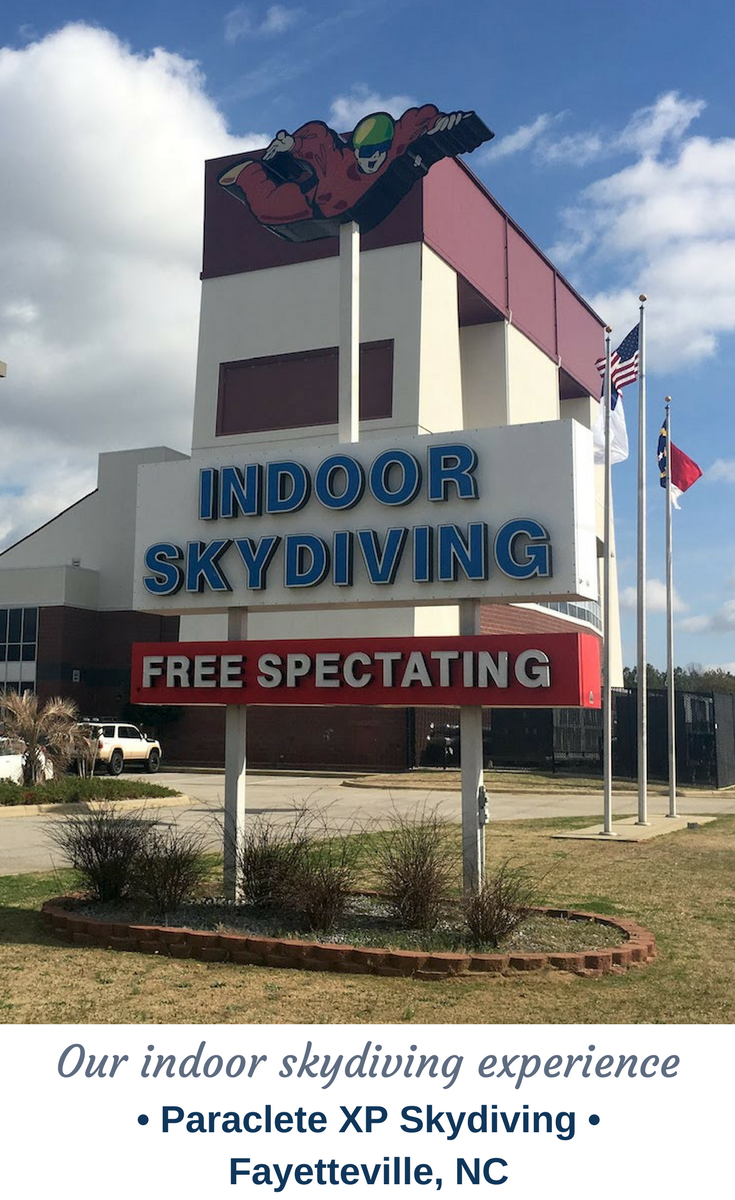 My husband has always wanted to learn to skydive, but I am slightly (majorly) opposed to him throwing himself out of an airplane. You know, if people were meant to fly, we'd have wings. Right?
But, I also love my husband's sense of adventure. He's rather more inspired by the ultimate adventure travel quotes of Ray Bradbury:
Stuff your eyes with wonder, live as if you'd drop dead in ten seconds. See the world. It's more fantastic than any dream made or paid for in factories.
So, in a magnanimous gesture, I surprised him with an indoor skydiving adventure with skydive Paraclete XP in Fayetteville, NC. Special thanks to the Fayetteville Area Convention and Visitor's Bureau for providing this opportunity!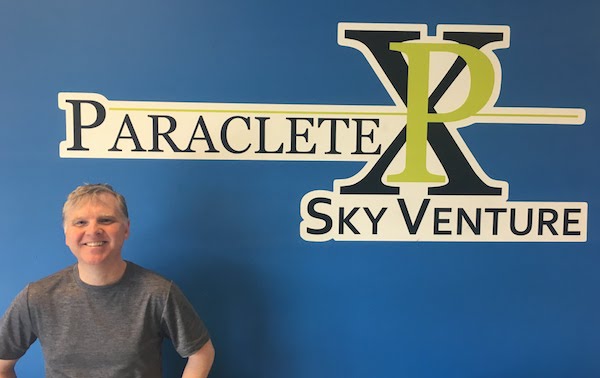 Anyway…. as the day of our indoor skydiving wind tunnel experience approached, I got more nervous. Don't tell Rob, though. Okay? I had trouble with the whole idea of lifting my feet off the ground. Both feet. At the same time! But, I was excited too. And, excitement won out. I'm glad, too! It's an adrenaline rush, but it's a "safe" adrenaline rush!
What is an indoor skydiving experience?
Indoor skydiving, simply put, provides the thrill of the fall from skydiving without need of an airplane. Using a vertical wind tunnel, the staff at Paraclete skydiving take skydiver wannabes (like Rob) and skydiving chickens (like me) on an exciting flight experience. The indoor skydiving experience is great for adrenaline junkies and adventurer wannabes, both. You don't have to be brave to fly in a wind tunnel!
Before you go wind tunnel flying
The first time you go indoor skydiving, aka bodyflying but not quite, it's important to know what to expect. Rob's lucky because I did the research and just told him what he needed to know.
1. Dress for your indoor skydiving experience
You'll be wearing flying gear and a helmet, so dressing comfortably (gym pants, t-shirts, tennis shoes) is better than tight fitting clothes or jeans. If you have long hair, a pony tail or braid will help. And for people who wear glasses, like me, use contacts if you have the option. If not, Paraclete XP Skydiving has larger goggles that fit over glasses. They're not quite as comfortable as the regular goggles, though.
2. Don't go right after eating
Wind tunnel flying in an indoor skydiving simulator is hard work! Rob and I had three whole minutes to fly, and we thought it would be easy. It's hard! A full fledged workout in three minutes. I am not joking! So, don't eat right before you go. But don't go on an empty stomach, either. Your muscles will need some fuel for flight.
3. Arrive 45 minutes before your scheduled flight
While an indoor skydiving experience lasts only 3 minutes (or 1 1/2 minutes, two times), there's a lot to do beforehand. The staff at Paraclete skydiving take you through the whole thing.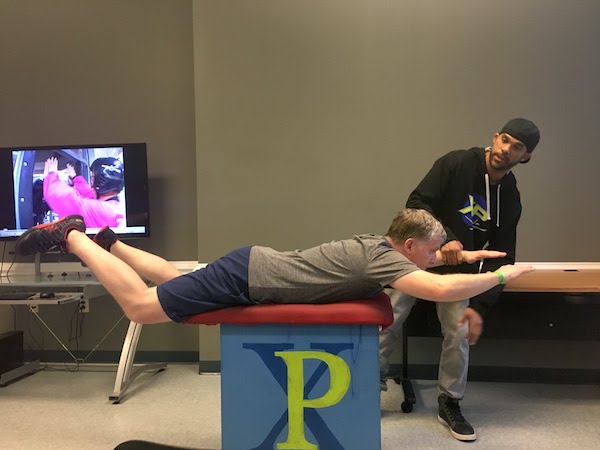 In a classroom, your skydiving group will watch a video that explains step by step what to do. You'll learn hand signals that are used during your flight to communicate with your flight instructor.
After the video, the instructor will "quiz" you on the hand signals to make sure you understand them. Trust me — that part's easy! Then, you'll practice your "flying" technique before you get your gear.
In the main room, you'll get your gear: a flight suit, knee pads, goggles and helmet. Make sure your shoes are tied well — or you'll lose them!
Store all your personal items (all jewelry — even wedding bands, wallet, purse, etc in provided lockers).
Then… it's time to fly!
4. What to expect in the indoor skydiving tunnel
As I waited my turn (five us jumped in my group), butterflies flew in my belly. I made Rob go first. It was his birthday gift, after all. Then, when my turn came, the instructor guided through the steps — just like in the video. I leaned through the indoor skydiving wind tunnel doorway and let my feet lift up.
Oh my gosh!
Y'all, my feet left the ground!
And I lived to tell the tale.
PJ, our amazing guide, directed me, helping me position my arms, legs and hands properly to fly. When I figured it out he spun me in a circle — fun! And I flew. I really flew! (Rob did, too, but I expected that!)
Here's the video of our group experience. The first person is Rob (red soled shoes). I'm next!
5. After the flight
When we finished both our flights, we turned in our equipment, got our flight certificates and video and headed home. We didn't have bottled water with us, which was a big mistake. You can buy water there (if, like us, you forget), but I recommend that you bring your own. You will be thirsty after that workout.
And the next day, you'll be sore. But you won't mind! It'll be the most enjoyable workout you've ever had. Okay — bragging moment here. I was a little sore, particularly in my upper arms. But Rob was sore everywhere! Guess who is in better shape?! YAY ME!
Indoor skydiving FAQ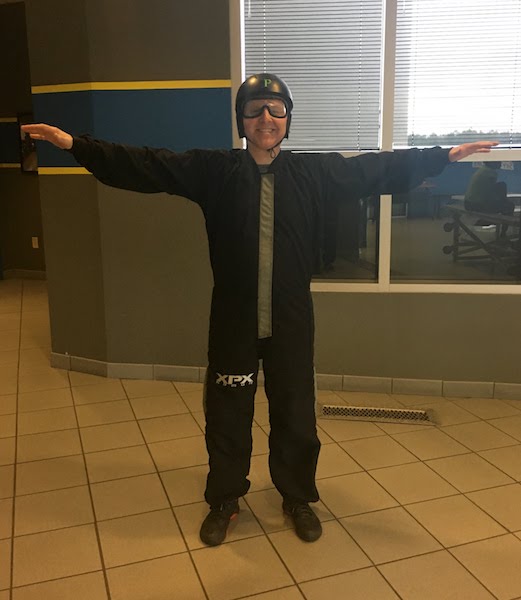 1. What are indoor skydiving prices?
When asking how much does indoor skydiving cost, you have to consider the value for the experience. Prices vary slightly by location, but indoor skydiving is much cheaper (and safer) than actual skydiving! A first timer can expect to pay $60-70 for the experience, but when a group goes together, the price goes down. Indoor flight simulators are also featured regularly on Groupon, so check there for savings!
Rob and I got the Buddy Plan (2018 price $178), which includes 3 flying minutes each (2 sessions each 1 1/2 minutes long — which is plenty), classroom training, flight gear, flight certificate, video of the flight and a t-shirt. The video comes unedited, so we got video of all the flyers in our group. I would prefer video of our flights only, but that's my only complaint about this package. For Paraclete pricing, click here.
2. What about indoor skydiving for kids?
Of course, parents want to know is indoor skydiving safe for kids, and the answer is yes! Children as young as 3 years old can participate. The staff at Paraclete XP Skydiving are great — engaging and encouraging. While there were no kids in our group, I can only imagine their excitement at being able to "fly!"
3. Are there any restrictions to go indoor skydiving?
Like any adventure sport, safety restrictions are in place to protect indoor skydiving participants. At Paraclete, the following rules are in place (typical of most indoor skydiving venues):
Are not pregnant,

Have not had issues with prior shoulder dislocation,

Are not wearing a cast,

Do not weigh over 250lbs. Exceptions can be made, so please give us a call about this issue,

Are at least 3 years of age,

Are not under the influence of drugs or alcohol,

Do not have a history of neck, back, or heart conditions. Check with your doctor if unsure whether you should participate.
I was surprised at how much I used my shoulders in this experience, so if you have chronic shoulder pain or a history of shoulder injuries, please check with your doctor before heading to the skydiving wind tunnel.
4. What is the difference between indoor skydiving and bodyflying?
Rob and I participated as first timers, truly "just" learning the basics of indoor skydiving. We learned how to turn our bodies in the tunnel, but not how to do tricks. Bodyflying, on the other hand, is like acrobatics — only while flying! Our instructor showed us some of his bodyflying skills at the end of our session, and it was amazing! Bodyflying is an art form!
5. Would you do it again (my friends ask)?
And the answer is yes! I didn't think I'd do well at all since I'm still a bit of a chicken — especially in situations where my feet leave the ground. But, compared to zip lining, the height issue is not there. Compared to roller coasters, I found this to be much less intimidating. I really had control over my flight (with some help from the instructor) and never got that panicky feeling that rises up when you clackity-clack up the big hill on a roller coaster. It's an intense and exhilarating 3 minute workout!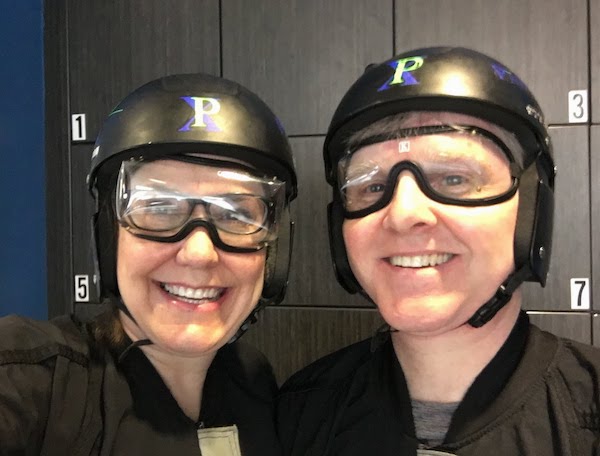 6. What if I don't live in NC. Are there other wind tunnel sky diving locations?
Yes! While your experience will vary slightly, indoor skydiving is gaining popularity across the country and even in Canada. You're sure to find an experience near you. (Though, I don't know if you'll find a more upbeat instructor than PJ!)
Do you have any other questions that I didn't address here?
Or, if you have been indoor skydiving before, do you have any advice for first-timers wind tunnel flyers?
Special thanks to the Fayetteville Area CVB for hosting our visit for purposes of this review. All opinions are Rob's and mine. To learn more about Paraclete or to schedule your own experience, click here.