Horse racing in South Carolina: Our Carolina Cup experience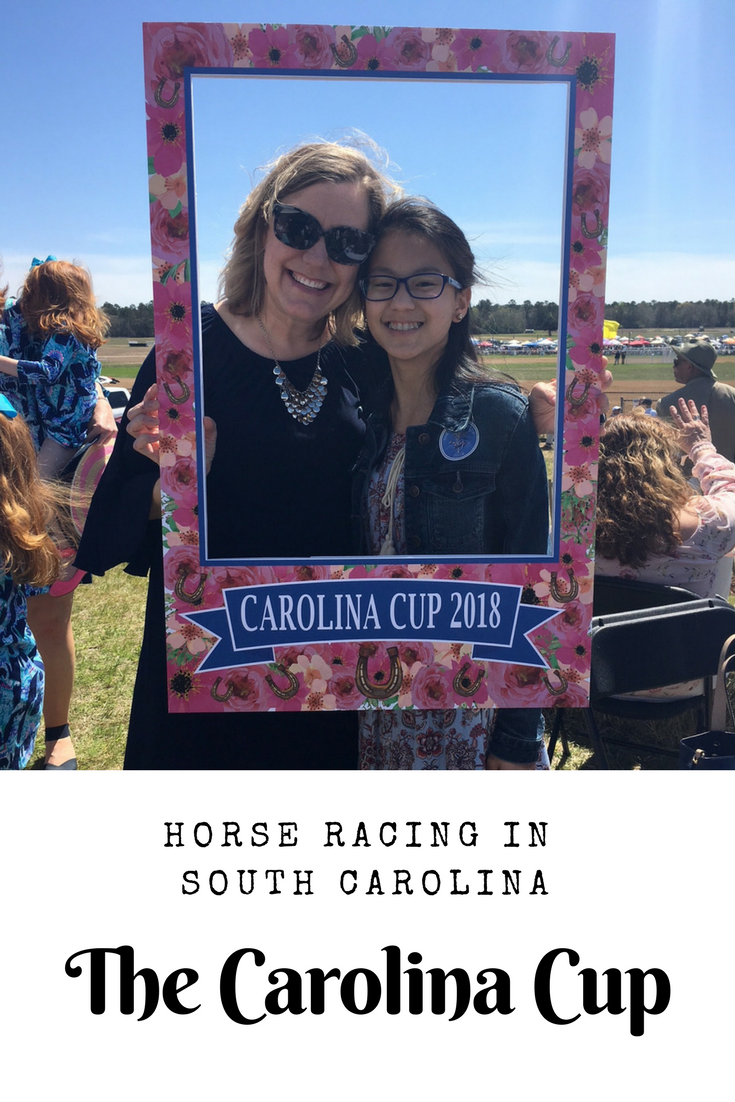 Over the long, cold, dreary winter, Ellie and I discovered the Canadian series, "Heartland," which is set on a horse ranch. Since starting the series, we've both gotten more interested in horses and racing. So, when we got an invitation to attend the Carolina Cup steeplechase race in Camden, SC, we jumped at it. (I'm so "punny!")
To be honest, our entire knowledge about steeplechase horse races comes from the TV series, but at least we knew the steeplechase track includes jumping over a steeplechase barrier! And when it comes to the tradition of horse racing in South Carolina, well, we know nothing!
About the Carolina Cup steeplechase races
This was the 84th running of the Carolina Cup at Springdale Race Course in Camden, SC.
The Carolina Cup is legendary in the area. I told some people I know who live nearby that we are going, and the stories just bubbled up from years gone by. That didn't change on race day, either. Ellie and I met so many people who have made "The Cup," as it's known locally, an annual event, and they had stories to tell, too.
Race day comes, rain, shine, warm, or cold. One lady told me that it doesn't matter how lousy the weather is, this is tradition. Hardcore! As a college football fan who attended an Ohio State-Michigan football game in sub-zero temps, I can understand. Ohio State won that game, by the way, so it didn't seem quite so cold.
Carolina Cup Tickets
Carolina Cup tickets are available months in advance. General admission tickets allow people to park and wander. But most people get tickets that allow them to tailgate during the race. Since most tickets are sold in advance to the people who held them the previous year, it's hard to come by these tickets. Click here to learn more about tailgating at the Carolina Cup.
Infield tickets are exactly that — on the inner side of the steeplechase track. If you plan to watch the horse racing (few do, it seems), try to get a trackside spot. Front row and railside spots are also available, which run along the track on the outside. You cannot use a tent in this area, though, as it would block the view from the hospitality tents.
Of course, Grandstand tickets and other premier tickets are available. We were fortunate to be hosted by the City of Camden and got to enjoy lunch at their hospitality tent.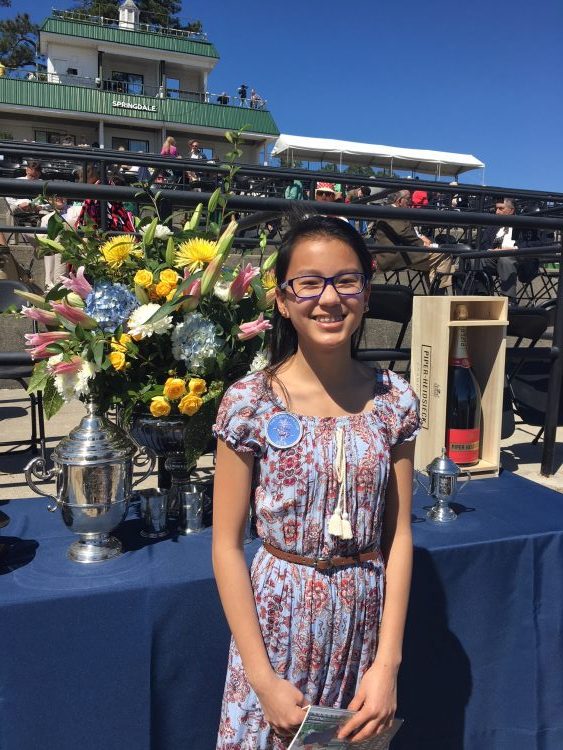 For decades, the College Park area has been tradition, bringing fraternities and sororities from universities across the south to hang out and party. But, this was the last year for College Park — which means there will be more railside parking in coming years.
To learn about Carolina Cup ticket prices, click here. (As of this writing, tickets are not available for next year's race.)
The Carolina Cup experience
Not sure what to expect on race day, I asked for advice from people who had been to the Carolina Cup in the past. And they knew what they were talking about. From fashion to food — and yes, even the steeplechase races — they nailed it.
Steeplechase fashion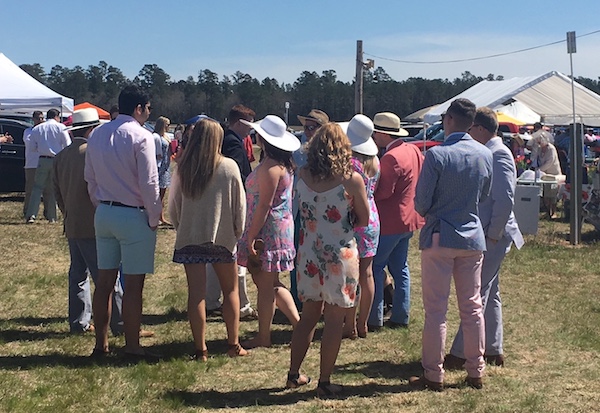 As we researched for our day at the steeplechase park, we discovered that Carolina Cup attire is as important as a steeplechase horse — for some, probably more! The friends who had been before told us that many people never see a single race. They go to show off their race day outfits and socialize. The Carolina Cup race simply provides the fun venue.
Families who make the Carolina Cup a yearly tradition teach it from a young age. Matching Lily Pulitzer? Adorable!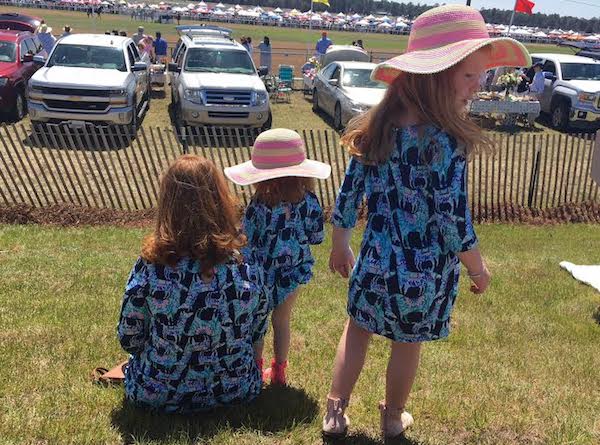 Ellie and I planned our Carolina Cup outfits based on tips from friends.
Lily Pulitzer works best for ladies' dresses,
Men will be wearing blue seersucker or khaki shorts and dress shirts, or khaki pants and dress shirts, bow ties and suspenders,
Wear flats — never heels (more on that in a minute),
Wear a hat for sun protection — or a fascinator for fashion.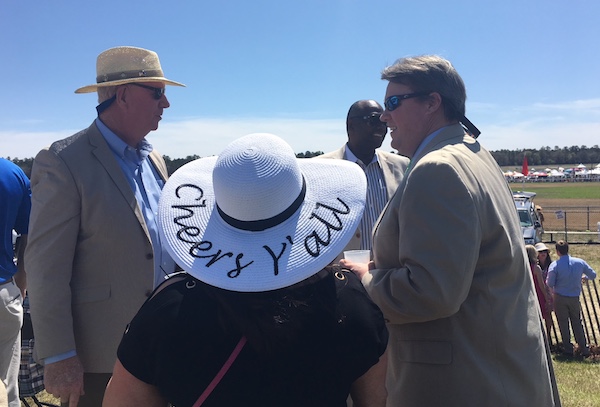 So, how'd we do?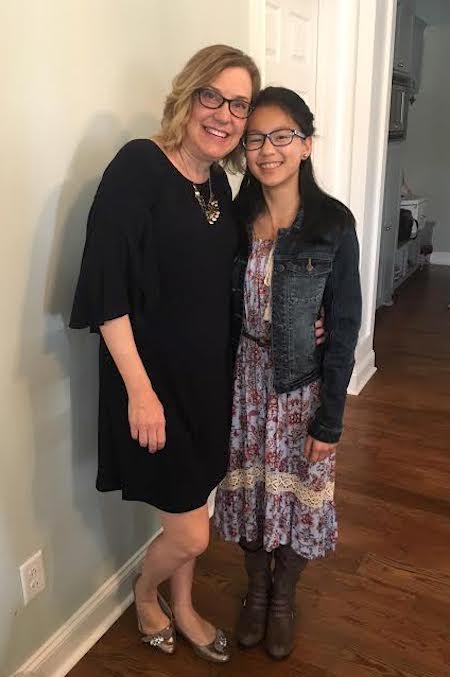 We did not wear Lily Pulitzer — but we still fit in. Phew! I borrowed a comfortable, easy wear dress with fun sleeves from a friend, and Ellie wore her favorite high-low dress with a denim jacket. We did wear flats, thank goodness! I had planned to wear wedge sandals and am so glad I didn't! The women we saw in heels ended up going barefoot by mid-afternoon or hobbled their way through the day. Ellie wore her boots that match her dress (if you've seen Heartland, you'll appreciate her inspiration).
We did not wear Carolina Cup hats. I had a wide brimmed navy hat, but it was windy and I didn't want to chase it every time it blew off my head. Since we had a tent available, we didn't need the sun protection (we did wear sunscreen and reapply). Ellie tried on a fascinator at one of the popup shops. She is not a fan of high fashion, apparently.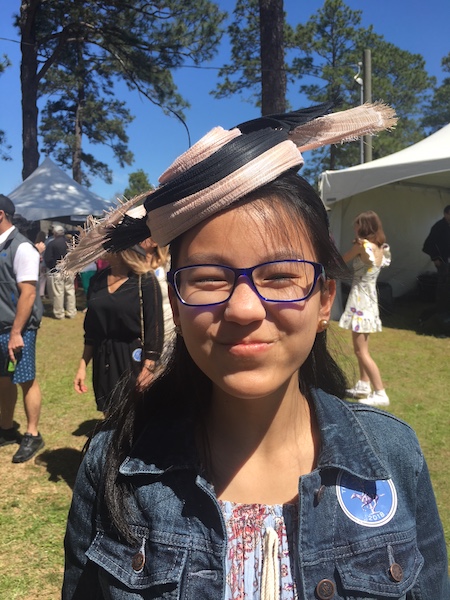 As to the men — oh my goodness! They are as in to fashion as the women. NO joke! Though, some of them take their race day outfits to a whole different level, like these guys!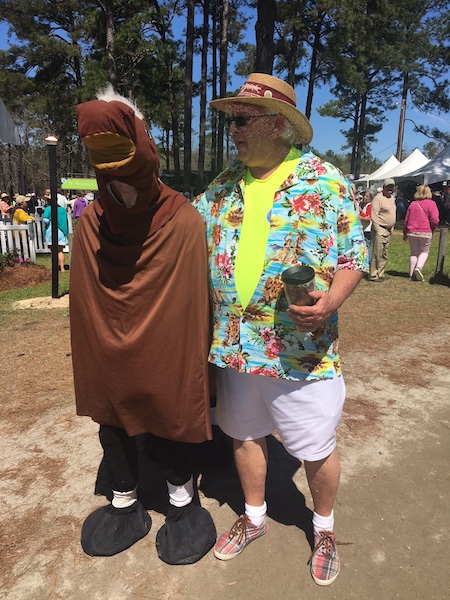 When you go to a steeplechase track, it's way more fun when you dress for the event — even if you raid a friend's closet! We had so much fun as fashionistas in our Carolina Cup dresses — even without the hats!
Raceday dining
There are basically three options for dining at the Carolina Cup: concessions, tailgating and hospitality tents. Those lucky enough to have access to the hospitality tents, get delicious catered food from local restaurants. Ellie and I enjoyed delicious roast beef, grilled asparagus, quail and yummy desserts. Probably too many desserts.
The concession stands were popular, but prices are quite high. They also had long lines and ran out of many things early in the day. Lots of the College Park crowd ate here, though!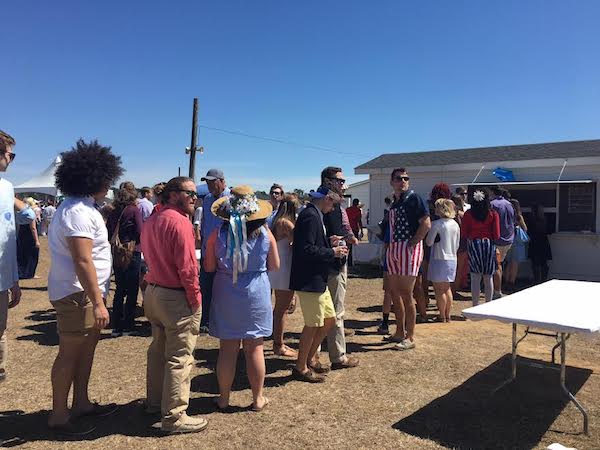 By far, the most popular option is tailgating! One lady we met, Elizabeth, said she starts planning her menu the day after the race for the next year. She tweaks her standard menu of chicken wings, meatballs, cheese trays and other finger foods to add something fresh and different each year. She rotates several chicken wing recipes so it doesn't become too predictable.
Like I said, the Cup is serious business for the regulars!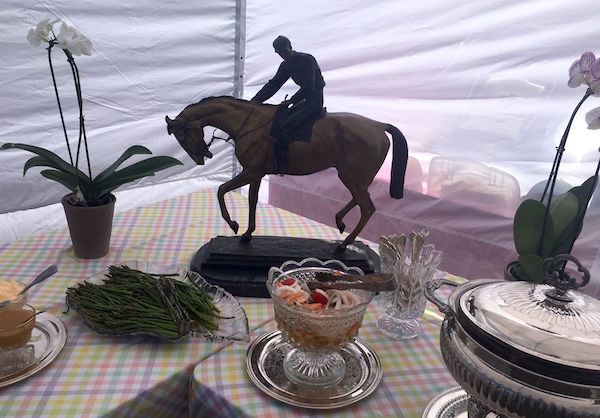 At one tailgating tent that was front row near the finish line for the best views, the table was set with silver-plate dishes of shrimp, prime rib and other fancy foods. The table was decorated with an elaborate floral arrangement. It turns out that "family" has come every year since 1977 and worked their way up to the prime location through the years.
At the other end of the spectrum, some tailgating spreads were far more basic with everyone bringing home cooked dishes like a regular old potluck. And one tent had a big bucket of KFC chicken!
And, finally, the steeplechase races
At Springdale Race Course, the gates open at 9:00 a.m. for all the race day fun even though the horse races don't start until 1:30. Pre-race entertainment includes morning dog races, presentation of the Color Guard and the National Anthem. This year, the weather was perfect, and military parachute jumpers added to the excitement.
Ellie and I watched as the parachuters descended. Most people stopped what they were doing — the steady hum of conversation came to a halt — to watch the American flag float down with the final parachuter and the National Anthem was sung.
After the entire place erupted in cheer, they announced that the first horses were headed out to the track.
We went back to our tent, perched on a hill overlooking the track to watch the first race. Knowing nothing about racing, we each picked our winner — hers came in second and mine came in fifth. It's a good thing there is no betting (not that I would have), because we would have lost money!
We watched the second race, and the horses we picked did even worse. Apparently, we are not good at this at all.
With so much time between races, we decided to wander around a bit. We headed to the shops to see the horse racing fashion and walked through the infield to see what tailgaters do between races. They eat. And talk. And walk. And talk.
Ellie asked if we could watch the third race railside, and that was a great idea! If you go to the Carolina Cup to see horse racing, railside or the Grandstand are the places to be! We loved being close to the action (near the finish line) and being able to feel the horses thunder by. Her face almost split in two from smiling so big.
Of course, we picked the losing horses again! Perhaps, we should pick the horse we think will lose to get a winner?
After four races, we were tired and ready to go home. We didn't quite make it to the end — but we also beat the traffic leaving.
All in all, it was a lot of fun to see the fashion and fun of the Carolina Cup. Though, I think it's best experienced with a group of friends, steeped in tradition through the years.
We would like to thank the City of Camden, the Carolina Cup Racing Association and the Committee of 100 for the invitation to experience the Carolina Cup. We made some really fun memories and met a lot of great people! And unlike the people who post photos with #neversawahorse on social media, we did see the horses. What a great day! All opinions in this post are mine.
More places to make special memories