Make memories at Lake Raystown Resort
Lake Raystown Resort, at 3101 Chipmunk Crossing in Entriken, PA, is an idyllic lake resort in the Pennsylvania mountains to make old-fashioned summer vacation memories. And it doesn't have to look like Steve Martin's chaos in "Cheaper by the Dozen!"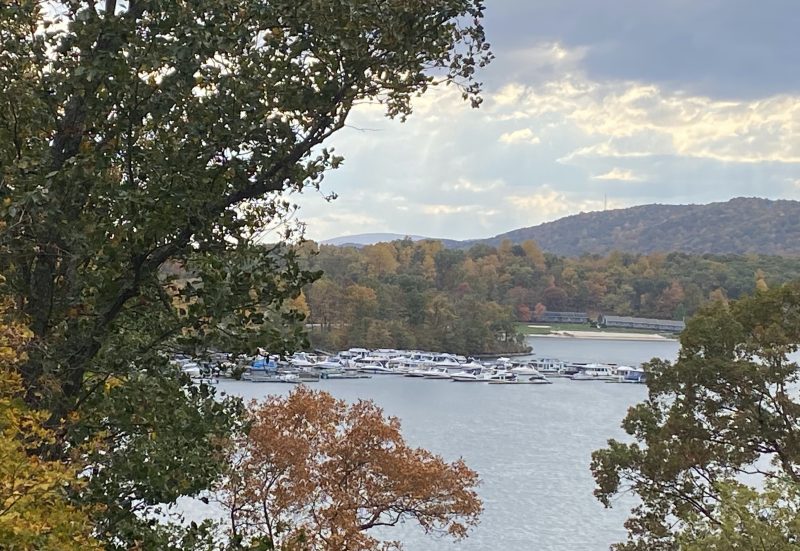 Growing up, I lived on a small lake. We spent long summer days jumping off the end of the dock into the water, riding in old tire inner tubes pulled behind my dad's row boat (Thanks, Dad!), and playing on the sandy shore.
Decades later, and I am still a big fan of lake life! Sure, for me, a lake vacation is a bit nostalgic. But it's more than that. There's a carefree simplicity to a lake vacation that can't be found anywhere else.
I recently visited Lake Raystown Resort in Central Pennsylvania, about halfway between Pittsburgh and Harrisburg, and it brought back those childhood feelings of carefree wonder and long, lazy days just "being."
What is Raystown Lake?
Raystown Lake, unlike the small lake where I grew up, is the largest manmade lake in the State of Pennsylvania.
At 8,300 acres, Raystown Lake is about 30 miles long with 110 miles of shoreline in the Allegheny Mountains. It is part of a larger 30,000 acre wildlife area managed by the Army Corps of Engineers.
Besides the lake, the Raystown Lake area has hiking and biking trails — including the world renowned Allegrippis Trails, hunting and recreation/picnicking areas offering some of the best views in the country.
You can learn more about the Raystown Lake Region by visiting the Huntingdon County Visitor Bureau, but the rest of this post will help you discover what a good, old fashioned, lake vacation is all about!
Where to stay at Lake Raystown Resort
Lake Raystown Resort is a full service lake vacation resort. There are accommodations for every type of traveler — though some book early in the season!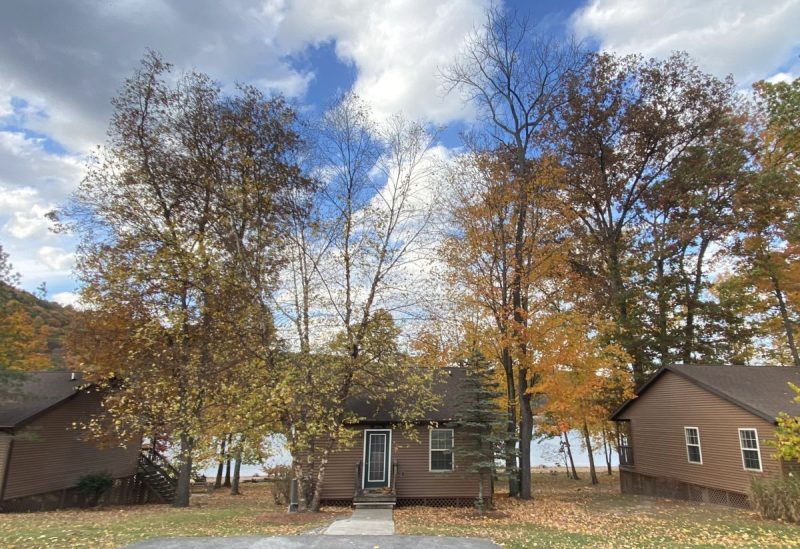 Will you stay in a log cabin with a kitchen, sleeping for six, a comfortable dining space and a large covered porch?
PRO TIP: Pine Camp Log Cabins, #21-24, are pet friendly cabins. There is a pet fee, but isn't Fido worth it? If you've never traveled with your dog on vacation, here's a guide to pet travel of everything you need to know before you go!
Or will you choose the ultimate in relaxation and choose a Beachfront Bungalow with full living room, dining room, kitchen and two full bedrooms located on the beach where the kids can play all day long?
Maybe you're the adventurous type, and you want something different? Lake Raystown Resort has yurts for something different — just a few, so book early!
Or perhaps, you just want to test the waters of a lake vacation (so to speak) and prefer a more traditional hotel type vacation. In that case, book a room at the lodge with balconies that overlook the lake and the resort marina, the views are incredible. The lodge has picnic tables and fire pits to enjoy, but you also get the conveniences of a hotel stay!
And finally, if you're a camping pro, there are tent and RV camping sites at Lake Raystown Resort as well.
When I visited, I stayed in the lodge, as I was only there for a couple of nights. My room was large and comfortable and offered incredible views of the water.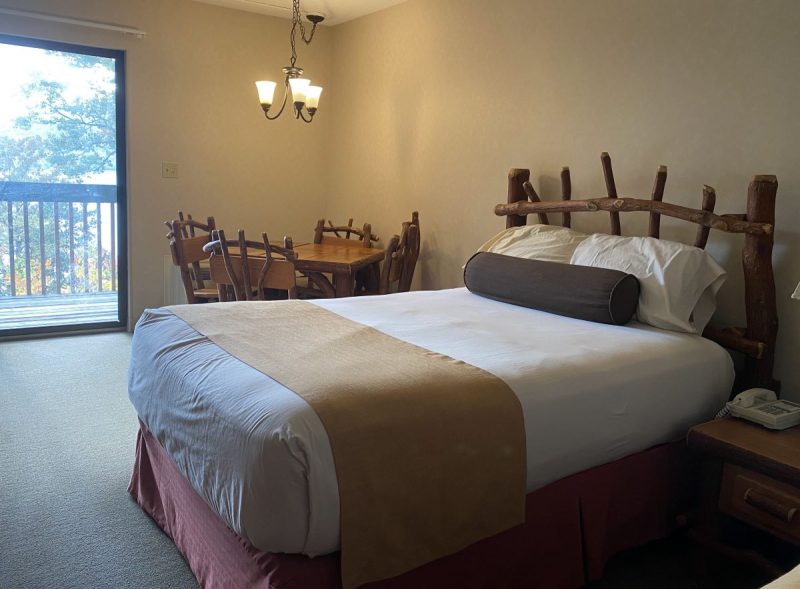 When it comes to Lake Raystown Resort camping, there are 219 sites, open from April to October, offering water, electric, sewer dump, cable and internet as well as a fire ring and picnic table. Each site can accommodate two vehicles and up to six guests. Visit their site to learn more about Lake Raystown Resort camping or to reserve your spot.
Make memories at Lake Raystown Resort
There is such a thing as "lake time." We notice it every time we head to the lake for vacation.
We have grand plans to fill our days with adventure — biking, boarding, boating, fishing (for some — not me), and exploring nearby parks.
But time slows down at the lake. Some days might be filled with all the things, but many days we find ourselves napping on the porch as we listen to the birds and boats nearby.
Or we take a book and a hammock out to the trees, planning to read a few chapters. But the warm breeze rustles through the trees and lulls us to sleep.
It's lake time — no hurry. Just relax.
Just be.
BUT… that doesn't mean there's not plenty to do on a Lake Raystown Resort vacation if you want to.
Activities at Lake Raystown Resort
Lake Raystown Resort has all the amenities you could hope for on a lake vacation.
Lake Raystown Resort Marina
Raystown Lake is the largest lake entirely in the State of Pennsylvania. There's lots of open water with coves all along the shoreline to anchor a boat and relax. The marina offers Lake Raystown Resort Boat Rentals for daily use.
Basic Lake Raystown Resort Boat Rentals include 20 and 22 foot long pontoons with seating for 8 to 10. The pontoons have bimini tops to provide shade and enough horse power to get moving on open water. Rates begin at $399/day. Pets cannot go on the boats.
Lake Raystown Resort Boat Rentals also offer "fun ships," two story pontoons with an upper sundeck and slides for all day water fun! Rates for these begin at $539/day.
Before renting a boat, be sure to complete a boating safety course which is required by Pennsylvania law for all boats over 25 horse power.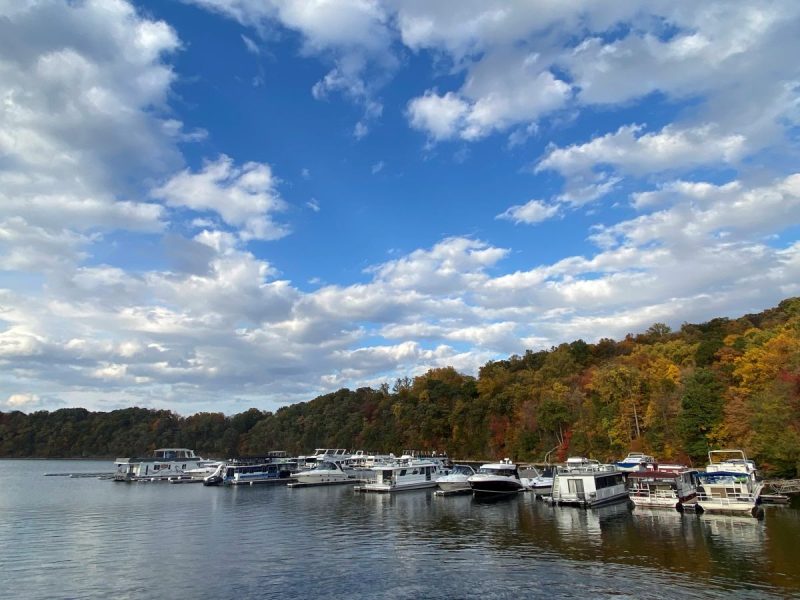 If you want to bring your own boat, you certainly can! But, be sure to rent a boat slip early as spaces at the Lake Raystown Resort Marina are limited.
Besides the Raystown Lake boat rentals, Portside Rentals near the Lake Raystown Marina also offers paddleboard, kayak, wave runner and pedal boat rentals for a fun day on the water.
For a unique experience, you can enjoy a relaxing breakfast tour or dinner tour on the Proud Mary Showboat which is docked at the Lake Raystown Resort Marina. Enjoy the meal as you take in the scenery all along the lake. It's especially beautiful at sunset!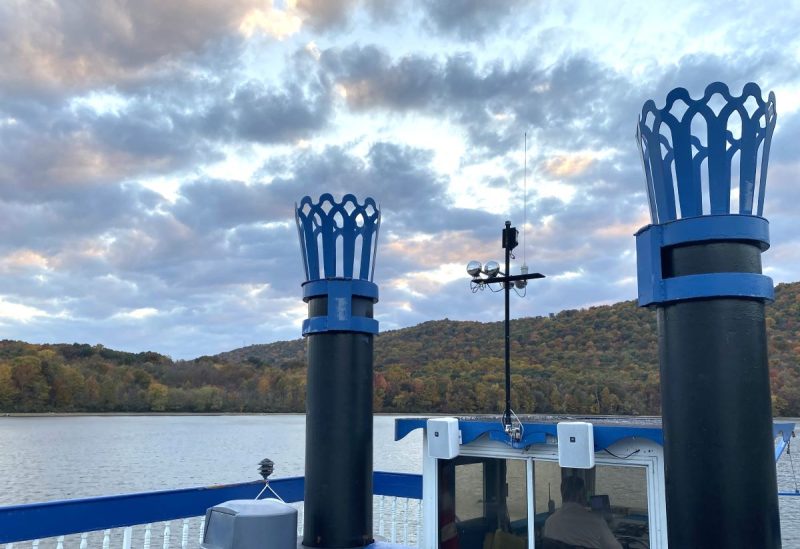 WildRiver Water Park
When I was a kid, my dad used good old fashioned muscle power to tow us on tire inner tubes behind the boat. Our lake did not allow motors, so he did the hard work. I appreciate that more, now.
At Lake Raystown Resort, dad can relax and enjoy the ride at WildRiver Water Park!
WildRiver Water Park, located near the entrance to Lake Raystown Resort is open seasonally. As of this writing, it is closed on Tuesdays and Thursdays with operating hours from 12-6 the other days.
WildRiver Waterpark features two 380 foot twisting slides, the White Water Innertube Ride, the Atomic Blaster, a heated swimming pool and a Children's Splash and Play Pool.
All day rates for 2023 are $12.95/person. There are discounted tickets for children going only to the Children's Splash and Play Pool or for adults who only want to use the heated pool. For family travel on a budget, this is a great option!
---
---
Enjoy the beach
Buccaneer's Bay Beach at Raystown Lake Resort is the perfect place to relax, catch some rays or build a sand castle.
The Lake Raystown Resort activities staff hosts planned activities on the beach, including sand art, canoe races and much more. Enjoy old fashioned lake fun and let someone else do the planning!
Enjoy a campfire under the stars
Every campsite and cabin at Lake Raystown Resort has its own campfire ring and picnic table to enjoy the evening under the stars.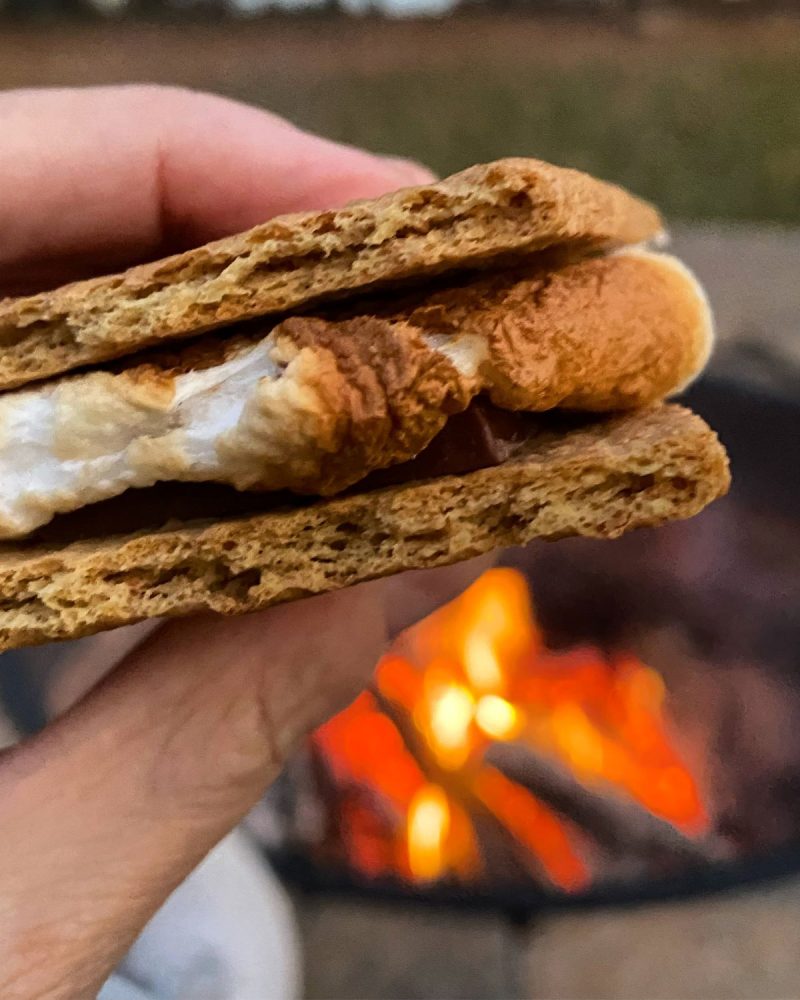 Firewood and s'mores supplies are available at the General Store for a carefree vacation.
Resort staff also offers catered campfires where they take care of everything so you can show up and relax! Yep, even mom!
More fun at Lake Raystown Resort
Sure, when Steve Martin takes a lake vacation chaos ensues.
But, at Lake Raystown Resort, you only have chaos if you want it! Enjoy the hiking trails throughout the resort, the playground, the planned activities, the campers boat launch and beach.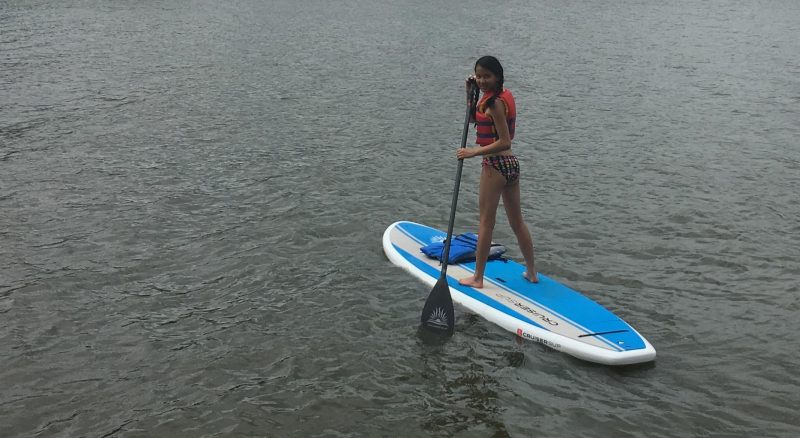 Slow down and enjoy making memories at Lake Raystown Resort. It's the kind of vacation where you actually DO feel rested and relaxed!