Dining at historic Michie Tavern in Charlottesville, VA
This post may contain affiliate links. Click here to see what that means.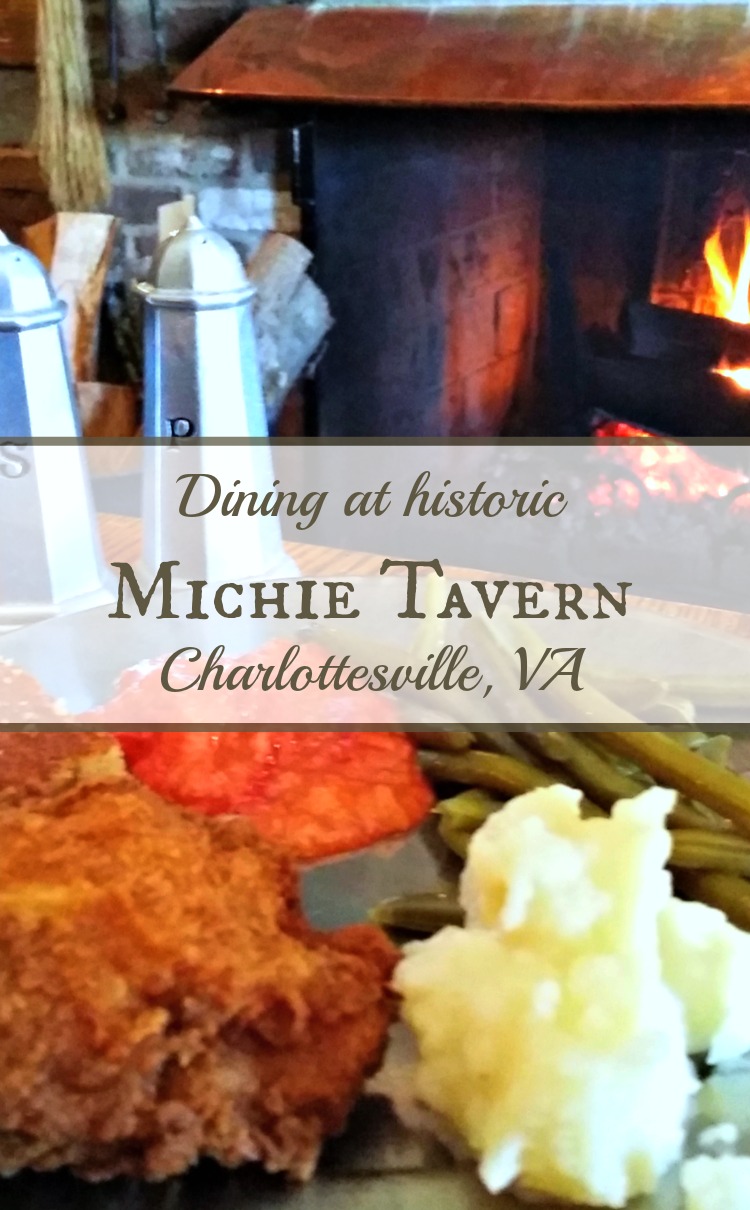 Michie Tavern
First established in 1784 by Corporal William Michie (pronounced Mickey), Michie Tavern has seen a lot in its 200 plus years. William's father had given him the property which is fed by a natural spring. He built his tavern alongside Buck Mountain Road, perfectly positioned to serve passing travelers.
The tavern was often crowded, and William used its popularity to spread his colonial views over tankards of ale and rum. No doubt, these walls have heard many political debates!
The tavern played a role in the community as well, a venue for dances and church services. Traveling doctors and entertainers would use the common space for business and split the profits with the innkeeper. It was also a post office, of sorts, and local school.
By the time of the Civil War, stagecoach travel had given way to railroads. The family kept the tavern, though, using it as their private home. Like many old homes, it eventually fell into disrepair — abandoned for the conveniences of living closer to town.
A pioneer preservationist, Mrs. Mark Henderson, understood the tavern's historic value and brought it back to life. Today, the inn serves meals as it once did, catering to tourists and locals alike.
Dine at The Ordinary at Michie Tavern
Michie Tavern, pronounced "Mickey," has been feeding travelers since the late 1700s. Today, Michie Tavern offers the same rustic, colonial fare in the historic structure, taking diners on a trip back in time.
The dining room is called "The Ordinary," a British term for a meal provided at a fixed time and price at an inn. At Michie Tavern, The Ordinary offers its hearty menu daily from 11:30-3:00, just like it was in colonial times. Eat lunch here and you really don't need a big dinner!
On arrival, guests pick up their first plate of food from the buffet line. Then, unlimited refills are brought to the table by servers dressed in period costume. The southern colonial menu includes fried chicken, pulled pork, baked chicken, potatoes, black eyed peas, stewed tomatoes, green beans, cole slaw, beets, cornbread and biscuits.
The food is good and plentiful. But it's the atmosphere that makes Michie Tavern stand out from other restaurants. Dating back to the late 1770s, the tavern's heavy wood beams and low ceilings transport diners back in time. The wood burning fireplace warms guests in winter.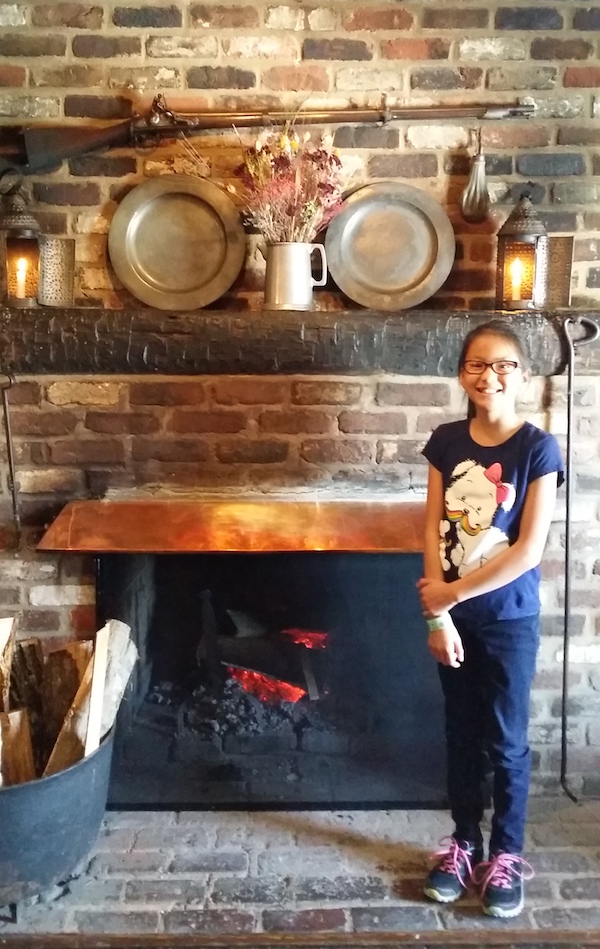 Tour Michie Tavern
The oldest section of the tavern is open for self-guided tours daily. Explore the tavern to learn about the important role these inns played in the lives of colonial travelers. Along the way you'll learn about dining, entertainment, sleeping quarters and even dancing!
Imagine Thomas Jefferson climbing these stairs to meet with friends.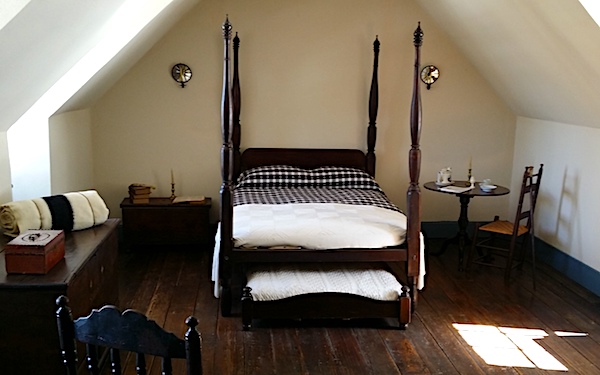 A wealthy traveler's bedroom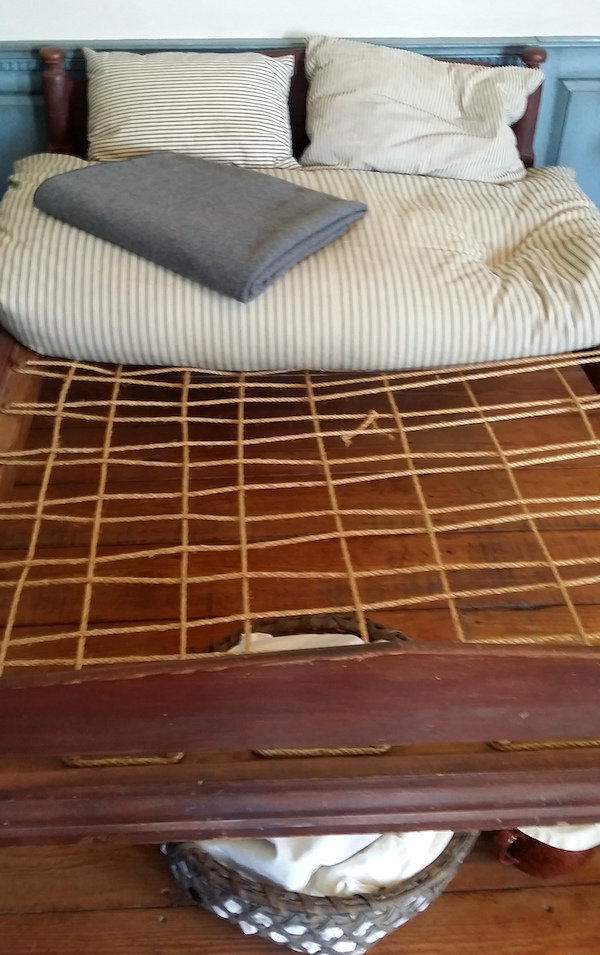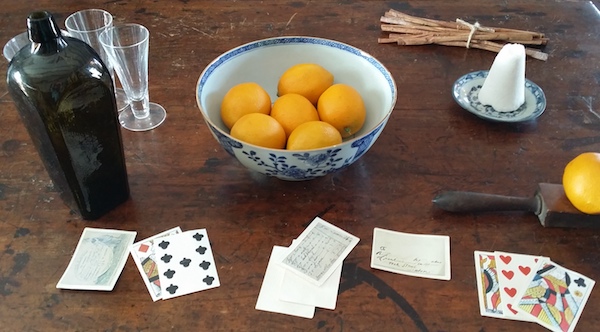 Card games and foods on display
Shop at Michie Tavern
Besides lunch and a tour, four shops on the grounds let you take a piece of history home.
The General Store, a charming mercantile offers a wide variety of quality gifts for all ages and occasions — with items like apple butter, candies and even toy yo-yos. The General Store proudly features items made in Virginia and the USA. The second floor Clothier Shop has an extensive collection of period clothing from the colonial era to the Civil War, as well as scarves, rugs and quilts. The store is open daily from 9:30 to 5:30.
The Armory & Artifacts Shop (ca. 1790)  sells antique rifles, swords, accessories and artifacts. These antiques date from the American Revolution to the American Civil War. Each historic item includes a history. Based on the nature of the stock, inventory is always changing. Hours vary.
The Metal Smith Shop (ca. 1882) sells a large variety of metalware including copper, brass, silver, pewter, and tin. American made reproductions and contemporary pieces are available including metal serving ware, jewelry, wall art and yard-art. Open seasonally from 11:00 to 4:00.
The Tavern Gift Shop, located next to the Ordinary, is filled with gifts to remember your visit. Colonial games and writing tools, historical toys and colonial cookbooks are among the many souvenirs available. Open daily from 9:00 to 5:00.
Plan your visit
Address: 683 Thomas Jefferson Parkway, Charlottesville. For detailed directions, click here.
Michie Tavern's restaurant, The Ordinary, is open year round:
11:15 a.m. – 3:30 p.m. April-October
11:30 a.m. – 3:00 p.m. November-March
Closed Christmas day and New Year's day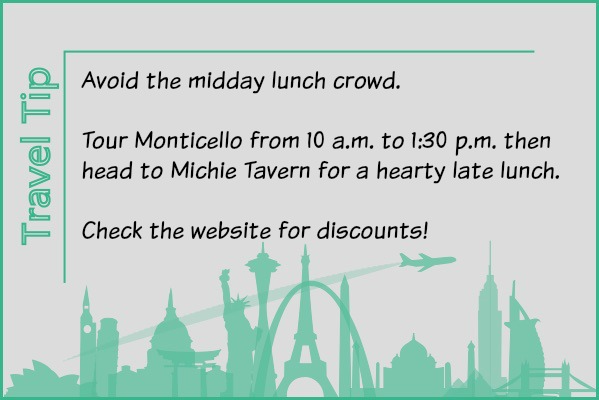 Major credit cards accepted.
Reservations only taken in advance for tour groups of 15 or more.
Price (at time of publication): Adults, $17.95; Youth 12-15 ($10.95); Kids 6-11 ($6.95); Kids under 6 eat free with a paying adult. Beverages and dessert are separate.
Discounts available! Special offers year-round are available.