Hike the Mountains to Sea Trail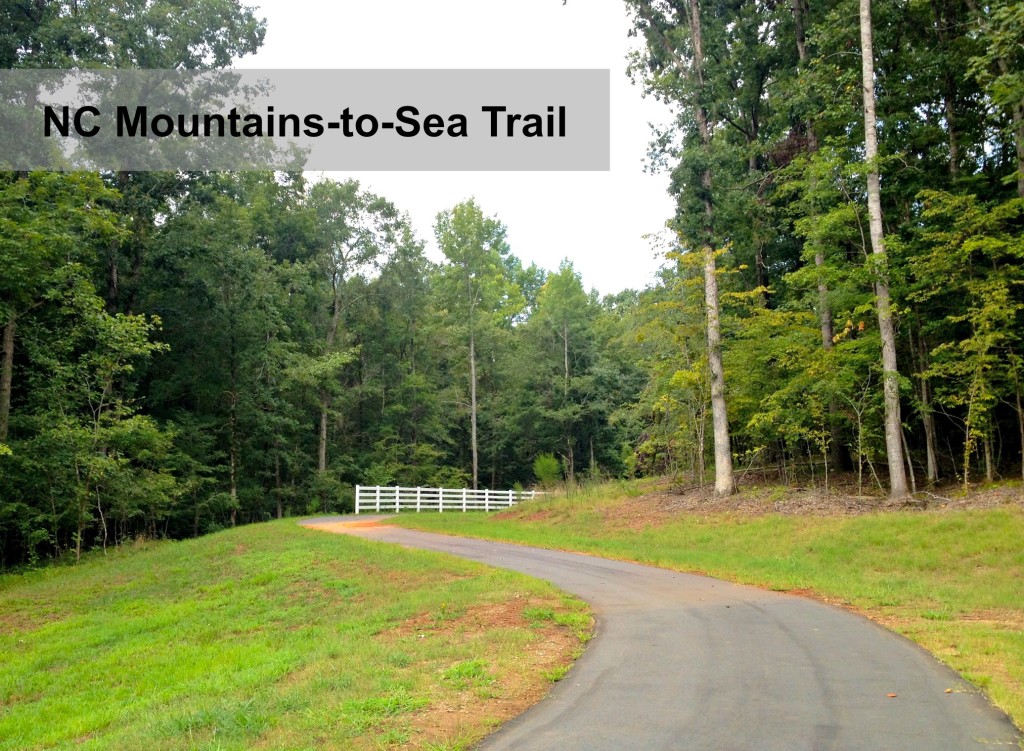 The Mountains-to-Sea Trail (MST)
The Mountains-to-Sea Trail runs 1,000 miles across North Carolina from the Great Smoky Mountains to the Outer Banks. The MST begins at Clingman's Dome on the NC-TN border, crosses over Mount Mitchell, and extends all the way to Jockey's Ridge State Park in the Outer Banks. Much of the trail consists of foot paths, but some is linked by roads and state bike routes. The trail offers great opportunity to take day hikes or longer backpacking trips through the most beautiful parts of the state.

Clayton River Walk, part of the MST!
In April of 2013, a section of the MST, called the Clayton River Walk, opened in our home county, just a few miles from our house. We took advantage of some great weather recently to explore the it. The trail, which offers a 10 foot wide paved path, runs along the Neuse River. We are fortunate to have easy access to the Trail just a few miles from our house! I'm confident we'll explore more of the Mountains-to-Sea trail in the coming months.
On our hike we encountered lots of bicyclists, families walking their dogs, and groups of friends enjoying the trail. It's an easy walk, with easy access from a couple different points. The trail's proximity to the Neuse River does make it susceptible to flooding, just look at the flooding in the bottom photo on the right.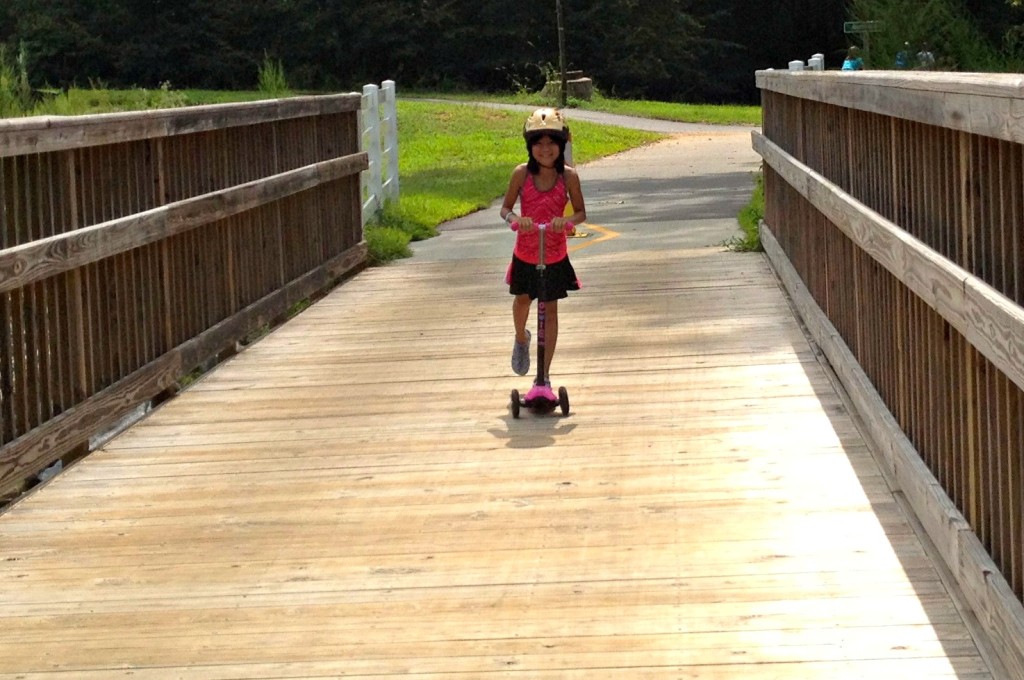 Ellie enjoyed the clackety clack as her scooter ran across the boards!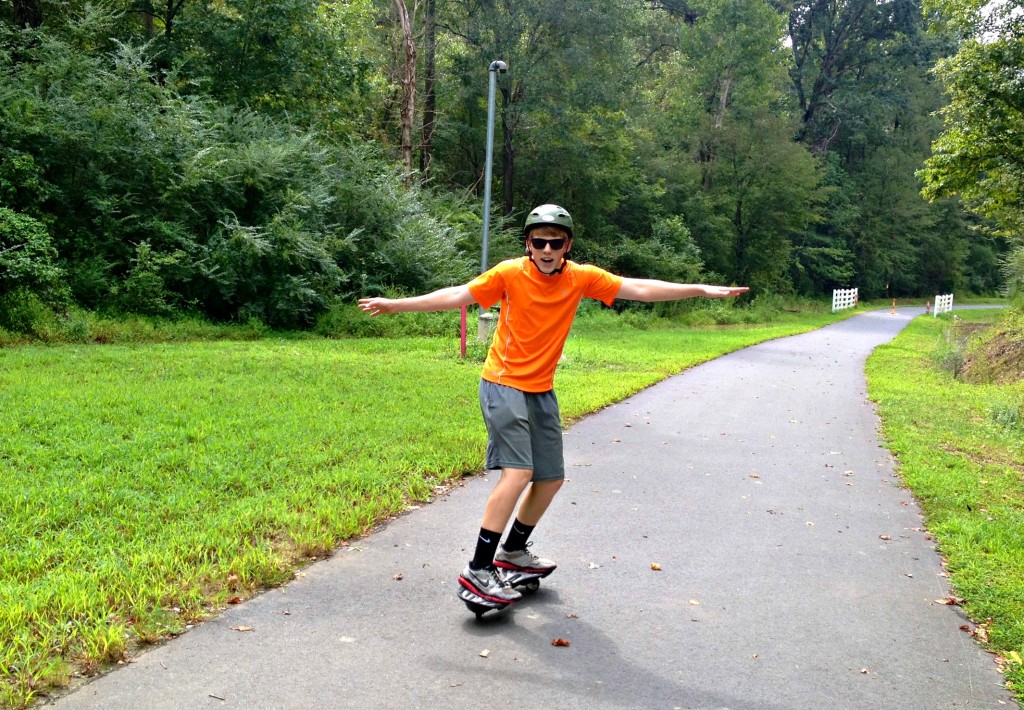 Ben's got mad skillz!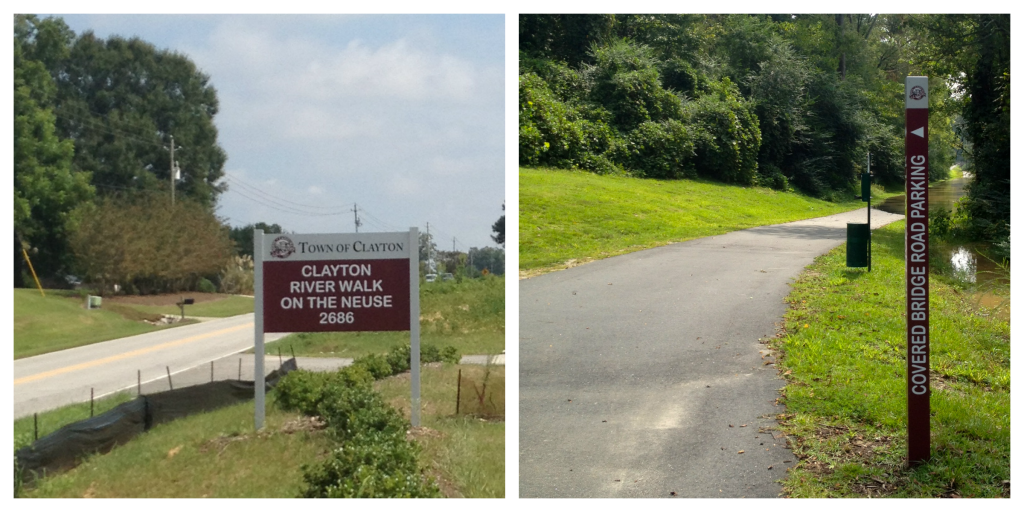 Directional signs — can't get lost! (And in the background on the right, doggie bags)
Accessing Clayton River Walk
Three parking areas offer easy access to the Clayton River Walk:
2928 Horseshoe Farm Road (2928 Horseshoe Farm Road)
Buffaloe Road Athletic Park (5812 Buffaloe Road)
Anderson Point Park (20 Anderson Point Drive)
Drinking fountains and restrooms are available at the Buffaloe Road Athletic Park and Anderson Point Park. Doggie bags and garbage cans are located along the trail for the benefit of all guests.