New traditions: Holiday lights in Raleigh, NC
While 2020 has not shaped up to be a great one for traveling, it's given us a chance to discover the fun and excitement of local travel. Maybe the Christkindl Markets in Germany are out of reach this year, but there's great joy to discover closer to home.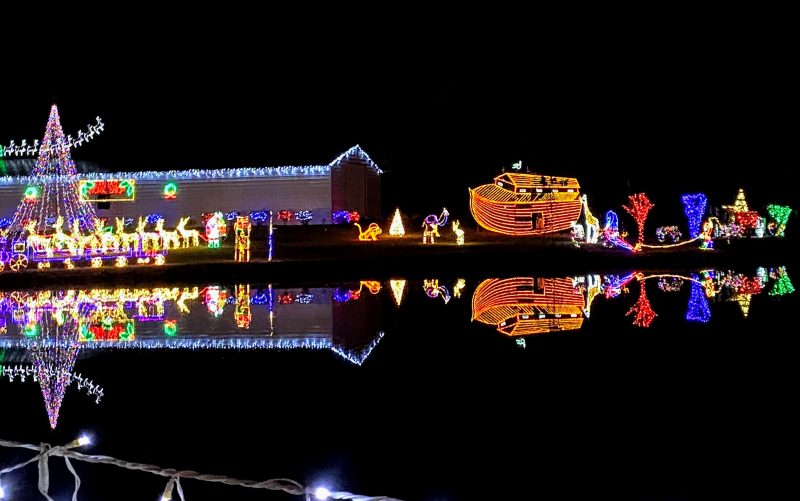 Here in the Triangle — an area including Raleigh, Durham and vicinity — there's certainly a lot to discover.
We may not be able to see the Nutcracker performed live by the ballet, and the Chinese Lantern Festival took this year off, but there are so many other displays to see.
*** Celebrate Culture: Chinese Lantern Festival, a review ***
Holiday Light Displays in the Triangle
Downtown Raleigh Illuminate Art Walk
Local artists have created a number of unique displays throughout Downtown Raleigh to encourage people to think creatively and see the world in a new way. Some are interactive, especially fun for kids.
Oh — who am I kidding — we loved them too!
The displays are not specifically holiday themed, but they are beautiful, and add a lot to Downtown Raleigh. Enjoy the Christmas tree at the Statehouse, the holiday decorations on street lamps and in windows as you tour these displays.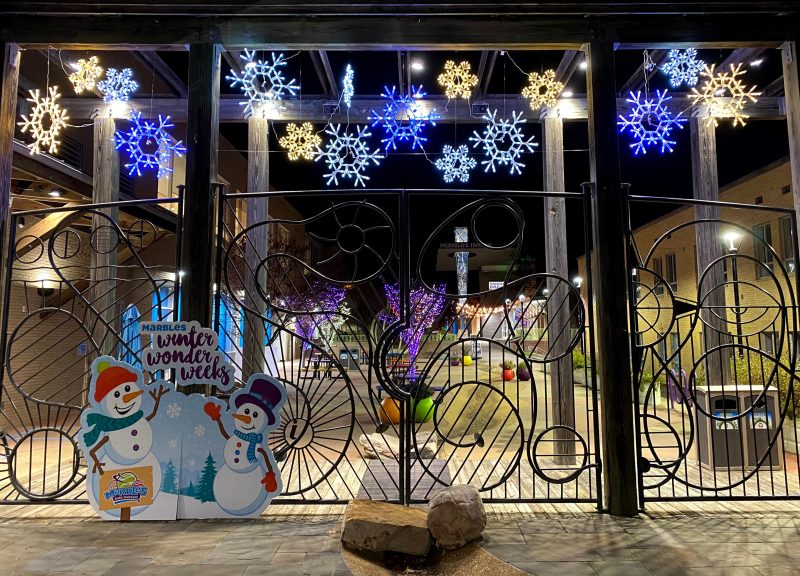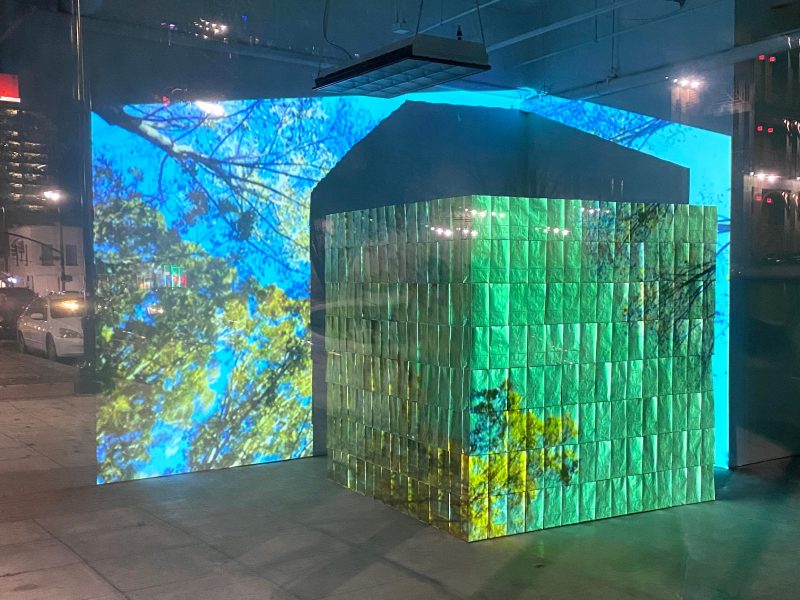 Get hot chocolate, gelato or dinner to go from a local restaurant as you enjoy a beautiful evening in Downtown Raleigh.
Local businesses and artists have come together to offer this free event.
This is definitely a park and stroll event. The website link above includes a map for those who want to plan their stroll, as well as a list of businesses open to serve hot chocolate and other treats — there's even a link for free parking.
Festival of Lights at Hill Ridge Farms
703 Tarboro Road, Youngsville, NC
$20/personal vehicle. Larger vehicles — Buses, RVs, trailers not allowed. Pay at entrance, cash preferred.
Through December 27.
The Festival of Lights offers more than a mile of colorful light displays to bring smiles to kids of all ages in this drive-through display!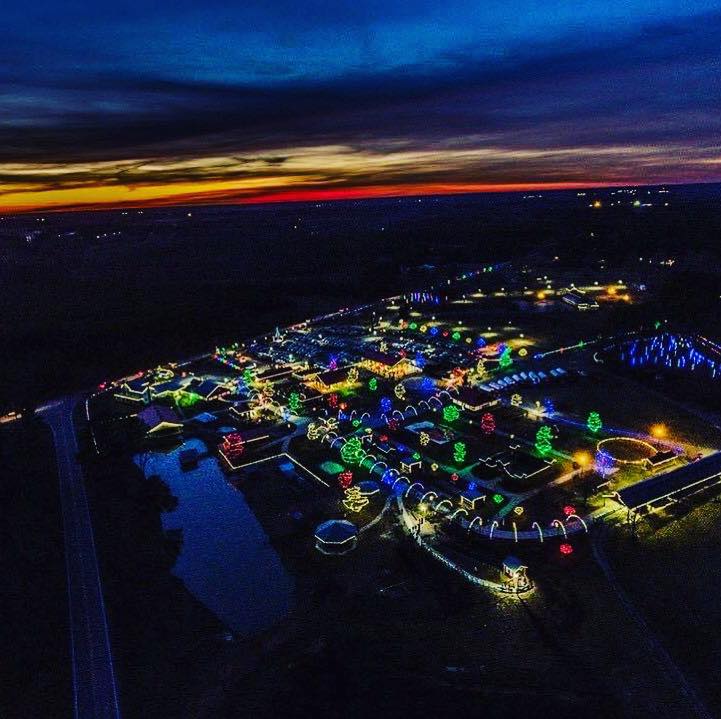 Make it fun — wear holiday PJs and fun Santa hats. Fill a thermos with hot cocoa to make it extra special.
The organizers recommend that you plan accordingly for heavy traffic and delays, especially on weekends and the week leading up to Christmas.
Monday-Thursday nights are the least busy with much shorter wait times.
Arrive early. You may get in line as early as 4:30pm on any evening.
While this isn't the usual agritourism Christmas event at Hillridge Farms, they made the drive through light display bigger and better than ever!
Fieldstream Farm Festival of Lights
The 15 acre Fieldstream Farm Festival of Lights is a drive through light display that includes a 200,000 light tunnel and 20 foot tall Santa riding a bike among other amazing displays. If you like Christmas lights, this is a great one! Advance tickets are required, link above.
Fuquay Mineral Spring Park Holiday Lights
Nightly until 10 p.m. Admission is FREE.
Through December 31.
This park, in downtown Fuquay-Varina, is all decked out for the holidays to cheer locals and visitors alike. Stroll through the park. Take fun family photos. Bring letters for Santa to drop in the mailbox for the North Pole.
While this dog friendly park isn't large, there are so many beautiful spots to take photos, it's worth a visit. While you're there, take a stroll through the charming town to enjoy the old fashioned light displays.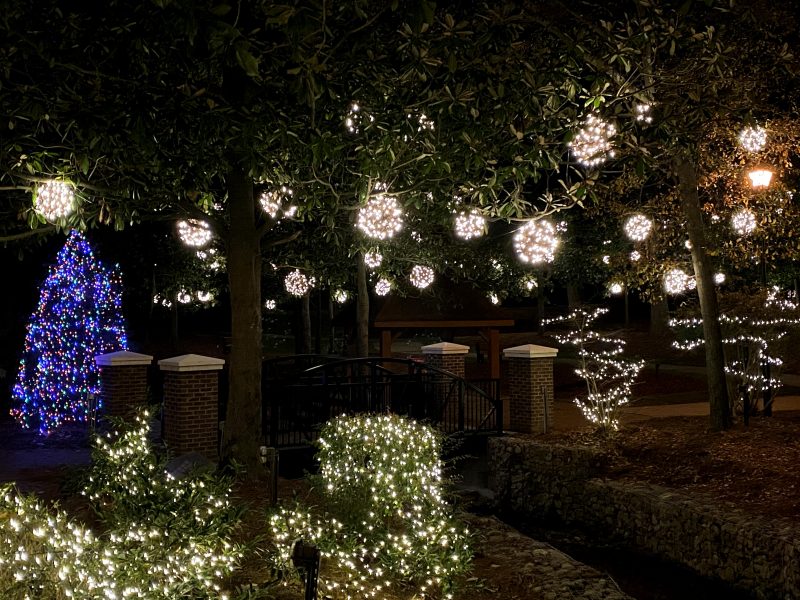 (HELLO to the couple we met last night! We hope you have a very merry Christmas filled with twinkling lights and hot cocoa!)
Historic Oakwood self-guided holiday tour
Historic Oakwood self-guided tour, starts at The Tucker House, 418 N. Person Street, Raleigh
Self-guided tour of homes includes historic information on the tour app
Daily December 12 to December 27, from 9 a.m. to 9 p.m.
One of the most historic neighborhoods in Downtown Raleigh, historic Oakwood's tree lined streets and 19th century architecture provide a spectacular holiday backdrop.
Lake Myra Christmas Lights
This Christmas light display has been a favorite of locals for many years. Each year, the family puts together a show using more than 400,000 lights all synced to holiday music to bring cheer to everyone. Each "show" lasts about 25 minutes and can be watched from your car.
This is one of our family's favorite Christmas traditions, and is sure to delight your kids as well.
This year, Santa has a mailbox set up so kids can drop off their letters! Donations accepted.
Nights of Lights at Dorothea Dix Park
This new attraction, a 1.3 mile long drive through light display on the grounds of the Dorothea Dix Park is sponsored by WRAL. Trees throughout the park will be decorated and displays set up as well, creating a magical winter wonderland.
This is a drive through event, no concessions and no restrooms. Visit the event website for more information.
Piper Lights
Piper Lights, 5725 Fixit Shop Rd., Wake Forest, NC
Drive-through display. Admission is FREE.
Nightly through January 1
The Piper Lights holiday display in Wake Forest gained national attention after winning the Great Christmas Light Fight. How lucky are we to have such a dazzling display right here in the Triangle?
This seven acre drive through display runs through several neighbor's yards — a community treat for sure.
Donations accepted.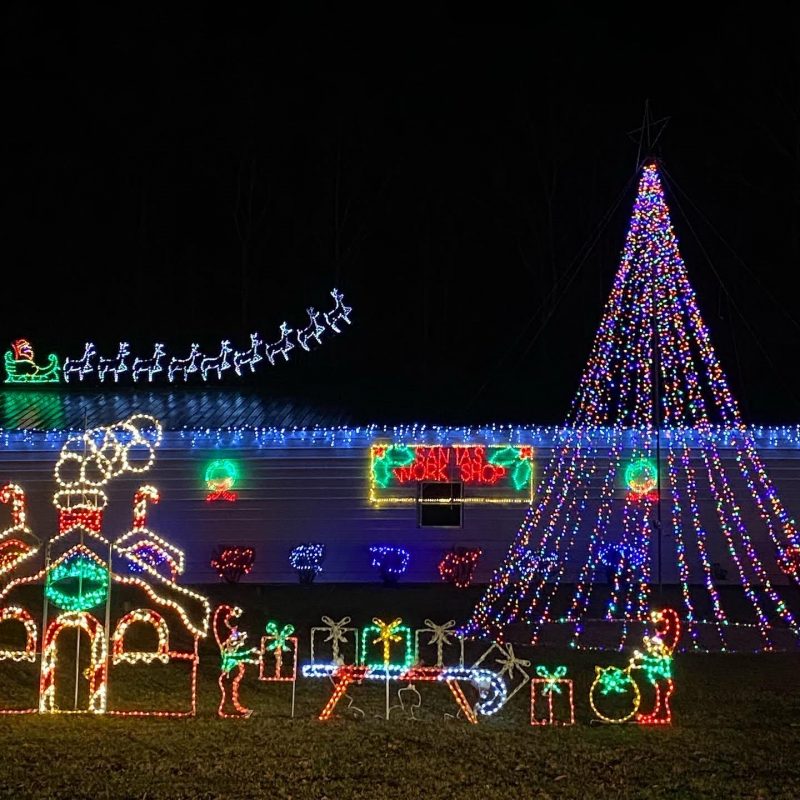 Stay safe this holiday season
Here in North Carolina, and in many places across the country, health mandates are in place to keep you safe and healthy.
The State of North Carolina has a mask mandate in place. If you are around anyone who does not live in your household, please wear a mask, even outdoors! Also, respect social distancing mandates of six feet or more.
Right now, North Carolina has a 10 p.m. curfew, so plan to visit light displays earlier in the evening.
Pin this post!
Keep this post handy. Pin it to your Christmas boards!