Historic Occoquan: Great Washington, DC Day Trip!
Whether you're planning day trips from DC, passing through the area on I-95 or planning a visit to a quaint, historic town, the Town of Occoquan, Virginia should make the list!
Updated October 2020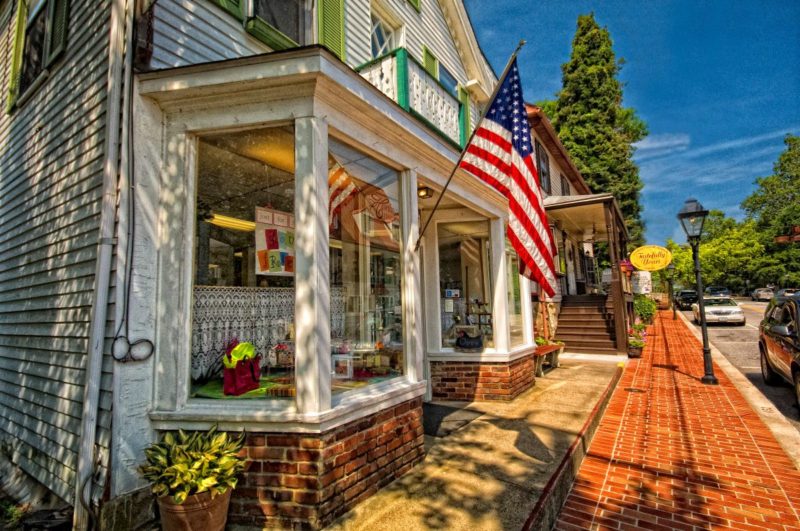 Vacationing in Washington, D.C. is amazing. There's so much to do. But, the hustle and bustle of the big city can be exhausting. Day trips from Washington, D.C. give vacationers a glimpse into the past by visiting historic towns like Occoquan.
Even if you're not vacationing in Washington, making a stop in Occoquan is a great way to break up a long road trip. Sure, you could stop at the rest area and grab stale snacks from vending machines like thousands do each day. Probably tens of thousands. OR, savvy reader, you could drive a mile down the road to Occoquan and enjoy a freshly brewed cup of coffee, a made to order meal and a stroll along Mill Street.
Tell me, who's going to enjoy their road trip more? The rest area groupies or the savvy travelers who know where the good spots are?
If you said savvy traveler (you  did, right?), read on to learn all the great secrets Occoquan is waiting to share with you!
Restaurants in Occoquan, VA
One thing I really like about small towns, especially historic towns like Occoquan, is they usually don't have many chain restaurants! Finding local restaurants, especially those that feature locally grown food on the menu, means I'm getting more than a meal. I'm getting a flavor experience!
There are many locally owned Occoquan restaurants to consider, which you can find on this list.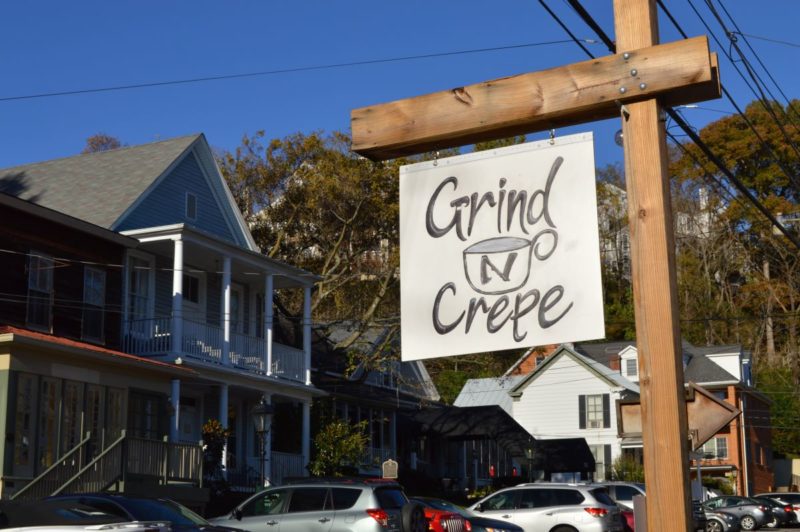 On my trip, I had breakfast at one of the new Occoquan, Virginia restaurants, Grind N Crepe. Located at 301 Commerce Street, diners can enjoy sweet and savory crepes, fresh brewed coffee, pastries and even healthy, protein bowls. It's an unfussy space that focuses on great food.
I have quite a sweet tooth, and ordered the Grandma Crepe, stuffed with cinnamony apples balanced by savory cheddar cheese. Simply scrumptious! All the menu items at Grind N Crepe are named after the owner's family — so, ask her about the inspiration if she's there!
View this post on Instagram
Hotels in Occoquan, VA
While there are no hotels in historic Occoquan, Virginia, there are many right down the road in Woodbridge with the two closest being Hampton Inn Potomac Mills and Quality Inn.
Another option is the hotels near Potomac Mills Mall, just off I-95. They include a number of Hilton and Marriott branded hotels and a Holiday Inn Express. If you are loyal to a particular brand or chain, you'll find it here. It's a really great spot along I-95 to stop for the night if traveling between Florida and the Northeast.
My stay in Occoquan was hosted by the Springhill Suites by Marriott in Potomac Mills, a great option for families because two bedroom suites sleep six comfortably with a split bathroom configuration for more flexibility. The free breakfast is a great hotel perk, too! This hotel charges $10/night for parking, which is a bargain compared to hotels within Washington, D.C.
If you want to stay in Occoquan consider an AirBnb rental. Some tips for booking AirBnb:
Rent from a Superhost or from an AirBnb "Plus" host which means they have gone through extra steps for quality assurance.
Communicate through the AirBnb website for your protection.
Ask questions about check-in time, kids, pets, etc. if the policy is not clear.
There are several beautiful AirBnbs listed in Occoquan, and while I have not stayed in one, I'd certainly consider them!
Things to do in Occoquan, VA
Historic Occoquan, VA is absolutely one of the most charming places to visit. More than 250 years old, the cobbled streets and quaint storefronts are reminiscent of a Hallmark movie set (in all the right ways).  Less than a mile west of I-95, it's a great place to stop to break up a long road trip.
Pro Travel Tip: If you get stuck in traffic (it'll happen), take a break in Occoquan for a quick bite to eat, some shopping or to enjoy the parks and let the traffic clear. That's so much nicer than sitting in the rush hour gridlock!
Some of the best spots in Occoquan are:
Nazbro Chocolates, 309 Mill St, Occoquan Historic District, VA 22125
Open Daily, 11 a.m. to 5:30 p.m., Nazbro Chocolates is an artisan chocolatier specializing in gourmet chocolates and fudge. They are, perhaps, most famous for their milk chocolate covered blueberries and penuche fudge. I loved both! The fudge here is so good, they even have a Monthly Fudge Club — with fudge mailed directly to you!
Mom's Apple Pie Company, 126A Commerce Street, Occoquan
Started in 1981, Mom's Apple Pie Company bakes pies, of course, breads and cookies. They use fresh, locally sourced ingredients — many from their own farm. Now that I know about Mom's, I'll probably stop here to pick up pies for our family gatherings in the area rather than bake one! They're open Monday-Friday, 7 a.m. to 7 p.m.; Saturdays from 8 a.m. to 7 p.m. and Sundays from 8 a.m. to 6 p.m.
Town of Occoquan Kayak Launch, at the bridge, Occoquan
The Town of Occoquan added a FREE public kayak launch this year (2020), providing locals and guests easy access to relaxed kayaking on the Occoquan River. Signage at the kayak launch explains how to use it. For light adventure, this is a great attraction.
Mamie Davis Park, 205 Mill Street, Occoquan
Located at the intersection of Washington Street and Mill Street in the heart of Occoquan, this small park offers shaded grassy areas with a gazebo. It connects to the town's public boardwalk and pier and is often used for weddings and other special events.
For travelers, it's a great spot to spread out a blanket and enjoy a picnic away from the traffic and noise of I-95 and fast food restaurants. If you don't have a picnic, get dinner to go from one of the restaurants — like Third Base Pizza — and enjoy that under the shade of a tree. See? Hallmark movie perfect!
River Mill Park, 458 Mill Street, Occoquan
River Mill Park opened on July 30, 2016 and sits at the west end of town on Mill Street. Looking over the Occoquan River, the park has an easy walking trail (stroller friendly), public restrooms and an event pavilion that hosts summer concerts and other special events. A walking bridge at the east edge of the park connects Occoquan to the town of Fairfax across the river.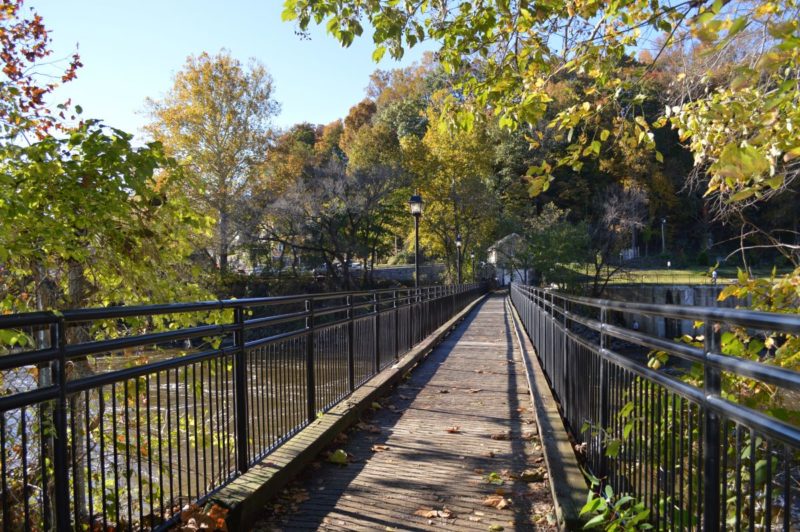 Mill House Museum, 413 Mill Street, Occoquan
The historic Mill House has had many uses, first as an iron works complex in the 1750s until purchased by Quaker Nathaniel Ellicott for use as a gristmill. A fire in 1924 destroyed all but the Mill House which is used today as a museum preserving the history of Occoquan. The museum is open daily from 11 a.m. to 4 p.m. Admission is FREE.
NOVA Arts and Cultural District
Perhaps one of the best reasons to visit Occoquan, besides its incredibly charm, is its art galleries.
The NOVA (Northern Virginia) Arts and Cultural District, which includes the Town of Occoquan, the Workhouse Arts Center in nearby Lorton and the Occoquan Reginal Park (named for the river) in Fairfax, is dedicated to expand arts opportunities in the region.
Because of this dedication to the arts, the Town of Occoquan has attracted many galleries, allowing dozens of artists from the region to participate.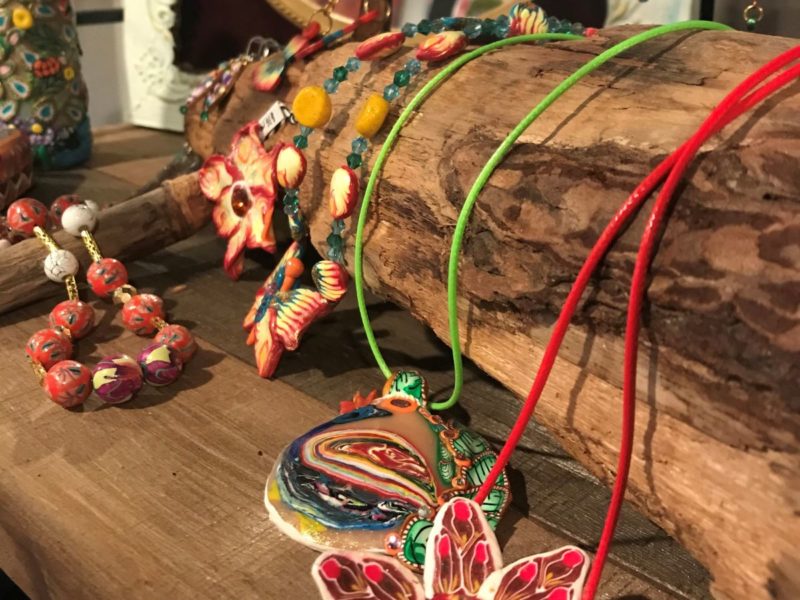 Despite dismal weather the day I visited, I found each of these galleries to be cozy, friendly places to discover new artists and even styles of art I'd never seen before. I even got some Christmas shopping done!
Whether looking for unique jewelry pieces, a housewarming gift, Christmas decorations or a treasured piece to add to your personal collection, you'll likely find it strolling the shops of Occoquan.
The Town of Occoquan also hosts an Arts and Crafts Show each September, with vendor tents lining Mill Street, as well as evening art walks throughout the year. Whether you plan ahead to visit or happen upon an art walk, you're sure to find something you'll love.
This little guy, crafted by June Heidemann, has lots of friends at Local Colour Old Town on Mill Street.
View this post on Instagram
Historic Occoquan Walking Tour
With such a long history so close to the nation's capital, Historic Occoquan has many, many stories to tell. Whether these stories are all true might be up for debate, but they are great stories none-the-less.
If you're the type to wonder "how did that street get its name?" or "is that place haunted?" then this self-guided walking tour is right up your alley. (GROAN!) It begins at the Visitor's Center on the east end of town and takes you west through the town to learn about the town's heroes and villians, the 1916 Fire, and why a park is named for Mamie Davis.. And more. There's lots more!
Download the walking tour guide to enjoy the stories of this charming town.
Planning your visit to Occoquan, Virginia
I highly recommend a weekend visit to Occoquan to experience the charm of the town. Use the information above to plan your stay.
But, if you're just passing through on I-95, stop here to break up your road trip. Occoquan is much more than a road side attraction — it's a place to enjoy a relaxing dinner, take a stroll through a quiet waterfront park or do some unique shopping. Just a mile from the highway, you step back in time — it's hard to believe it's so close to I-95.
Parking in Occoquan, VA?
Parking in the Town of Occoquan, VA is free. There is a public parking area under the bridge at the east end of Mill Street, as well as on street parking throughout town and at River Mill Park on the west end of town.
Learn more about visiting Occoquan, Virginia?
If you're passing through, stop in at the Visitor Information Center located at 200 Mill Street for recommendations for your visit. The visitor center is open daily from 9:00 a.m. to 5:00 p.m.
You can also learn more at these sites:
Pin it for later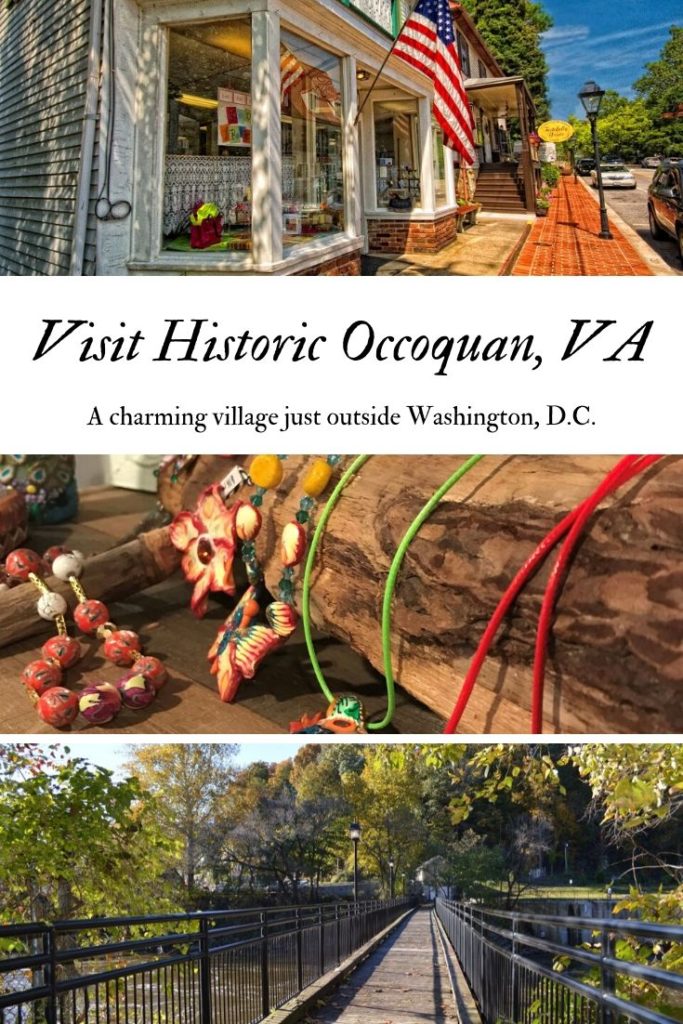 Other places near Washington, D.C. that you might like
If you, like me, drive through the Washington, D.C. area often, you might enjoy these other stops along I-95.