5 reasons to start planning summer vacation now
This post may contain affiliate links. Click here to see what that means.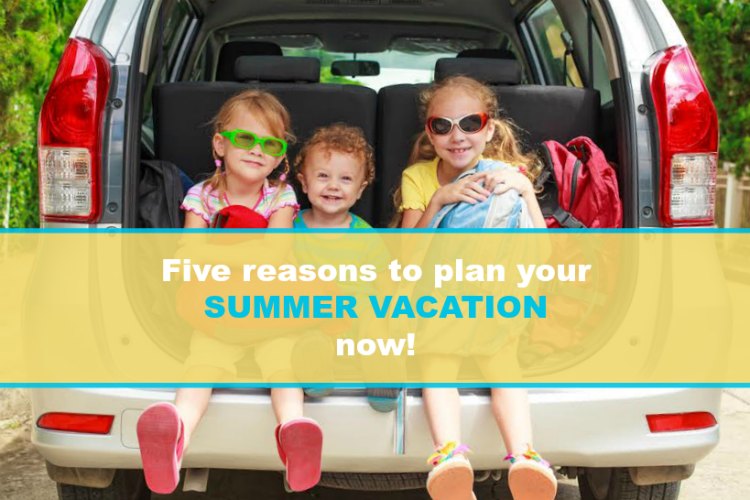 Now is actually the best time to start planning your summer vacation. Why? Well, I can share at least five good reasons why and prove to you that sometimes a little bit of planning ahead can pay off drastically!
You can start saving for the trip
When you plan ahead for vacation, you don't end up putting lots of the trip on a high interest credit card. Saving over the course of a few months, you can pay for the trip with cash rather than a credit card. Who wants to come home to debt?
You can book early and get a good price
Booking early generally gives you a better price and other advantages. For instance, if you book a flight right now, you will have a better chance to sit with the whole family. As we all know, airlines are less flexible than they used to be. Kids might end up sitting separately making the trip more challenging. Therefore, better book your flight now to get seats next to each other.
Also, if you book your hotel rooms now, you can also save big. Rates are usually lower early, and the price rises and rooms fill. Also there is a greater room selection when you book early, so you can get the type that's best for you. Booking way ahead will ensure that you will have a comfortable stay and also remain on a budget! Of course, you also need to find a legitimate website to book cheap hotels to save the most.
You will avoid stress
Since planning overall is very stressful, especially if you do that all by yourself, planning a perfect vacation with kids can be a real challenge for your health and mood. When you plan ahead, you don't have to make all the decisions right away. That means you'll enjoy your vacation more once it finally arrives.
You can do more research
Another important reason to start planning your trip in advance is the ability to do more research. You can choose the activities that interest you and then narrow the list down to what fits your budget, time and the family's interests best.
You can ask your friends and family member to join
Finally, if you start planning your trip early, you can also ask your friends and other family members to join you, and they might say yes! So, if you want to have a perfect getaway with all your loved ones, ask them to schedule that one week or so for a wonderful vacation trip. It will be a lot easier for them to plan their holiday season like that, and you will be sure that they won't answer negatively!