Best kept secrets: Roadside attractions in the Carolinas
This post may contain affiliate links. Click here to see what that means.
If you're looking for fun things to do in North Carolina and South Carolina, we have a great list for you!
With all the road trips we take, especially here in the Carolinas, we've found some pretty unusual places. These best kept secrets are quirky — intriguing to kids and tweens.
Breaking up a road trip with a quick stop to check out strange attractions seems to help the mood all around.
I asked my official tween turned teen, Ellie, to curate this list for you. So, not only is it kid approved, it's kid recommended!
Best places in North Carolina and South Carolina for families
This list of fun things to do is broken down by highway route, showing you some of the best places in North Carolina and South Carolina to take a break on road trips.
Each of these roadside attractions includes a link for more information.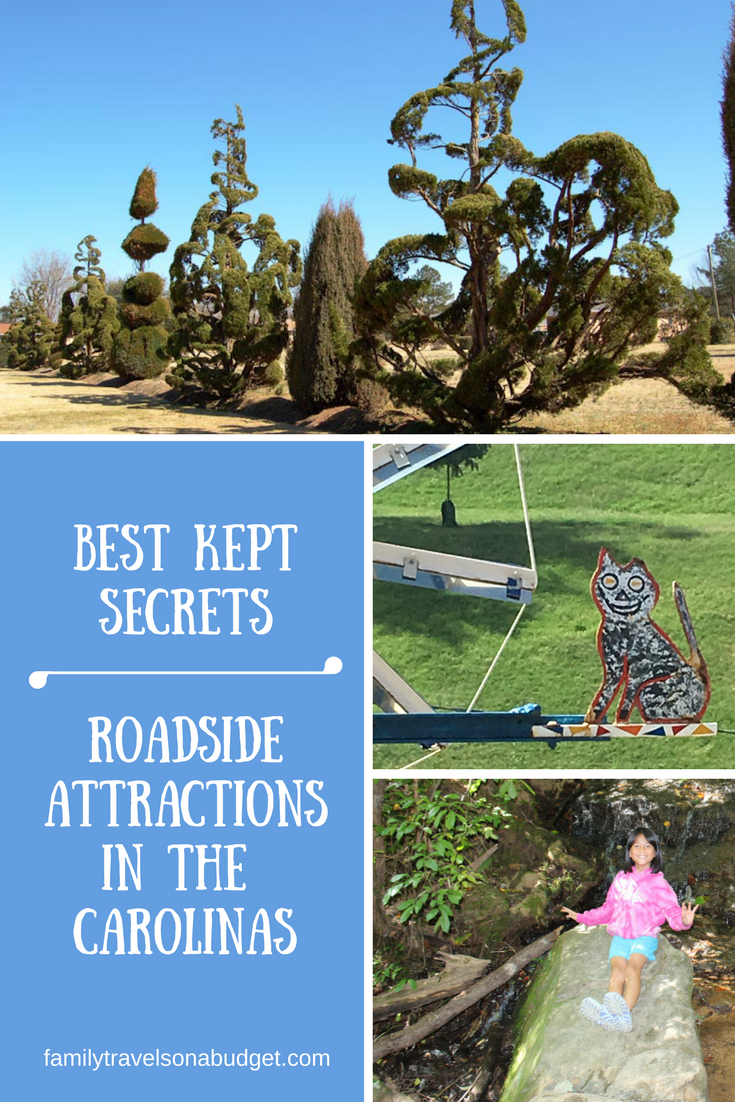 Roadside attractions off I-95 in North Carolina
Perhaps you're wondering how to escape the gridlock on I-95 in North Carolina.
You could change course and travel HWY 301 instead! It's pretty awesome.
Or, you could take a break and enjoy one of these weird attractions along I-95 in North Carolina.
The Cryptozoology & Paranormal Museum
Located in Littleton, about 20 minutes west of I-95 near Roanoke Rapids, the Cryptozoology & Paranormal Museum is "dedicated to the study and display of creatures and phenomena not recognized by traditional science." This small, quirky museum takes about two hours to explore and has a small admission fee of $5 for adults and $2 for kids.
If you're in to paranormal and weirdness, it's worth a visit according to reviews!
Vollis Simpson's Whirligig Park, Wilson, NC
In Wilson, North Carolina, about 15 minutes east of I-95, Vollis Simpson's whirligigs are well known.
Vollis Simpson built his first "wind machine" during World War II to run the washing machine. After leaving the army, he opened a machine shop and created the whirligigs because he enjoyed them.
His whirligigs have made him regionally famous, with some on display at the American Visionary Art Museum in Baltimore and other places. The town of Wilson has created a park to honor Simpson's creations.
The Whirligig Park and Museum is sure to delight young and old alike.
In fact, of all the roadside attractions in North Carolina, this is my absolute favorite! We love picnicking here.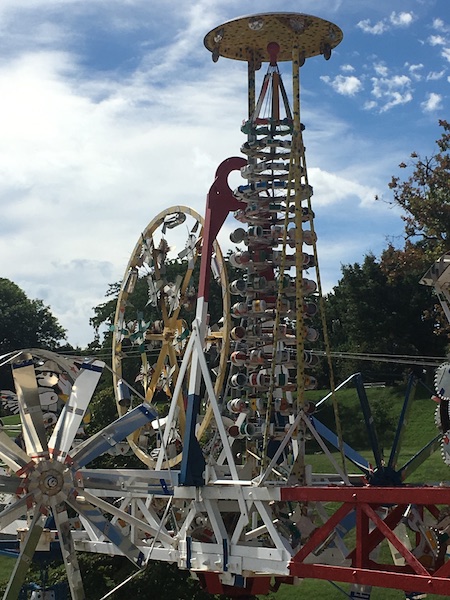 Things to do along I-95 in South Carolina
There are several roadside attractions in South Carolina along I-95. We'll start with the most well known… can you guess it?
South of the Border
Just south of the NC state line, South of the Border is a world famous roadside attraction for sure!
With shops, food, silly carnival attractions, a gas station and even a motel, a stop at Pedro's giant sombrero is a uniquely fun place to stretch your legs.
Old Sheldon Church Ruins
Just ten minutes east of I-95, just past the town of Yemmassee, you'll find the Old Sheldon Church Ruins.
Within a cemetery, the Old Sheldon Church Ruins are Greek Revival columns, walls and a graveyard dating back to the 1750s. The ruins are surrounded by old oak trees covered in Spanish moss.
PRO TIP: When visiting in the steamy summer months, carry bug spray. Southern mosquitoes are a real thing.
UFO Welcome Center in Bowman, SC
Located just nine miles west of I-95 off exit 82, the UFO Welcome Center is certainly unique.
Jody Pendarvis built the UFO welcome center, which is also his home, from materials he salvaged from his grandfather's house. The massive, 42 foot diameter silver "flying saucer" has several levels, with many rooms to welcome alien visitors.
Luckily for him, the neighbors don't mind — and no aliens have visited. Yet.
Roadside attractions in North Carolina near I-40
There are some really unique roadside attractions in North Carolina just off I-40.
World's Largest Frying Pan
In the small town of Rose Hill, NC, just 2 miles west of I-40, you'll find the World's Largest Frying Pan at 510 E. Main Street.
I'm not sure what they cook in it or how you wash it when you're done, but it definitely qualifies as one of the weird roadside attractions in North Carolina! Really weird.
Old Salem Coffee Pot
If there's a frying pan, why not a coffee pot? Right!
This weird roadside attraction in North Carolina once stood outside a local restaurant, and has moved several times.
This Old Salem landmark now sits in Winston Salem, close to US-421, just a few miles off I-40.
The Old Salem coffee pot was erected in 1858 by the Mickey brothers, Julius and Samuel, tinsmiths, to display in front of their shop in Salem, NC. More than 7 feet tall, it could hold 740 gallons of coffee or tea. Who's going to pour?
For tea lovers, this roadside attraction makes a great photo op. Find it at the intersection of Highway 158 and Athens Road.
Boone's Cave Park
Boone's Cave Park is located between I-40 and I-85 between Mocksville and Salisbury.
This secluded 100-acre park has hiking trails, river fishing, and a monument and cave linked to Daniel Boone. The park is dog friendly and wheelchair accessible.
For kids, it's a great spot to stop for a picnic lunch and use some pent up energy on a long road trip!
Andrew's Geyser
From the Old Fort Exit off I-40, go north about 10 minutes to this roadside attraction in North Carolina.
Andrew's Geyser was originally "built" in 1885 to honor the men who died in the construction of the railroad. Shooting water about 80 feet into the air, Andrew's Geyser now sits in a public park.
This is another worthwhile detour to let the kids burn some energy — as you amaze them with your ability to find weird roadside attractions in North Carolina!
We don't have to tell them you found it here!
South Carolina roadside attractions along I-20
I travel I-20 in South Carolina all the time, and my favorite roadside attraction in South Carolina is Pearl Fryar's Topiary Garden in Bishopville, SC
Pearl Fryar's Topiary Garden
Pearl Fryar's Topiary Garden in Bishopville, SC (just off I-20, go right at the exit ramp and look for topiary markers) is open year-round. Admission is free, though a $3 donation is welcome.
The backstory on this South Carolina roadside attraction is delightful.
Pearl Fryar was the first in his family — EVER — to own a house. He was proud of the accomplishment and meticulously cared for his house and lawn.
He wanted to be recognized as Bishopville's Yard of the Month, but his house was outside city limits. So, he decided to make it more beautiful until Bishopville couldn't resist – and today, his garden rivals topiary gardens of Japan and Europe.
PRO TIP: Head to downtown Bishopville for ice cream or a local lunch! It's a cute little town.
Roadside attractions along I-85 in North Carolina
World's Largest Bureau in Highpoint, NC
Located in Highpoint, NC, near I-85 at Exit 111 (head north on Main Street about 5 miles), this 38 foot tall chest of drawers was first built in the 1920s and refurbished in 1996.
The dresser includes a super-sized pair of socks to honor the textiles industry which was essential to North Carolina's early industry.
PRO TIP: Play the movie "Honey I Shrunk the Kids" after you visit. Imagine 2 hours of quiet time in the car!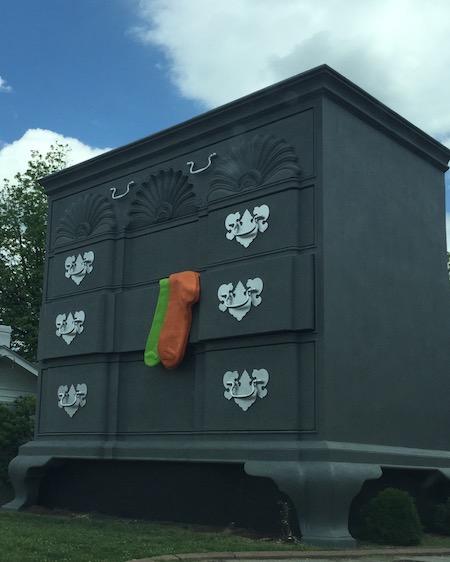 Boone's Cave Park
Located between I-40 and I-85 — so, yes, it's on the list twice — Boone's Cave Park has playgrounds, a marker honoring Daniel Boone and more to enjoy. It's a great spot to stop and enjoy a meal or snack!
Giant Peachoid in Gaffney, SC
Odds are if you've traveled anywhere along I-85 near the North and South Carolina borders, you've seen the Giant Peachoid in Gaffney, SC.
Heck, it's even been featured in House of Cards!
The Peachoid was built because Gaffney needed a water tower — and they wanted the world to know that the Gaffney area grows more peaches than their neighbor, the Peach State (aka Georgia).
For safety reasons, don't stop at the side of the highway for a photo. Instead use the service road accessible from Exit 92 Southbound or Exit 90 Northbound.
More weird roadside attractions in North Carolina and South Carolina
Just about every small town — and some larger ones, too — has a local legend that everyone loves to talk about. Some are creepy. Others are downright weird. And when traveling with kids, tweens and teens, these weird roadside attractions can lead to some interesting road trip conversations!
This section of our roadside attractions list is a little further from the main interstates. They show that wherever you travel in the Carolinas, there's a weird roadside attraction not too far away!
Weird roadside attractions in North Carolina
Haw River Critter Crossing, Bynum, NC
In the tiny "town" of Bynum, North Carolina, near Carrboro, Clyde Jones created a world of cute critters from tree limbs and stumps, tennis balls and bed springs.
The whole town proudly displays his creatures, as does the rest of the world. If you can't make it to Bynum, you might find his critters in Washington, D.C., on the Great Wall of China (no kidding) or in Taiwan.
You'll find Bynum as you travel south on 15-501 from Chapel Hill for about six miles to Bynum Road.
Look for the critters — they're all over "town."
Shangri-La Miniature Stone Village
In the small town of Prospect Hill, between Roxboro and Burlington is a tiny village unlike any other.
This storybook town of buildings standing five feet tall made from local stone, Shangri-La Miniature Stone Village was created by Henry Warren. He started the tiny town in 1968 at the age of 72.
There are 27 buildings in the village, including a school, a church, a theater, a hospital, and a mill.
A plaque in the village says, "Let me live in the house by the side of the road and be a friend to man."
The House of Mugs, Collettsville, NC
My daughter discovered this one, the House of Mugs, though we haven't been to see it (yet).
In the Pisgah National Forest,  in the town of Collettsville, North Carolina on a dirt road sits the house of mugs, an actual home!
It started small with the owners hanging mugs on nails as decor for their home. As time went on, they added more mugs. And now, the entire home, the fence and pretty much everything else, is covered in mugs!
When you visit, sign the guest book (and bring a mug to add to the collection — if there's space!)
Directions: Take NC Route 90 north/west out of Collettsville and turn left onto Old Johns River Road. Follow that road for 2.5 miles to a gravel road turn-off on the right. Bear right onto the gravel road and follow all the way to the end. If you have trouble, ask the locals for directions to the Cup House. They'll get you there.
Weird roadside attractions in South Carolina
World's Smallest Police Station in Ridgeway, SC
We discovered this police station a couple of years ago, and while we knew it was small, we had no idea it was the smallest free-standing police station in the United States.
That qualifies as a weird roadside attraction, right?
The Ridgeway Police Station was featured in the 1989 movie, "Staying Together," and was a stop for the Olympic flame in 2006!
Add in the still working phone booth beside the station and it's something kids will marvel over!
Ellie still can't imagine having to use phone booths back in the "olden days" (of my youth).
Plan your visit during "Pig on the Ridge," South Carolina's largest BBQ cook-off which just happens to be in the same town!
Directions: On US 21/Main Street in Ridgeway.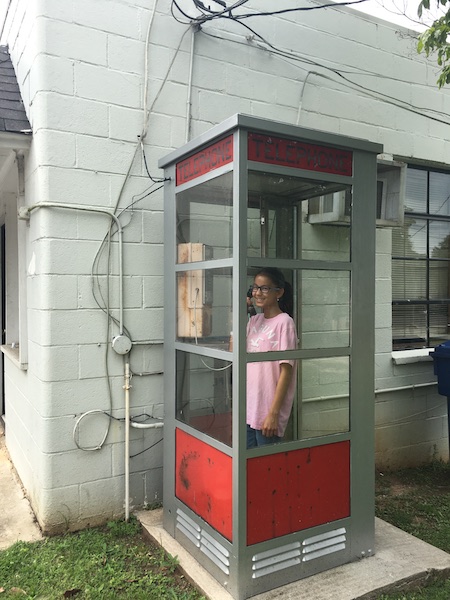 Campbell's Covered Bridge
If you live in Pennsylvania or Virginia, you might be used to covered bridges, but they are far less common in the south.
Campbell's Covered Bridge, the last of South Carolina's 20 covered bridges, stands proudly in a park in Greenville County along Beaverdam Creek. There's a short nature trail walk to the bridge where signage tells the history of the area — like the grist mill that once stood nearby.
So, a covered bridge isn't exactly a weird roadside attraction…. but in South Carolina it's a rare one!
ADDRESS: Campbell Covered Bridge Park, 171 Campbell Covered Bridge Road, Landrum, SC just a bit south of the Cherokee Foothills Scenic Highway.
Stumphouse Tunnel
Back in the early 1800s, some entrepreneurs decided to build a railroad between the farmland of the Cincinnati, Ohio area and the port city of Charleston, SC.
Sounds good, right?
The only problem was that the route needed 13 tunnels to be built — an expensive and dangerous endeavor.
As tensions built between the north and south, funding dried up and this particular railroad line was never completed.
Since being abandoned, the 1600 foot long Stumphouse Mountain Tunnel has served as a home to bats and a cheese curing "house" for Clemson University.
No longer used for cheese curing, the train tunnel is now a town park.
Bring a flashlight and a jacket if you want to visit.
Directions: The park is located about 7 miles northwest of town on Hwy 28 in Oconee County, SC.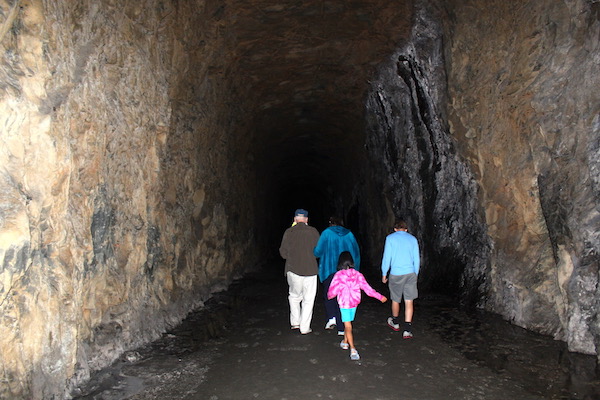 When taking a road trip, look for weird roadside attractions and oddities to break up the drive. There sure are a lot of roadside attractions in North and South Carolina!
More ideas for a great road trip!
Don't lose your patience, take a deep breath and try some of these ideas for road trips with kids.