Take a trip back in time with Strasburg Railroad
This post may contain affiliate links. Click here to see what that means.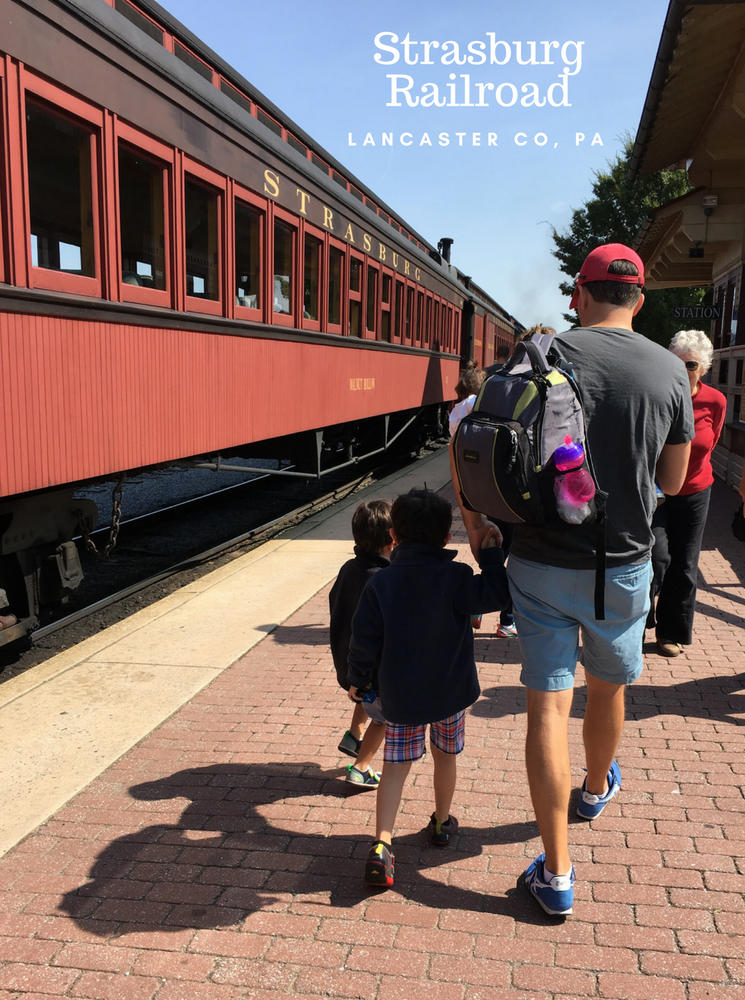 In the heart of Lancaster County, Pennsylvania, Strasburg Railroad takes families back in time on rides through the rolling countryside. Enjoy the serene farmland on this 9-mile roundtrip journey to Paradise (yes, that's a real place).
Riders can choose from a number of experiences. The cheapest fare is standard "coach," where guests ride in a Victorian train car with comfortable seats. The open air car brings in fresh breezes as the train travels through the countryside. Schedule your ride at lunchtime to enjoy the dining car, a wooden train car with tables, chairs and Victorian decor.
If you prefer air conditioning (especially during the dog days of summer), three train cars offer that luxury: The first class lounge car, the indulgent lounge car and the president's car with all the opulence the name suggests. In these three cars, riders can purchase snacks and beverages as well. Of course, the price for air conditioning and luxury costs a few dollars more, but it might be worthwhile in July and August!
Whether you purchase tickets in advance (highly recommended in summer) or at the station, be sure to arrive well in advance of boarding. Keep your tickets handy, too, because the conductor will stop by to get your stub! If the train's not crowded, he'll pose for a fun photo. We thought of it too late, though.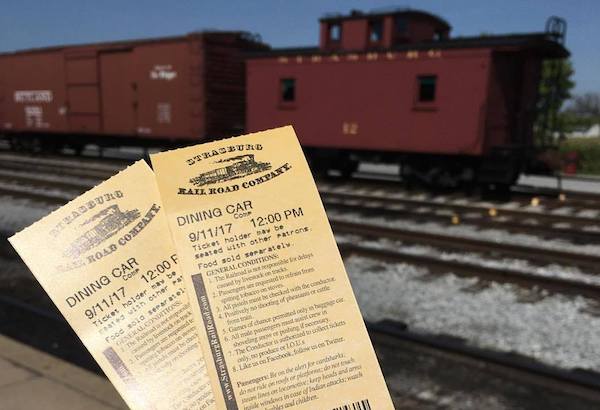 Savor lunch on the Strasburg Railroad
I took my mother-in-law along for a lunchtime ride in the Lee E. Brenner Dining Car. We boarded the train and seated ourselves at a table. Menu options included a variety of sandwiches which could be purchased a la carte or as a meal deal. I chose the meal deal — because I really wanted the "Whoopie Pie" for dessert!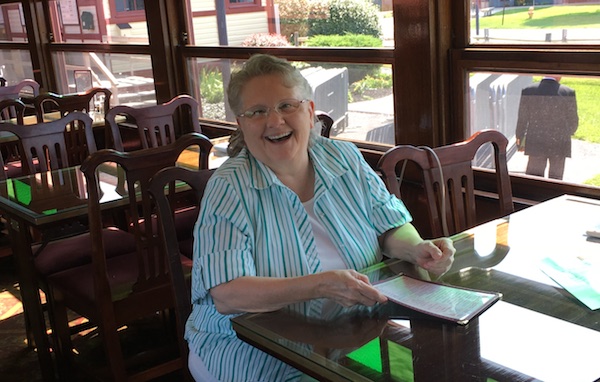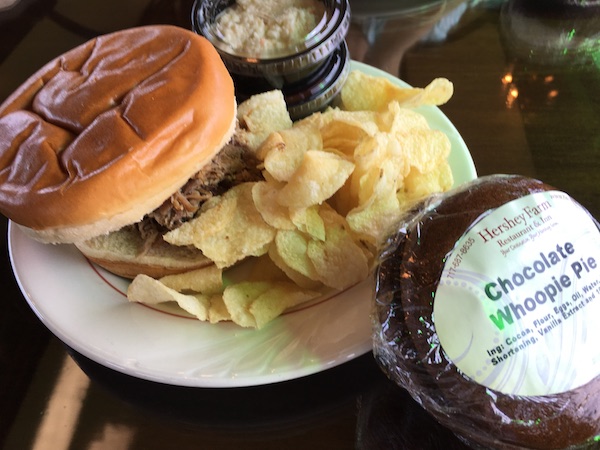 We were the first to order lunch and our meals arrived promptly. The food was quite tasty!
Among the other riders in our car was a young family with four kids. They did not order as quickly as we did, which meant their food arrived later. I noticed that they didn't finish their meals before the end of the ride and had to get doggy bags.
[bctt tweet="Strasburg Railroad lunch tip: Board early and order quickly so you have time to finish eating while enjoying the view." username="karen_dawkins"]
Travel tip: Combining lunch and the train tour was a great way to relax midday during my stay in Lancaster County. I recommend that families come early, enjoy all the children's amenities and top off their visit with lunch and a train ride.
Enjoy the scenic tour
On your ride to Paradise — that's Paradise, PA — you'll get to see farms, corn and cows, of course. You'll also pass by a working train yard and a fun caboose motel.  The conductor points things out along the way, including the "ghost" whistle of a train long forgotten.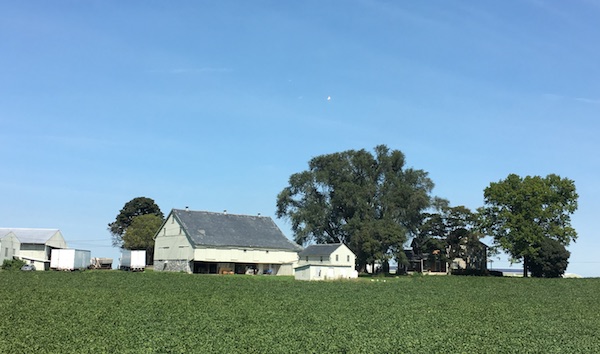 Once arriving in Paradise, the train stops for a bit giving riders a chance to finish lunch before the return ride. I didn't find the scenery particularly exciting in Paradise, but a local assures me that I only saw the train side. He says the town is apparently adorable. I'll check it out next visit and let you know for sure!
During the stop, the conductor announces that those who wish to remain facing forward can switch their seat backs in the regular cars. Good tip for those who might not fare well riding backwards!
Other things to do at Strasburg Railroad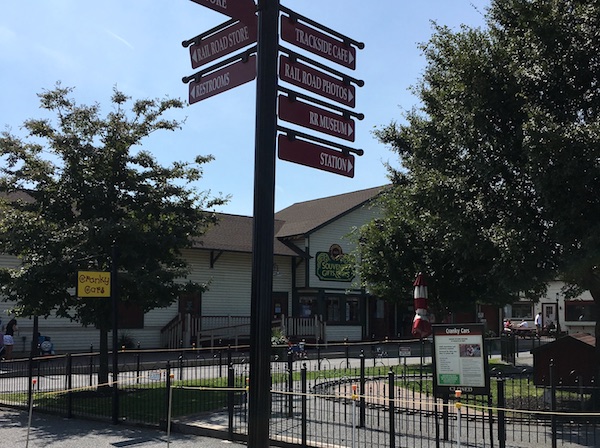 While the train ride is great, families with young kids can easily spend a half day at Strasburg Railroad. Check the schedule to see what's operating the day of your visit.
Cranky Cars: These hand-propelled cars date back to the 1930s and move by arm power around a track. Super fun!
Pint-sized Pufferbelly: A children's steam engine, dating back to the early days of Coney Island, takes kids along a pint-sized track.
Pump Cars: Kids operate the pump cars (with some help) to propel themselves along a track.
Train themed playground: Play engineer or conductor on this kid sized playground complete with train and climbing equipment. Tucked out of the way, it's a nice place to let kids burn off some energy!
Picnic areas: If you opt not to dine on the train or in the station restaurant, a number of shaded picnic areas give families a chance to relax and enjoy lunch in this inspired setting.
Shopping: Two gift stores and a toy shop onsite make shopping for souvenirs and gifts an easy thing!
Special events at Strasburg Railroad
Of course, a train ride is great fun, but… throw in some holiday magic or the preschool favorite, Thomas the Tank, and take it to a whole new level. Just look at all the Strasburg Railroad events offered this fall and winter.
Day Out with Thomas: Preschoolers love Thomas and his friend, Sir Topham Hatt. Tickets include the train ride, a meet and greet and other activities. Click here to learn more or to purchase tickets. Advance purchase is strongly recommended as these events tend to sell out.
The Great Train Robbery: This Bonnie and Clyde inspired ride takes you through the Amish countryside on a memorable adventure.
Christmas Rides: Visit with Santa on the Christmas Paradise Express ride. Enjoy the Night Before Christmas in a new way on a "Night Before Christmas" themed ride. For a truly unique experience, take the train to a Christmas tree farm. How fun is that? Of course, seasonal goodies are included in this special once-a-year event.
Other rides throughout the year: Ride with the Easter Bunny each spring, and enjoy wine, cheese and paint on a special Wine and Design ride offered throughout the summer season.
Check out the Strasburg Railroad events page to learn more, including dates offered and ticket prices.
While my ticket and lunch were provided for purposes of this review, all opinions are mine.
Your family might also enjoy