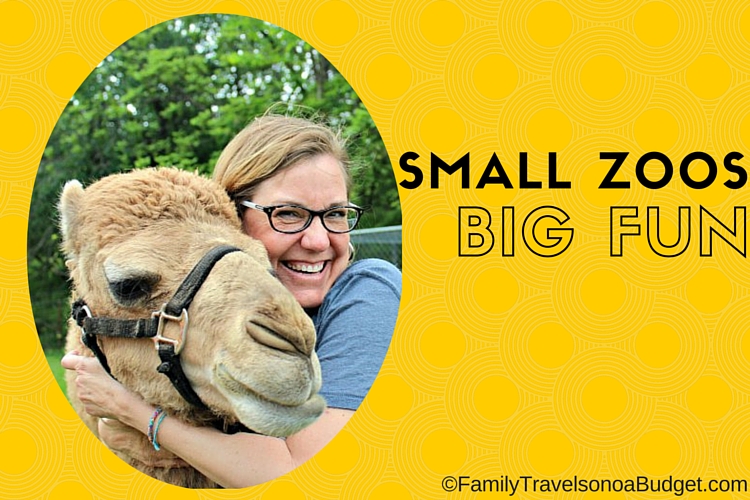 I hesitate to use the word zoo in this post, actually. Maybe I should say petting farms, though that makes me think of preschoolers, so zoo it is.
Small zoos are nothing like the major zoos across the country. At large zoos — like my personal favorite, the Columbus Zoo — elaborate exhibits feature exotic animals from around the globe. For safety, the animals are kept a safe distance from visitors. You know, I'm not one to want to hug a lion! Zoo programs provide opportunities to interact with some of the friendlier inhabitants, but you have to plan ahead and sign up for the program. Often, they cost an extra fee.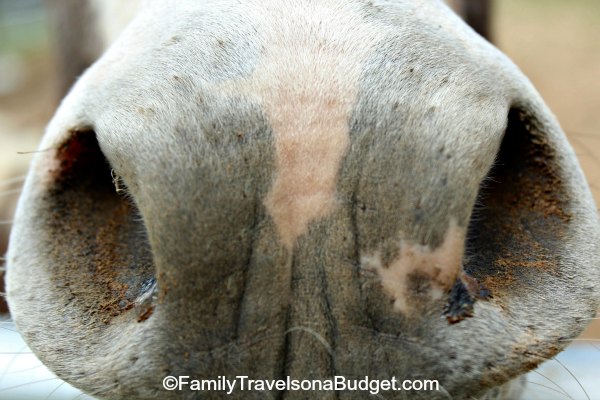 Small zoos, on the other hand, focus on educating guests through personal interaction with furry and feathered residents. I didn't think I'd enjoy a small zoo experience as much as I love the manatee exhibit in Columbus or the Meerkats at Riverbanks Zoo in Columbia, South Carolina, but I was wrong.
Lost Creek Safari in Stillwater, OK
My first small zoo visit was to Lost Creek Safari near Stillwater, Oklahoma. The owner, Carla, greeted us personally and escorted us to the monkey exhibit area. Her husband fed them grapes as she introduced each one to us and shared funny stories about each one. It's clear that these devoted (and fully licensed) caregivers treat their animals like members of the family.
Carla then brought a baby kangaroo out to us. We washed our hands carefully and then we got to hold him. Oh. My. Goodness!!! If you have never held a baby kangaroo, you have no idea what you're missing. I reluctantly passed him along to the other people in the group, but when I retire from traveling, I think I'll become a surrogate caregiver for baby kangaroos. They're so adorable!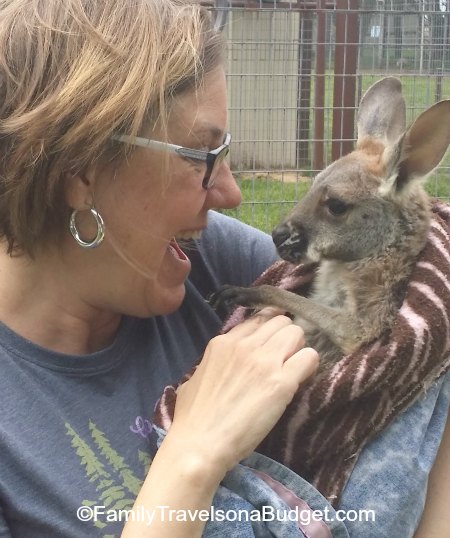 We met the lemurs, hugged Gilbert the camel and met the rest of the menagerie. Owen, the giant tortoise, was particularly infatuated with my bright tennis shoes — and he moved quicker than you might think.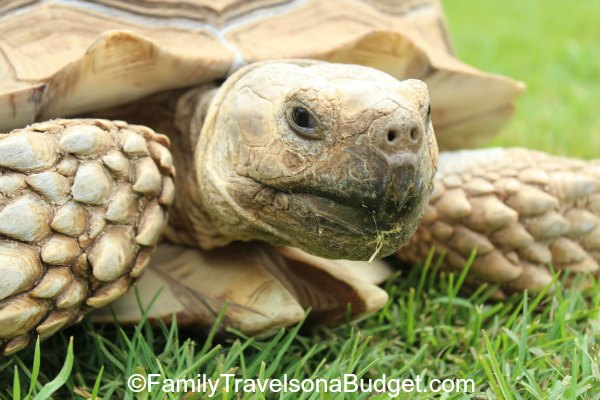 Through the whole visit, Carla and Rusty shared information on the animals — where they came from, how old they are and their personality quirks. They love their critters like I love my dog — and they know them just as well.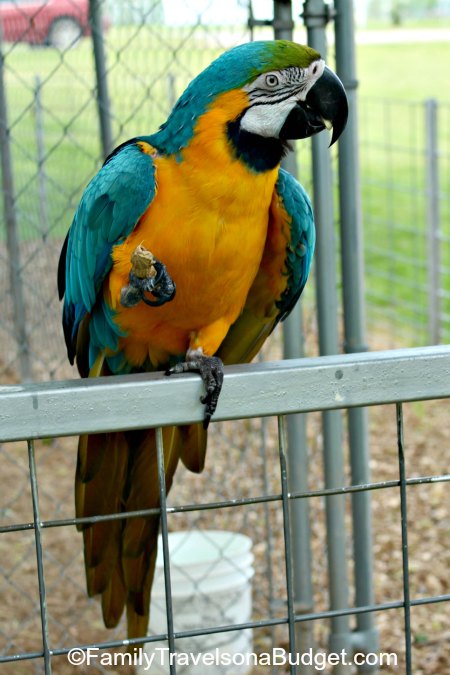 I asked if neighbors have any concerns about Lost Creek Safari being nearby. Since they don't house known predators, none of the neighbors is concerned. Most love having the zoo nearby and appreciate the efforts there.
Posey Thisisit Llama Farm in Shenandoah County, VA
More recently, Ellie, Ben and I went to Posey Thisisit Llama Farm in Toms Brook, VA. Tucked away on a country road, it's a little hard to find, but it's such a sweet little place with adorable residents like this guy.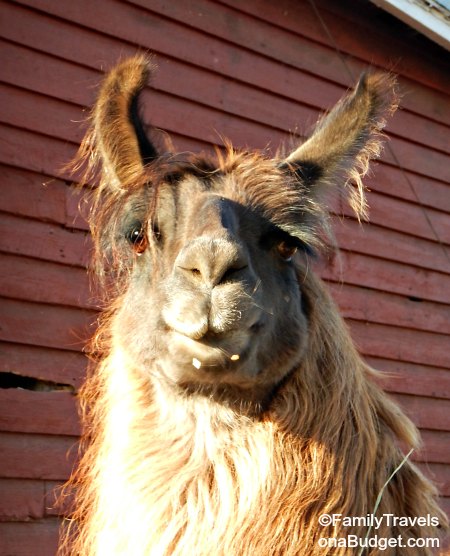 Owner, Joyce Hall, supported her husband in a long military career and when it came time to retire, he returned the favor letting her choose their next adventure. She wanted a llama farm, and the rest is history.
For years, they bred champion llamas and showed them around the country. But wanting a simpler pace, they have since stopped breeding and showing them, choosing instead to open their small farm to guests.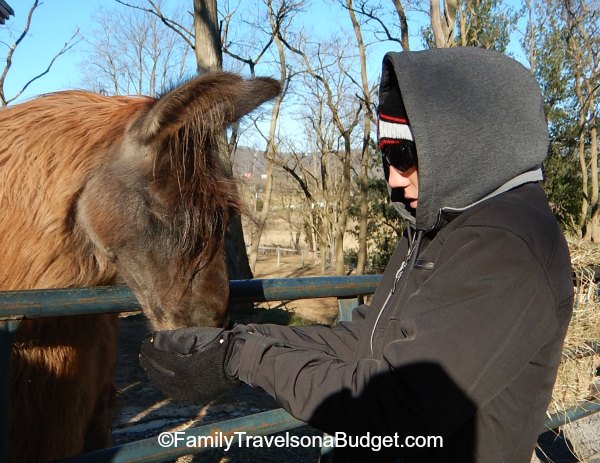 Local school groups and nursing home residents take field trips to the farm. Visitors to the Woodstock area can visit too. Our visit was cut a little short by the brisk winter wind, but we got to meet the llamas and learn about them. For instance, llamas do not like it when you touch their faces (though some have been trained with treats to grow more comfortable with it). Llama wool does not have the same lanolin as sheep's wool, so people are less likely to be allergic.
Joyce showed us the wool in its various states: shorn from the llamas, combed and cleaned of impurities (leaves), ready for spinning and fully spun yarn. She showed us many items made from llama wool — hats and scarves, craft items, wool wrapped soaps and woven cat beds.
Ellie really enjoyed her visit as she recently began knitting and is quite interested in where yarn comes from. I loved meeting the animals and learning about them from someone who knows them so well. Joyce's excitement about the llamas certainly rubbed off.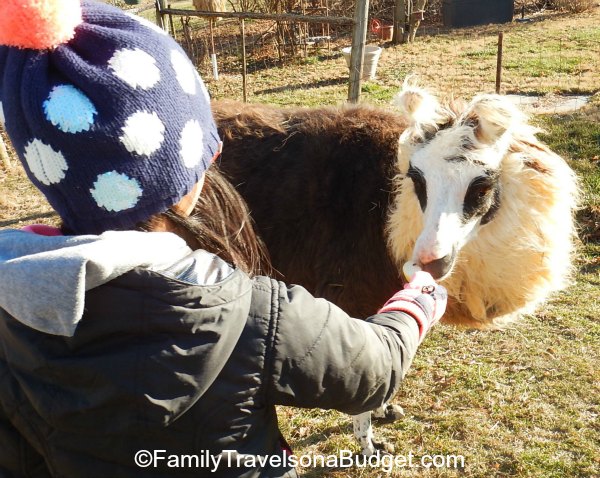 Tips for visiting a small zoo
To visit a small zoo, it's best to make contact ahead of time. The owners welcome visitors, but since they don't get the huge numbers that major zoos do, you'll get a better experience by scheduling in advance.
Allow 1-2 hours for your visit (great for morning outings).
Remind kids to follow the rules. Getting to see the animals up close is great, but it sure helps if kids know to listen to the tour guide about safety.
Encourage kids to ask questions! This is the best thing about a small zoo — kids can ask the experts anything!
Take lots of pictures!
To learn more about these small zoos, visit their websites and Facebook pages:
Lost Creek Safari in Stillwater, OK
Lost Creek Safari on Facebook
Posey Thisisit Llama Farm in Toms Brook, VA (Shenandoah Valley)
Posey Thisisit Llama Farm on Facebook