Some things I learned about Frank Lloyd Wright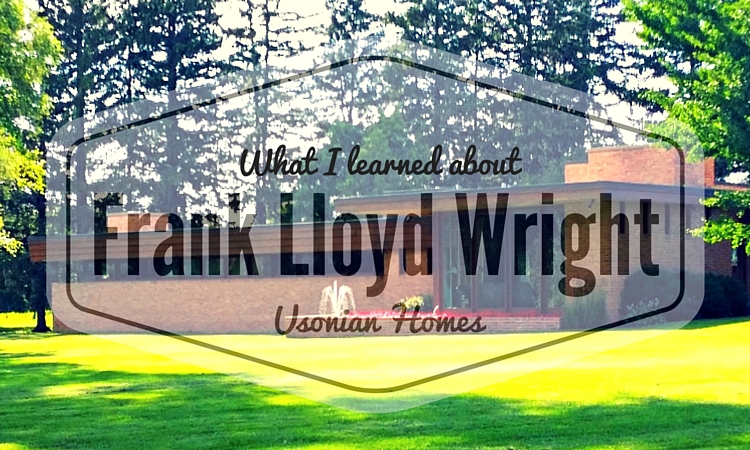 On the Great Illinois Road Trip last year, Ben and I got the opportunity to visit TWO Frank Lloyd Wright usonian homes, a dream come true for me. Among all the other careers I never had but wanted, architect ranks high.
Muirhead Farmhouse
Our first stop was at Muirhead Farmhouse, located near Elgin, Illinois.
 About the Muirhead Family
The Muirhead family settled in Illinois in 1860. In the 1940s, owners Robert and Elizabeth Muirhead wanted to provide a more up-to-date home for their family of seven. After some negotiating, Frank Lloyd Wright agreed to design their home. 
Like any Frank Lloyd Wright home, every inch of the Muirhead Farmhouse is intentionally planned, right down to the furniture for each space. The home's vast windows draw the outdoors in. The result, a family home that feels much larger than its 3,200 square feet.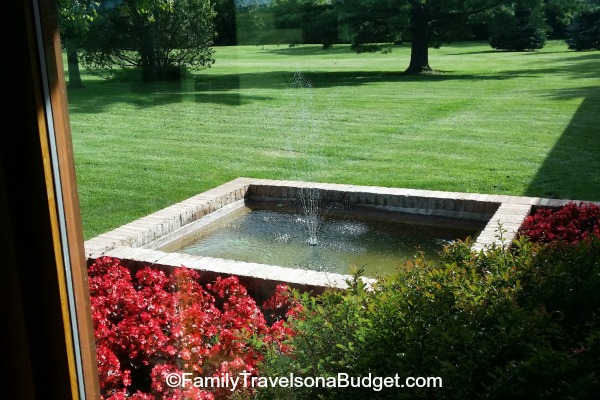 On our tour, we learned why Wright prefers low ceilings — to "naturally" force people to sit and linger together, particularly in the dining room. We learned about his furniture design, choice of materials and even his meticulous planning of outdoor spaces around the home.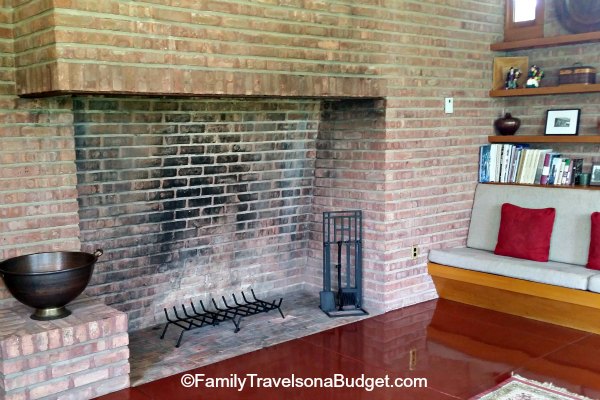 What I loved best, though, was learning how Mrs. Muirhead stood her ground with the famous architect. He planned a small kitchen, functional and compact. She insisted on a larger room, with more storage and high ceilings. She won. He also planned the home to be comprised of two buildings, the workspace (kitchen) and the living space (living room and bedrooms) separated by a lengthy walkway between the two. Again, Mrs. Muirhead stressed her point that this was to be a family home and insisted that the areas be connected by a shorter, enclosed and heated walkway — better suited to Illinois winters. Again, she won.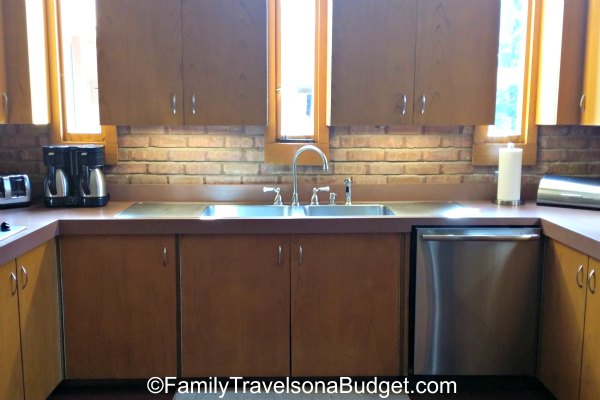 Laurent House
A couple days later, we got to visit the Laurent House in Rockford, IL.
Wright built this 2,600 square foot house for WWII veteran, Kenneth Laurent, and his wife, Phyllis. Laurent was confined to a wheelchair and Wright designed the house specifically for him with wide halls, zero-entry doorways and a series of circular passages so Laurent would never be forced to go backwards.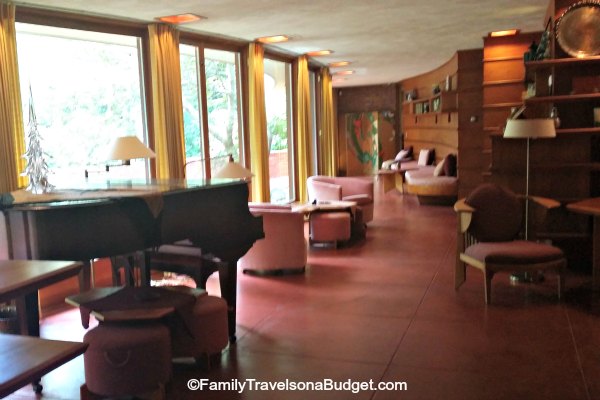 One of the neatest features of the Laurent House is the koi pond just beyond the floor to ceiling living room windows. Wright even included a spigot at the window to provide Laurent easy access to a water supply to care for the pond.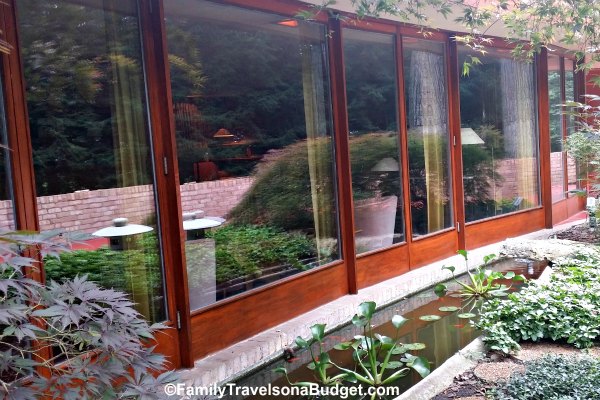 Like many of his projects, Wright designed the furniture for this home, too. Interestingly, he made sure the seating was below Mr. Laurent's chair seat height so that when people gathered, Mr. Laurent would have the greatest stature.
Wright considered the Laurent home one of his greatest achievements. Late in life, he presented the family with a red tile signifying his personal value of the home. That tile is proudly displayed next to the front door today.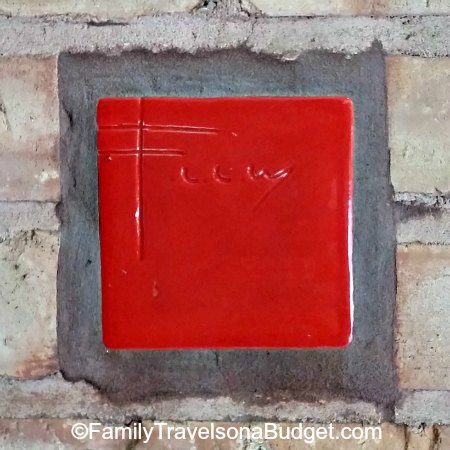 My thoughts on Frank Lloyd Wright
About the home building process
While I am not a Frank Lloyd Wright expert, I find him to be a curious contradiction. His design of the Muirhead Farmhouse didn't seem to understand the demands of farm life, large families or personal connectedness. (This is just my opinion). His plan to build Usonian homes, organic yet affordable, was noble. But, he seemed to forget about the people who would live there. I'm glad Mrs. Muirhead stuck to her guns as the house is stunning — airy and functional all at once.
On the other hand, he left nothing to chance when creating the Laurent House. Even the furniture was tailored to Mr. Laurent's personal happiness and ease of life. I'd go so far as to say it's the first ADA accessible home in the country — and I wonder if the easy living it afforded Mr. Laurent helped him live longer than he might have otherwise (he died at age 92). I think Mr. Laurent may have wondered the same thing, saying, "I don't know if I live for the house, or the house lives for me."
About his architectural style
I think we'd do good to get back to Wright's Usonian homes design — maybe not quite so edgy, but definitely construction with purpose in mind. Both these homes feel much larger than their square footage suggests. Wright's focus on purpose make so much sense. Large living areas draw people together. Cozy dining areas, which might seem a bit cramped with just enough room for table and chairs, encourage conversation. Wide windows bring natural light indoors — certainly a great antidote to the "SAD" epidemic we face today. And then there's quality. These homes still function 65 years later with the original kitchen cabinets! That's incredible — and so much better than today's quick-build, one-plan-fits-all houses slapped together in mere months.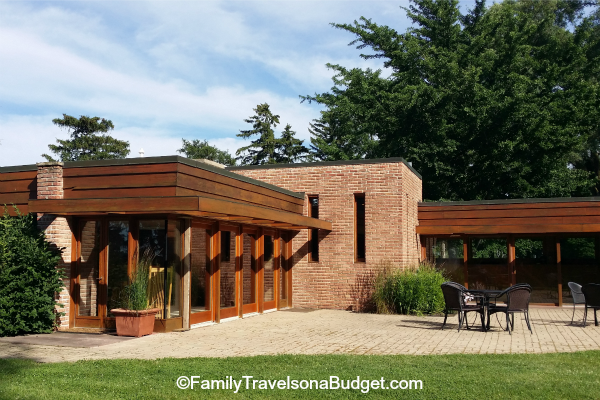 Visiting Muirhead Farmhouse and the Laurent House
The two homes are less than an hour apart, and visiting both offers an insight you might not get going only to one. We noticed similarities with the glass walled halls, expansive windows and water features just outside each living room. At the same time, the contrasts between the two, particularly their kitchens, makes for an interesting architectural discussion.
Muirhead Farmhouse
The Muirhead Farmhouse is still owned (and lived in) by the Muirhead family. It operates as a bed and breakfast, and is open for tours by appointment. Tours last about 1 hour and photos are allowed! To schedule a tour, contact Mike and Sarah at (847)464-5224 or by email at info@muirheadfarmhouse.com. Cost is $15 per person. Proceeds go toward the home's ongoing restoration. 
**Shoes are not allowed inside the home so bring socks!
Laurent House
Laurent House is managed by the Laurent House Foundation. Tickets to visit the house are $15 and must be purchased in advance. To schedule a visit, contact the Foundation directly as the house is not open on a regular schedule. Special events are hosted here throughout the year!
**To learn more about the Usonian style of architecture visit this site.
Have you ever wanted to visit a Frank Lloyd Wright home? Which one?