We are avid fans of Busch Gardens, Williamsburg, VA. The park is consistently rated the most beautiful theme park in the country. Their food, especially the ribs at Trappers Smokehouse, is really good and the portions are huge! Always searching for the best value, I wondered if the Busch Gardens Meal Deal is really worth the $27.49 cost. Busch Gardens claims up to a 40% savings off full price dining.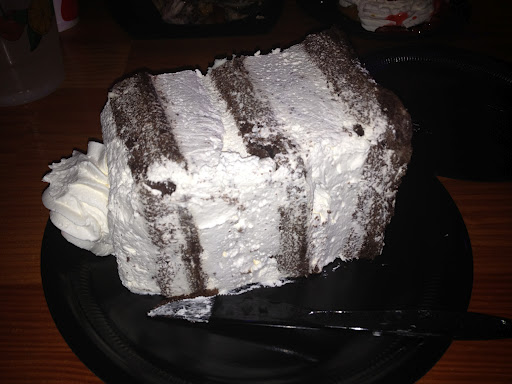 Giant Chocolate Cake, enough to feed three teenage boys!
The Busch Gardens meal deal package, available online or at the park entrance, includes one lunch certificate (redeemable for one medium drink, one side dish OR dessert and one entree), one dinner certificate (for the same food) and a drink certificate redeemable for one 32 oz. souvenir drink cup with drink. The lunch coupon must be used before 4:00 p.m., the dinner coupon must be used after 4:00 p.m. and the souvenir drink cup can be refilled throughout the entire season for 99 cents. The entree does not include any meal with baby back ribs — though you can purchase that for an additional $2.00.



Having two teenage sons, each with his own hollow leg, we decided to give the Busch Gardens meal deal a try our last day trip to the park. We purchased three meal deal packages at a total cost of $80.91 (annual pass discount applied, taxes included). Had we not used the meal deal, the total cost would have been just over $103, so it seems like we saved about 22% (much less than the 40% potential savings Busch Gardens claims we "might" save). To be honest, I studied each menu and have no idea how anyone would save 40% on dining with the meal deal.
Some of the prices we found:
Das Festhaus, plates without ribs: $9.29-10.79
Das Festhaus, salad: $2.99
Das Festhaus, dessert: $2.99-3.79
Trappers Smokehouse, plates without ribs: $10.79
Trappers Smokehouse, salad: $2.99
Trappers Smokehouse, dessert: $2.99-3.79
Souvenir Drink Cups, $5.99 (includes one full soda)
Had we dined a la carte, we would probably have spent about $72 on huge sandwiches and sodas during the day, actually less than the cost of the meal deal. The sandwiches, piled high with meat, lettuce and cheese (some sandwiches) appear to be healthier as well since the meal plans all come with fries or potatoes and the only real "vegetable" is the red slaw at Das Festhaus.
For some reason, each Busch Gardens meal deal must be rung up individually, which we found quite annoying. Perhaps a couple sharing a meal deal might not find it as frustrating as we did. Just be sure to share that drink, or it will have to be rung up separately!
Overall, we are disappointed with the Busch Gardens meal deal, because of the limited choices (you can choose salad over dessert, but try convincing the kids of that when the first thing they see in queue is dessert), less than stellar savings, and the long check-out time.
Busch Gardens food, though, tastes great and most items are large enough to share. They generously provides extra plates on request and free water with food purchases.
Instead of purchasing the Busch Gardens Meal Deal, I recommend:
packing sandwiches to bring with you or eat lunch (fast food or otherwise) before you arrive at the park. We eat our sandwiches just before we park,
purchase sandwiches, salad, and/or dessert a la carte and share food among your group at dinner time,
enjoy funnel cake, cotton candy and/or ice cream in the evening (instead of dessert at meal time).
Using these tips, you'll save both money and time while still enjoying the delicious food offered at the park.
Happy travels!
This post updated August, 2012 to reflect current policies at Busch Gardens, VA.
Like this post? Please share!