Travel Inspired Recipes: Pizza Roi from Paris
This post may contain affiliate links. Click here to see what that means.
Perhaps my favorite travel "souvenir" is the recipes we bring home to add to our family's dining collection. Wherever we go, trying new foods, we discover some that MUST be included at home. In South Carolina a couple years ago, we found a great little gelato place tucked away in the corner of a shopping plaza. Expecting a refreshing cone, the intense flavor of the blood orange gelato gave us a pleasant surprise. Ever since, we've been working on our own gelato recipe — though we have yet to master it. On a trip to Mexico, we discovered "poolside tacos," a light spin on a fish taco with fresh guacamole and salsa. From Paris, France, the origin of creative cuisine, we brought home pizza. It's true, pizza!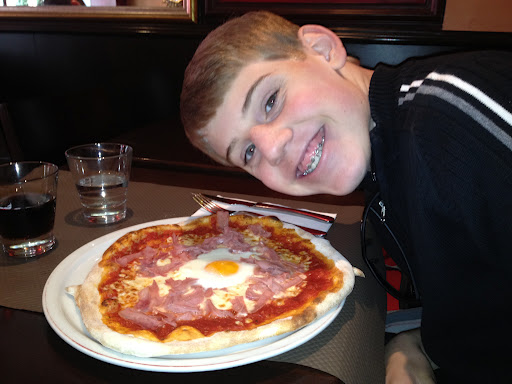 Ces't délicieux
Our first full day in Paris, we were still trying to figure it out. Where to eat. When to eat. How to navigate the language barrier. Throw in
a bit of jet lag and pizza seemed like a great choice for the kids. We discovered an Italian brasserie, the Villa Borghese, on our stroll through the 6th arrondissement. We talked Ben into ordering "Pizza Roi," an almost traditional prosciutto pizza, just add egg. I didn't think he'd go for it, but he did! And he loved it. The egg, cooked almost through, added a delicate creaminess to offset the acidic sauce and salty ham.


At home, we recreate the pizza, sometimes with ham, other times with sausage or bacon. Perfect for brunch or dinner, it's among our favorite "souvenirs" of France.
Pizza Roi
Ingredients:
1 ready to make pizza crust (available at the grocery store deli or your local pizza place)
1 jar ready to use pizza sauce
Mozzarella cheese
Parmesan cheese
Ham, prosciutto, bacon or sausage
1 large egg at room temperature (pull from refrigerator at start of food prep)
Pepper to taste
Preparation:
Roll or toss the pizza dough to desired thickness and bake in 500 degree oven for 3 minutes, just till it starts to brown.
Spread sauce (as heavy or light as you want) over the crust, add cheeses and meat — try to keep the center a little lower.
Return to oven for 3-5 minutes until the cheese starts to melt and brown.
Remove from oven, crack egg over the center of the pizza, season with pepper and return to oven.
Bake until egg is set — the yolk lightens the longer it cooks. (We bake ours about 5 minutes until the white is completely set, but the yolk is only half-set. The creamy yolk is a treat!)
Remove pizza from oven and let it set for a minute or two before cutting in.
Bon appétit!
What's your favorite travel-inspired recipe?